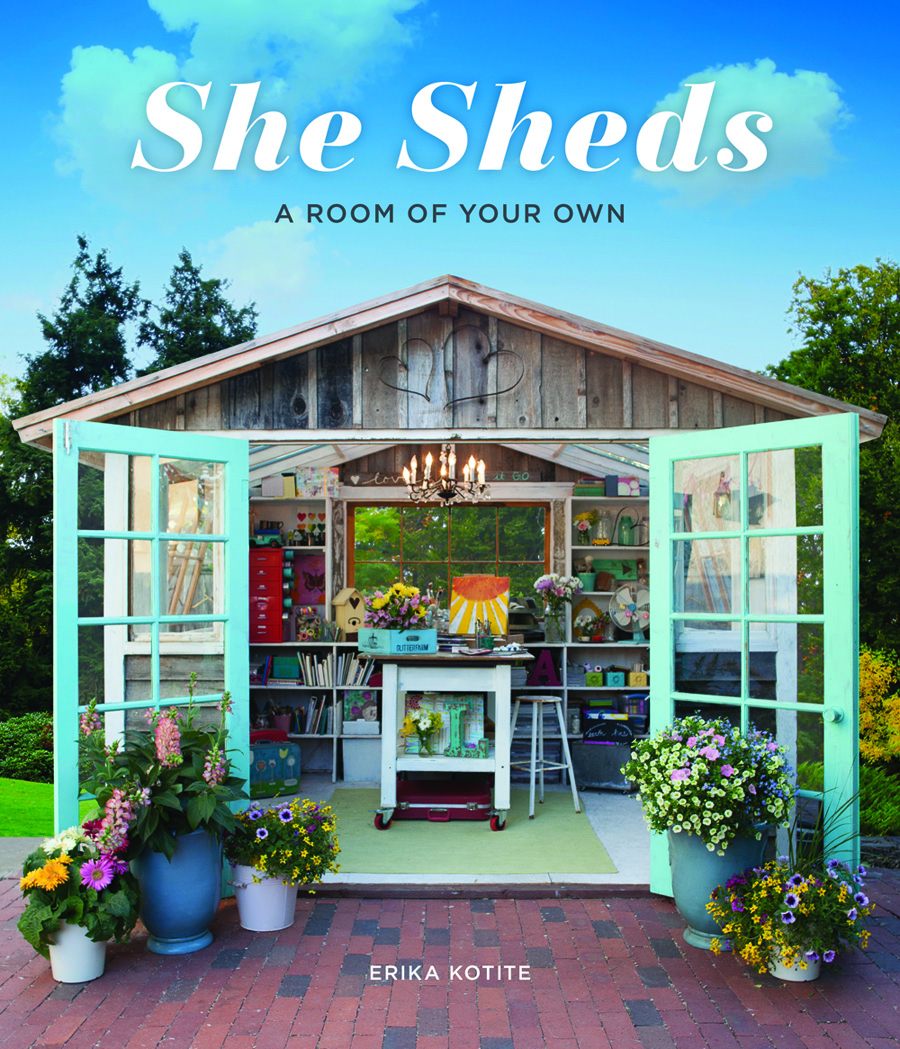 I'm so happy to announce that the shed we built for Jenny (pictured below) has been featured in the new "She Sheds: A Room of Your Own" book.  We are so honored to be a part of it and delighted to share our good news with you.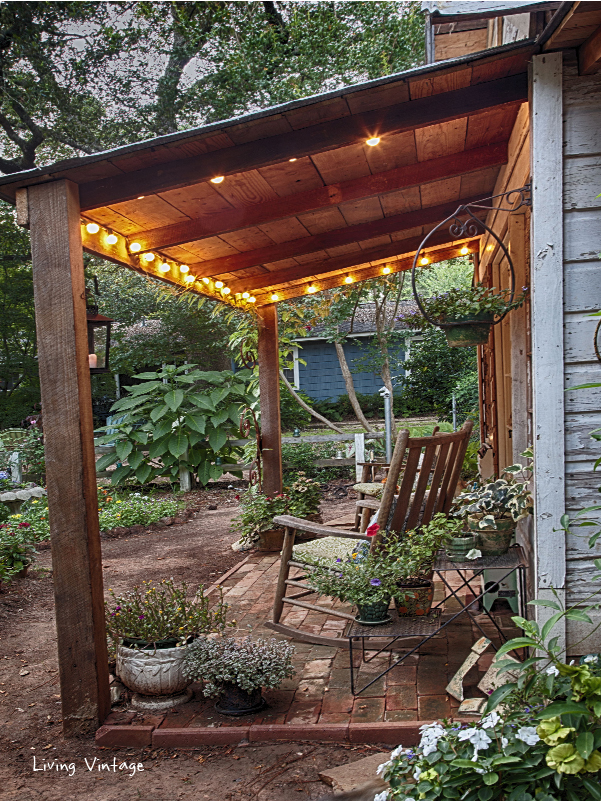 The book is filled to the brim with a variety of shed examples:  from rustic to refined, from romantic to modern, from garden sheds to guest retreats.
Here are just a few examples.
Judy's sweet "do over" gardening shed is a renovated structure that needed just a little love and attention.  I just love the vine-covered pergola at the entryway and I especially adore the ample workbenches and shelving.  What gardener wouldn't love to putter away here?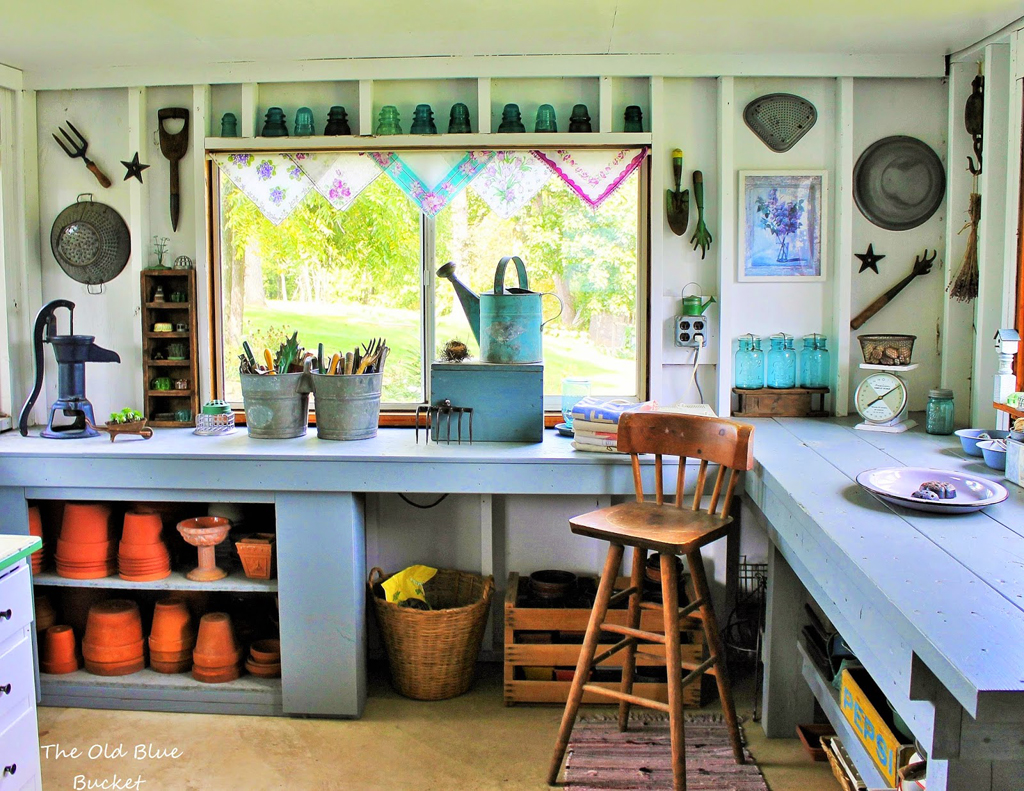 Mary's shed was a birthday present.   The exterior is decorated with gardening tools and salvaged shutters and an old door.  Surrounding her shed is a nice collection of watering cans and inside, there is the most amazing door.  Where glass used to be, there is a chalkboard where seasonal messages are artfully displayed.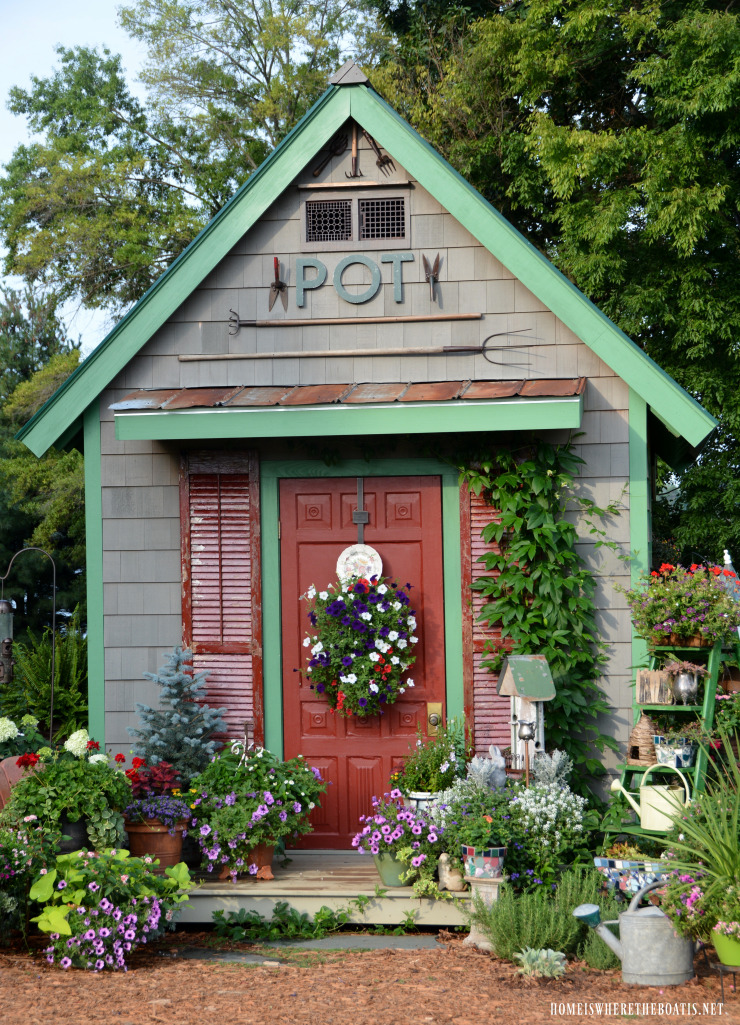 Also featured in the book are sheds used as art studios.  One example is Clare's sewing sanctuary built from a shed kit.  The interior is light and bright and filled with color and inspiration.  There is also room for a small sofa — covered in one of Clare's quilts, of course — perfect for relaxing and planning future projects.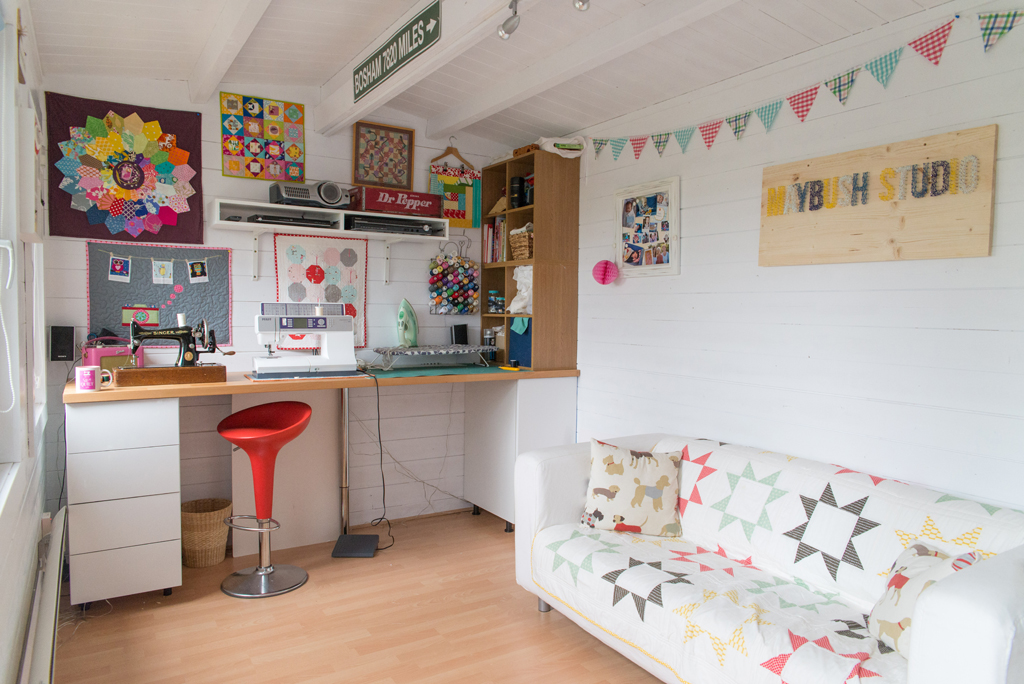 In the "old-soul" sheds chapter, Dinah's rustic retreat in California is featured.  It's used as a guest bedroom and a vacation rental.  Inside are beautifully painted walls in a light green and a welcoming daybed.  Can't you just imagine waking up, flinging the doors wide, and stepping outside to take in that view?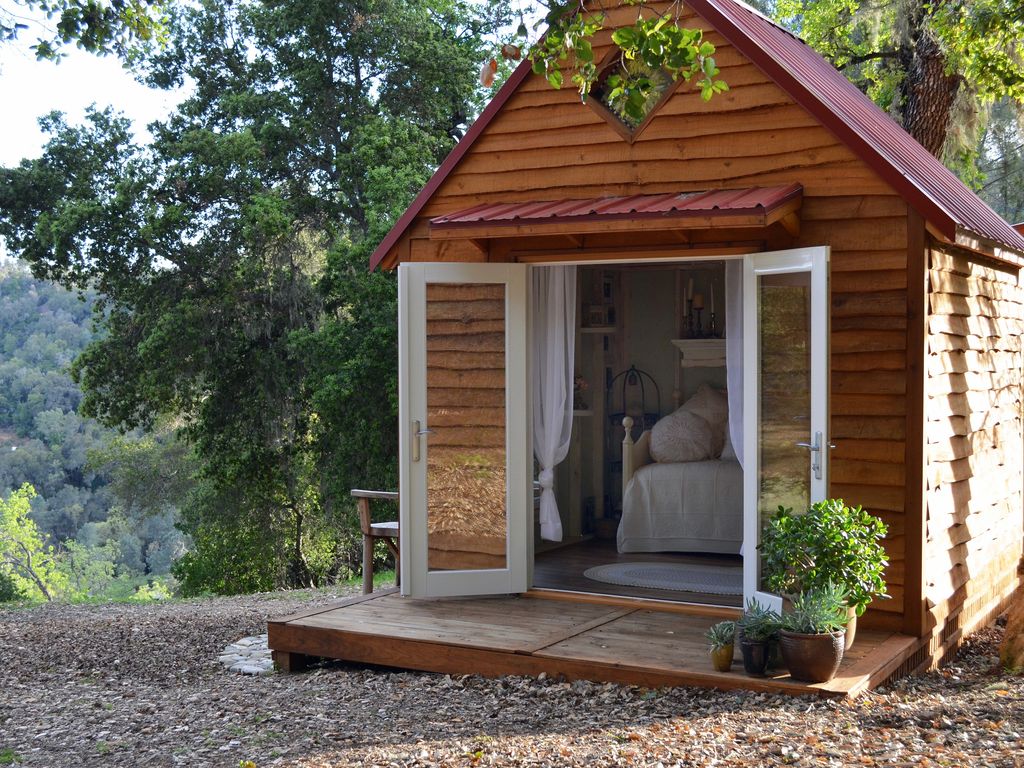 Another shed example within the book is Lori's backyard retreat, also located in California.  Her husband, Jeff, built the shed using a pre-built tool shed as a base.  They added their own personal touches like board and batten siding (love!) to create their cozy little space which is used as an inspirational place to relax, meditate, and plan future projects.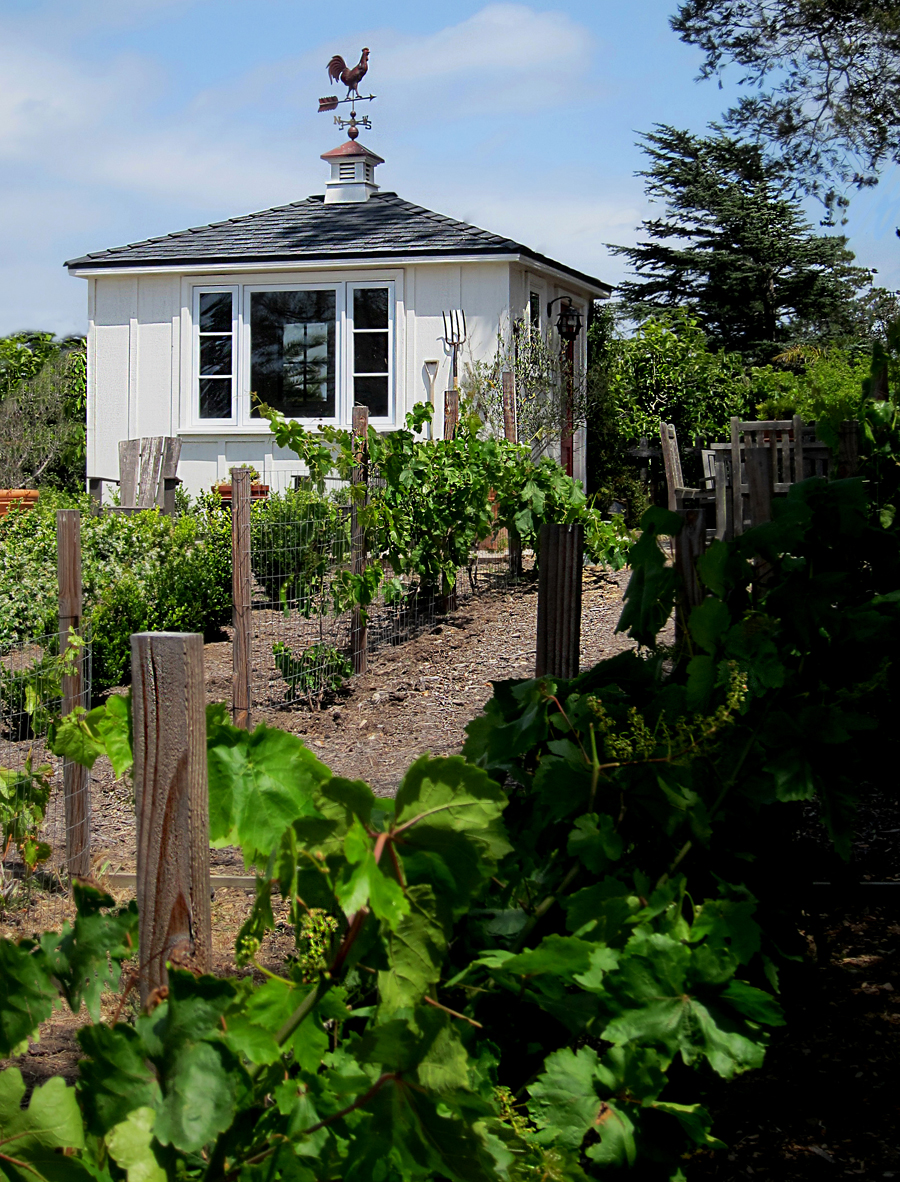 These are just five examples — well, actually six if you count the cover of the book — of the 30+ shed examples within the book.  There's even a tutorial near the back of the book on how to built a kit shed.
Please be sure to click on the images above to access additional photos of the five sheds listed above.    You can also find source information at the bottom of the post.
Now, to help celebrate this achievement, we are giving away five books to five lucky recipients!  (The book's author, Erika Kotite, graciously agreed to sponsor the giveaway.)
Each person may enter as many times as they like.  Just enter using the Rafflecopter form below so that your entries are captured by the Rafflecopter tool.  This is important because I will use the tool to determine the winners.
[UPDATED ON 3/30/17:  And the winners are: Kim Reid, Pam Nelson, Fonda Rush, Michelle Nettles, and Johnna Bigley.]
Giveaway Rules:
This giveaway will begin when this blog post is published and will end at midnight on March 29, 2017.

This giveaway is open to any U.S. resident who visits my blog and follows the entry rules above.

The winners will be chosen randomly and announced via Facebook.  This blog post will also be updated with the winners' names.

Each winner will be notified via email shortly after the giveaway ends.  Each winner has 3 calendar days after the date of the notification to provide their name, address, and phone number to Living Vintage.  (The phone number is needed for shipping purposes only.)  If the winner does not respond within that time frame, that person will be disqualified and another winner will be chosen.  The process will continue until Living Vintage receives the requested information from each winner.
Good luck everyone!

Sources and Image Credits:
(All images are used with permission from the owners.)
Three:  Clare's sewing sanctuary via her blog, MAYBUSH STUDIO
Four:  Dinah's rustic retreat via VRBO
(You can also right click on each image to view the sources.)
P.S. This blog post does contain an affiliate link.
Save