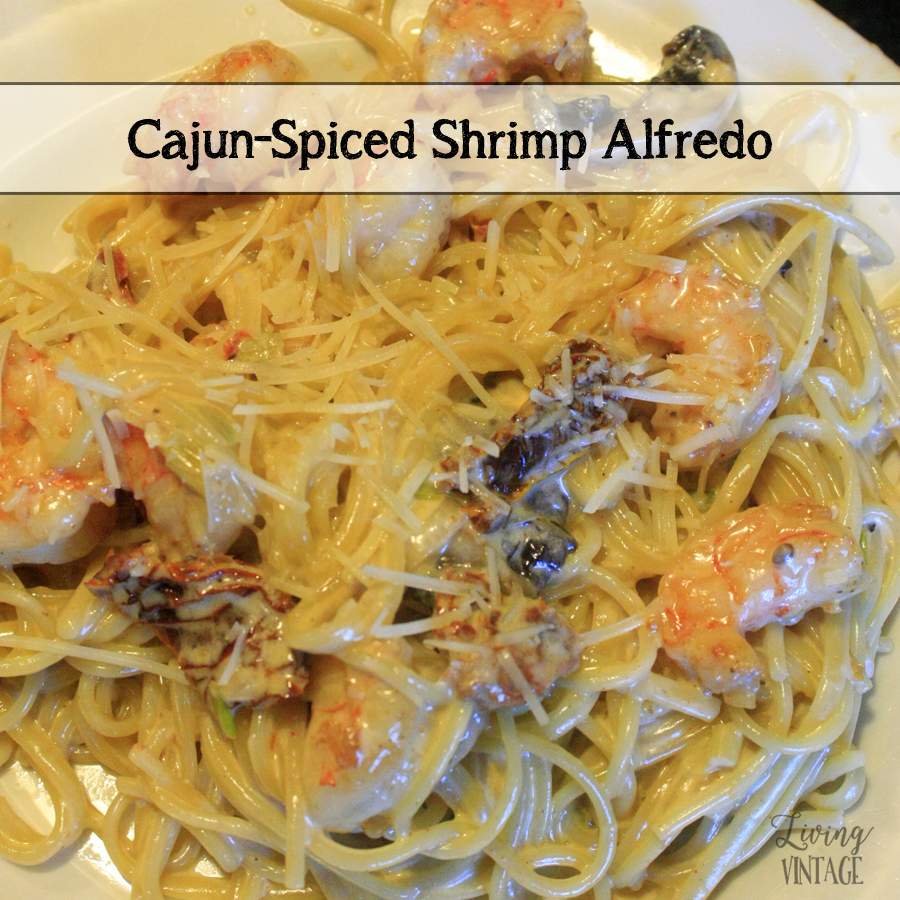 Long before I met Mark and we started trying new recipes, whenever I got a hankering for Alfredo sauce with shrimp (or chicken), I'd buy a jar from my local grocery store and call it good.
However, when we tried this recipe years ago, we have never, ever bought store-bought Alfredo sauce again.  This recipe is that good — no, not just "good", but decadent and delicious.  I guarantee you that you'll do the same thing.
We use the sauce with chicken or shrimp, and sometimes we cook the dish with sun-dried tomatoes or fresh spinach, just depending our mood and on what we have on hand.  (This is why the photos in this post are a tad different.)
Go on, give it a try.  It really is super simple and it's 100 times better than anything you'll buy in a grocery store.

CAJUN-SPICED SHRIMP ALFREDO

1 – 1 1/2 pound medium shrimp, shelled, deveined, and patted dry
Cajun spice of your choosing
2 tablespoons olive oil
1 1/2 tablespoons fresh garlic, minced or store-bought minced garlic
1/4 cup dry white wine
3 cups heavy cream
1 cup roughly marinated sun-dried tomatoes, rinsed and chopped (optional)
2 cups fresh spinach (optional)
16 ounces pasta of your choice (fettucine, bow-tie, penne, etc)
3/4 cup grated parmesan
salt and black pepper to taste
1.  Bring a large pot of salted water to a boil and cook your pasta according to the package directions.
2.  Dredge the shrimp in the Cajun spice.
3.  Add half the olive oil to a skillet and heat over medium heat.  When the skillet is hot, add the shrimp and cook it for about 2 minutes until almost done.
4.  Remove the shrimp to a plate.
5.  Add the remaining olive oil to the skillet and cook the minced garlic until lightly brown, about 2 minutes.
6.  Stir in the wine and heavy cream.    Bring to a simmer and cook until the sauce is reduced by half.
7.  Add the sun-dried tomatoes, fresh spinach, and shrimp and cook for just a few more minutes.
8.  Add 1/2 cup parmesan cheese to the sauce.
9.  Drain the pasta and toss it with the creamy shrimp sauce.
10.  Sprinkle the remaining parmesan on top of the dish.
Serve with a salad and bread.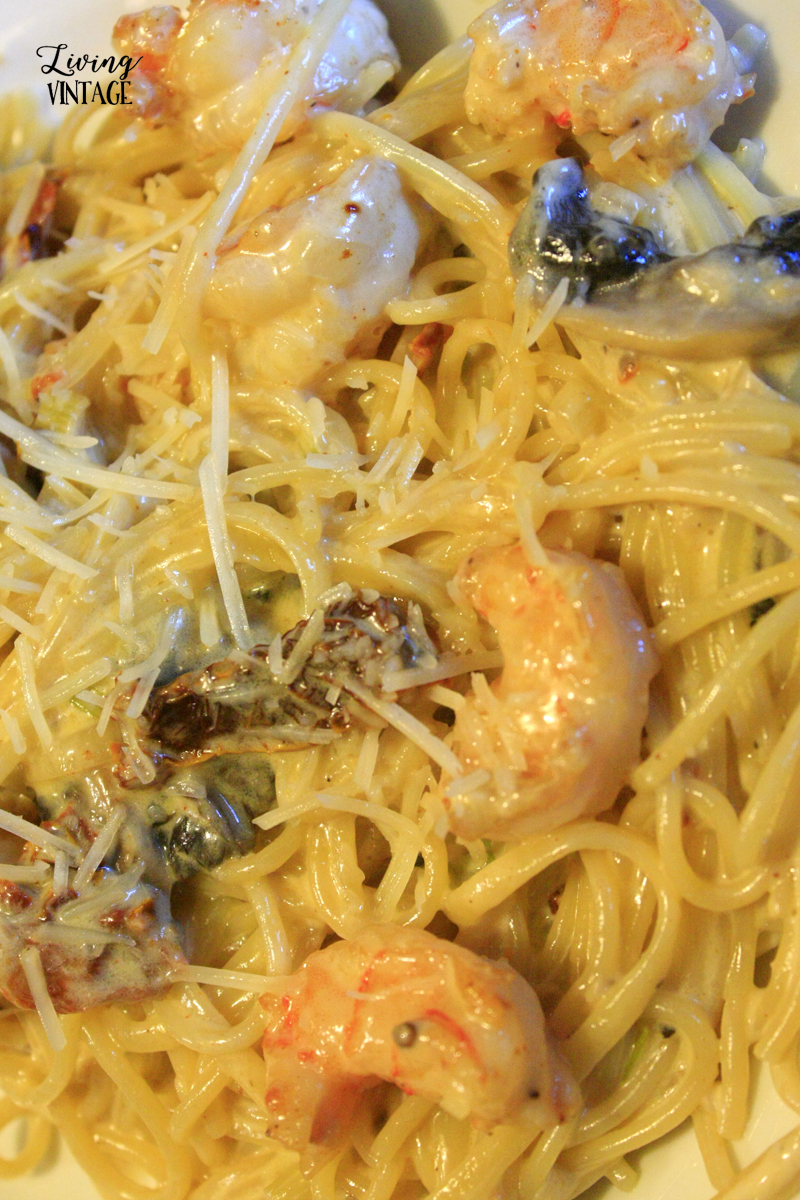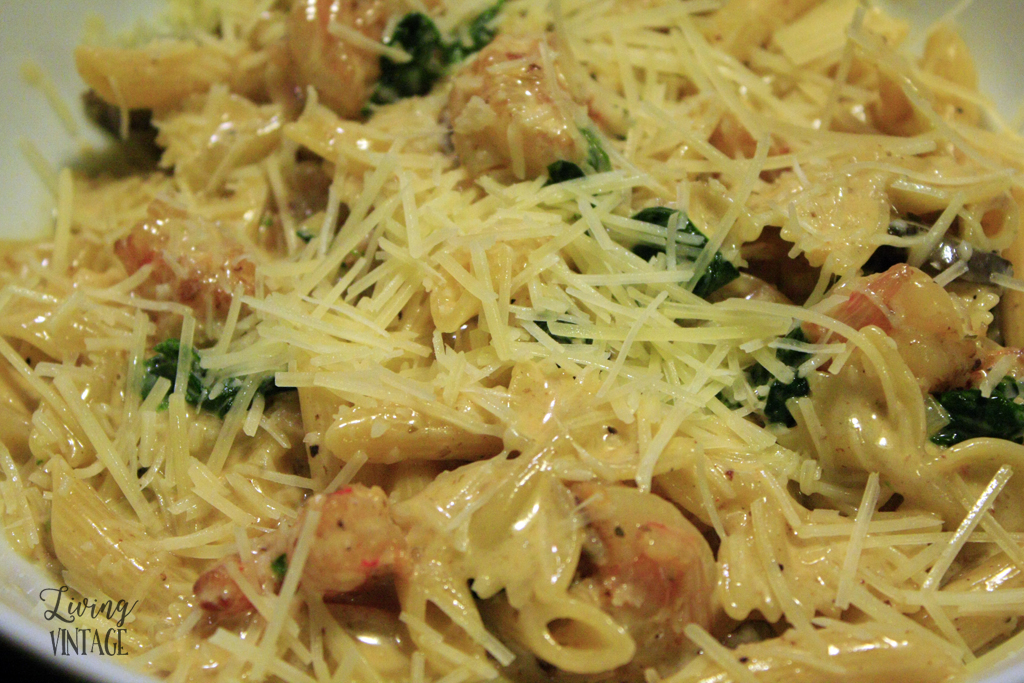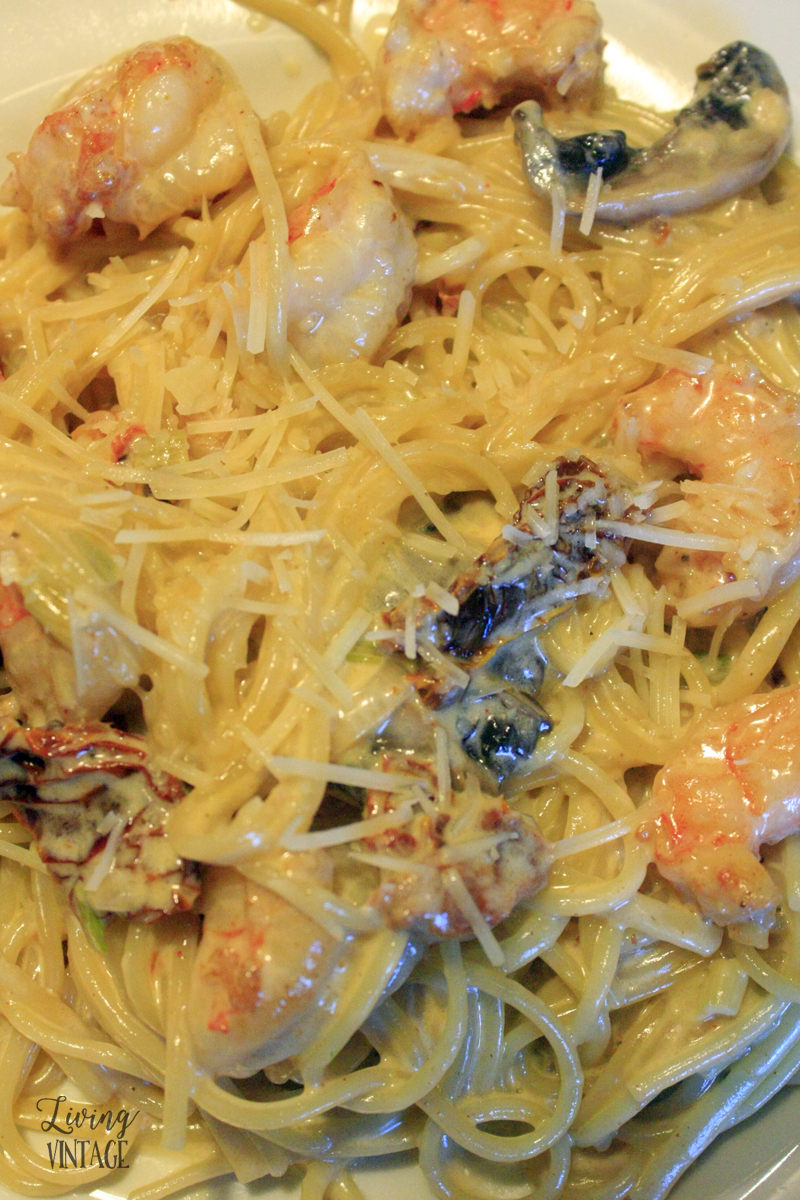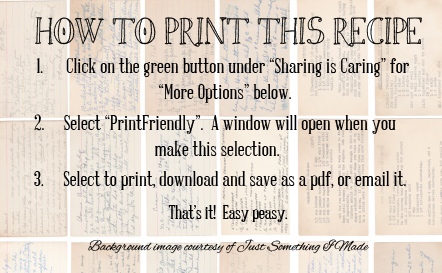 P.S. My recipe is a modified version of this one.
Save
Save
Save
Save
Save