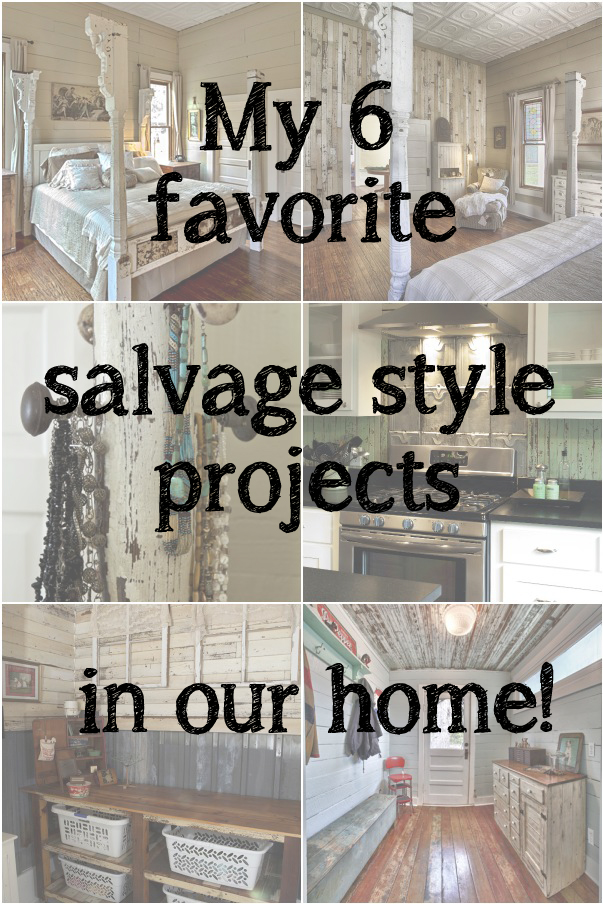 If you've been following my blog for several months now, you know that decorating my home with salvaged materials is something I LOVE to do, but if you're new to the blog, you may not realize how much that is true.  So, let me take a moment to list my 6 favorite salvage style projects in our home.
#1.  We built our king-sized bed using reclaimed porch posts.   We spotted the 4 reclaimed porch posts at an antique store we love (and visit as often as we can) and snatched them up.  (Four matching porch posts with corbels is a rarity, for sure.)  Our bed is truly one of a kind, and I love that.   The headboard is an old door turned on its side, and the footboard is a reclaimed sidelight, the glass removed and replaced with scraps of reclaimed ceiling tin (that I had kept from our office ceiling project).   I couldn't bear to throw them away!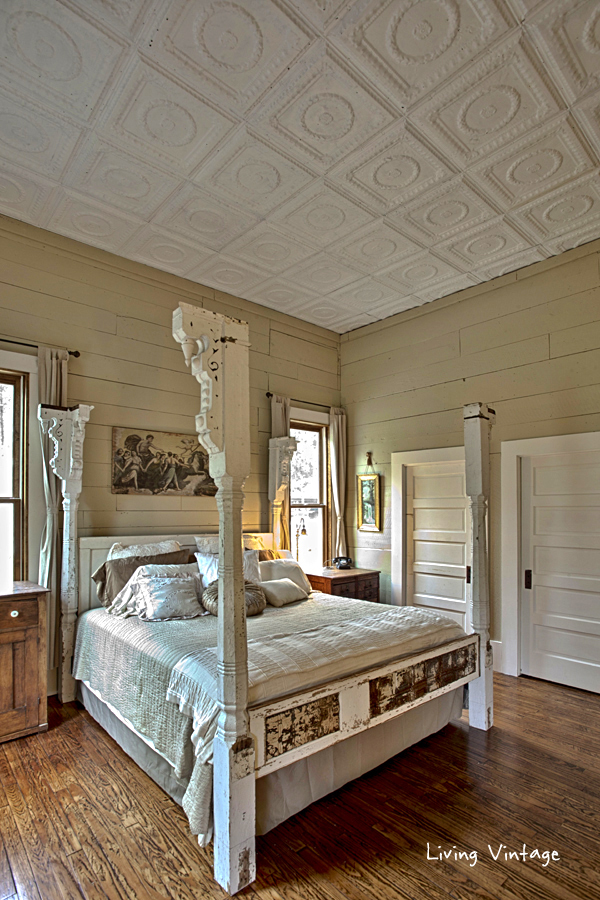 #2.  Also in our master bedroom is a reclaimed wood wall — I call it my mosaic wood wall — because it's made with an assortment (both in paint color and lengths) of old floor boards that we salvaged from a project in Crockett, TX.   To me, it's a work of art.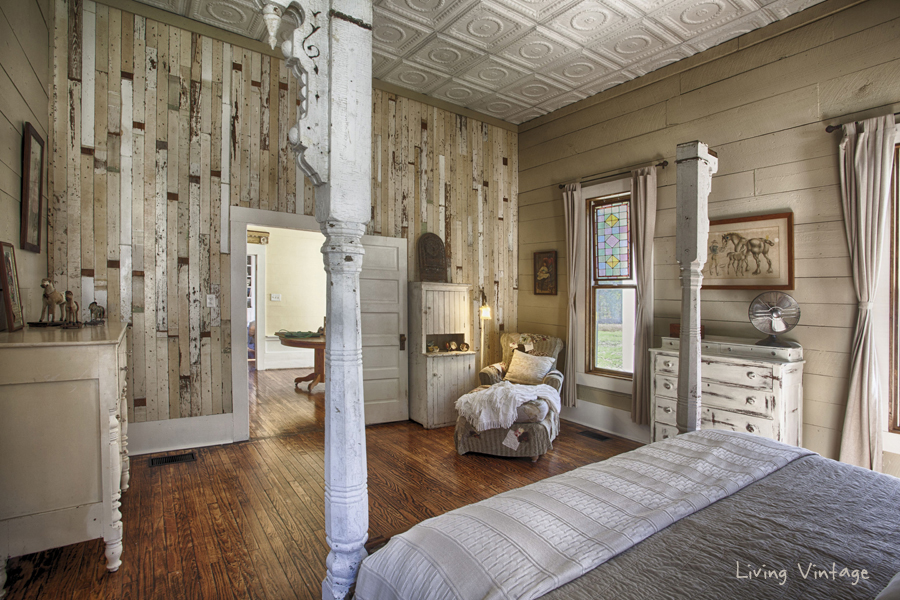 #3.   Oh how I love my jewelry tree that Mark made for me using an old porch post, some old door knobs, and a few pieces of scrap lumber for the stand!  Putting on my necklaces now feels more like a fun event rather than just rummaging through a regular jewelry box.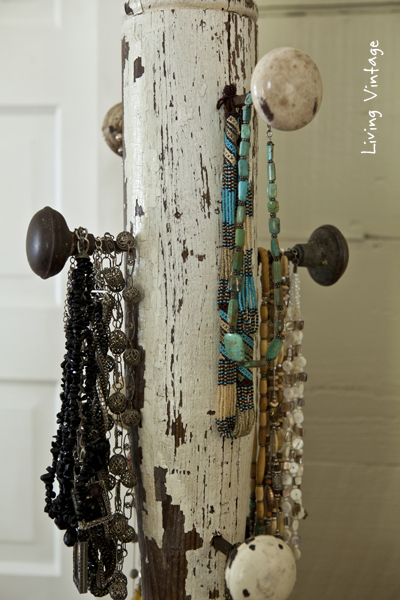 #4.  We finally, finally found the perfect kitchen backsplash (after 3 attempts, if you can believe it).   It's made with old roof tins.  It fits our reclaimed style perfectly, adds another industrial touch to our vintage kitchen, and it's easy to clean!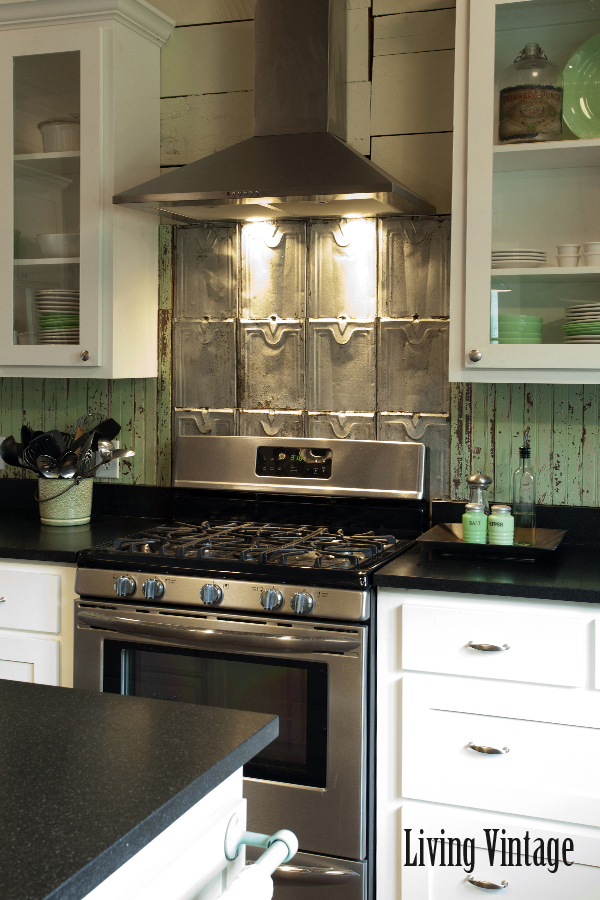 #5.   Our laundry room project was my husband's brainchild — I was just not feeling the love for that room!  He saved the day by deciding he wanted the laundry room to look like an old back porch that was enclosed long ago, and I think we successfully made it so.    My favorite feature of that room is the reclaimed siding and wood we used to clad the walls and enclose the washer and dryer . . . although my laundry sorting cabinet wold be a close second!  I had one in my laundry room in Austin, and it was a design MUST for our home in East Texas.)
#6.   I love our mudroom that we built onto our house — except for the treated lumber that we used for the floor joists, we used 100% salvaged materials.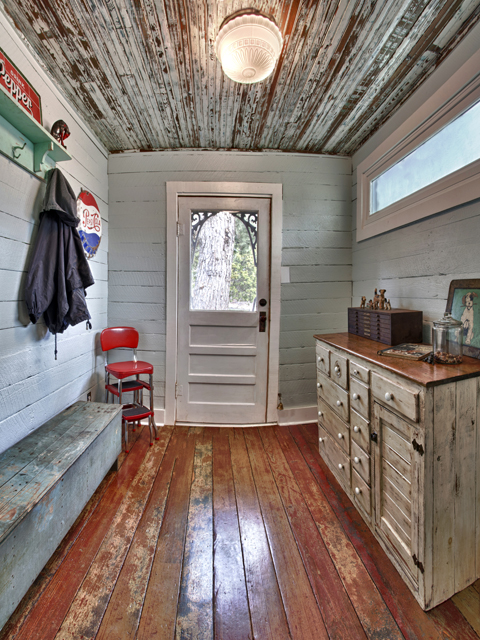 Which brings me to my giveaway.
Joanne Palmisano specializes in finding new ways to use salvaged and reclaimed materials.   I love everything that this talented lady does, both on her blog and in her two published books
.  I own and thoroughly enjoy both of her books — in fact, I gave away a copy of her first book in June 2014 — but if I had to choose, I think her most recent book, Salvage Secrets Design & Decor: Transform Your Home With Reclaimed Materials
* is my favorite.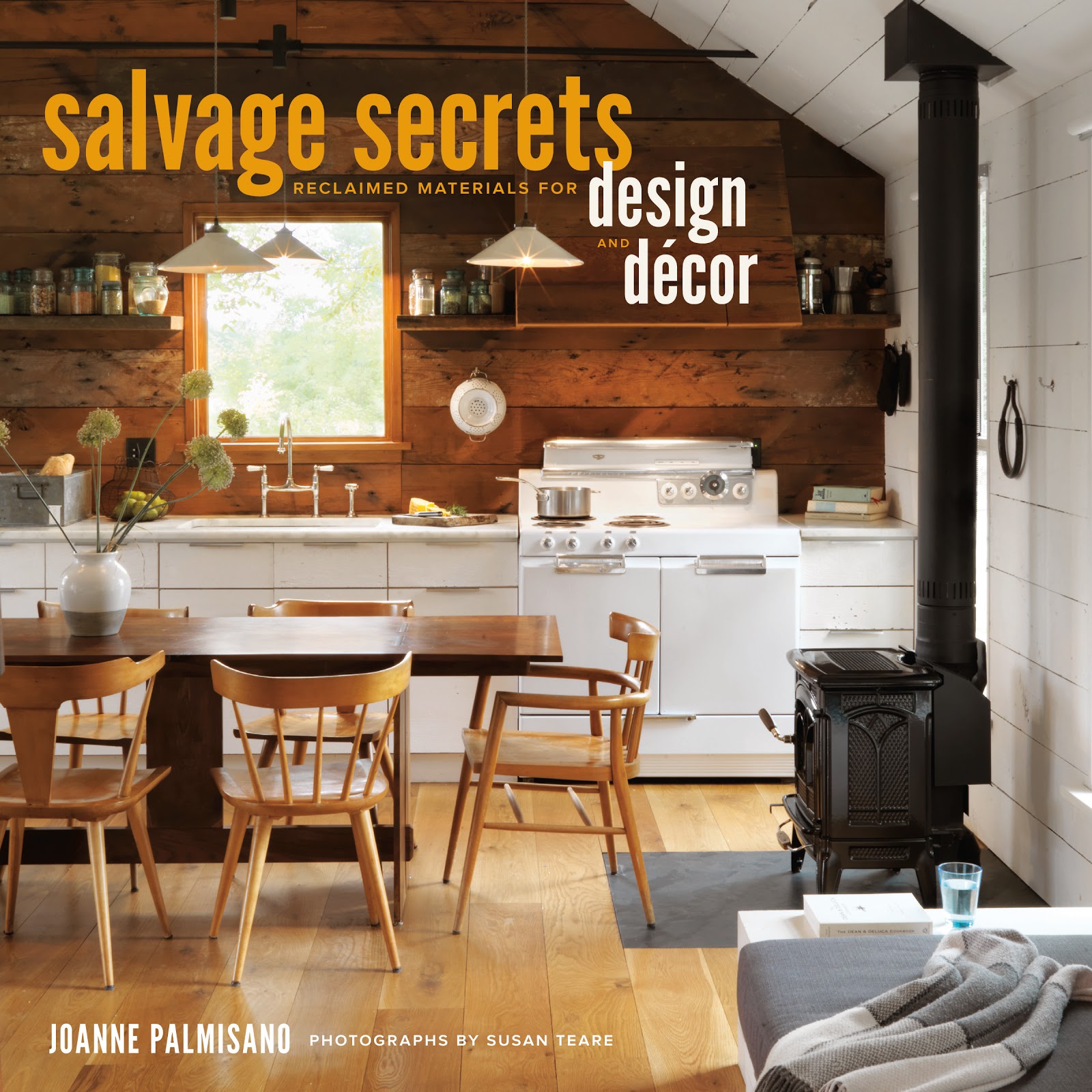 From kitchens to outdoor spaces, this book is chock-full and I do mean full of ideas, tips, real-life stories, resources, and tutorials on how to use salvaged and reclaimed materials.  Also, I am a very visual person, so I love books that have tons of photographs.  This book does not disappoint in that department: just about every page has at least one high-quality photograph of a design project.
I loved so many of these projects that I decided I'm going to read this book cover to cover (something I rarely do with a design book.)
Let me show you photos of 5 projects** I admired (and I think you'll like, too!) within the pages of this awesome book: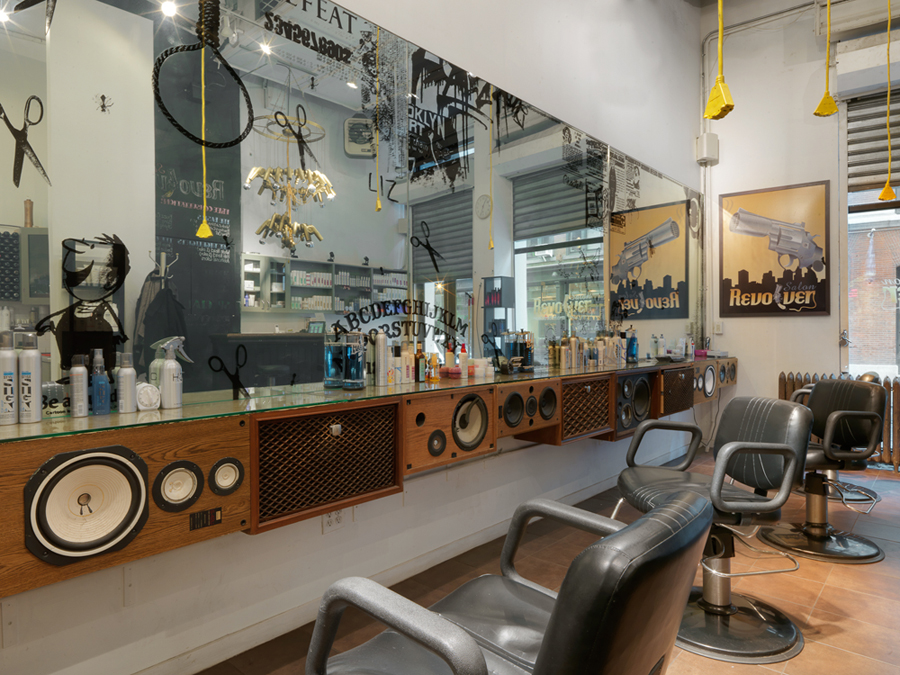 incredibly clever styling stations in a NYC salon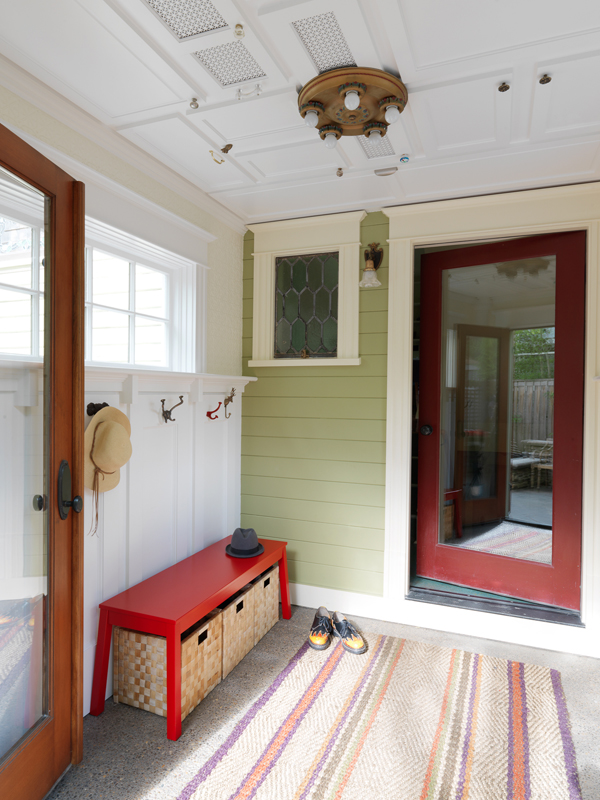 add some pizzazz to a ceiling:  use reclaimed cabinet doors!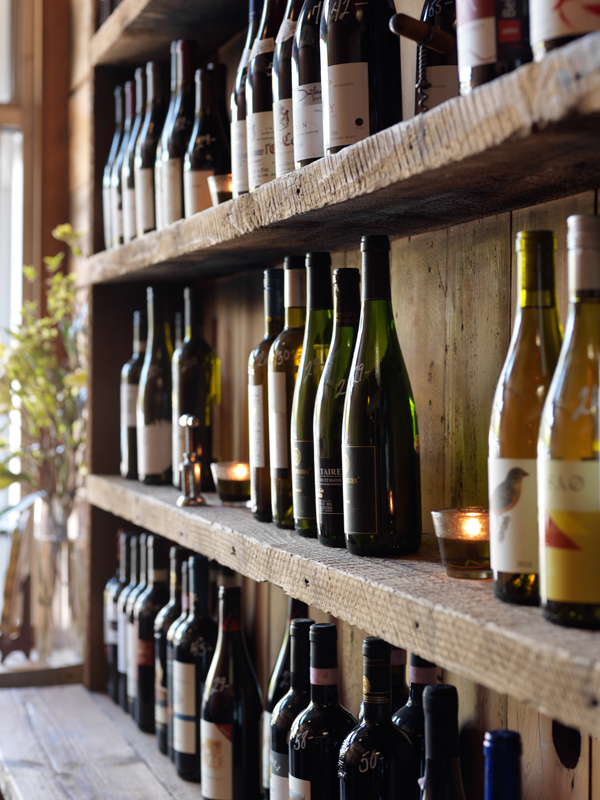 beautiful sturdy shelving made with reclaimed wood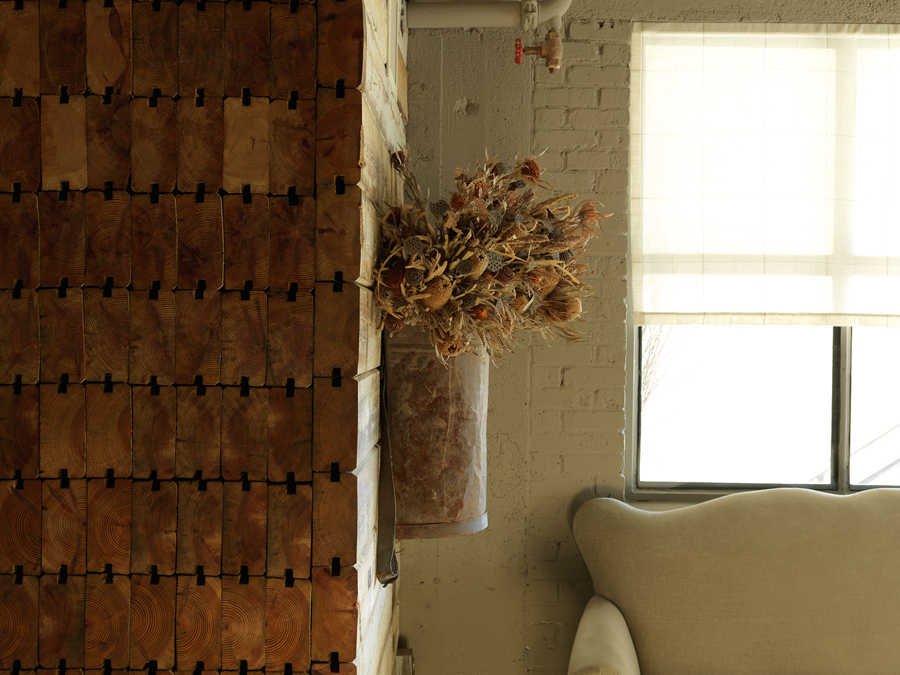 a stunningly beautiful accent wall made with reclaimed 2×4's!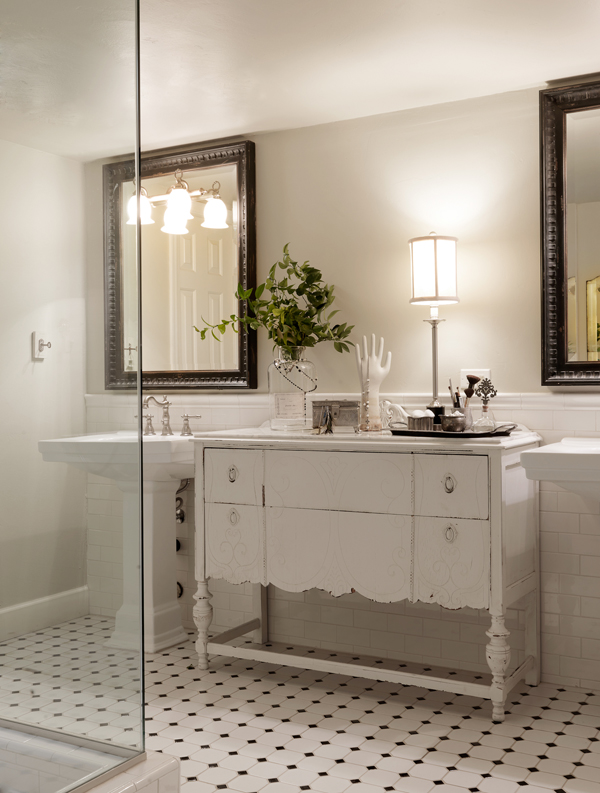 a great way to repurpose an old dresser and add vintage charm to a bathroom!
Now (drum roll)……..  the giveaway!  I'm giving away one copy of Joanne's fabulous book to one lucky winner.  To enter, simply comment below and let me know how you've used (or would like to use) reclaimed materials in your own home or business.  See the giveaway rules below for more details.
Also, let me say this:  if it turns out you're not a winner, might I remind you that Christmas is coming soon?
[UPDATE AS OF 10/26/15:  THE WINNER IS LAURA JEAN MASSEY!]

*This is an affiliate link
**All rights reserved. Photography used by permission of W.W. Norton, Joanne Palmisano, Salvage Secrets Design & Décor, Photography by Susan Teare.    This giveaway is sponsored by Joanne Palmisano; however, my opinions are completely my own.
Giveaway Rules:
This giveaway is open to US residents only and anyone who subscribes to or visits my blog and follows the rules above.
This giveaway will begin when this blog post is published and will end at 1:00 p.m. CST on Monday, October 26, 2015.
Each person may enter one time only.
The winner will be chosen randomly and announced via Facebook and this blog post will be updated with the winner's name.
The winner will be notified via email shortly after the giveaway ends and has 3 calendar days after the date of the notification to provide their name, address, and phone number to Living Vintage.  (The phone number is needed for shipping purposes only.) If the winner does not respond within that time frame, that person will be disqualified and another winner will be chosen.  The process will continue until Living Vintage receives the requested information.