Today, I have the distinct pleasure of introducing you to one of my blogging friends, Rita, who is the voice and talent behind her fun blog, Panoply.  She is a fascinating, sweet lady — she has a wonderful eye for antiques, is super talented at gardening,  and she has a incredibly unique dancing background. 
But, let me stop there and let me let her tell you about herself. 


Hey, everybody! I am super excited to be Kim's guest today on her blog. My name is Rita C., and I am the voice behind the blog Panoply. My blog is all about antiquing, thrifting, home décor and landscape gardening, with occasional travels and/or family milestone events tossed in the mix. Life is a Panoply.
In 2008, two of my sisters and I decided to rent space in our local antique mall. We wanted an identity. Panoply means a "wide-ranging and impressive array". We all liked the word and felt it would be appropriate, as we all have very distinct, wide-ranging styles in what we collected and wanted to sell. We range from primitives to romantic French and Victorian to Art Deco in our tastes and styles.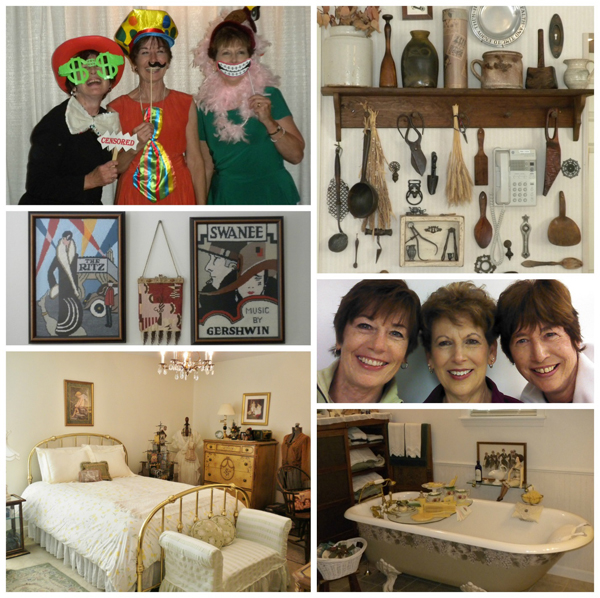 I started my blog in 2013 because we wanted a way to keep one Panoply sister who lives in OH in the loop of all that we do in our booth spaces (located in the South Charleston Antique Mall, South Charleston, WV). The blog was the answer. My blog is a no-revenue blog (no ads featured, no income generated), and I usually post at least once a week. I love the community at Hometalk, so I will occasionally curate a board for them (much like Pinterest) and do a post that features it. They, in turn, will feature it in a newsletter to their subscribers, but there is no compensation received for those collaborations.
The thing I like most in blogging is meeting like-minded people who have similar interests as me, but also those whose interests I may not share, but admire so much that I want to get to know them better. Kim is certainly one of those whose tastes and talents I am drawn to, and I am green with envy of both hers and her husband Mark's mad DIY skills in salvaging old buildings and turning them into fantastic home furnishings and structures.
Lots of people and things inspire me to create. My landscape garden inspires me to create with color combinations.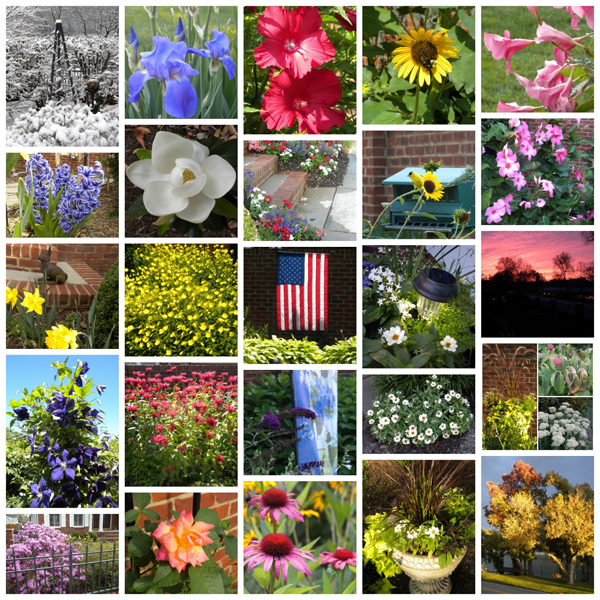 For visual displays in Panoply booth spaces, inspiration often strikes when my sisters and I are together, on the hunt for vintage finds. Our varied tastes in what we're attracted to will result in an idea or theme for vignettes.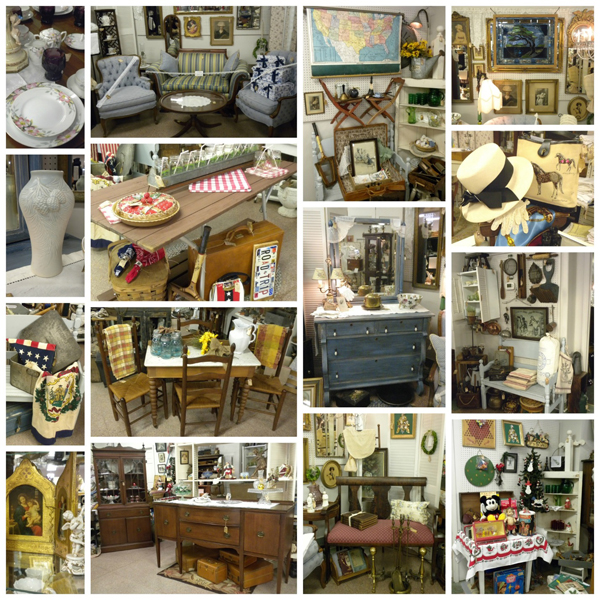 As far as home décor goes, it used to be just printed magazines and books, organized vintage and antique shows, and brick and mortar antique shops that inspired me. Now inspiration comes in a deluge of other sources such as Facebook pages, Hometalk, Pinterest and, of course, blogs (I've so far avoided getting caught up in Twitter or Instagram).
My sunroom, hands down, is my favorite room in my home, and also inspires me to create. It is light, bright, warm, inviting and very casual in style – winter, spring, summer and fall. It is where I go to read, relax, and listen to music. It is positioned adjacent to both my kitchen and TV/family room, so it's convenient for entertaining company also. It's also big enough that I have an extra table and chairs for casual and overflow dining. It is my favorite room in which I rotate several of my collections, seasonally.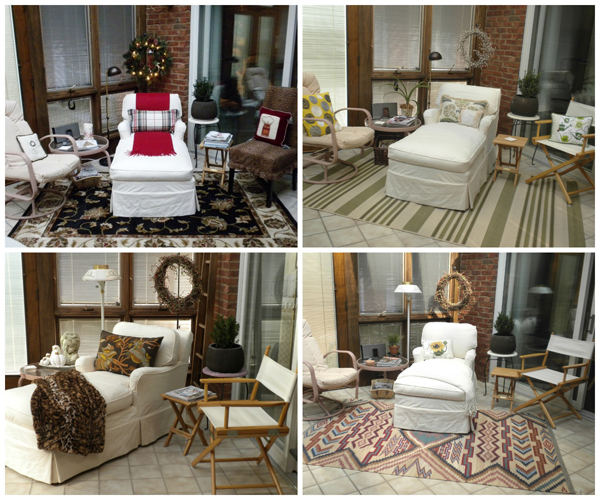 Insofar as answering the question of what I collect, the better answer may be what I don't collect! I love so many things, and have so many collections! My guilty pleasure would have to be my vintage/antique mesh and beaded purse collection, with my vintage/antique dish collections not lagging far behind.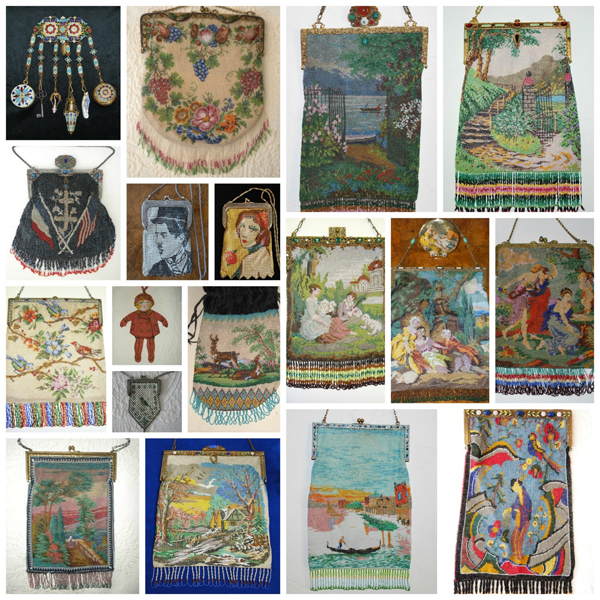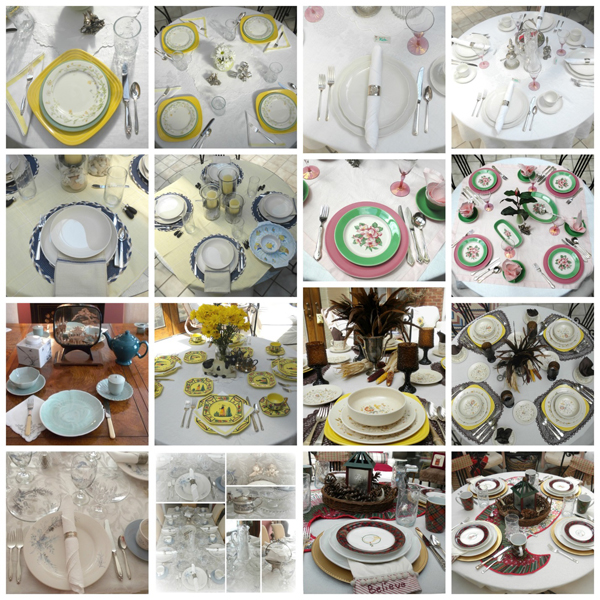 Besides my purse and dish collections, I also love ordinary, utilitarian things such as crocheted potholders (the tip of the vintage linen collection iceberg of mine), whisk brooms and garden tools. I collect religious, Native American and Asian relics. I also gravitate to ironstone (including transferware) and silver (sterling or plate, no discriminating). Every now and then, I will find an unusual collection, such as miniature books, that also fascinates me enough to collect.
I used to think a lot about getting to where I wanted to be in life – my family, career – I was always a planner, fiercely independent (and the breadwinner), a hard worker, and a bit of a worrier about getting 'there'. Now that I have lived out my working career (accounting and management) and am retired, I tend to think more about how I want to live out my golden years (still planning).
In a lot of ways I have always been mature for my age, but I have also been adventurous. If I didn't know my age, I would think I was around age 45 – mature enough, confident, and still adventurous to try new things. Since retiring, I have accomplished ballroom dancing, kayaking, scuba diving, ziplining, and snow skiing. I've also tried rock climbing in a controlled environment (Boy Scout National Camp, Bechtel Summit Reserve). I love the CBS program, "Survivor", and have watched every season since the show aired in 2000 (and not by marathon). I guess it's the adventurer in me, but I used to think I wanted to be on the show (not anymore). Now, I'm fine with just a daily workout of walking, gardening or hauling displays in our antique booth space for exercise, leaving the high adventure to my kids.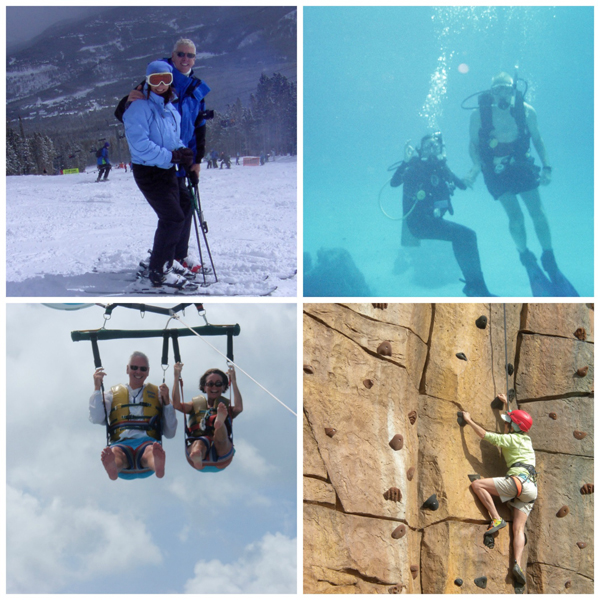 My lifestyle with my husband (both home and garden), sharing special occasions with my big family (I am the youngest of nine siblings and we all have grown kids, and then some!), antiquing ventures with my two sisters, and being able to travel are just a few of the things that make me happy and occupy most of my time. I still want to go to various places in the US I have not been to – Alaska & the Pacific Northwest, and several antique shows including Round Top/Marburger (and meet Kim, among other bloggers) and Junk Bonanza. I'd love to see other parts of the world also, but I prefer seeing the USA first. I'd even go back to many of the places I have already seen, they were that enjoyable.
Most people don't know I was a semi-professional ballerina with our city's ballet company for 17 years (1980-1997). I say semi-professional because, even though I was contracted, I was also employed full-time, was a mother of two, and was attending graduate school part-time – all concurrently (insert phrase, "No rest for the wicked"). That makes me tired just thinking about it now. It took me 7 ½ years to finish my MBA (with permission to extend the time limit beyond the max 7 years), due to all the juggling I was doing with other life and career commitments. The year my oldest daughter joined the company as a junior member, I exited the stage. In 2003, when both girls were in the company, my husband and I joined the troupe for ballroom waltz steps in the adult party scene of the Nutcracker. It was a memorable life event for all of us, and a feature in our local newspaper.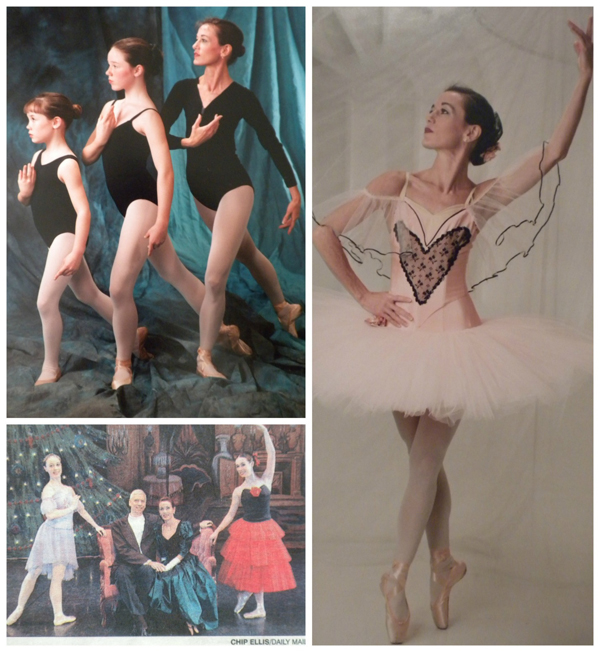 I am a creature of habit. From daily rituals, planning and organizing my life, and all the work and play in between, I am a planner and a list checker, even in retirement! I like routine and planning, and really dislike life on the fly. I'm pretty much a self-starter, and always have been, but I don't make New Year's resolutions. Being a planner and organizer by nature, I don't feel the need to make resolutions at any one time particularly. I usually have goals or lists of things I want to accomplish at any given point in time.
The highest compliments I've received are of the nature that my grown daughters are just like me. I hope that means others see them (and me) as having a sense of responsibility, demonstrating a strong work ethic, being honest, trustworthy, and showing good, common sense. If so, I couldn't ask for better outcomes in raising them. They both certainly chose husbands who are of that same nature, for which I am grateful.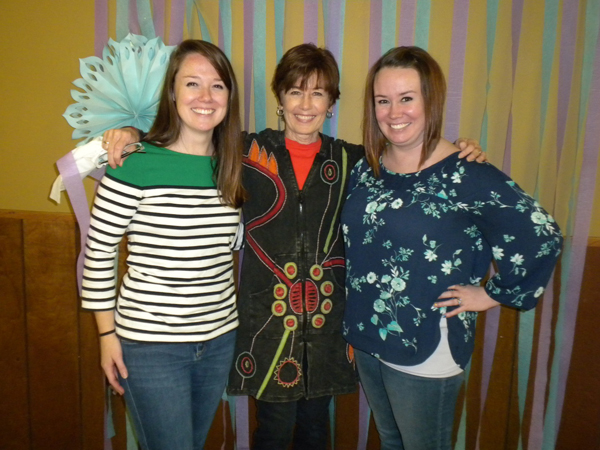 As a blogger, I feel I owe it to readers to either entertain or educate them, so I do my best to improve my topics and photos continuously. One last thing I'd like readers to know is that blogs are not just idealistic portrayals of life and glossy photos. Reading blogs is a great way to engage in conversation with the authors whose styles or interests click with yours – whether it's about home, garden, travel or life matters in general. It's not until you engage in conversation with a person and get to know them over time that you really learn who that person is, and why they are the way they are. In doing so, you may even get a glimpse of the burdens they've had to carry and feel like sharing your own. Still waters run deep, and we've all had to bear our burdens in life, so I feel it's beneficial to get to know bloggers, but not just based on what you read in print or see in photos. I invite you to get into conversation with me at my blog, Panoply, and to come visit me anytime. If you do, leave me a comment so I know you were there.
Kim, thank you so much for inviting me in to share about myself with your readers!