If you have followed my blog for any length of time, you know I love to sew with vintage linens, so when Claudia Violette from For the Love of France asked me if I'd host a giveaway for her, I was all ears.
Before I get to the giveaway, though, let me share some sewing ideas that I just love!
1.  Upholster a Chair with Vintage Scraps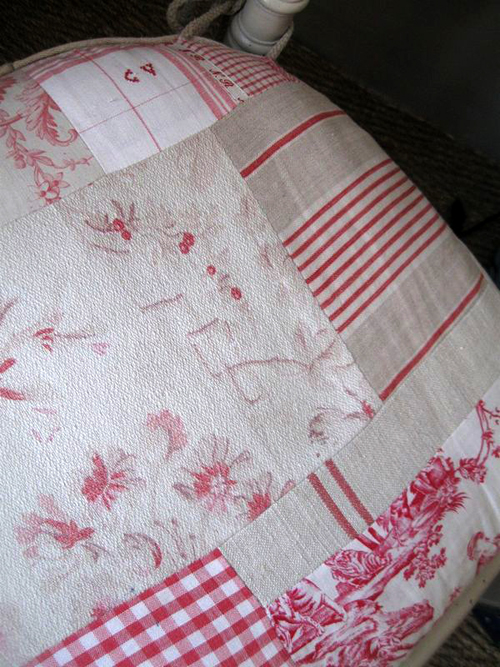 This is a pretty and creative way to upholster a chair.    See two of my Pinterest boards for more upholstery ideas and tutorials.
2.  Sew a Dog Bed
I have loved this dog bed for so long!  I just wish Maria sold the pattern!
You can see other dog bed and dog project ideas and tutorials here.
3.  Stitch Up a Sewing Machine Cover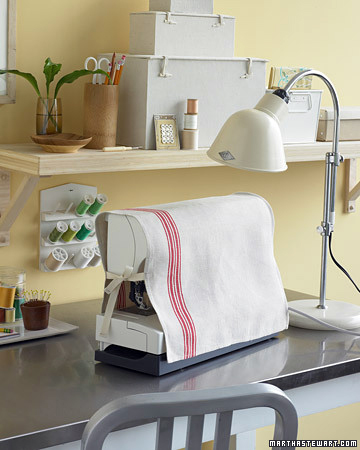 I need to make a sewing machine cover soon and this is a favorite idea (and tutorial) so far.
4.  Sew a Pretty Apron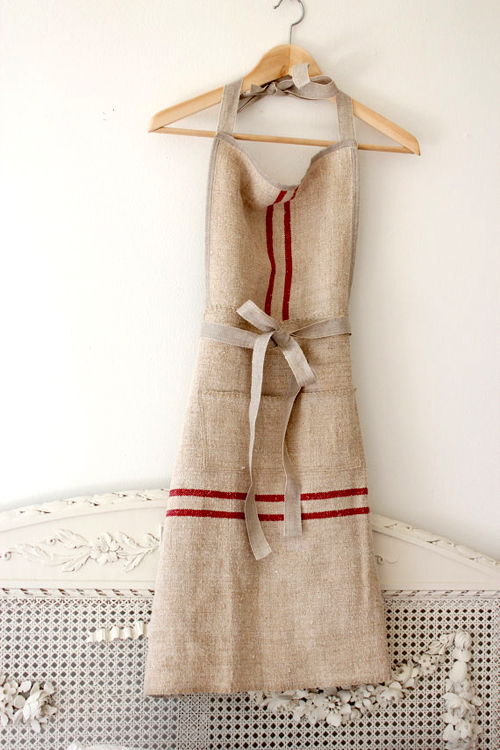 Michele stitched this fabulous apron.    You can see all of her pretty creations here.
For more apron ideas, take a look at my Pinterest board, devoted to apron inspiration and sewing tutorials.
5.  Dress Up an Ottoman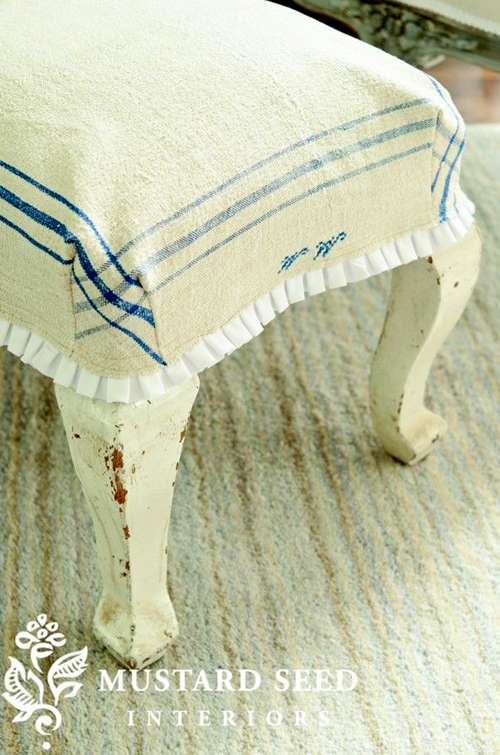 This little ottoman slipcover looks like it would be so easy to make!  Check out the tutorial!
6.  Sew Pillows, Pillows, Pillows!   (The ideas are endless.)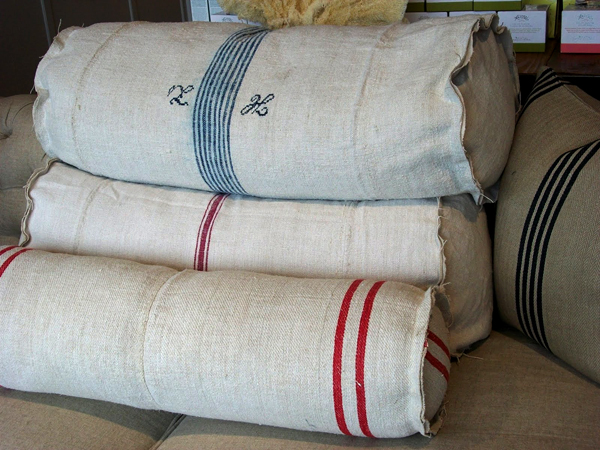 I am bound and determined to sew some bolster pillows like these.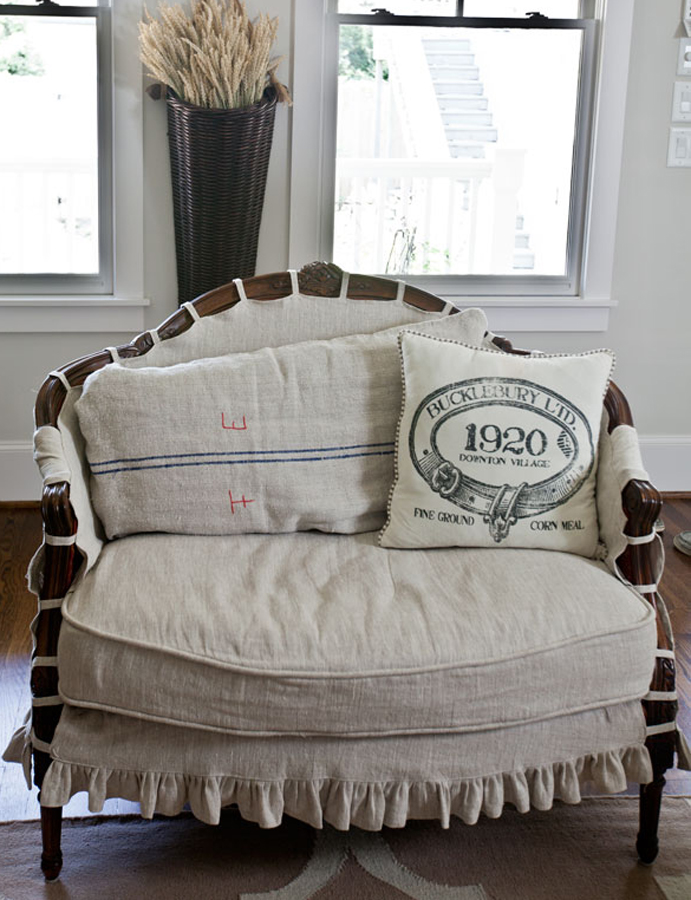 Anita, the talented lady behind the blog, Cedar Hill Farmhouse, regularly uses vintage fabrics to decorate her home, like this pillow and slipcover.
Large, square pillows like these are probably my favorite pillow style.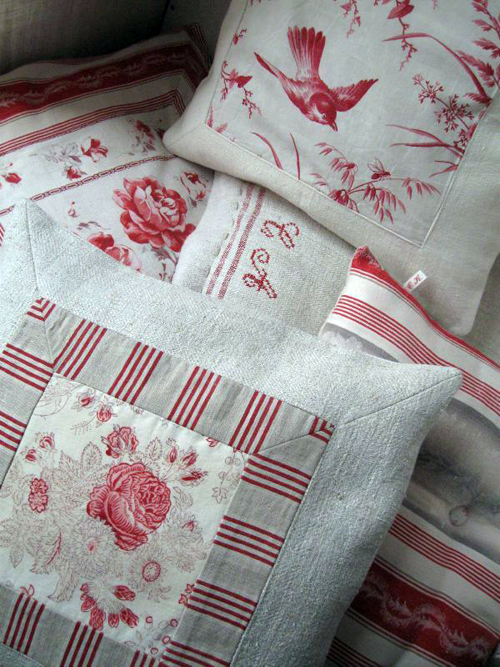 I really like these pillows that use vintage fabrics to "frame" another piece of pretty fabric.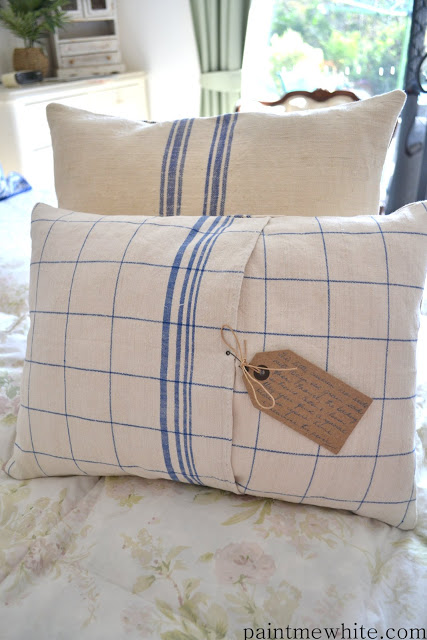 Sandy, the talented blogger of Paint Me White, sewed these pretty blue and white pillows.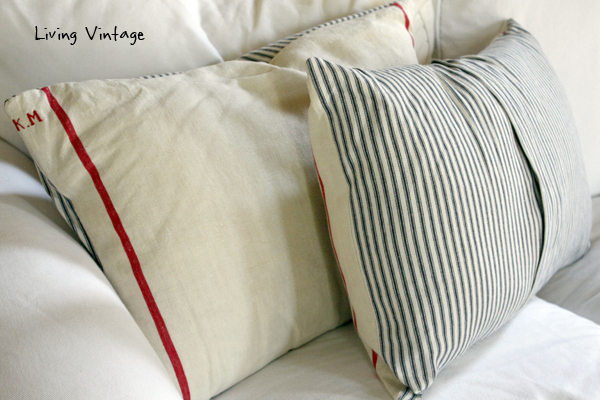 Of course, you can make pillows like mine.  🙂  If you recall, I made two pillows from one For the Love of France's tea towels.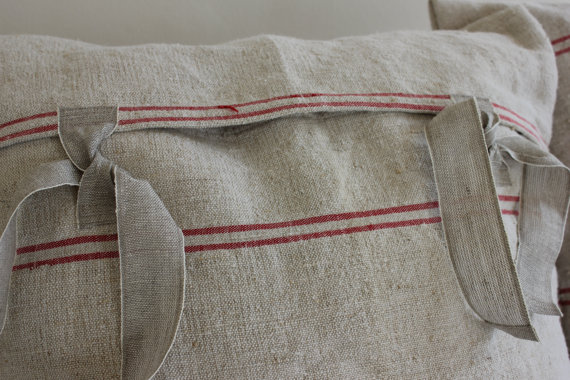 Here's another one of Michele's pillow creations.  I like the way this pillow ties in the front.
 For more pillow ideas, click here and here.
7.  Sew a pretty patchwork curtain
I think this is a fabulous idea:  stitching a curtain using several antique linens.
For more curtain ideas and tutorials, hop on over and look at my DIY – Curtains board.
8.  Make a pretty duvet cover.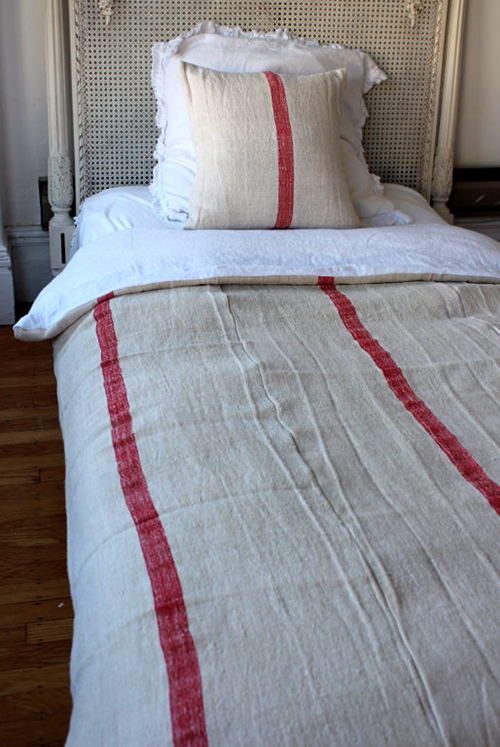 I just love this pretty duvet cover.
9.   Make a Christmas tree skirt.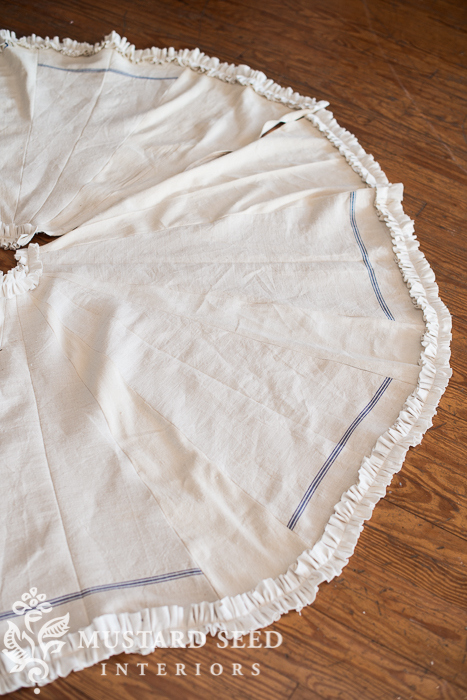 Marian always comes up with really creative ideas, like using antique fabric to sew a Christmas tree skirt.
10.  Stitch up pretty sachets.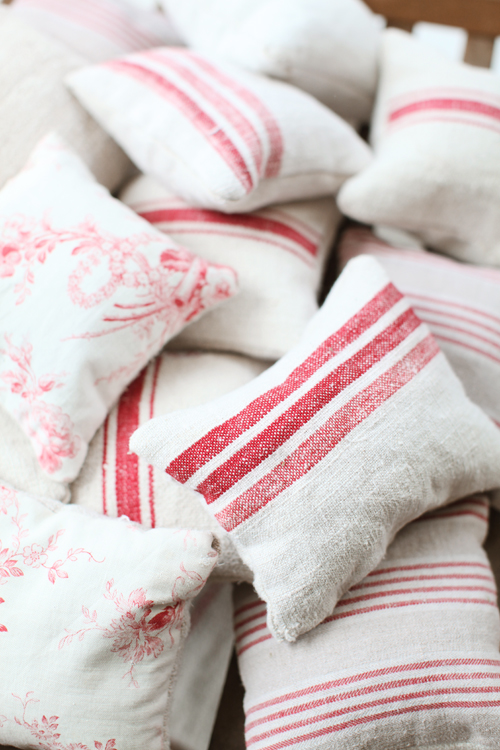 These lavender sachets are a clever way to use small remnants of vintage fabric.
11.  Create a pretty purse or bag.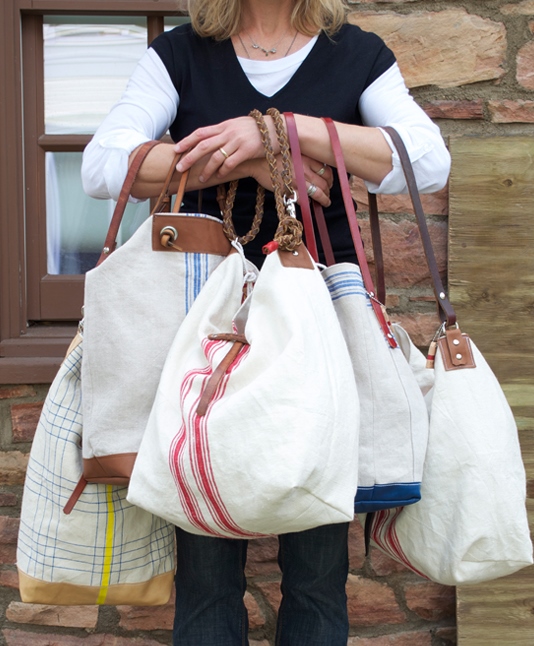 Elke made these pretty totes using antique linens and leather horse bridles as straps.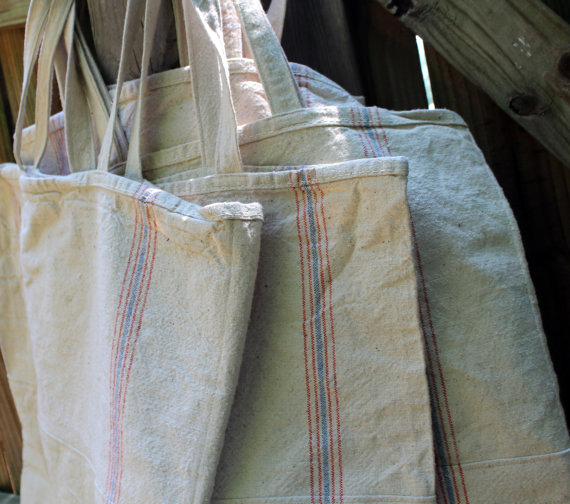 The Etsy shop, Catnap Cottage, sews these reusable shopping bags.
 Check out two of my Pinterest boards to see a wide variety of purse, tote, and bag ideas and tutorials.
12.  Sew some pretty napkins.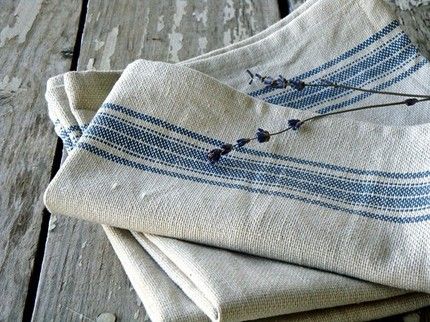 Faded Plains stitched (and sold) these pretty napkins.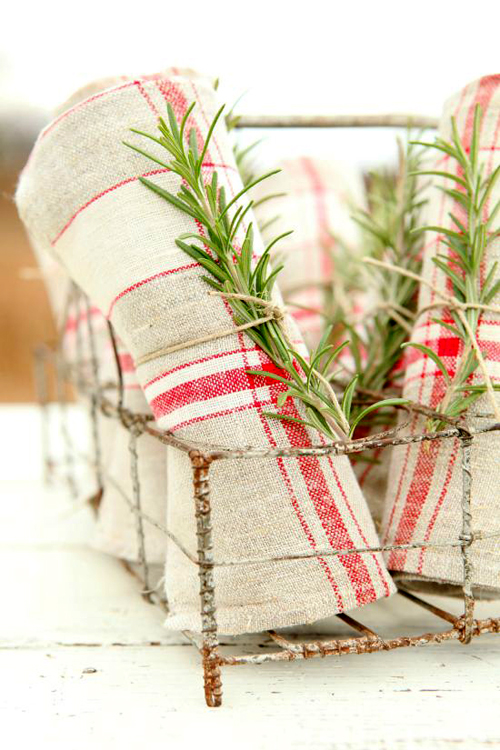 I love French Larkspur's creations and these napkins are no exception.
 Oh, and for more napkin ideas, click here, here, here, here, and here.
OK, so now that I've inspired you, here's how to enter the $65 giveaway.
Just follow the instructions below!  You can enter once or several times.  It's totally up to you!
 (IMPORTANT!  you must follow the instructions AND enter via the Rafflecopter site.)
By the way, I need to mention that this giveaway is not just limited to For the Love of France's vintage fabric.   (That's just my personal fave.)  In addition to antique French linens, she also sells cafe au lait bowls, vintage religious medals, antique rosaries, antique porcelain, vintage silver and silverplate, rare buttons and ormolu frames, vintage school posts, and more!   Check out her always-changing stock at her online store and Etsy shop.
The contest begins at midnight on Monday and ends at midnight on Friday, February 6th.   Claudia and I will choose a winner on Saturday morning because chances are, I won't be lucid at midnight.
By the way, this deadline was chosen by Claudia in the hopes that you will receive your prize in time to gift the item or maybe stitch something up for a special someone on Valentine's Day!
Good luck!
[UPDATE:  THE WINNER IS JANE WEEKS!]

******************************
I'm linking to these parties:
Be Inspired @ Elizabeth & Co.
DIY Sunday Showcase @ PinkWhen, Minettes Maze, Fresh Idea Studio, and VMG206
Home and Garden Thursday @ A Delightsome Life
Inspire Me Tuesday @ A Stroll Thru Life
Make it Pretty Monday @ The Dedicated House
Making Monday @ Kitchen Table Art and A Bright & Beautiful Life
Masterpiece Monday @ Boogieboard Cottage
Moonlight & Mason Jars Link Party @ The Newlywed Pilgrimage, Five Heart Home, Mama Dish, and Cherished Bliss
Mosaic Monday @ Lavender Cottage
Share your Cup Thursday @ Have a Daily Cup of Mrs. Olson
Silver Pennies Sundays @ Silver Pennies
Sunday Best Link Party @ The Girl Creative
The Makers Link Party @ Tiny Sidekick, Persia Lou, and Upcycled Treasures
Thrifty Thursday @ Living Well Spending Less
Treasure Hunt Thursday @ From My Front Porch to Yours
Tuesdays at our Home @ Our Home Away From Home
Tweak It Tuesday @ Cozy Little House
What's It Wednesday @ Ivy and Elephants
Work It Wednesday @ The Blissful Bee, The Happy Housie, Place of My Taste, and The Turquoise Home
Worthwhile Wednesdays @ Crafty Allie