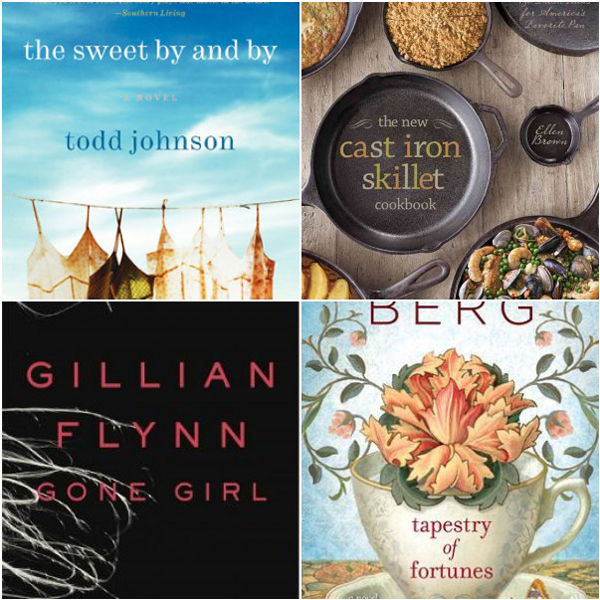 I read books year round, but when the time changes and the sun goes down at 5:30 and then the weather starts to turn chilly, I seem to read much more.  I enjoy when other bloggers share the books they're reading so I thought:  why not me too?
So welcome to another new blog series.
Here's what's currently on my bedside table:
The Sweet By and By
.       One of my friends on Goodreads recommended this book to me.  I have gulped pages of this book in one sitting and have about 4 pages to read before I finish this book.  It's a very sweet story about five sassy women and their relationships to each other.  Every chapter is spoken from one of their perspectives.  Most of the scenes in the book occur in the nursing home where two of the women live out the rest of their days:  Margaret, sassy and droll who reminds me of my grandmother sometimes, and Bernice, sweet, funny, and not quite lucid.  Lorraine is their nurse, "God-questioning, and church-going" who loves and takes care of them.     Rhonda, a road hardened hairdresser and (after being abandoned by her mother and raised by an abusive grandmother), volunteers at the nursing home and the experience softens and saves her.    The last character is Lorraine's daughter, April, who is very bright and ambitious.   It's surprising to me somehow that the book is written by a man — he is able to write like a woman so easily.  I've thoroughly enjoyed it.
The New Cast Iron Skillet Cookbook
.    How many men do you know who are hard to buy for?    I can think of at least two, my husband being one of them.  When my sister and niece asked for a Christmas hint for him, I thought:  why not a cast iron cookbook?  He loves the pans he inherited from his mom and we use them often.  The author of this cookbook suggests that you can use a cast iron skillet every day, and based on her wide variety of recipes, I can believe it.  Some recipes that I know we will try and soon:  chicken-fried steak with chorizo gravy, pan-seared pork tenderloin with tarragon, Cajun halibut, and chicken potpie with cheddar biscuit topping.  I could go on and on, but you'd probably cuss me for making you hungry, and I don't need that karma.
Gone Girl
.    Plain and simple:  I want to read this book before we watch the movie  — books are usually better than movies in my opinion — and I'm hoping to do both before the Academy Awards air on February 22nd.    (Rosamund Pike  is nominated for Best Actress this year as you may know.)  I'm sure this thriller will be as good as I've heard it is.
[UPDATE:  The book was much better than the movie!]
Tapestry of Fortunes
.    I received this book in the mail from my mom as a birthday gift this year.  (Don't you just love to get books as gifts?)  I remember introducing her and my sister to Elizabeth Berg many years ago, when I handed them a copy of one of Elizabeth's first books, Talk Before Sleep
. (It still remains my favorite of her many tomes, perhaps because that same year my beloved Aunt Velvet died, so that's probably why the story resonated so powerfully with all of us.)    I'm looking forward to reading her new novel about four women who "venture into their pasts in order to shape their futures, fates, and fortunes".  I'm sure I will love it.
Now, it's your turn.  What are you reading at the moment?

P.S.  Yes, this post does contain affiliate links.