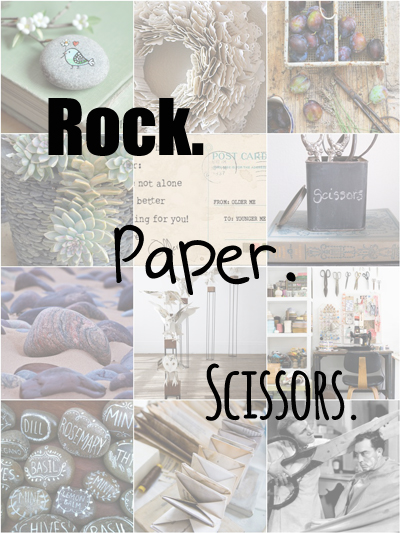 Welcome to the second edition of Rock, Paper, Scissors.
Enjoy!


a tiny bird painted on a pebble by a talented illustrator who loves animals
a gorgeous rock pot containing succulents
rocks that look like seals sunning on the beach
a really pretty wreath made with book pages
a wonderful postcard with a message that everyone needs from time to time
sculptures of owls (and other animals) using paper
a book without adhesive, or stitching, using a method of folding
Plums, a pair of scissors, a wire basket and a harvest table compose a beautiful still life.
I liked this little vignette.  Chalkboard paint and "scissors" clearly state the obvious.
a pretty craft room with scissors at the ready
a funny vintage photo
Save