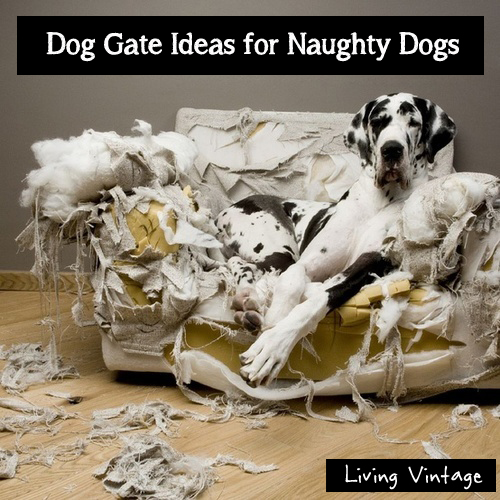 OK, here's my predicament.
We came home the other day and discovered a scene similar to this:
(This is not our dog and not our house, but I've never felt like reaching for a camera when we've come home to a mess like this!)
It's not the first time.
Our two dogs suffer from separation anxiety.    They are normally very sweet, well-behaved dogs (for terriers), but when we leave the house, they turn into little paper-and-fabric-chewing machines.    This would be unacceptable on any day, but since we just completely remodeled our master bedroom, including building and outfitting a new king-sized bed with brand new linens, we HAVE to do something about keeping our dogs out of our master bedroom during the day.
So we have started to think about dog gates.  But, before I go into all that, I want you to know that we have considered these options:
I know we could just close the door to our bedroom (I mean, duh), but after we invest time, money, and stress renovating that room to make it pretty, I want to be able to look at it as I pass by during the day.  Plus, closing the door really messes with how our HVAC system operates.
Yes, we could leave our dogs outside in our fenced yard while we're gone, but we live out in the boonies, where coyotes, wild hogs, bobcats, and hawks freely roam.    Call me paranoid or overly protective, but leaving them outside for hours at a time just isn't an option.
We could install a doggie door so the dogs could go out and in as they pleased.  However, a recent conversation with an elderly local went something like this:
Me:  "I'm just afraid that we would have raccoons and other wild animals coming through that doggie door!"
Him:  "Oh, I guarantee it.  You will!"
So even though I almost hate to do it, we are thinking very seriously about installing so-called 'baby' gates to the doorways of our bedrooms.    We're going to at least try it and see if we like it.
I've been on a quest lately to find good and pretty ideas.  They must be pretty, and they must be vintage or vintage-y.
Goodness knows it would be my first choice to find a truly vintage gate, preferably locally or at an antique show I attend (because I'm thinking shipping would be costly), at a reasonable price, and in reasonably good condition.
I mean, how fabulous would it be to have a gate like this old double loop wire gate?
Or wrought iron?   Folks, I drool over wrought iron.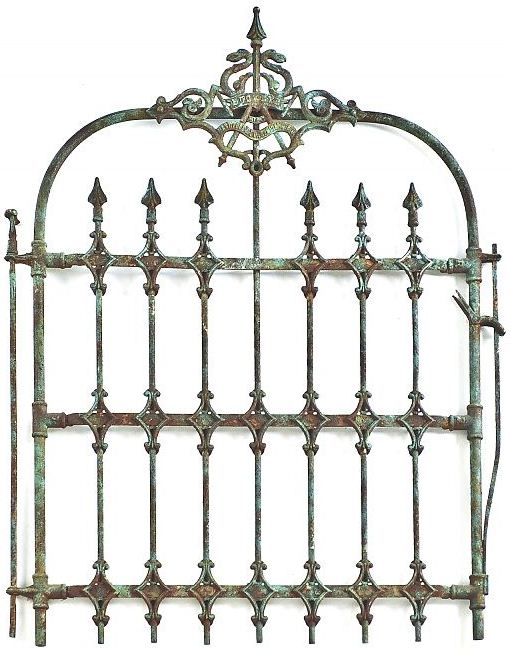 via
However.     I've had no luck (so far) finding an old gate.
But I'm not crying yet because I did say 'vintage-y' was fine.  (At least until I find an old one.)
So I've been searching for garden gate ideas online, and here are some inspiration photos I really like.
Option 1
I do like this gate, and it looks like it would be easy to build, minus the round top, of course.
Option 2
I know this gate is very similar to the blue gate above, but it's different enough to merit a mention.    This gate is too tall — I would want our gate to be waist-high.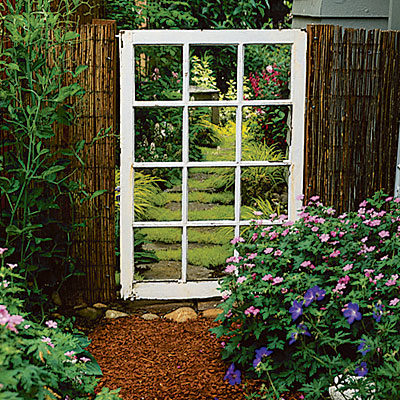 Option 3
Making a garden gate using an old window is a really cool idea, and we DO have tons of old windows in our garage.    All we would need to do is staple chicken wire to the back of it because our dogs would slip through those holes in lightning speed.
Option 4
A picket fence gate?  Heck yeah it's a contender.   This is just one idea I found.  I pinned the others.   I have always loved picket fences … but do I want one inside the house?  Hmmmm.
Option 5
This is such a pretty gate using tree branches.  I love that it's simple, rustic, uses natural materials, and easy to build.  Definitely, I like.
Option 6
Before we moved from Austin, I saw this style of fencing everywhere.  It's a little bit old-fashioned with a little bit of an industrial, modern vibe.   I like it, and it looks so easy to build.
Option 7
I don't know why I like this gate so much, but I do.  Could it be because it is rustic and uses reclaimed wood?
Yeah.  Probably so.
Option 8
I guess we could cut an old door in half … but I'm not sure I want to sacrifice an old, lovely door for this project.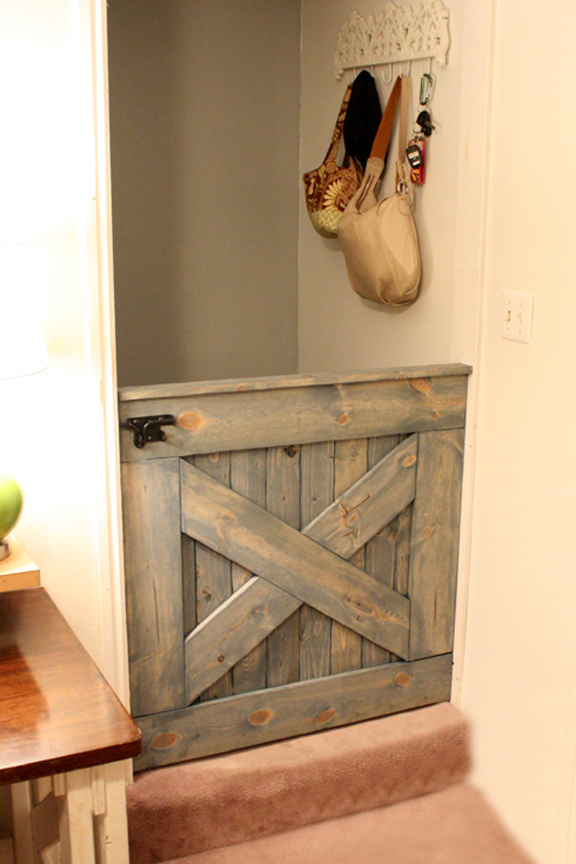 Option 9
This one is okay.  It would be really easy to build using reclaimed wood, especially since this is a DIY project with free plans online.
Well, that's it.  A total of nine options that I have found so far that I like somewhat.  We haven't made a decision yet, so would you care to help me out here?   Do you think I'm nuts and/or would you care to give me your vote?
[Update:  Hop on over and see the dog gate we built for our master bedroom.]