It's time to share our master bathroom project.
Before I do that, my husband (who is so good in Photoshop) drew up a floor plan of the bathroom "before" and "after" so that you can visualize how we reconfigured the space.
BEFORE:

AFTER:

Here are the reveal photos.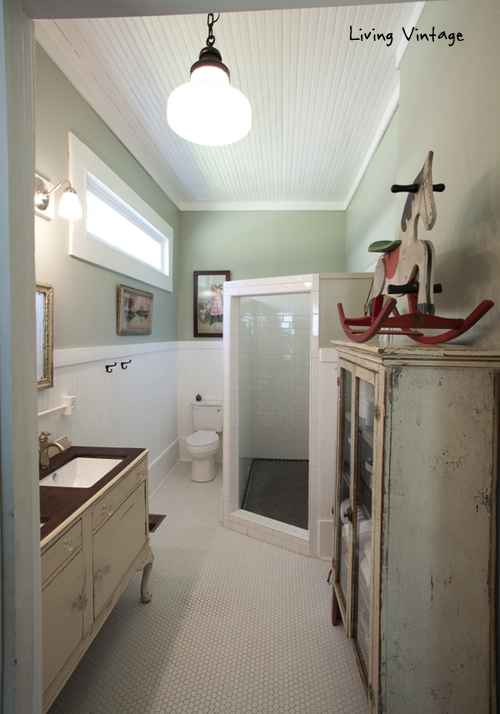 We mounted an old schoolhouse light on the ceiling.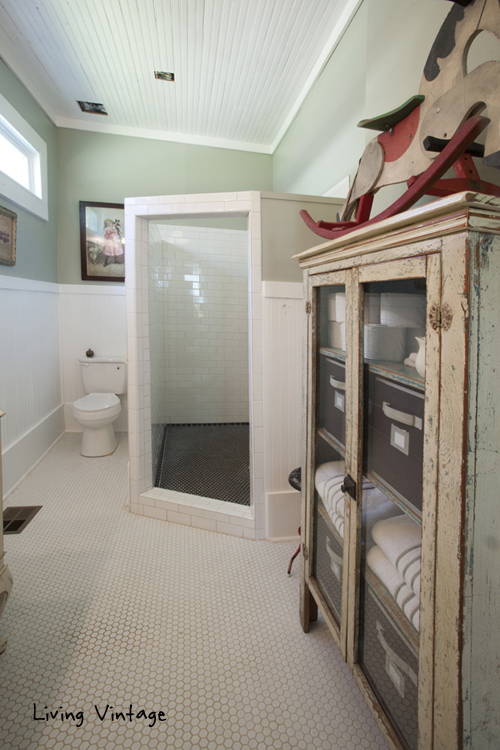 Our custom walk-in shower is so large, we don't need a door or curtain.   I had an (expensive) glass door on my shower in Austin, and I hated it.  It was so hard to keep clean.
The holes in the ceiling above the shower are for an exhaust fan and another ceiling light, which we still need to get done.
Seems like little things like that take forever to get done.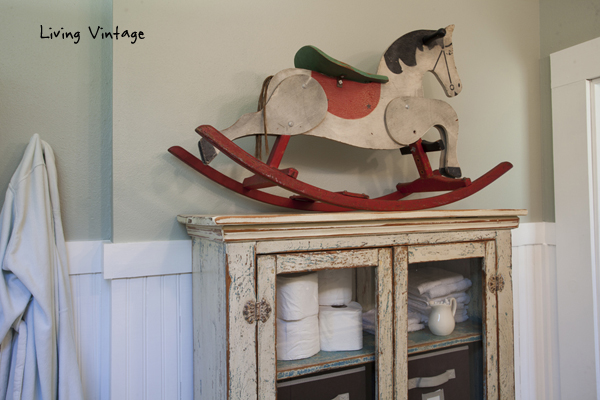 We added a touch of red to the bathroom by bringing in the vintage rocking horse.    She's since been moved to the living room, and we put an antique child's car on the top of cabinet.  It's red, too.    One of these days, I'll share another photo.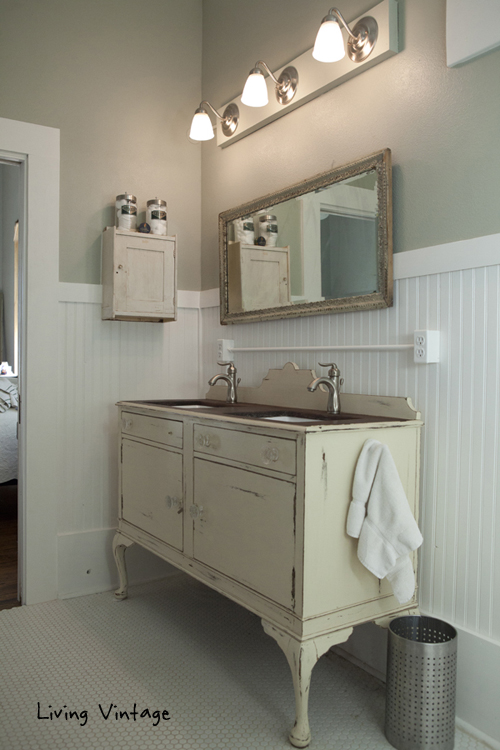 I couldn't be happier with our custom bathroom vanity.  It's compact enough for our relatively small (and narrow) bathroom, but still has double sinks, which personally, I think is a must in a master bathroom.
Plus, it's also got handy storage underneath, something that always makes me say "no thanks" to pedestal sinks.
Notice the lights and the electrical plugs?    Our electrician had to get a little creative with it because our walls are solid wood and the walls were spray-foamed prior to doing the electrical rough-in.  This was as much his goof as ours.
Honestly, the exposed conduit doesn't bother me one tiny bit because I like the industrial vibe anyway.
One last thing:  there is a busted knob on the cabinet I know.  We need to fix that.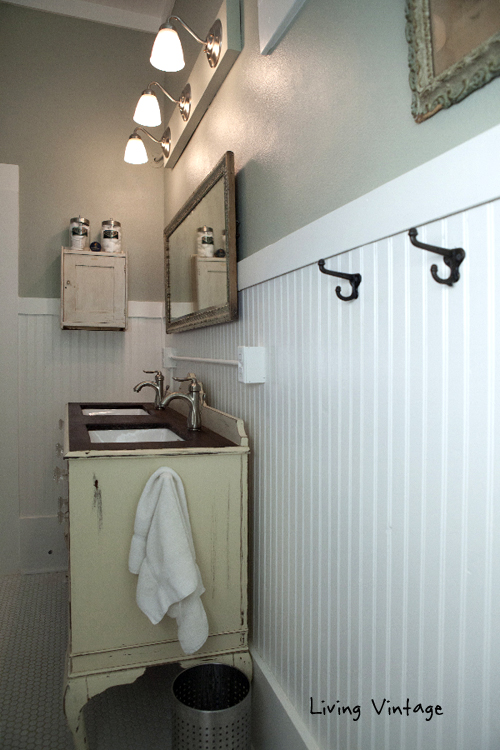 Oh, and as I mentioned earlier, we moved and mounted the towel hocks above the HVAC vent on the floor.   They were too close together on the other wall, plus the vent helps to dry the towels a little faster.  We also installed hand towel hooks on both sides of the bathroom vanity.
You can also see we installed the little cabinet.
We installed a pocket door when we framed out the entryway to our ensuite bathroom.  We used an old 5 panel door that we removed somewhere else in the house.  (For example, there's no door between the kitchen and office.)
I LOVE pocket doors, don't you?    They are a real space saver.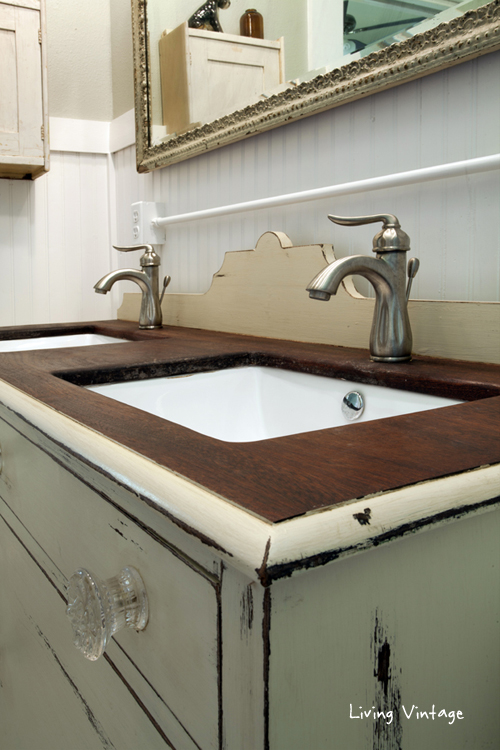 The Miss Mustard Seed wax sure did darken the top of the vanity, making it a rich brown.   And 'so far so good' keeping moisture at bay.
Oh, and the dog and old bottle reflected in the mirror didn't live there for long.  I much prefer what I'm about to show you.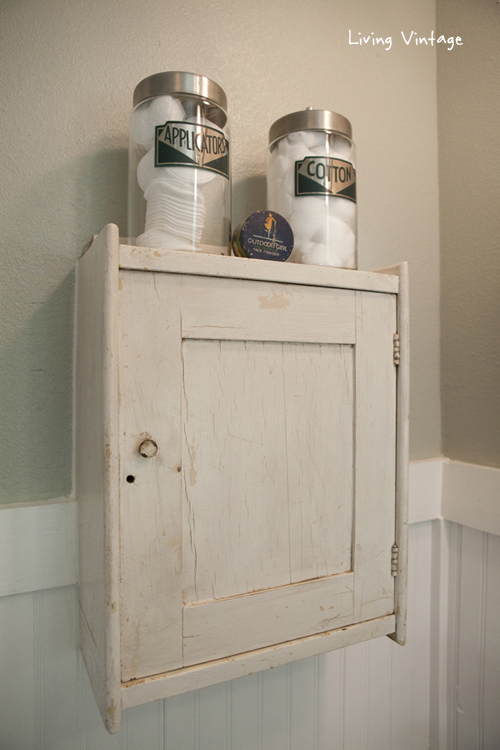 I love this little cabinet that we bought.  It is so handy, and I love little cabinets. They're just so cute.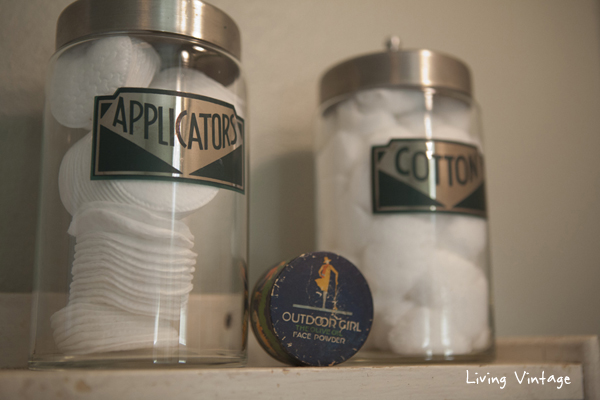 The apothecary bottles and face powder are all vintage.  The bottles are art deco-y, and I normally don't go for that, but I like these because they're green.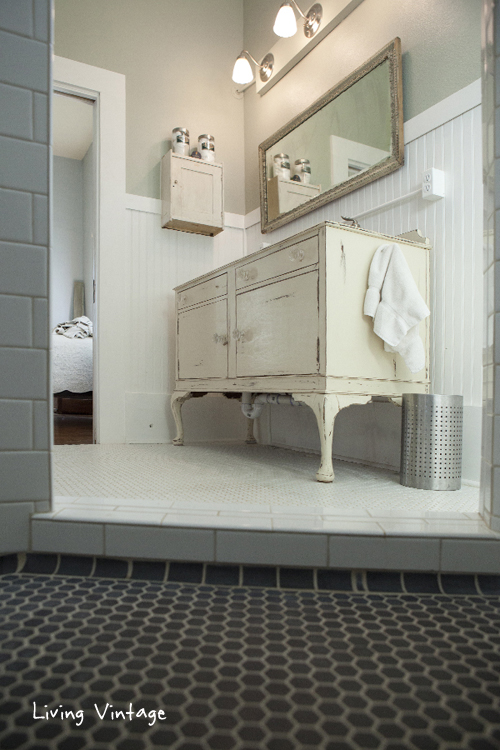 This clever shot shows off our bathroom shower tile.  I hope to never have to look at it from this level.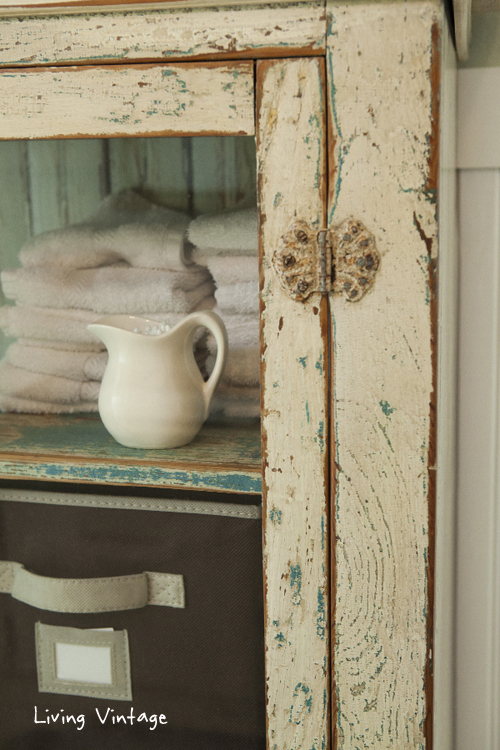 Here's another photo of my yellow, chippy cabinet.  I use the miniature pitcher to store Q-Tips and display them in a pretty way.
So that's our bathroom.  I think it's a huge improvement over what we had to start with.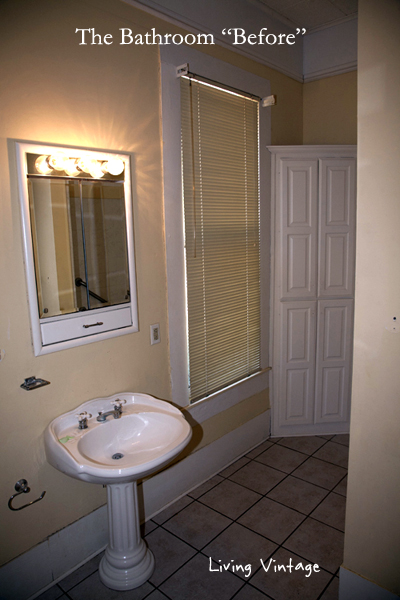 What do you think?

******************************
I read and appreciate every comment. Thank you for letting me know what you think!

******************************
I'm linking to these parties:
Mod Mix Monday @ Mod Vintage Life
Party Junk @ Funky Junk Interiors
What's It Wednesday @ Ivy and Elephants