It's been a while since I posted a recipe, and that just ain't right because I love tasty food!
So without further delay, here's a question for you:
Are you in the mood for an easy, tasty meal using chicken and garden fresh tomatoes?
If so, I have a meal for you. We've made this dishseveral times, and it's never, ever disappointed.
It's a perfect summertime meal:  it's filling but not too heavy, does not require an oven, and it's ready in 30 minutes.
CHICKEN POMODORO WITH GARLIC SPAGHETTI
Ingredients
2 boneless, skinless chicken breasts, halved, pounded to ¼-inch thick (8 oz. each)
Salt and black pepper
2 Tbsp. all-purpose flour
2 Tbsp. olive oil
1⁄4 cup vodka
1⁄2 cup low-sodium chicken broth
1⁄4 cup heavy cream
1 cup halved heirloom cherry tomatoes
2 Tbsp. fresh lemon juice
1⁄4 cup minced scallions
8 oz. dry spaghetti
2 Tbsp. olive oil
2 Tbsp. minced garlic
2 Tbsp. minced fresh parsley
1 Tbsp. minced lemon zest
Salt, black pepper, and red pepper flakes to taste
1⁄2 cup crumbled ricotta salata OR feta (optional)
Instructions
Season cutlets with salt and pepper, then dust with flour. Coat a large sauté pan with nonstick spray. Add oil and heat over medium-high.
Sauté cutlets until brown, 2–3 minutes per side. Transfer cutlets to a plate.
Off heat, deglaze pan with vodka and cook until liquid evaporates. Add broth and cream and reduce until thick, 2–3 minutes. Stir in tomatoes and lemon juice and bring to a simmer. Return cutlets to pan and cook to warm through, 1 minute per side.
Serve cutlets with sauce and garnish with scallions.
Meanwhile, cook spaghetti in a large pot of boiling salted water according to package directions. Reserve 1⁄2 cup pasta water; drain remaining water.
Heat oil in same pot over medium-high. Add garlic; cook 30 seconds. Stir in pasta water, parsley, zest, and spaghetti; toss to coat. Season spaghetti with salt, black pepper, and pepper flakes, then stir in ricotta salata or feta, if desired.
Let me know if you decide to try this recipe.  I'd love to know!
***********
By the way, I've got to tell you that all of Cuisine at Home recipes we've ever tried have been absolutely, positively delicious.
Not only that, I love that their recipes come with a photo of the finished dish, as well as step-by-step photos. For example, check out their Sausage & Potato Frittata recipe, which comes complete with a photo of the entree as well as three in-process photos.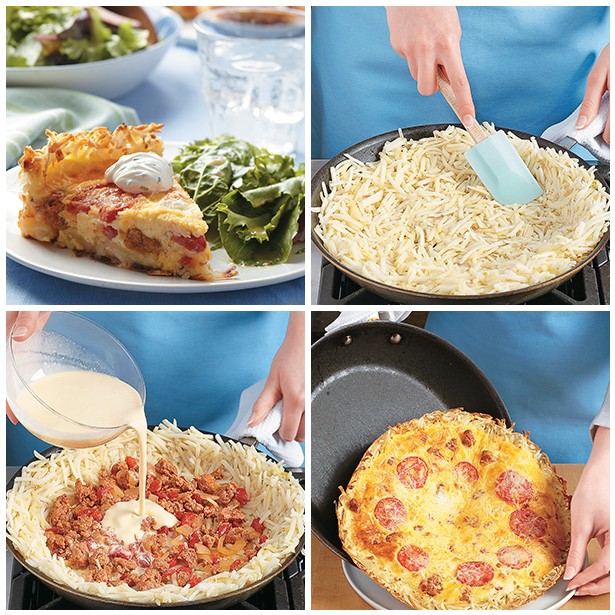 Cuisine at Home is in the business of selling their magazines and cookbooks, but if I haven't sold you, you can get a free preview issue.
However, if you're frugal like me, and you'd like to get FREE recipes from them periodically, just sign up for their emails and you'll get a delicious recipe from them every few weeks, like this one.     Each eRecipe usually comes with a handy test kitchen tip.
Now for the disclosure:  I was not paid in any way to make this endorsement.  I just like their recipes, and I thought you might as well!