We live in the land of sugar sand.   Sand so fine that it's almost impossible to keep from tracking it indoors.
After we bought our house, we found that we were having to vacuum the kitchen — (which was the room we entered from the back door) – every few days.    That got really old.  Really, really fast.
I never thought I'd need or want a mudroom.  I thought mudrooms were needed just for snowy, muddy areas.   But it occurred to me that this might just be the solution for our almost daily cleaning predicament.
So, my husband and I started discussing adding on a small mudroom to the back of our house.  Last summer when it was time to start our window, insulation and siding replacement project, we knew that the time was then or never to build on a small mudroom.
We knew we wanted the room to be large enough to be functional and roomy enough, but small enough to keep costs low.  We knew we had plenty of reclaimed lumber from our very first old home salvage project to cover most of the material costs, but we knew we would still had to factor in other expenses like labor, electrical supplies, lighting, insulation, roofing, and yes, more lumber.
After we considered everything, we realized that the pros far outweighed the large con of having to clean the floors every other day, so build it we did.
We finished the addition months ago, but have taken our time furnishing and finishing it.
(When you're salvaging old houses 5-6 days a week, there's not a lot of time or energy left over.  So frustrating when you're wanting to get some home improvement projects done!)
Plus, I wanted to find the perfect antique bench, and while I wanted it to appear instantly — (Yeah, I am impatient sometimes) – it took months to find.
Today is the big reveal.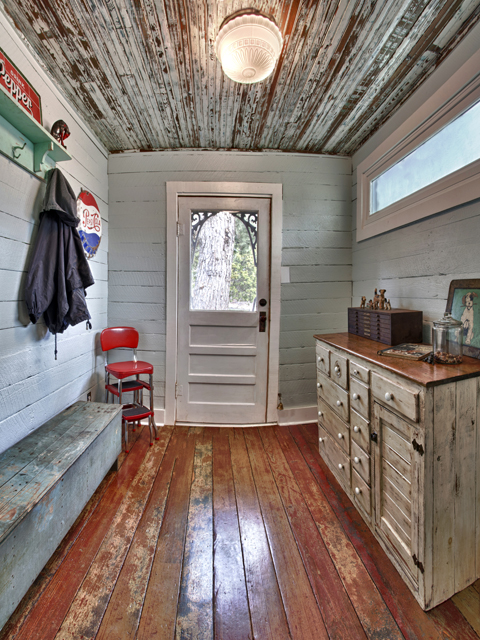 But, let me start from the beginning.
First we moved the concrete steps using ingenuity, a homemade track system, a conveniently located tree, and a come-along.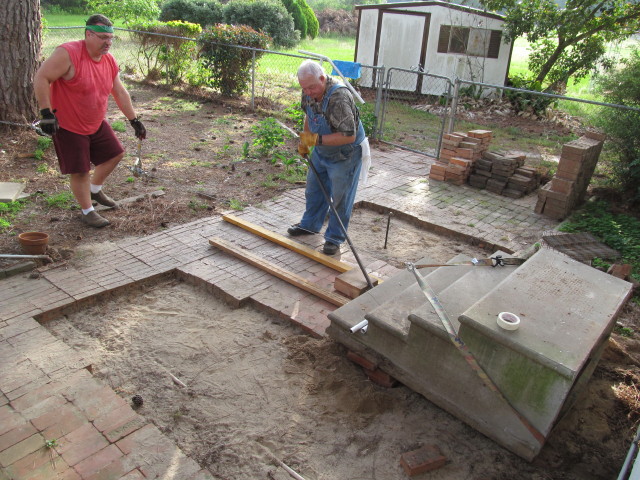 I moved and stacked the bricks to get them out of the way …. finding a few scorpions and black widow spiders in the process!
After that, my husband, Mark, and a good friend, Mike Cochran, started the decking and framing process.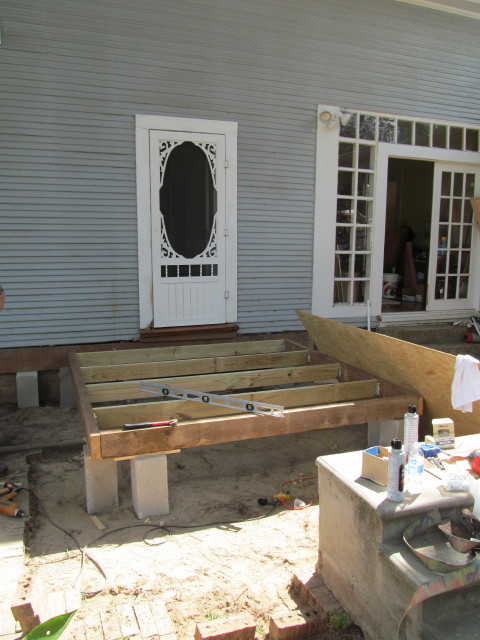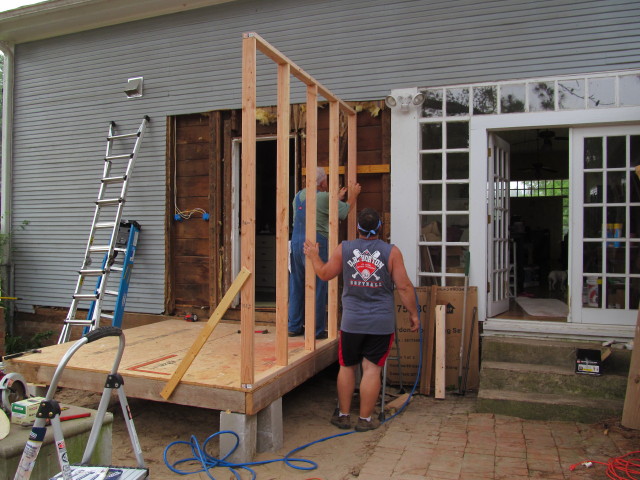 To add some natural light, we decided to install a window on the east side of the mudroom.  I didn't want the small room to feel like a cave.
After the wall framing was done, we hired an electrician to do the rough-in work.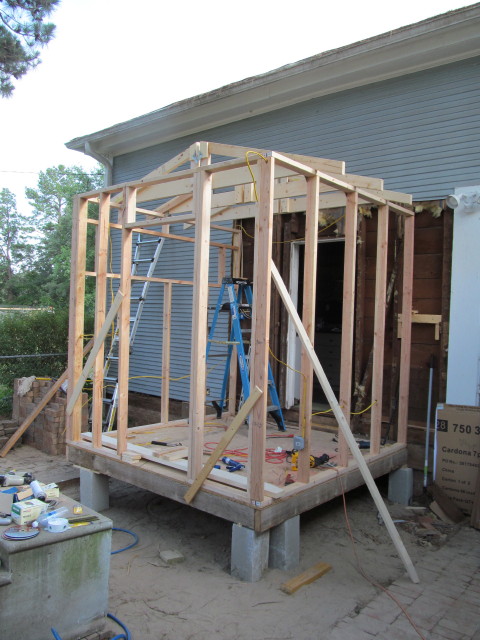 Next, the guys installed a metal roof.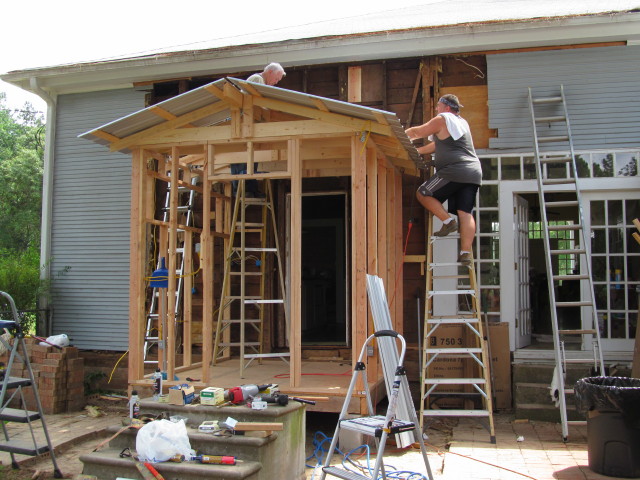 Meanwhile, while the guys were doing the framing work, I sanded and cleaned the old pine hardwood floors that we pulled from an old, abandoned house in Grapeland.
My intent was to sand them all the way down to bare wood.  However, sanding them revealed many layers of wonderful old blue, red, orange, and yellow paint.  I decided to leave them that way.  Each plank is so lovely in its own way.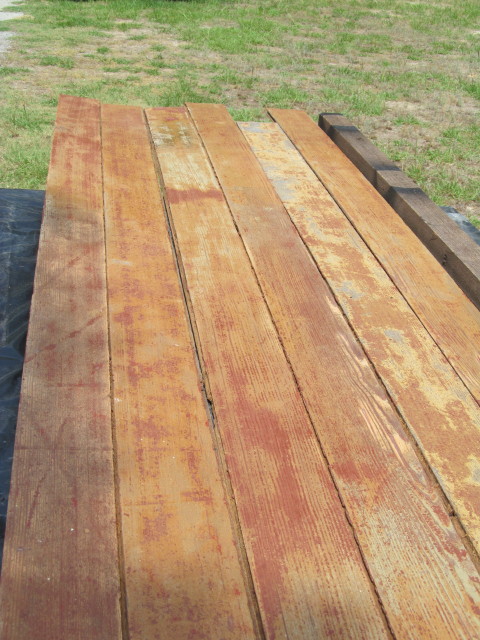 I did the same thing with the old, white beadboard that we wanted to use.  The old white paint was horribly flaky so sanding them was a must.  Sanding them revealed a lovely blue paint underneath and sometimes bare wood.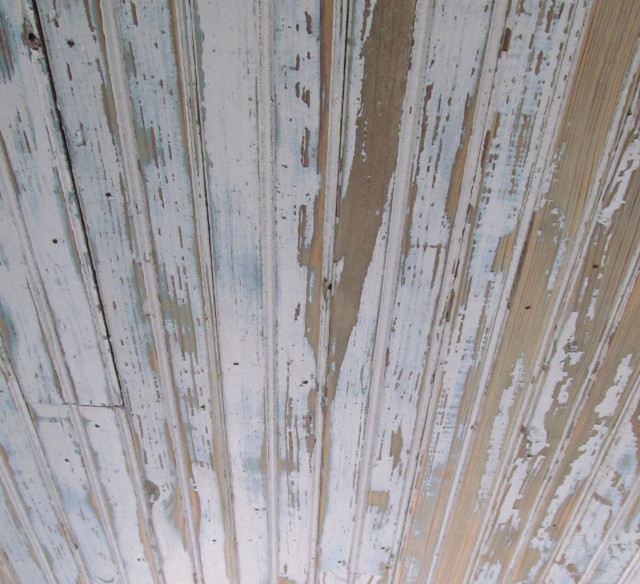 (Not the greatest photo, but you get the idea.)
I also scrubbed the filthy shiplap using a bucket of mild, soapy water and a garden hose and let it all dry in the sun.
All of the above would be used for the finish-out.
One day I went to town to buy groceries and the guys had surprised me by installing the finished floors.   Admittedly, I was a tad perturbed because I wanted to be part of that process.  Heck, after all that work, I wanted to help choose the boards that were installed.
But, I have to say they really didn't need my help.  They did a great job!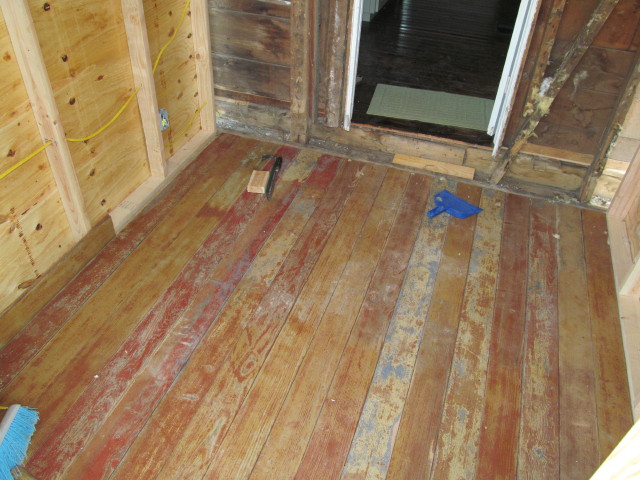 Next they moved the concrete steps back into place.  They also installed the window and clad the mudroom in plywood ….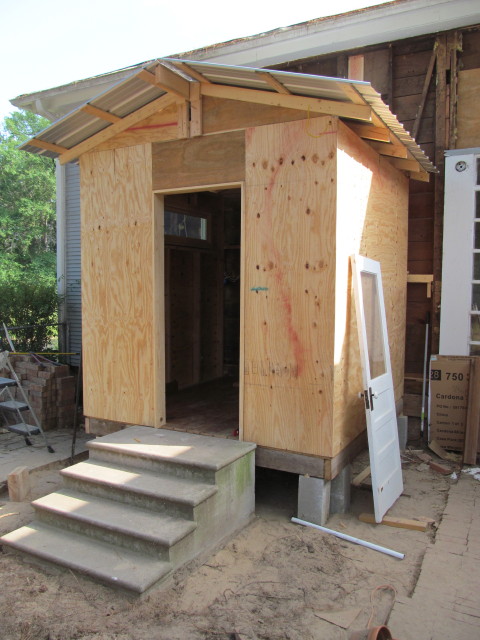 Then it came time to have the insulation company do their thing, not only to the mudroom but the rest of the house.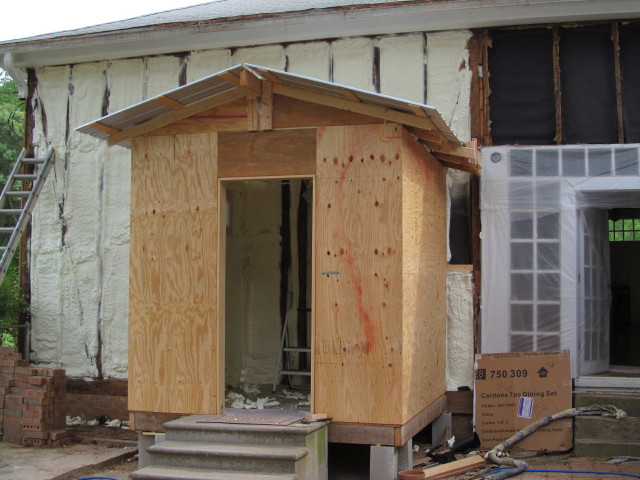 After that, the guys stapled up a vapor barrier and installed the doors.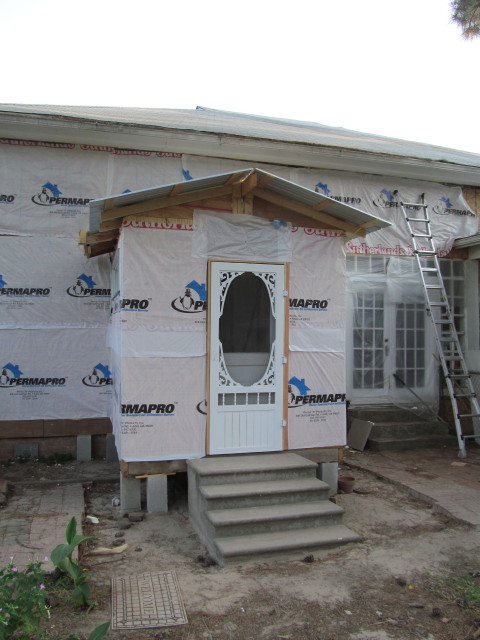 We clad the entire house in HardiePlank smooth siding.  We chose their 4″ reveal product because it matched almost exactly what was on the house originally.  And, HardiPlank siding is so maintenance-free — it holds paint so well! — plus we knew it would help with our homeowner insurance. (Some insurance companies consider it to be a masonry product, and masonry costs less to insure than wood.)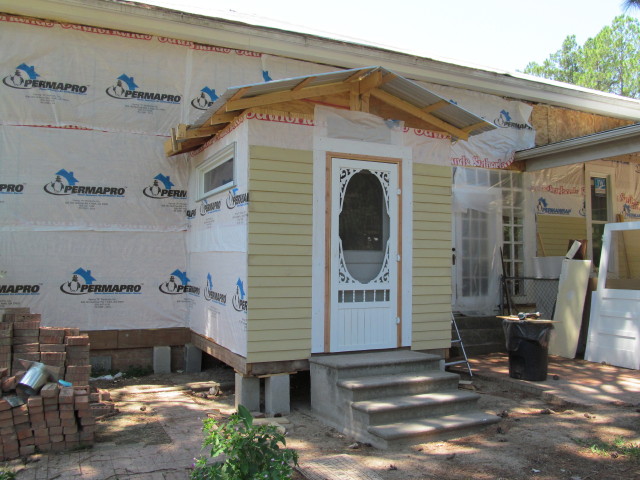 With the exterior work done, the more fun (to me) finish-out process began.
The shiplap walls were installed and then the beadboard ceilings.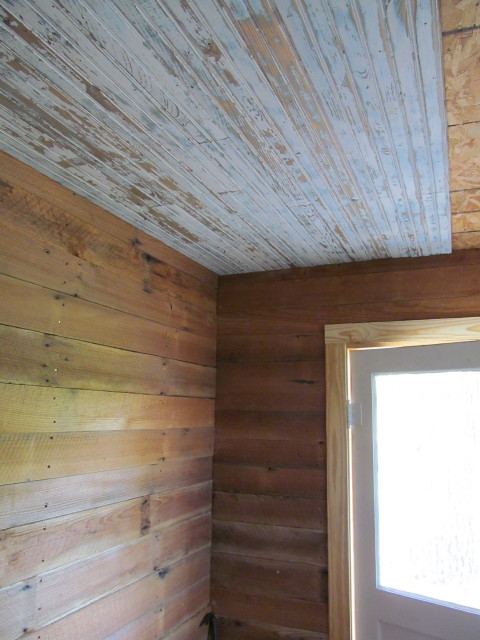 What we were left with was a very cabin-y looking room.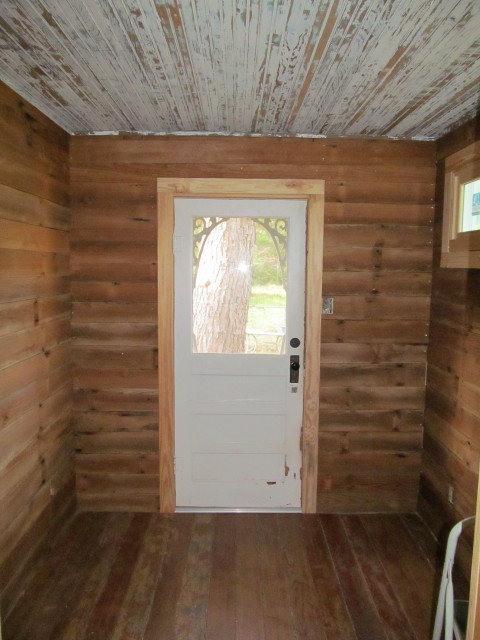 After much debate with my husband (who loved the bare wood), I decided to paint the walls a barely blue color from Sherwin Williams.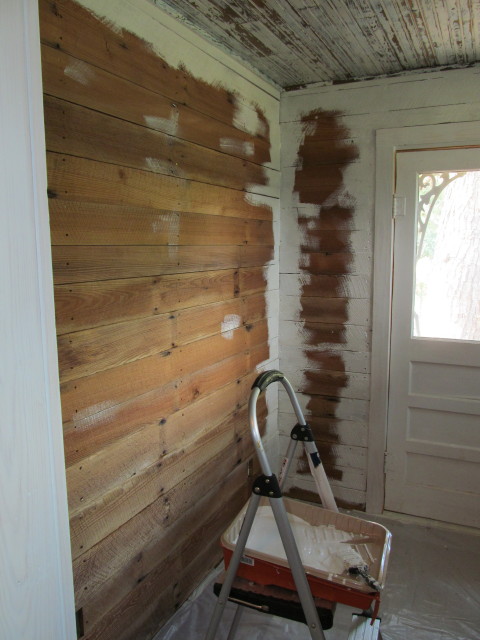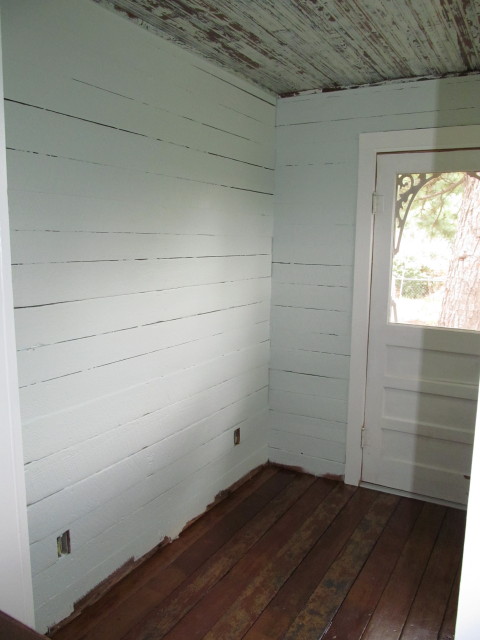 I also polyurethaned the floors …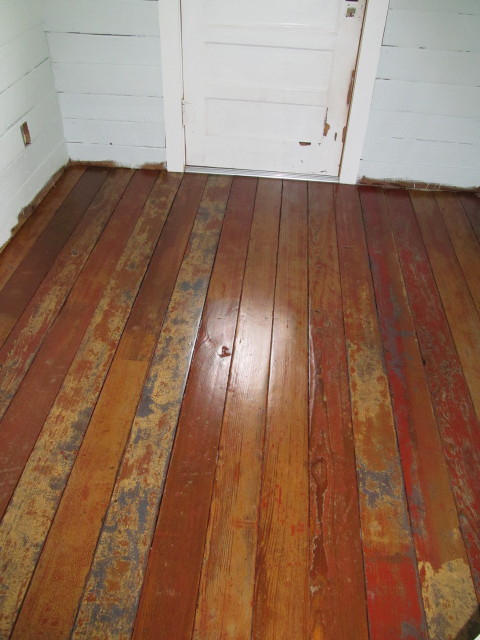 … and the ceiling.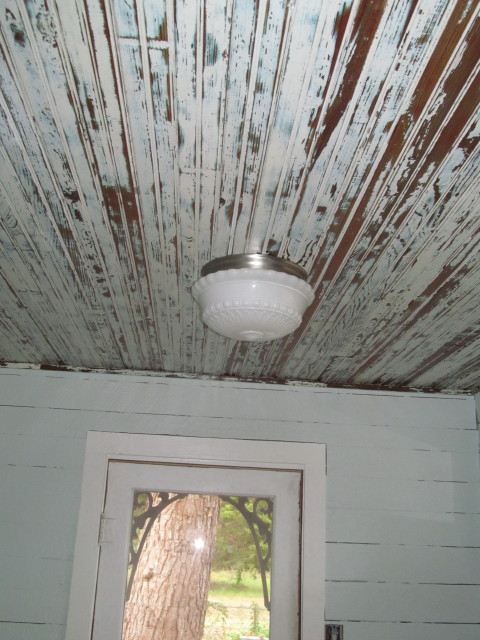 This is always a super fun process because poly really makes the colors pop!
By the way, the light is from Home Depot or Lowe's.   I can't remember which.   It has a vintage style that I like.  It works for now. I may eventually replace it with a vintage fixture.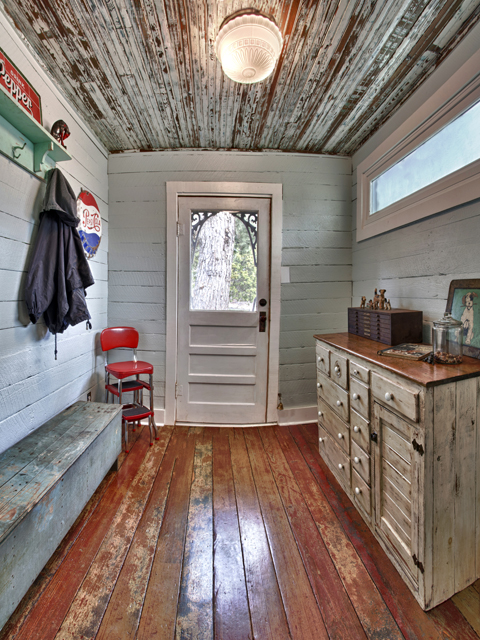 Didn't she turn out so pretty?
I bought the yellow cabinet at an antique store in Georgetown, Texas that closed down years ago.  (I really did get upset when that happened.)  I used it as a dresser in my previous home in Austin, and used it briefly in our guest bedroom here.
Now, it's happy to live in the mudroom.  It's used much more frequently now.  It's so perfect for storing dog leashes, cleaning rags, tools, shopping bags, phone books and such.  Plus, it has a large countertop — always convenient for setting things down when coming in or going out.
(You can see glimpse of our remodeled kitchen in this photo.   I've written about the tin ceiling project, but the entire kitchen remodeling post will come another day.)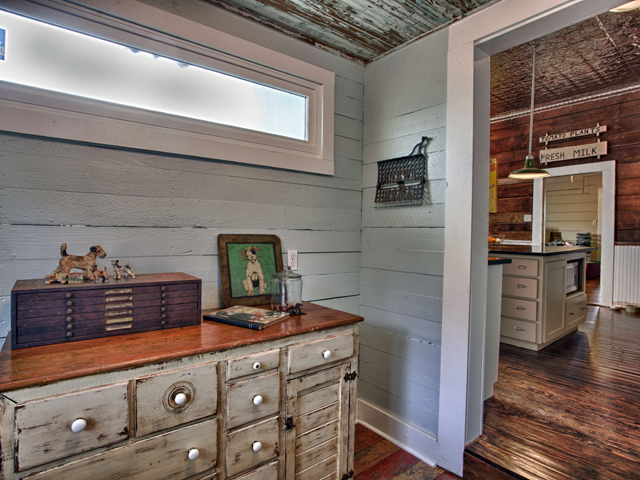 On it I've displayed some antique dog collectibles and a glass jar of dog treats (so handy when enticing our two dogs to come in).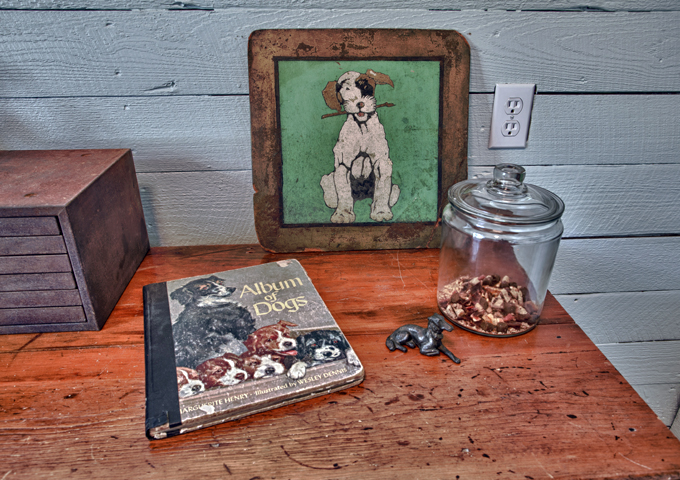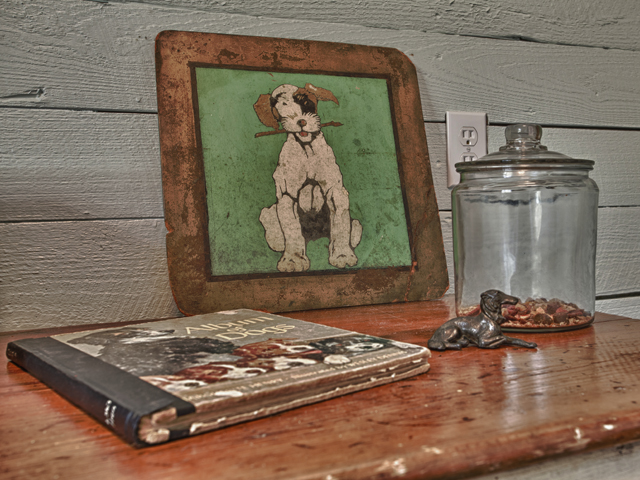 I also displayed some of the dog collectibles I LOVE on an old watchmaker's cabinet that I'll be listing on Etsy soon.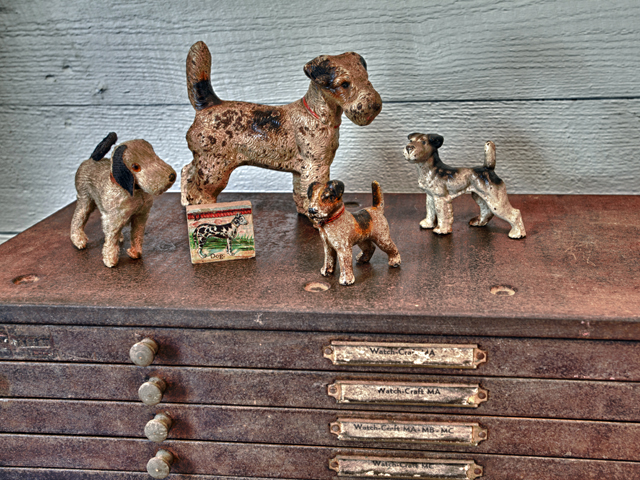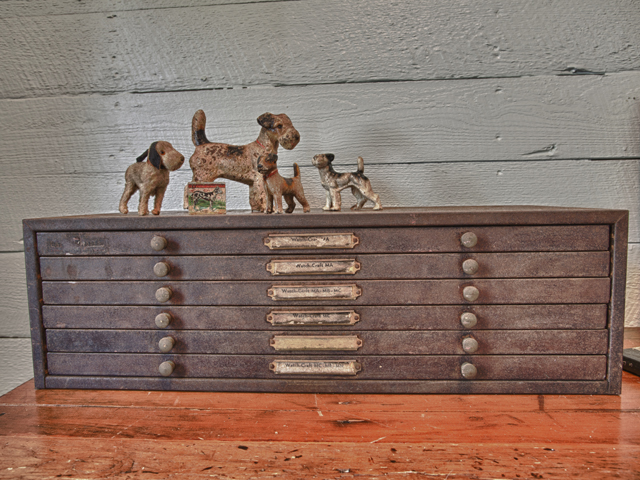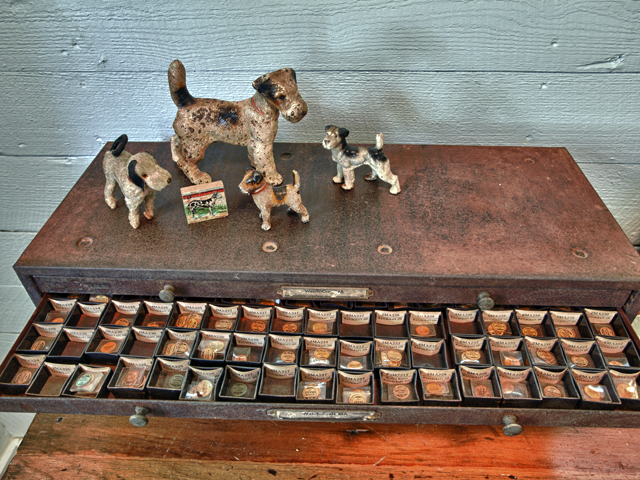 The "New Home" iron piece to the left of the kitchen door is an old sewing machine pedal that I received as a Christmas present.
Our old dog trot home was built in 1853, so it's certainly not new, but it's new to us.
(By the way, you may have noticed that there is plastic over the transom window. That's because we're still painting the house siding and trim!  It's rainy season here, with rain storms resembling monsoons sometimes, so that project has been delayed.  And let's not talk about the painter we had to fire.)
On the opposite wall, we have the antique bench that we purchased from a dealer at Ye Olde City Antique Mall in Tyler.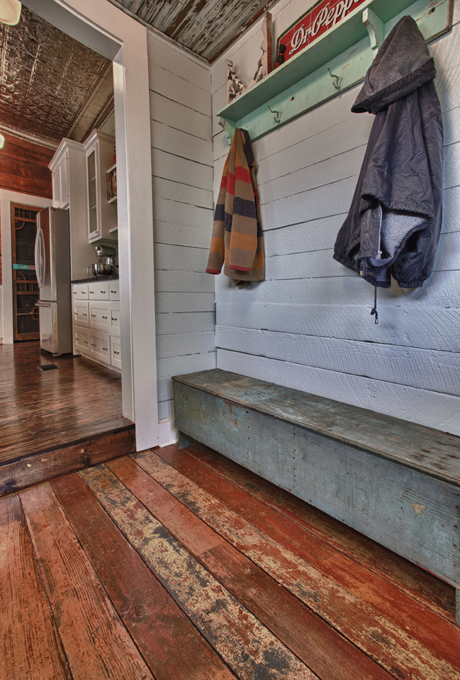 We knew the moment we saw it that it would be perfect for our mudroom.  The blue color is gorgeous and fits the room's color palette, and the top lifts up for ample storage for shoes and other things.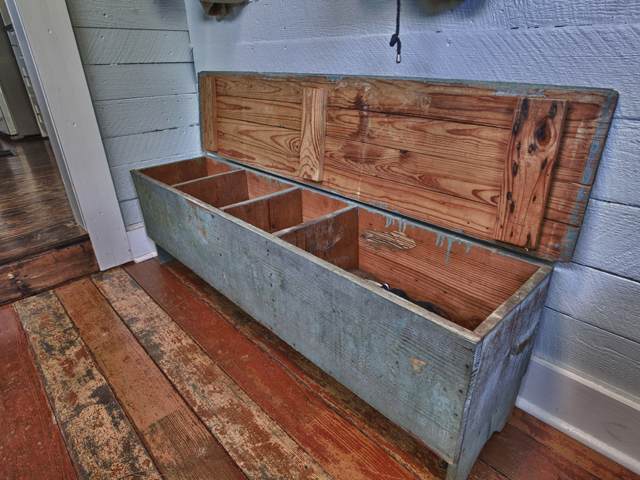 Above the bench is an old, green coat rack that I've owned for years.
Have I said recently that I love the floors?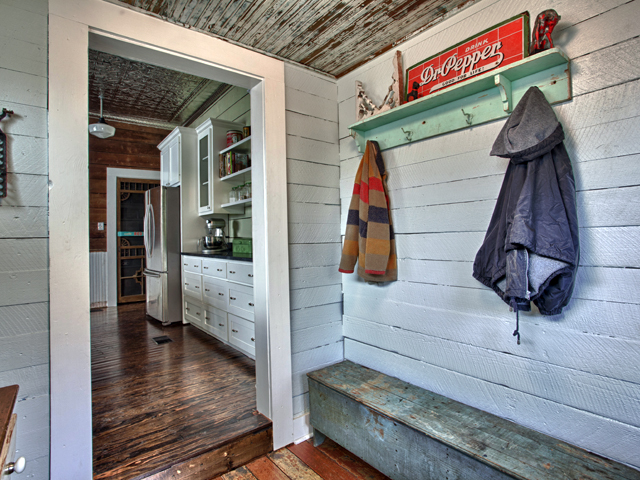 I collect old signs, too, and displayed one of them here …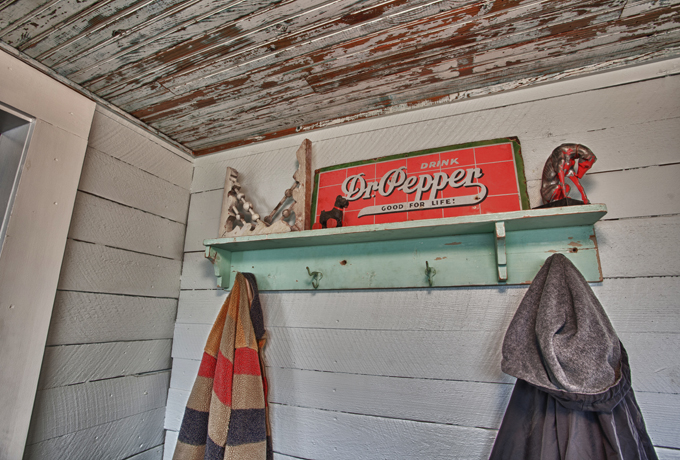 … and here.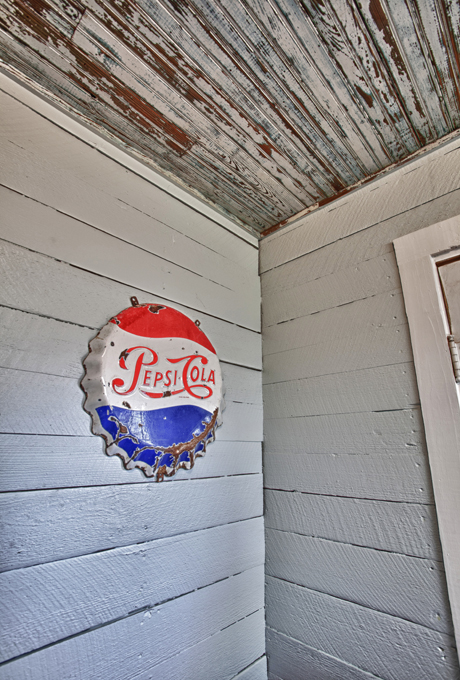 I hope you have enjoyed seeing our finished project. Please let me know what you think by commenting below .. or visiting Living Vintage on Facebook.
******************************
I'm linking to these parties:
 Anything Blue Friday @ The Dedicated House
Throwback Thursday @ Girl in the Garage, Restoration Redoux, Glitter, Glue & Paint, Sweet Pea, An Alli Event, and Inspiration for Moms