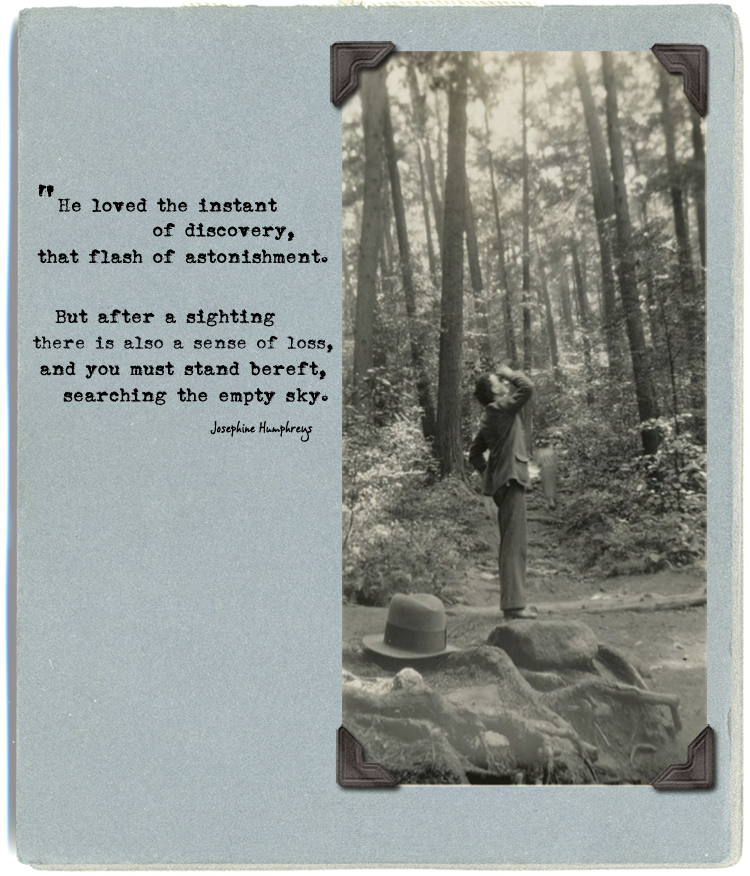 This is the second quote I've shared from one of my favorite authors, Josephine Humphreys.  The Fireman's Fair was the first book I read of hers, and I think it's still my favorite.
I've been saving the quote for quite some time, looking for the perfect photograph to share with it.  I'd find ones of just birds, of course, but none ever seemed quite right, and I remember thinking, "I'm going to hold out until I find a photograph of a bird-watcher."   And in the next moment:   "Are you nuts?  When will you ever in my life find a photograph of a bird-watcher?!"
(Do you have those voices in your head, too?)
But then as fate would have it, I stumbled across RetroGraphic's found photo (and they have been incredibly gracious in allowing me to share one of their images with a quote from time to time.  I hope you will check out their Etsy shop sometime.)
I hope you enjoy the quote and the way it's displayed.  I played with a Photoshop background I found that was a free download, and I went in search of (and found) The Coffee Shop blog's fabulous vintage photo corners.

P.S.  This post contains one affiliate link.
Save
Save
Save
Save
Save
Save
Save
Save