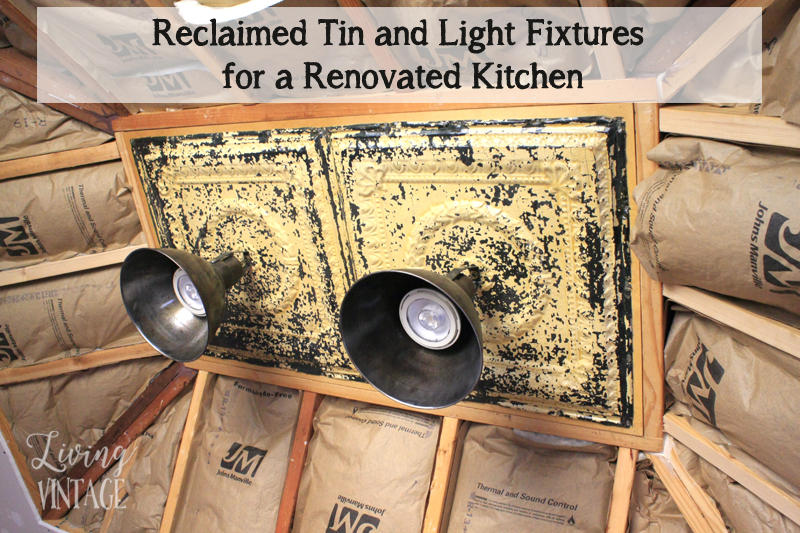 I have to share a small project that friends of ours recently completed for their kitchen renovation project.
First of all, let me tell you a little about our friends.  Allen and Cheryl Johnson own Cornerstone Custom Cabinetry in Douglass, TX.    They do amazing work, and we wish we had known them back when we remodeled our kitchen.    They work together as Mark and I do — Cheryl concentrates on the office work and is an expert at designing kitchen cabinetry and Allen has a gorgeous shop where he makes all of his cabinetry.    They'd been wanting a new kitchen for their own home for a loooong time, but like the cobbler's children with no shoes, their project never became a priority . . . until this year.
They called us not long ago asking if we had a piece of reclaimed ceiling tin we were willing to part with, something that I'm normally not willing to do . . . because I'm saving the vast majority of the reclaimed tin we've purchased over the past several years for a few future projects I have in mind.
However, Mark pried my unwilling hands off of a small selection of 2′ x 4′ ceiling tins, and they selected one of them.
We also had a pair of reclaimed shop lights that we  snagged at one of Jenny's estate sales in Nacogdoches months ago, and they went home with them, too.
They cleaned up that piece of tin then covered it with a good coat of polyurethane to prevent any future paint flaking.  They also cleaned up the shop lights and rewired them.
I wanted to show you photos of their finished lighting project and how they framed it in their ceiling.    Pictures also speak a thousand words.
I thought it was pretty neat, and I thought you would as well.