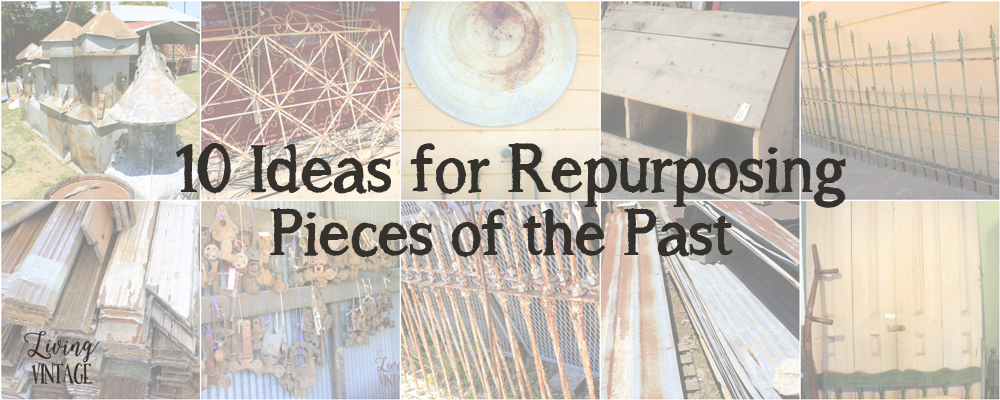 Not too long ago, we traveled to the Texas Hill Country and shopped at Pieces of the Past in Johnson City.  It's one of my favorite places to shop for reclaimed pieces.  I shot some photos of some random salvage pieces and thought I'd share my ideas on how I'd personally repurpose them.  I hope this inspires you to think of how you'd transform your own found objects.  I'd love to hear your ideas, by the way.
Oh, and do scroll below to check out our new giveaway.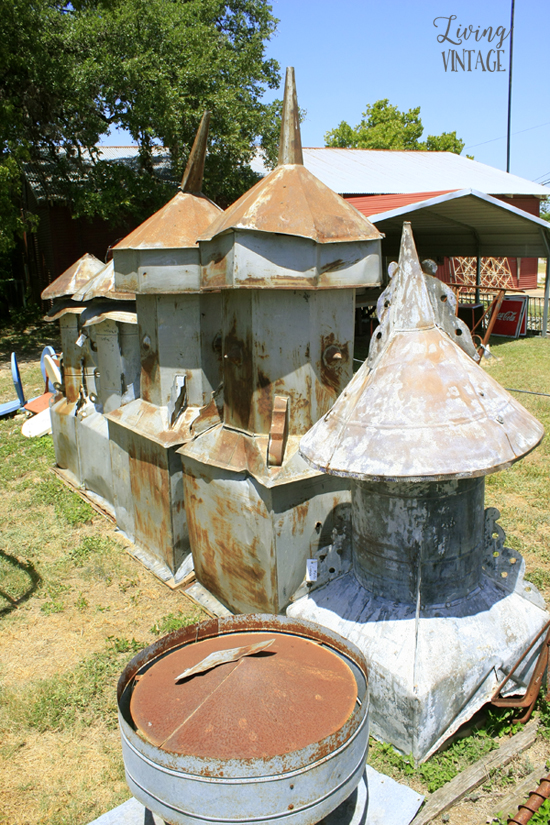 Kathy at Pieces of the Past always seems to have cupolas for sale.  One of these days I will buy one to top a new garage, craft studio, or chicken coop.  They could also be displayed in a home or garden as an accent piece.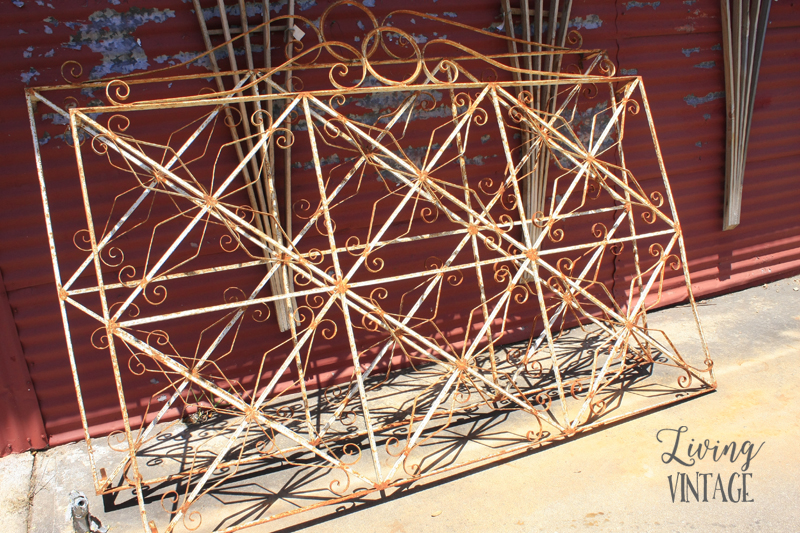 When I saw these two iron pieces, I immediately thought they could be transformed into a pretty headboard or two.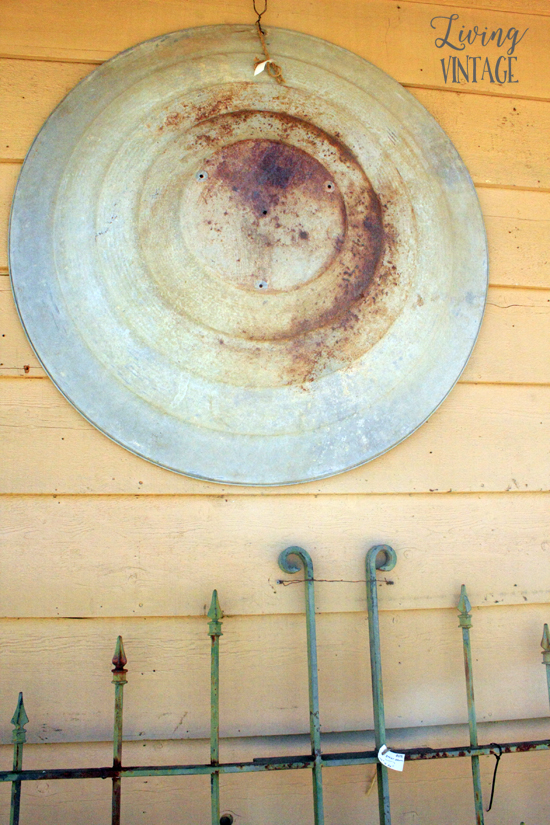 I have no idea what the round metal object used to be but I could see it as a new lighting fixture for sure.  It could either be a pendant light or a floor lamp.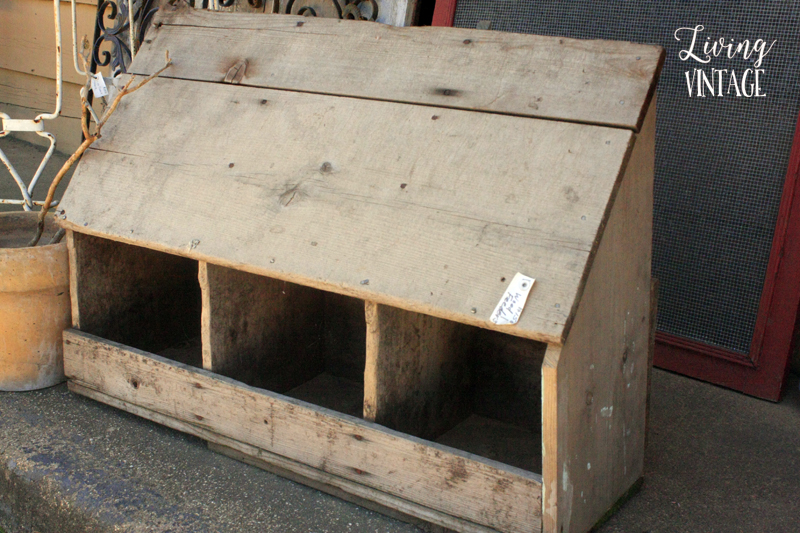 Of course, a reclaimed chicken nesting box could always be reused in a small chicken coop, but it could also be cleaned up and used inside the house for storing dishes, craft supplies, bathroom towels, and all sorts of things.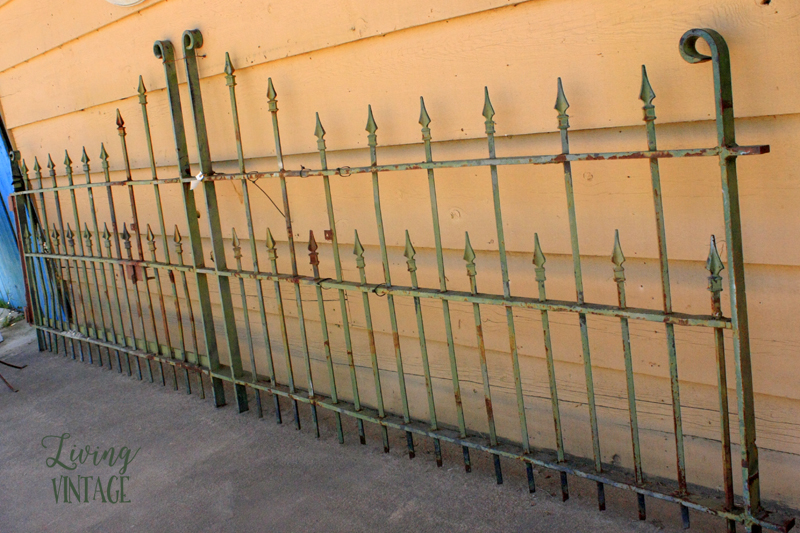 I think a talented welder could easily cut this section of reclaimed iron fencing in half and make it into a nice driveway gate.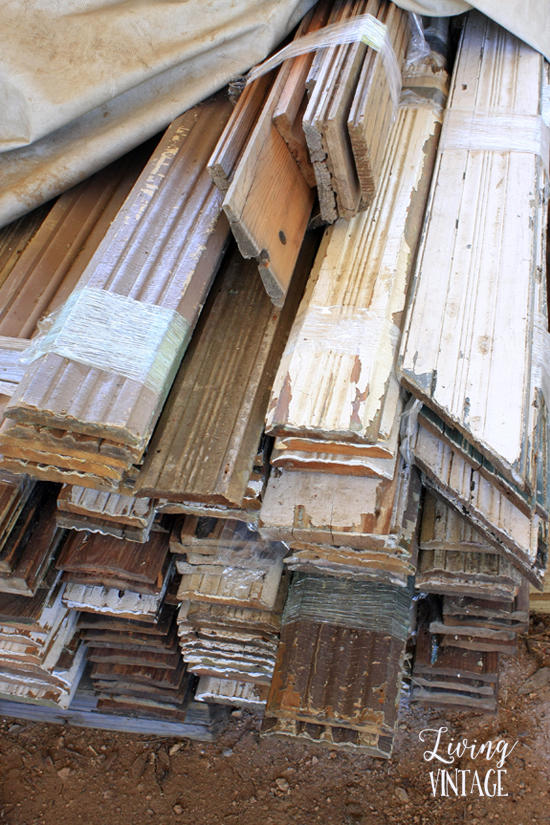 Beautiful trim like this could be used to build a table similar to what Mark made for me last summer.  You could also make picture frames or a pretty mirror for a bathroom.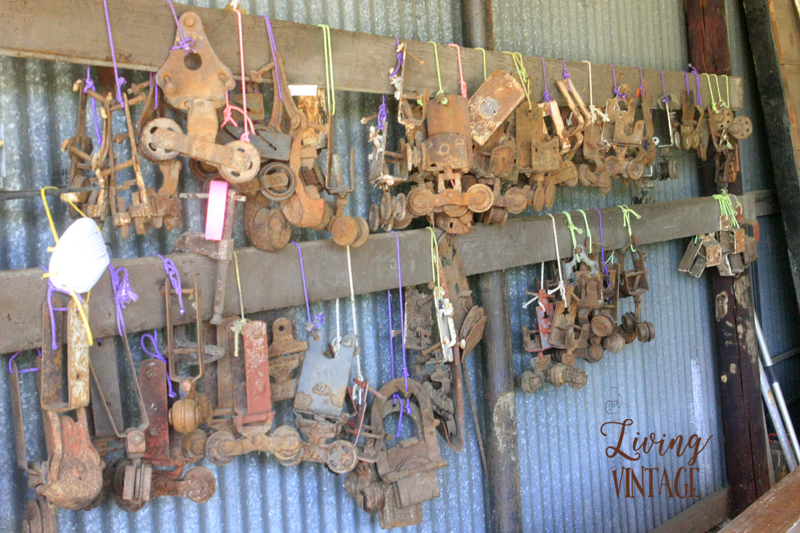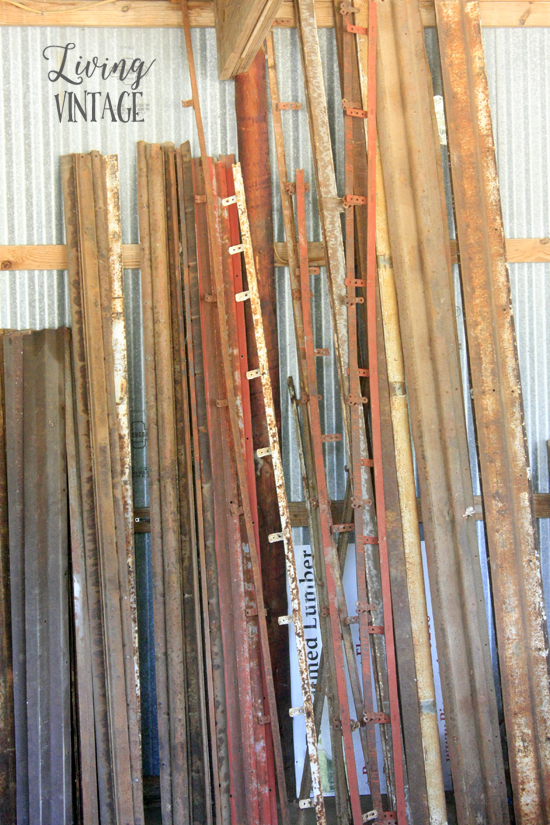 Barn door hardware could be used inside the house for indoor barn doors, of course, but it could also be used to hide a flat screen TV in an entertainment center.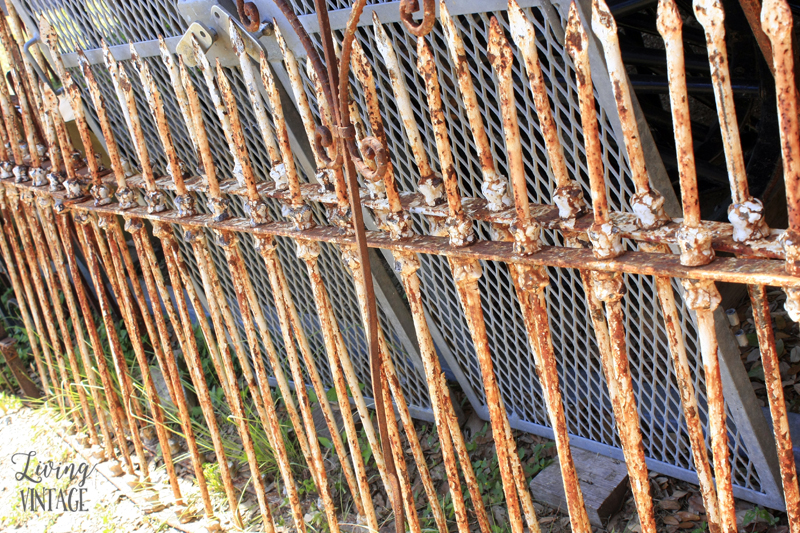 I'd use this reclaimed iron fencing to build a doggie door, which would involve hiring a talented welder.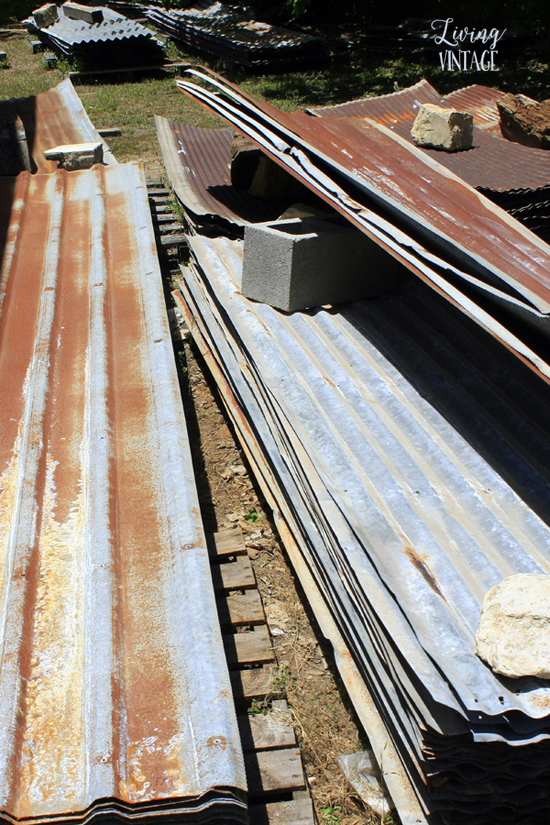 I'm a big fan of using reclaimed tin to clad walls and ceiling, like we did in our pantry and laundry room.  You could also use it in a pier and beam house as skirting.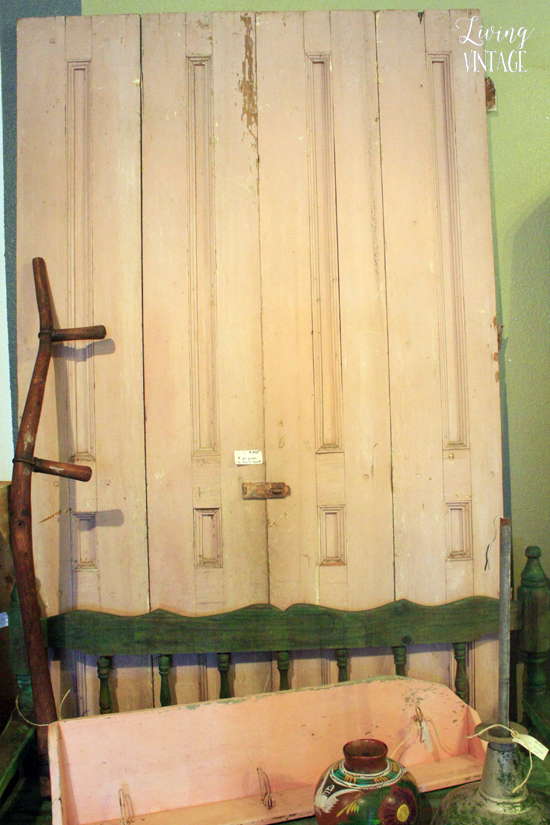 I loved the light pink on this pair of doors and could envision transforming them into an entertainment center, old-fashioned closet (like many shown on my "closets" pin board), or small pantry.    They could even be transformed into a pretty room divider.
Now (drum roll) for the giveaway.
If you've caught the repurposing bug like I have, you'll want to add Building with Secondhand Stuff: How to Re-Claim, Re-Vamp, Re-Purpose & Re-Use Salvaged & Leftover Building Materials
to your resource library.
This book is packed with ideas on how to source reclaimed materials, how to choose reclaimed materials and how to work with reclaimed materials.  By the way, in this book "reclaimed materials" includes not just wood (which I think most people commonly think of), but metal, stone, glass, hardware (like knobs and hinges), plumbing fixtures, and lighting.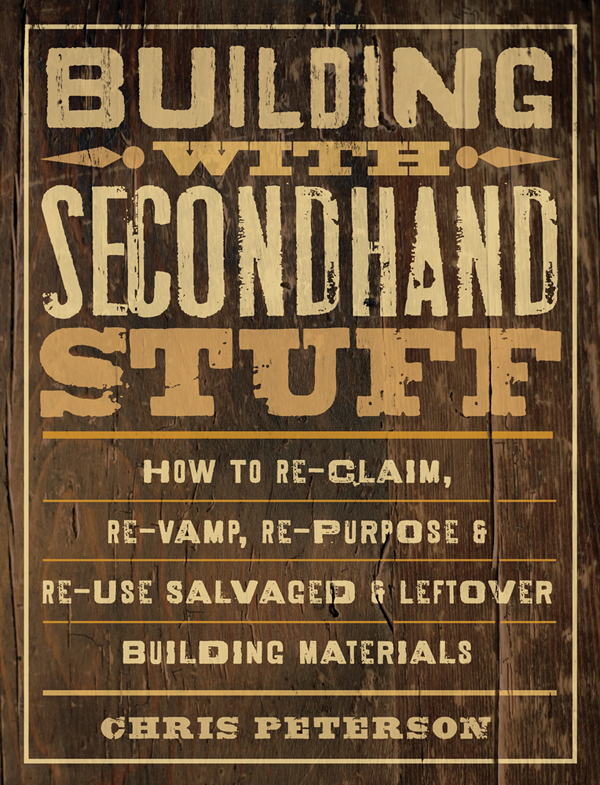 The book is a visual dictionary and a handy reference book.  Following are just some of the topics covered in the book:
How to denail reclaimed lumber
How to remove wood finishes (stains and paint)
How to install reclaimed wood flooring
How to hang a reclaimed door in an existing jamb
How to clean and prep reclaimed tin
How to install a tin backsplash
How to construct a hanging pot rack using reclaimed copper pipe
How to cut granite, marble, or slate
How to clean reclaimed brick
How to determine if reclaimed glass is reusable or not
How to repair a reclaimed window
How to build a reclaimed window cabinet
This book could be yours for free since I'm giving away a copy of this book to 2 winners.  To enter, simply pin an image from this blog post to Pinterest, and either email me or comment below with the URL to your pin.
[UPDATE:  The winners are Kathy J. and Shannon Logan.]

Giveaway Rules

:
This giveaway will begin when this blog post is published and will end at 2:00 p.m. CST on Tuesday, November 24, 2015.  Two winners will be selected and each will receive one copy of the book.
This giveaway is open to US residents only and anyone who visits my blog and follows the rules above.
Each person may enter one time only.
The winner will be chosen randomly and announced via Facebook.  This blog post will also be updated with the winners names.
The winners will be notified via email shortly after the giveaway ends.  Each winner has 3 calendar days after the date of the notification to provide their name, address, and phone number to Living Vintage.  (The phone number is needed for shipping purposes only.) If the winner does not respond within that time frame, that person will be disqualified and another winner will be chosen.  The process will continue until Living Vintage receives the requested information from each winner.
A big "thank you" is extended to Quarto Books for sponsoring this giveaway.
Please note that some of the links above are affiliate links.