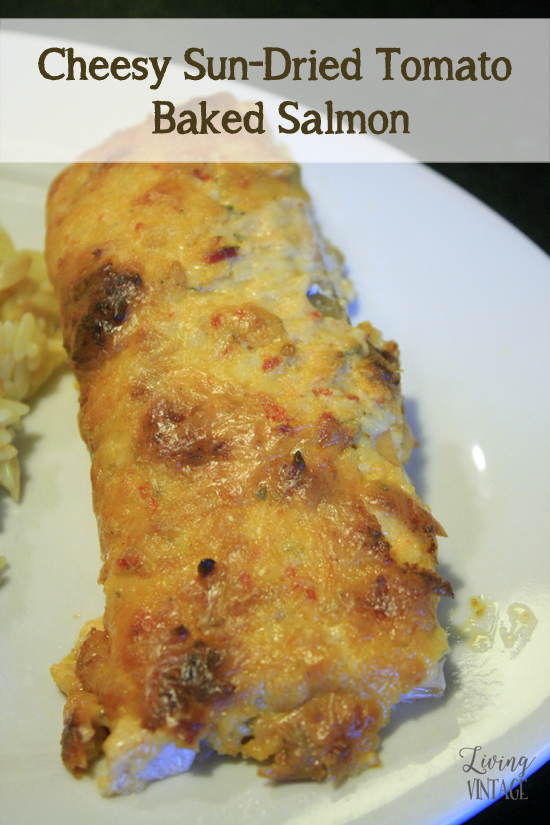 This is one of my all-time favorite salmon recipes, but I hadn't made it in over 4 years.  Until recently.
I know you're saying:  Whaaaaat?    Let me explain.
I picked up this recipe years ago when I was shopping at Central Market in Austin.    I don't know if they still do it now or not, but back then they often had a chef cooking up a nice culinary creation using one of their products.  That day, it was a salmon recipe using Robert Rothschild's sun-dried tomato vegetable dip.   On that fateful date, I had just one bite of that salmon recipe, and I was in heaven.    After that, we made the salmon entree many, many times.
About two years later, I couldn't find the dip anymore.  I scoured multiple grocery stores trying to hunt it down.  It was nowhere to be found!  I finally emailed the Robert Rothschild company, and was told the product had been discontinued.   NOT what I wanted to hear!  I asked begged them:  please, oh, please oh please start making it again.  I did this not once but twice over several months . . . to no avail, of course.
I finally gave up and the recipe has languished in my recipe box since then.
It wasn't until recently that I thought:  Why don't you try to make the dip from scratch?    (Yeah, I know.  Sometimes I'm not the brightest star on the planet.)
So that's what I did.  I found a dip recipe and modified it slightly.   I've got to tell you that the recipe is (and this not using the scientific method, of course) about 97% spot on.
Once again, we've enjoyed this salmon dish twice in the past few months.    And "enjoy" is probably a too vanilla of a term.  Food orgasm is probably more like it.  (I'm stealing this terminology from a recent CBS This Morning interview where they interviewed Bradley Cooper and Sienna Miller about their new movie, Burnt.)
Anyway, here's the recipe.    Did I mention I love it?  I think you'll love it, too.  Oh, and the preparation couldn't be easier, I swear.
Oh, and one last thing.  The dip can be prepared several days in advance and any extra dip should not be wasted.  It's delicious just as a snack with vegetables, crackers, or chips.

Cheesy Sun-Dried Tomato Baked Salmon
STEP ONE (Make the dip):
Ingredients:
1/4 cup sun-dried tomatoes in oil, rinsed, drained and chopped
8 ounces cream cheese, at room temperature
1/2 cup sour cream
1/2 cup mayonnaise
3 dashes, hot sauce (more if desired)
1 teaspoon kosher salt (optional)
3/4 teaspoon black pepper
1 packet dry vegetable soup mix
Preparation:
Puree all ingredients in food processor. Refrigerate at least 2 hours.
STEP TWO (Prepare the Salmon):
Ingredients:
2 salmon fillets – (We always buy Sam's boneless skinless center cut fillets)
1/2 cup sun-dried tomato vegetable dip
1/2 cup Monterey Jack Cheese
Preparation:
Preheat the oven at 450 degrees. Spray a 8 x 8 inch pan with cooking spray.
Wash salmon and pat dry with paper towels.   Remove any small bones using tweezers.
Combine dip and cheese. Mix until well-combined.
Spread 1/4 cup of the dip/cheese mixture to the top of each salmon fillet.
Bake at 450 degrees for 20-25 minutes or until the topping is browned and the fish flakes with a fork.
Serve with rice, a small salad or roasted vegetables.