I know I promised my laundry room reveal photos several weeks ago, but with a family illness, the holidays, my mood, and some big news that I will share very soon, I am just now getting around to it.
So let's get started, shall we?
Here's the view that greets me every time I walk into our laundry room now.
I just love how it turned out!
One wall of our laundry room is devoted to a cabinet that my husband made and I love. I use the cabinet to organize dirty laundry.  A laundry room to me just wouldn't be complete without a laundry sorter.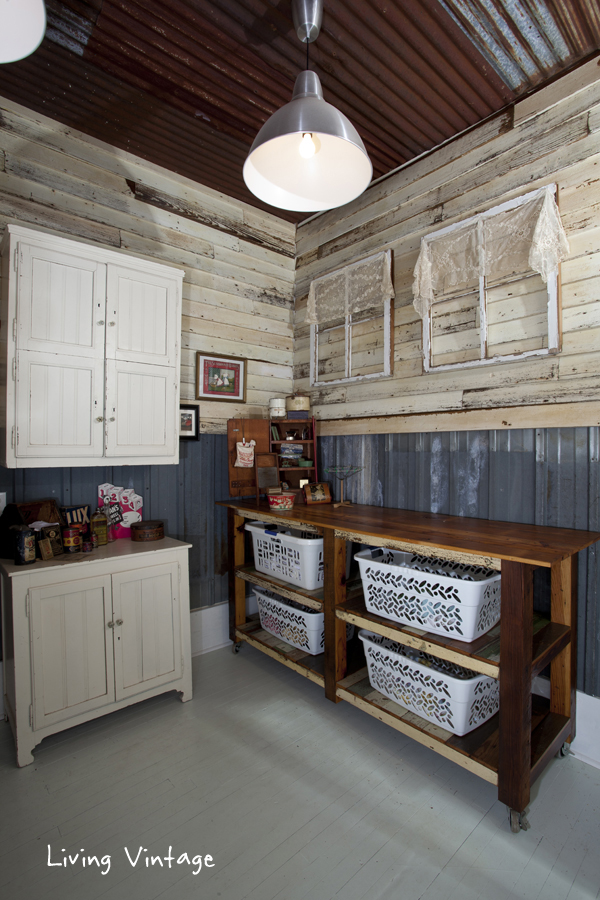 Above it we hung two old windows that we salvaged out of an house demo, and I draped them with two pieces of Victorian lace that I bought many years ago from Susan Curran Wright at the Marburger Farm Antique Show.
On top of the laundry sorting cabinet, I displayed some of my laundry room collectibles both in and beside an antique cabinet made from a vintage crate.  (The label is still on the back of the cabinet — that's how I know it's was made from a crate.)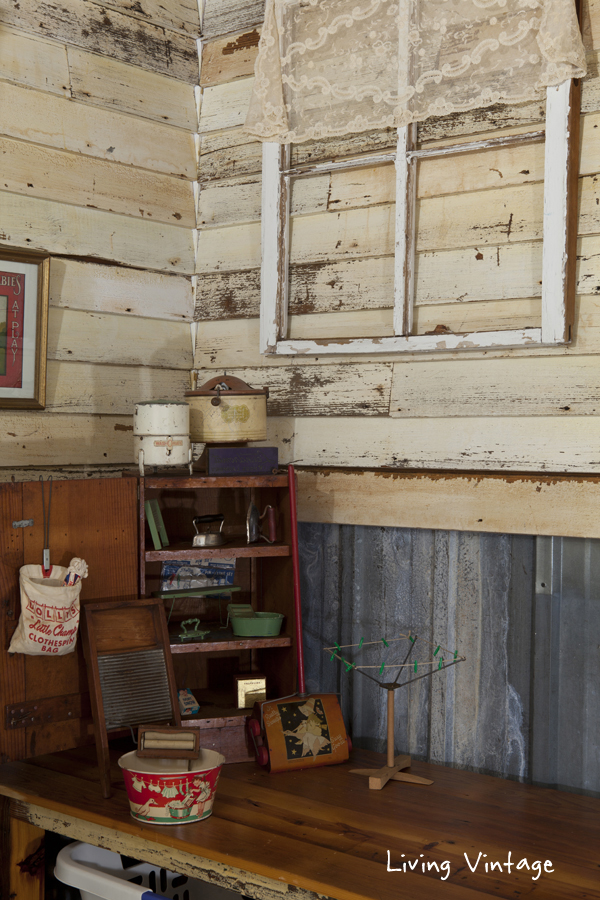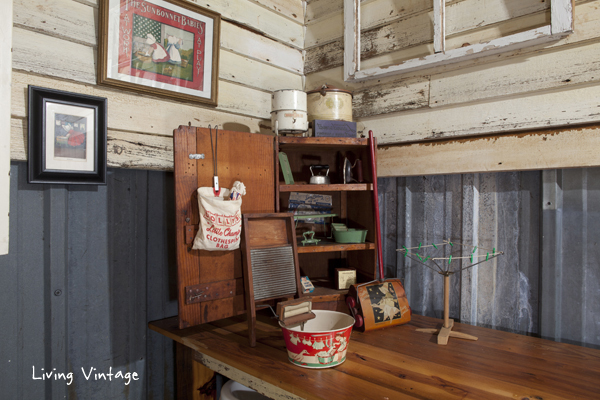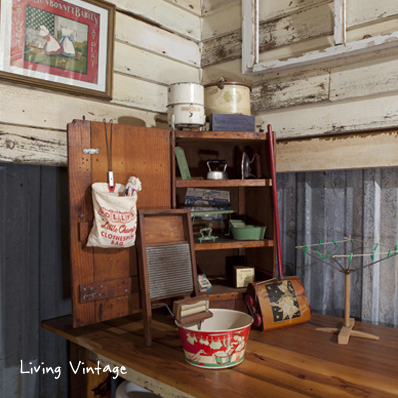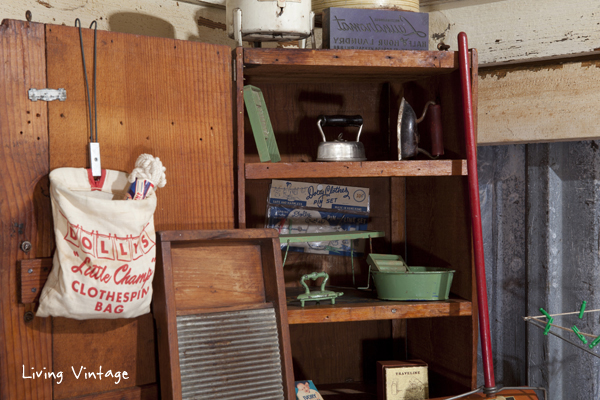 I also hung two of my sunbonnet baby prints that my mom gave to me.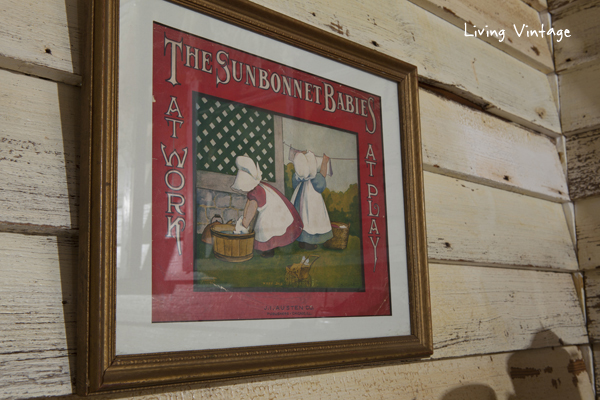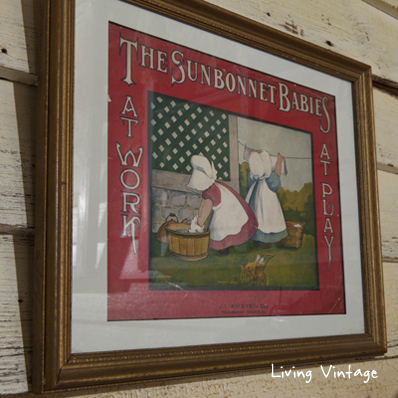 On another wall I positioned an antique cabinet that I bought from my sister years ago.    In my previous home in Austin, I used it in my master bathroom, but it was too deep to use it in our master bathroom here.  Instead, it was the perfect size to position between my laundry sorting cabinet and the washer/dryer, plus it has a handy tabletop that I use to display more of my laundry room collections.  I use it to store linens for sewing projects, my iron, and various other household items that I couldn't find a home for anywhere else.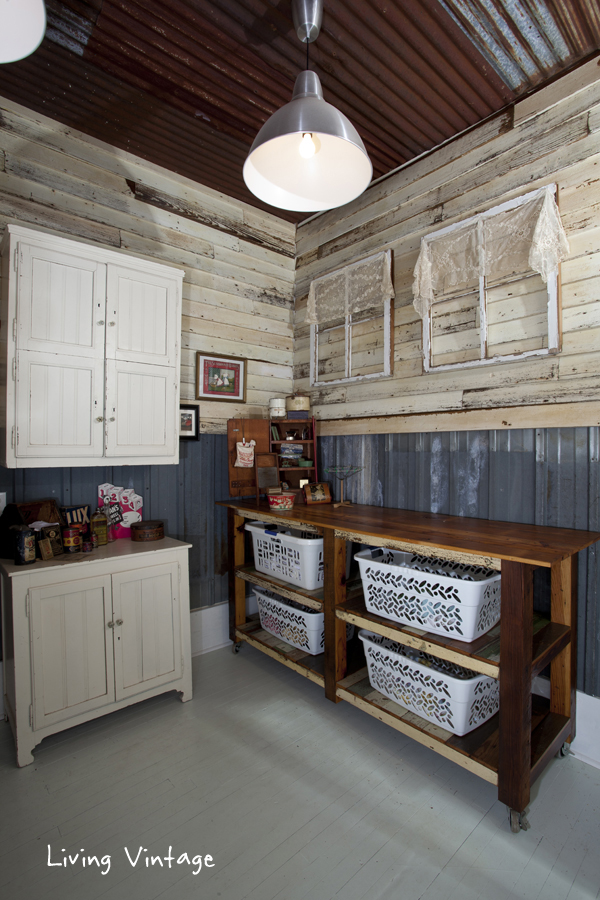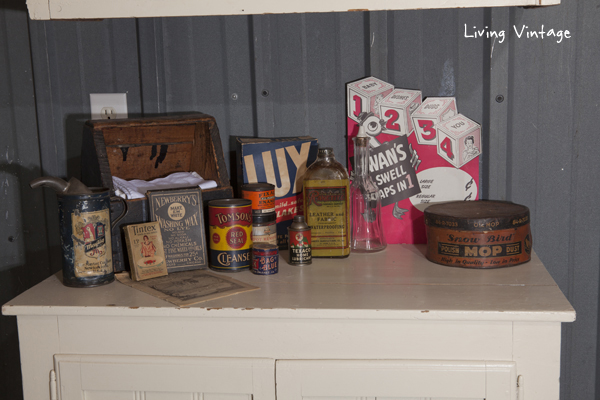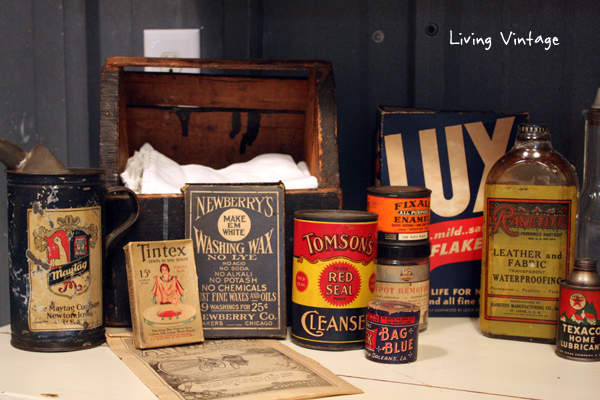 As you turn counter-clockwise, you then see the enclosure for the washer/dryer that I showed you earlier.    It's just the right height to slide two front-load units on pedestals into the space.    Of course, I want even my laundry room to look pretty most of the time, but rather than constructing doors like I had in my laundry room in Austin, we hung an old yo-yo quilt from a curtain rod that Mark made using eye bolts and a piece of 1/2 inch plumbing pipe.  I may one day make a curtain rather than using the antique quilt, because it's probably not very good for a quilt to hang like that, but for now it works, and it was just the perfect size!  (Another coincidence.)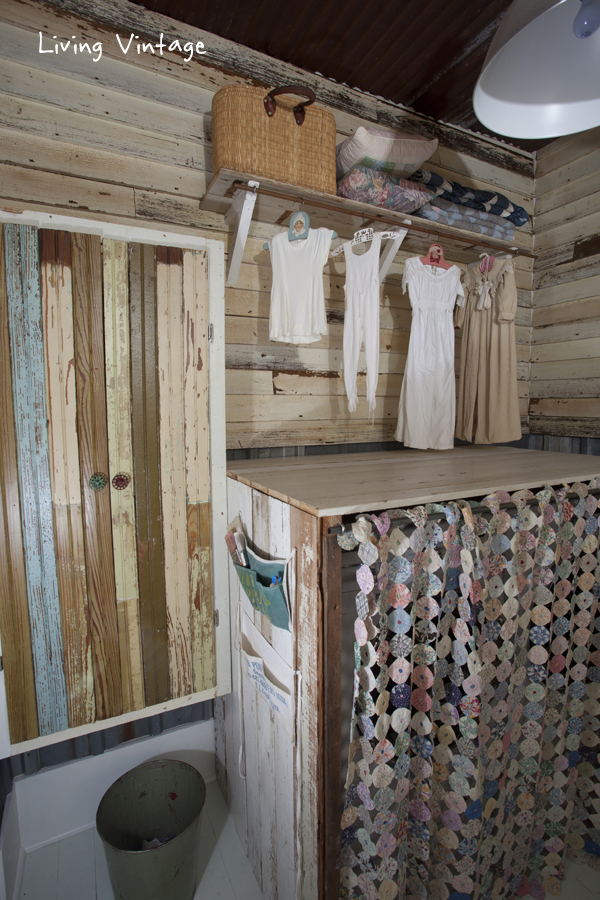 I bought my vintage trash can for $12 at a local antique shop.
Mark made me the shelf above the enclosure so that I could hang my antique baby clothes collection and store a few quilts and pillows.
To the left of the washer and dryer is the cabinet that Mark made for me that I use to store my laundry soap, dryer sheets, and so forth.
Oh, and I hung two vintage carpentry aprons.  I'd rather see them and enjoy them until the day I decide to use them in a sewing project.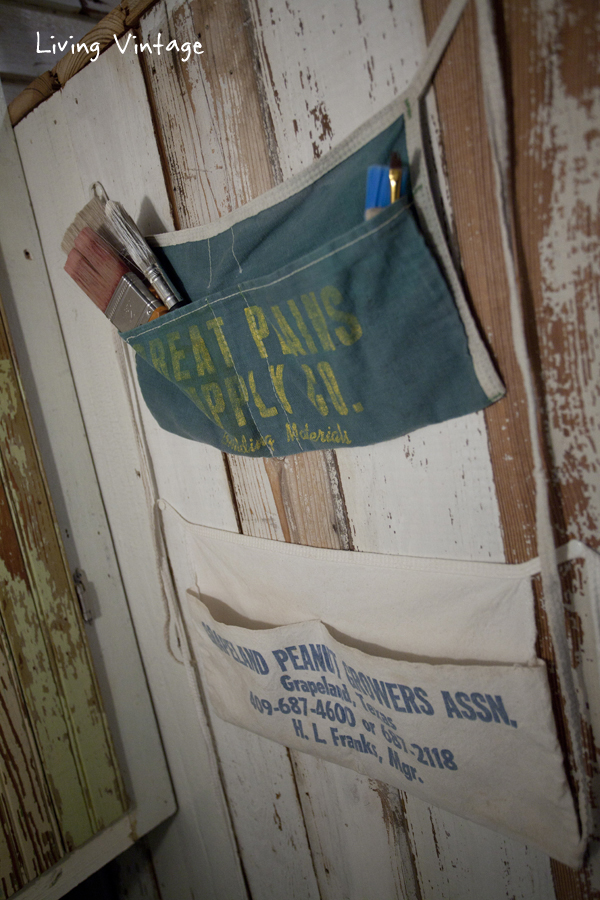 Okay, so turn counter-clockwise just a little more and you'll see the closet that we left in the room.  We just hung a curtain to hide the "uglies":  our freezer, water heater, and another bin that I use for dirty rags and dog towels.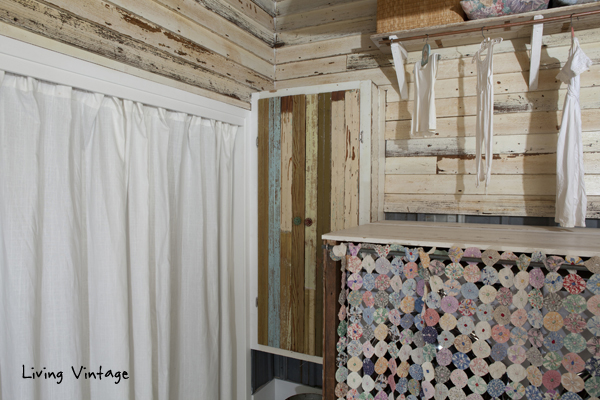 Now, if you turn counter-clockwise again, you would see the cheap plastic laundry sink that we clad in old siding.  It's still a cheap laundry sink, but it looks a ton better after we added the siding.    One day I hope to find a true vintage utility sink, but for now, it works for cleaning paintbrushes and bathing our smaller dog, Kacy.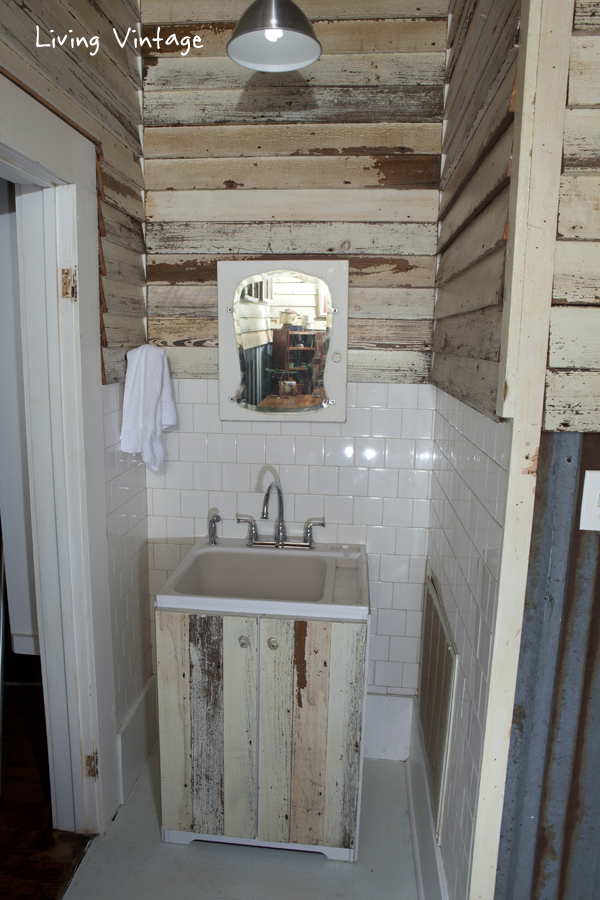 I can't decide if the old mirrored cabinet door is upside down or not, but it already had a hanger on it when we bought it, so that's the way we hung it.  What do you think?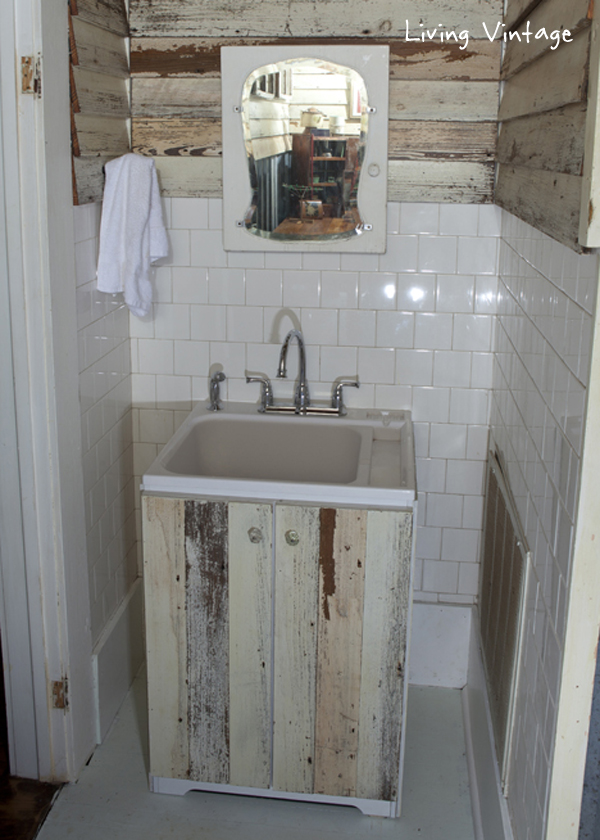 And that wraps up how we decorated our laundry room.  Do you like it?

Save