We're nearing completion of our laundry room, but before I share the reveal photos with you, I wanted to show you what we've done so far.
Before I begin, let me tell you that I could never get motivated to renovate this room.  I think it's because the room gets zero natural light, and it always felt like a dark hole.  For that reason, it has never been a room that I wanted to spend much time in, so when my husband said he wanted to clad the walls in a certain type of reclaimed wood, I was like, "Sure!  Whatever."
It's interesting how that vision, a laundry room I spotted in a magazine, and my vintage laundry collectibles all blended together to completely transform that room!
But, I'm getting ahead of myself, aren't I.
Let me back up.  Way up.
When we first bought our house, the square footage that is now our current large laundry room was very odd.  It was literally a room with a narrow hallway which led to the one and only bathroom, another hallway that led to the master bedroom, and yet another third hallway that led to the guest room.   Those three hallways were surrounded by three closets.  The square footage was so broken up, it was just silly.  I mean, why have three hallways in a room when the dogtrot is the hallway?   Definitely a very Bad Interior Design Decision made by one of the prior homeowners.
So, one of the first things we did after we bought our place was tear down all of the closets to make one large room.   We also reconfigured the bathroom space and one closet to create our master bathroom and a guest bathroom (which I've still never shown you.  I'll remedy that.)
After we did the demo work, we installed washer/dryer connections and used the room like that for a few years.    Mark made me two cabinets this year but that was about the extent of our work in our laundry room.
Until recently.
The first thing we decided to do was paint the hardwood floors.    It took me awhile to make that decision.  Although I love painted floors I've seen in magazines, I've never had the nerve to paint hardwood floors before.
But, we finally made the decision to paint them.  We had two good reasons for making the decision:
1.  The floors had uneven staining on them due to the existence of the previous two closets, and
2.  We knew that painting the floors a light color would make the room lighter and brighter, a plus in my eyes.
So, we bought the paint, and I scuffed the floors with a sander to ensure that the new paint would stick to the floors.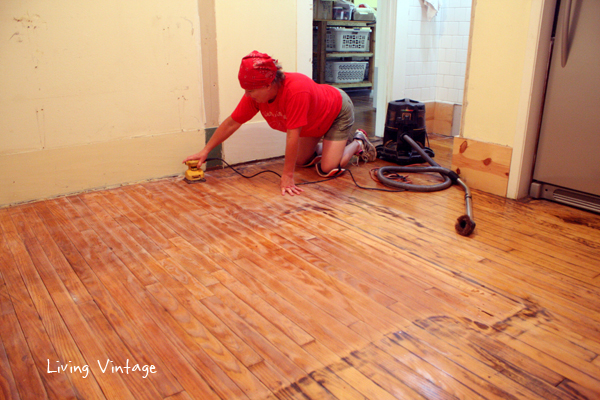 This is what they looked like when I was done.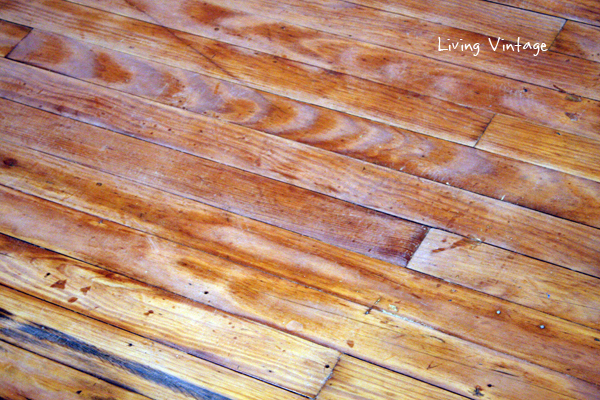 After that, my husband, Mark, and our friend, John, started hanging reclaimed tin on the walls as wainscoting.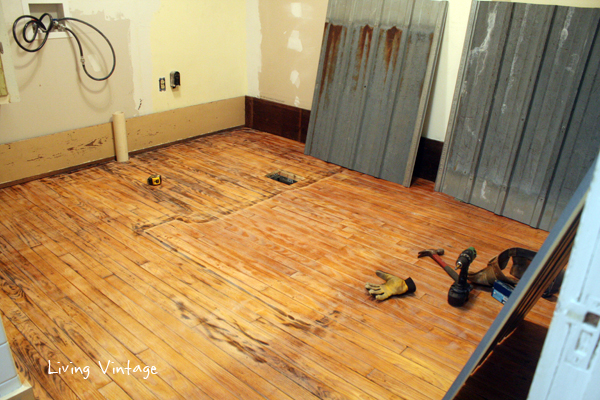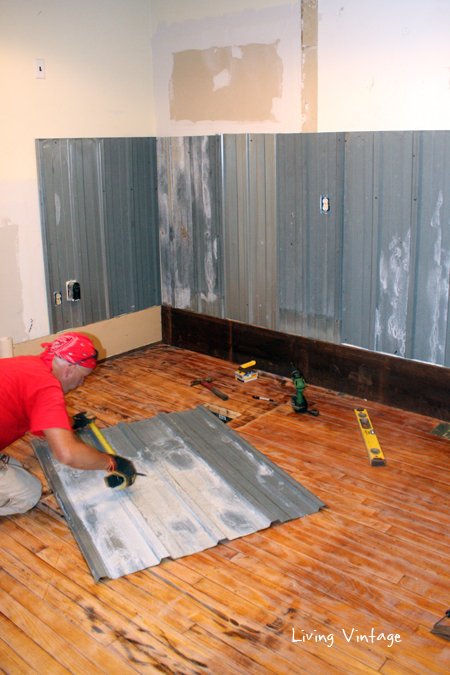 Next was Mark's bright idea I mentioned above.   He wanted the laundry room to look like it was an enclosed back porch.  Remember the stack of reclaimed siding I showed you about a month ago?    We installed that above the tin.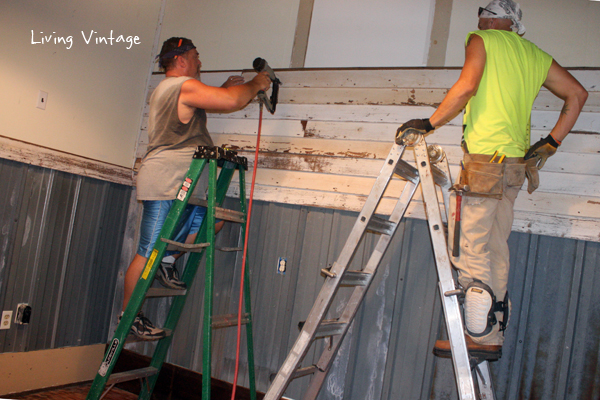 So clever of him, don't you think?
After the siding was nailed up, I slathered it with polyurethane to prevent the paint from flaking off any more.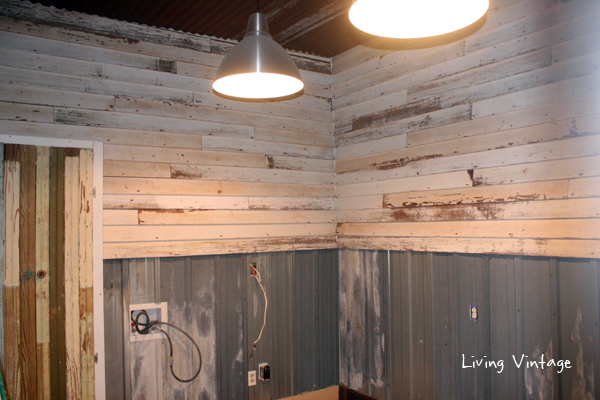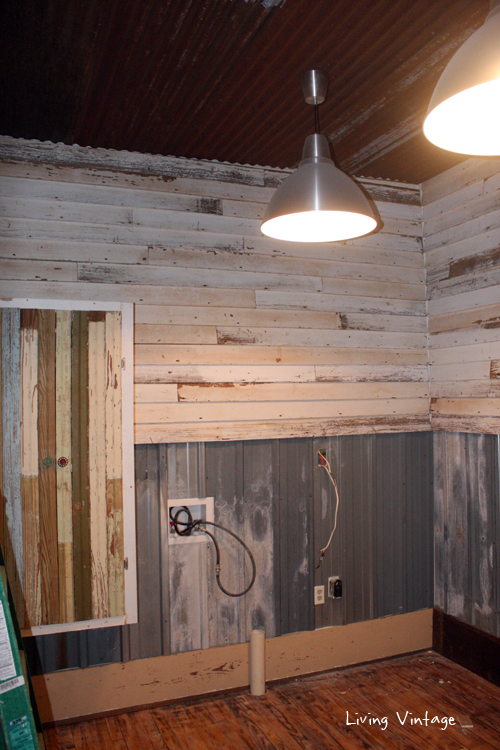 Next came painting the floors.  I cut the paint in around the room and we rolled the rest.  Three coats later, that was done.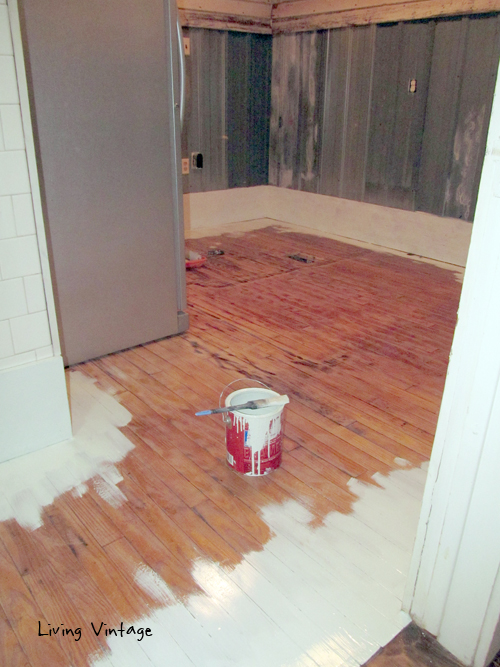 We were so in love with chippy white, reclaimed siding on the walls that we decided to clad our cheap, particle board sink cabinet with it.    We planed the siding down to an even thickness and nailed it right up.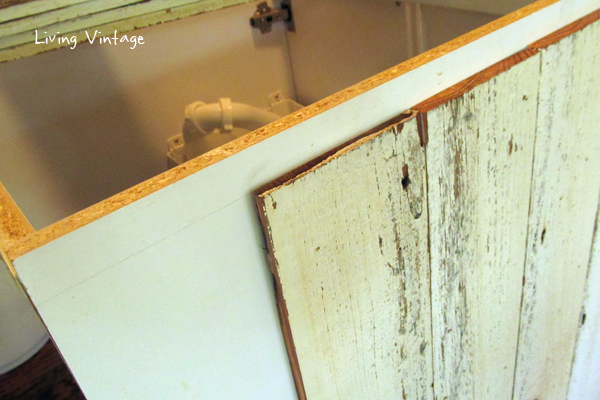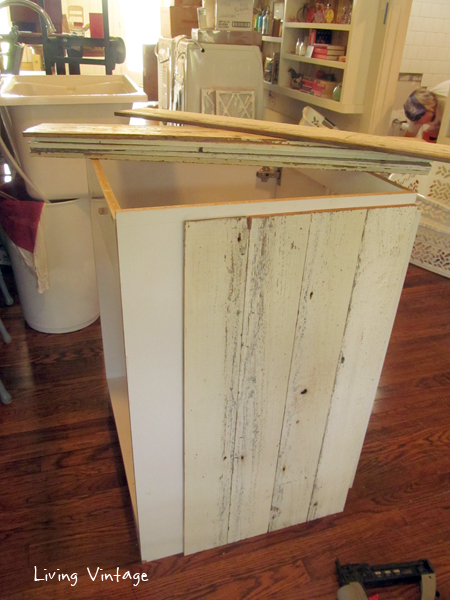 Much prettier.
Although not shown, we installed two antique glass knobs on the front of it.
Building a wood surround for my washer and dryer was the last thing that we did that involved a nail gun.  I don't have a photo of that but of course, all will be revealed when I share the final photos.
Next we reinstalled the washer and dryer and I started decorating.
So that's the story of what we did.    I'll try to share reveal photos next week!  (Here's the link to that post.)