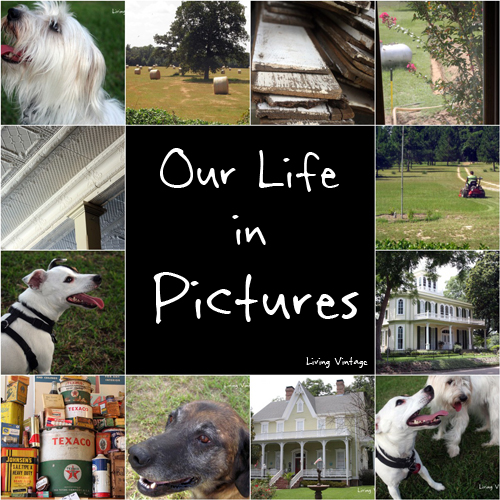 What fun times we have been having lately.
Well, some fun and some not so fun.

Our sewer line started giving us trouble, so we took a few days to fix it.  We discovered that the prior owners had installed the drain line incorrectly which we had suspected.  Here's a photo of the trench we dug.  Sorry for the poor quality of the photo, but it is a trench and it's a trench we dug the old manual way, and I just didn't feel like taking my good camera outside.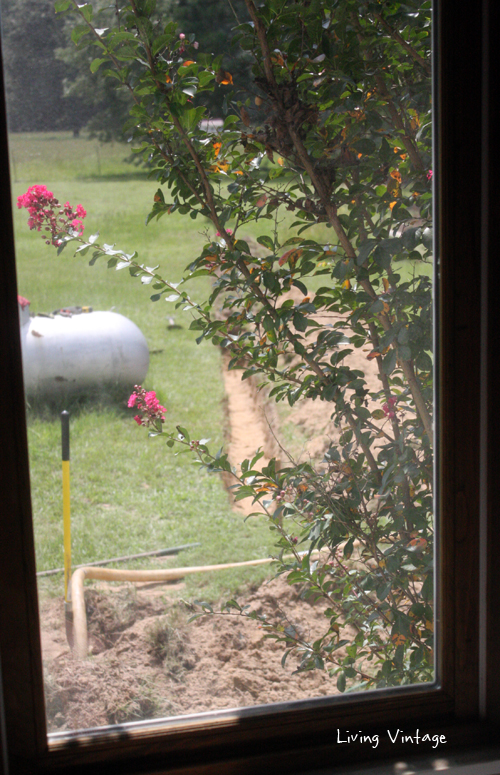 I dropped my expensive camera and it immediately went dead and wouldn't turn back on.  We had to send it back to Canon for repair to the tune of $300.  Ouch!
I don't have a photo of that the broken camera.  Just use your imagination to visualize me apologizing over and over to my husband for being such a clumsy idiot.

I've also been cleaning more reclaimed wood for our next big home project.  This time it's reclaimed clapboard siding with its gorgeous chippy white paint.
I'll be sharing photos of this project very soon.  Until then, we are painting, painting, painting.
Will it ever end?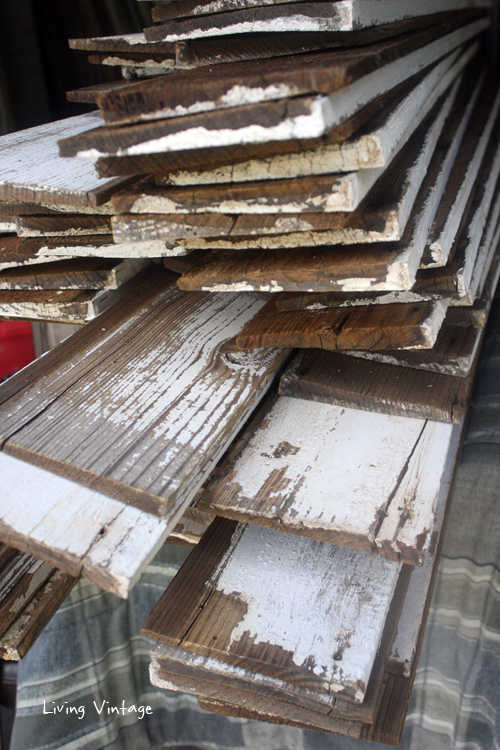 Please meet Scraps.  He's another stray dog that showed up on our property about 10 days ago.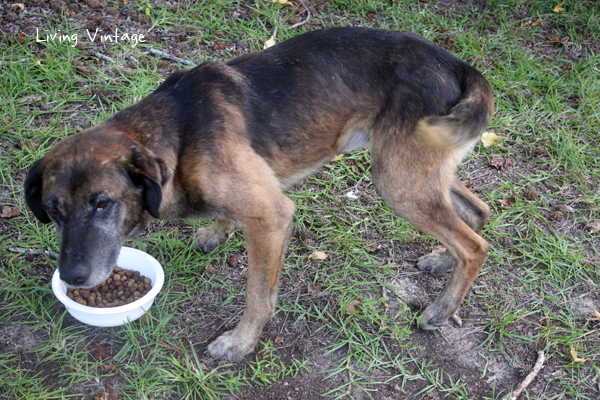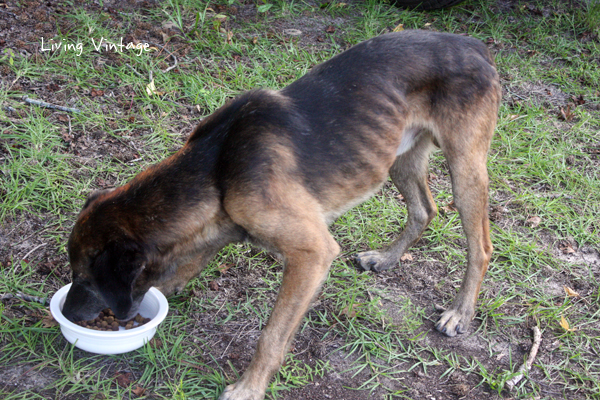 As you can see, he was half-starved, and his expression was just the epitome of hopelessness.
One night while we were having dinner, I told Mark that it was so difficult to sit there and eat, knowing all the while that a poor, pitiful animal was starving outside.
Since then I've been feeding him once a day.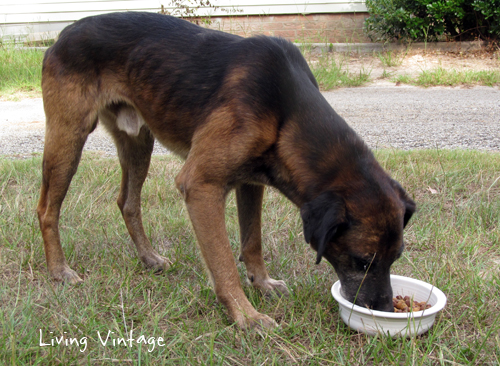 He's already so much happier.
He's such a sweet dog.    Very submissive, gentle, and calm.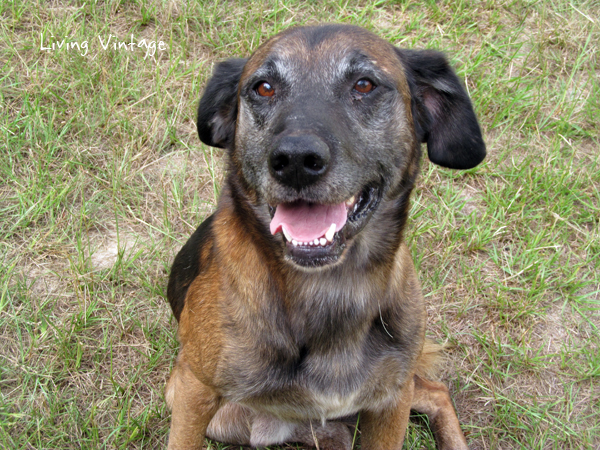 We are fostering him until we can find him a good home.
Can you help me do that?   I would  appreciate it very much if you would share a photo of him on your Facebook page.   He so deserves to live the rest of his days with a loving family.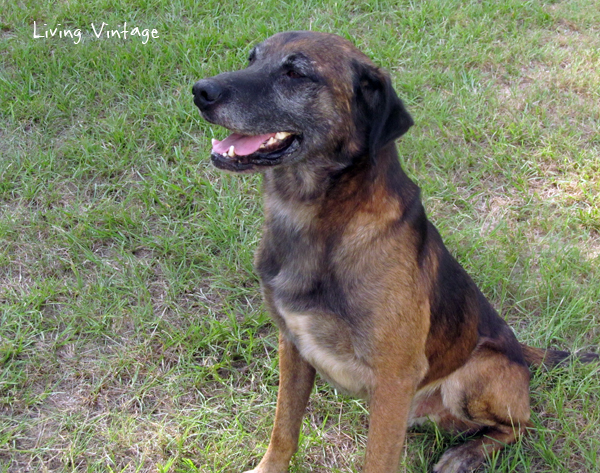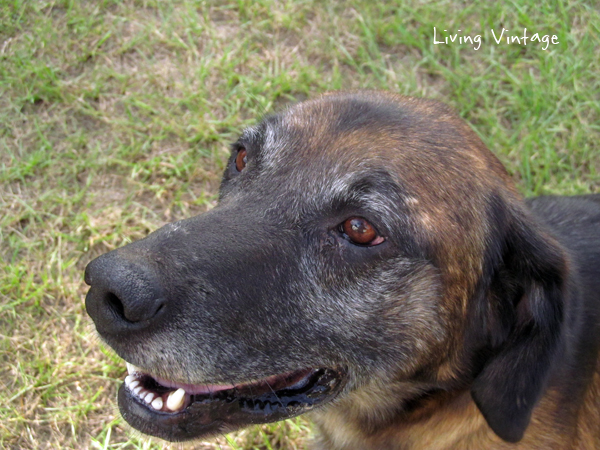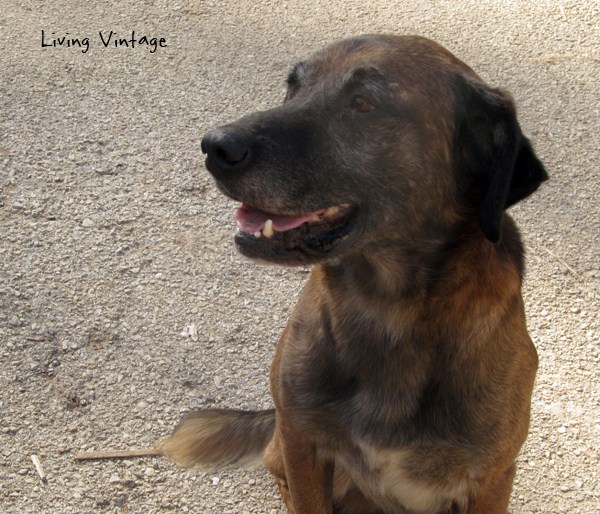 We just cannot adopt another dog.
I swear to you:  if I ever win the lottery, I will try my very best to solve the pet overpopulation problem.

Speaking of dogs, we found out recently that the City of Nacogdoches installed a dog park and since then, we've tried to take our dogs into town for their social hour at least once a week.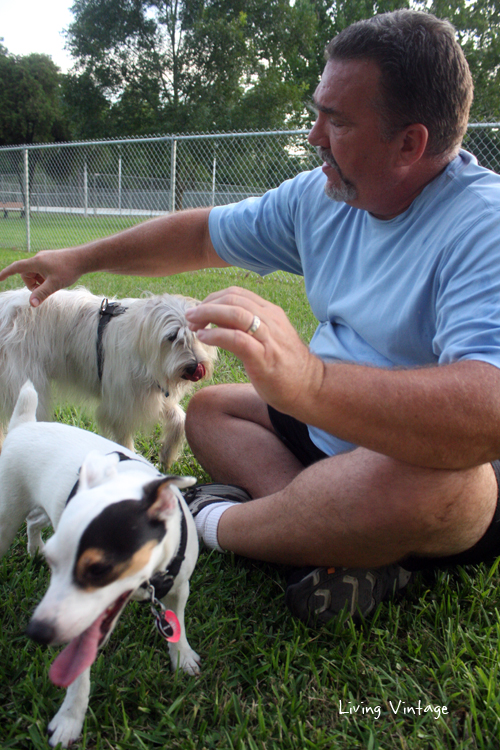 Kacy just loves it.  Can't you tell?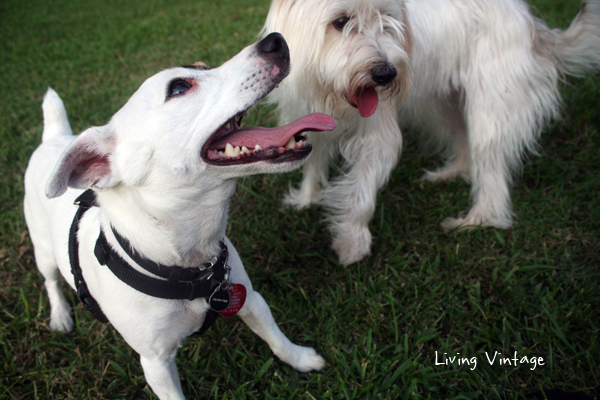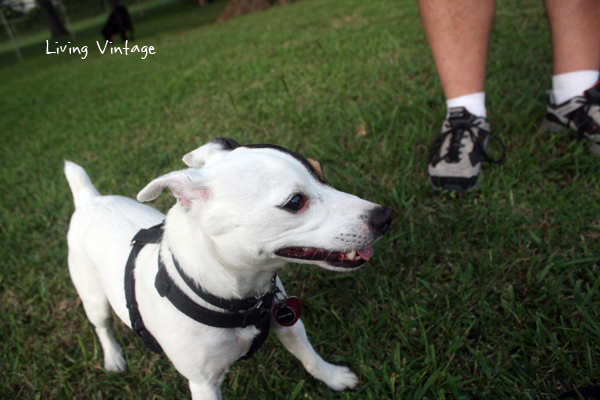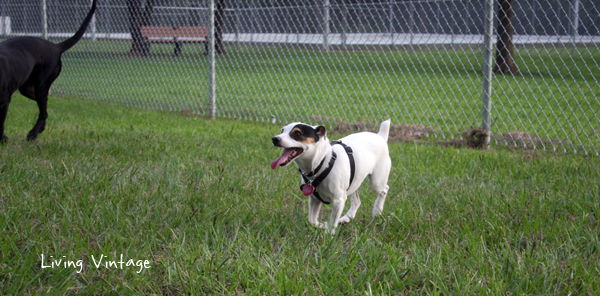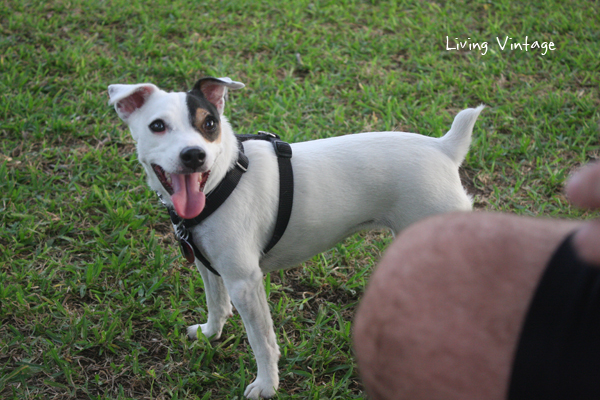 Big dogs seemed fascinated by Kacy (probably because of her size) . . . and vice versa.
Hey, it's a mutual admiration dog park!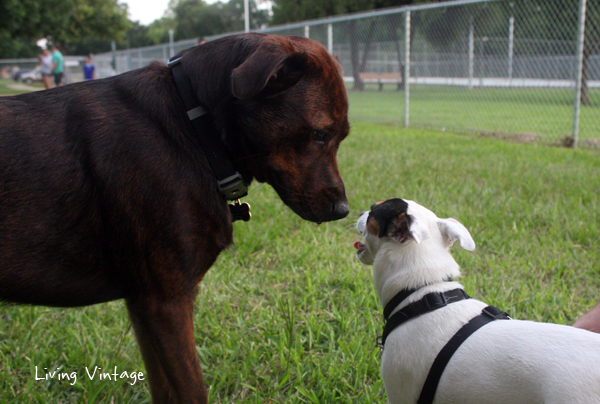 Molly's still not sure about the whole dog park experience.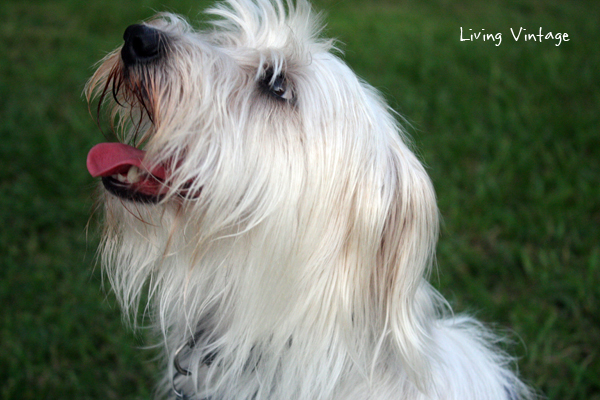 She's usually content to watch from afar.
I don't blame her.  Her mama's a people watcher, too.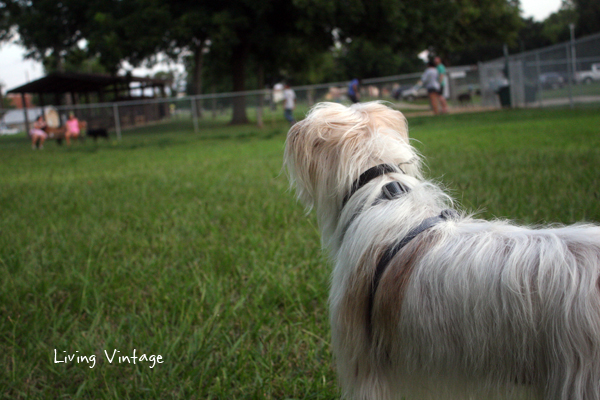 She is getting more adventuresome every time we go, and she's always happy to make a new friend.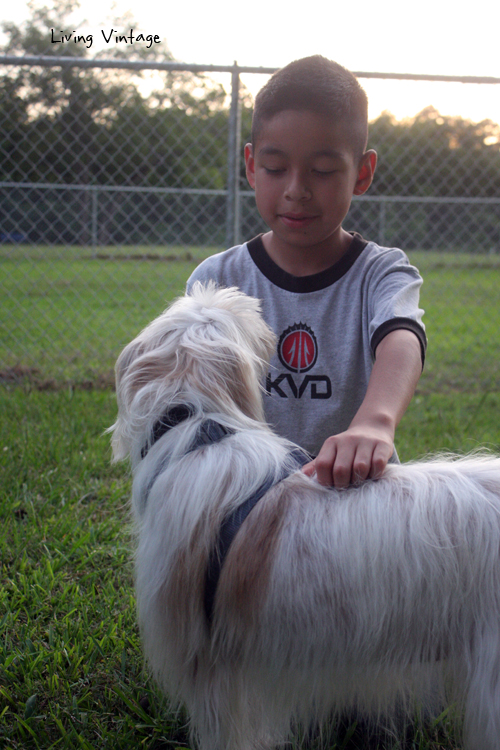 This is the view from the road when we had a blowout, the day we decided to take a day trip to the DFW area.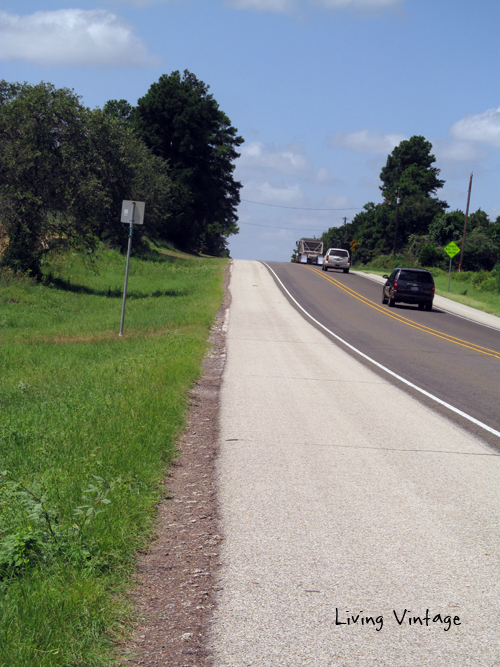 Luckily, we had a spare, and Mark knows how to change a flat tire.  It was scary though, having to change a tire on such a narrow, busy road.  It was so HOT, too!
I noticed the pretty hay fields as Mark was slaving away.    I was in charge of keeping our dogs in the vehicle.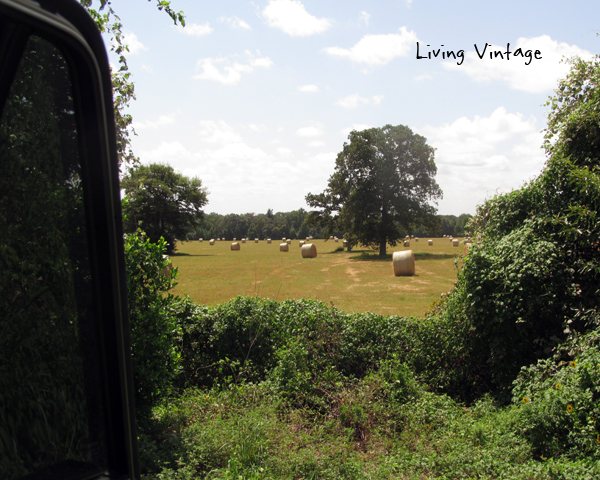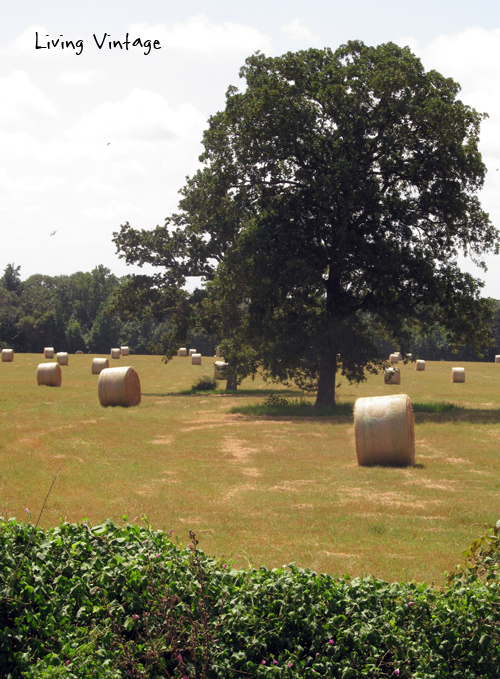 We took another day trip to Jefferson recently to check out the town.  We have friends who are from that area, and they'd spoken so highly of it that we had to check it out.
It's such a pretty town.
The architecture there is gorgeous, and we shot photos of a few houses that we liked.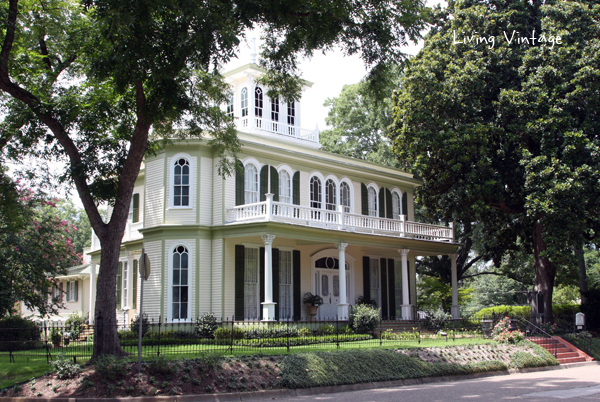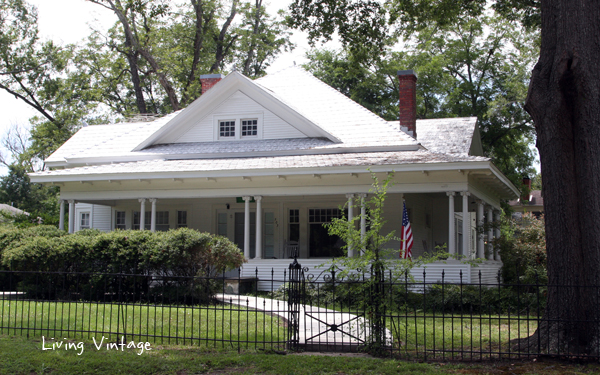 This one was for sale.  So pretty.  It was situated on an entire city block as I recall.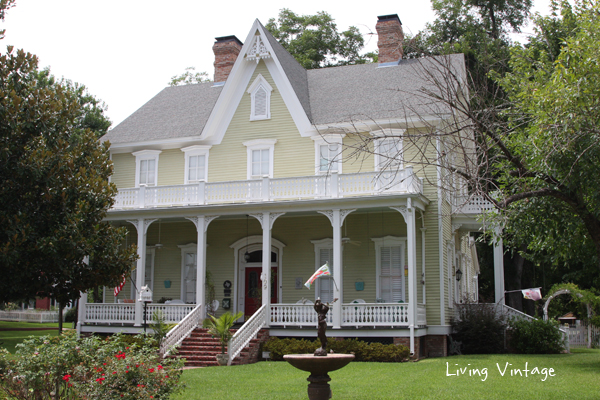 We also did a little antiquing, of course.  We can't go anywhere without stopping at an antique store or three.
Mark shot these photos of a gorgeous tin ceiling in one of the antique malls.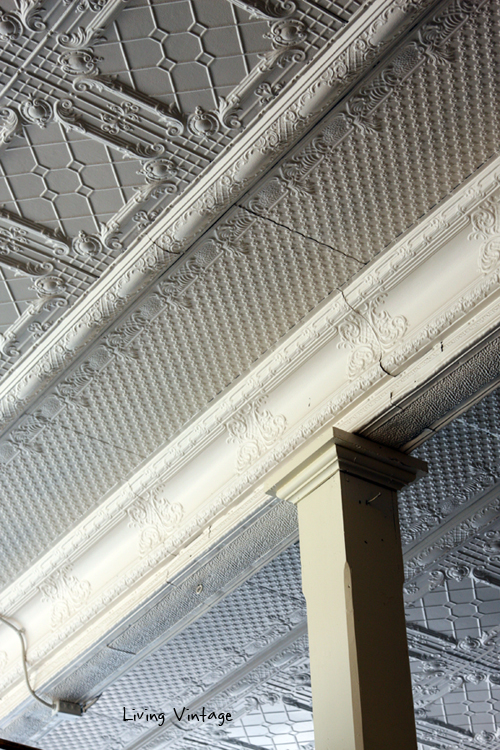 I bought an old apron and some vintage linens on our shopping trip, and I'll share those photos soon.
One of the malls we went in had a vintage advertising collection that I thought was pretty neat.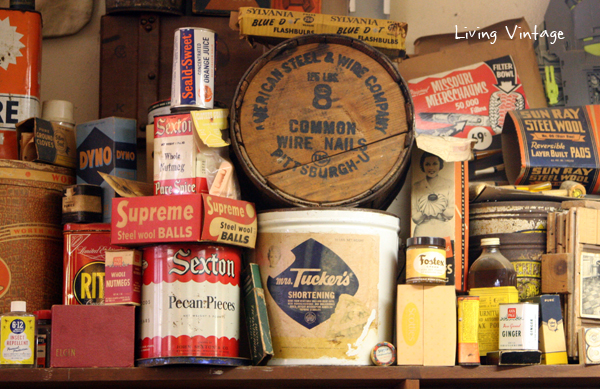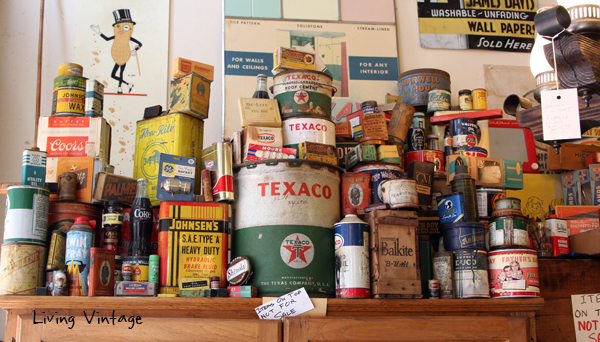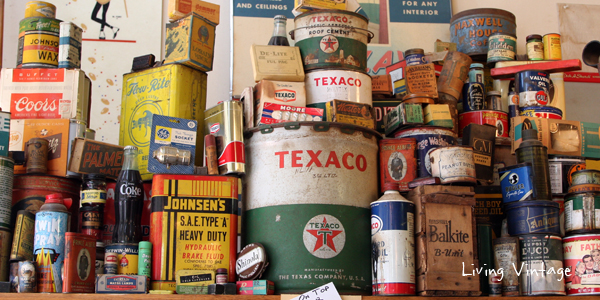 Other than those adventures, Mark has been mowing parts of our acreage every three days or so.  We get so much rain and the grass grows so fast and we have several acres . . . well, it just seems he is almost constantly riding his lawnmower around.
Fortunately, he doesn't mind the work.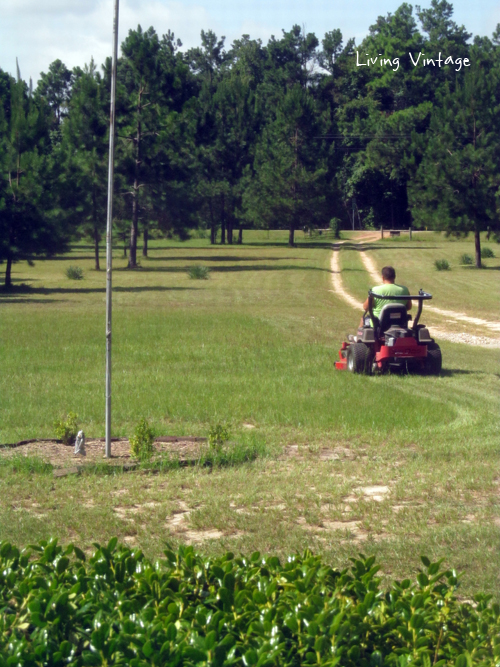 Hope you enjoyed this post about our life in East Texas!

Save
Save