You may be wondering why I haven't mentioned our next salvage project.
Well, here's the deal.
After working virtually nonstop for 20 months deconstructing old houses, we've decided to take a break.
This decision was difficult for us to make because we do want to save as many old houses as we can.
However, we have our reasons.
For one, we've salvaged ten old houses so far, and our four lumber barns are full.
We need to concentrate on selling our inventory of salvaged materials.    I'm way past due opening our Etsy shop.
We also want to use some our salvaged materials.  We'd like to make furniture and other reclaimed wood items for resale.
For personal reasons, we need to focus on home improvement projects, including finishing two rooms in our house: our laundry room and guest bedroom.
We're also way past due for a relaxing family vacation.
Plus, to be frank, we're tired.  The salvage business is a brutal one. It's filthy, physically demanding work requiring long hours often in the bitter cold or blazing sun.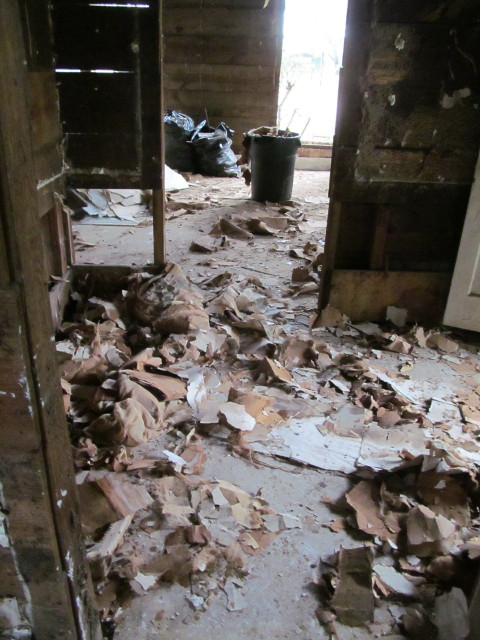 The work didn't stop at the jobsite either.   We had to haul the materials home to unload and organize the lumber often at the end of the work day when we were already bone tired.
We're in our 50's and because of the physical demands, we're just not sure we want to continue salvaging old homes in the long term.   Sure, if we quickly sell a bunch of our reclaimed materials . . . or if we were offered an extra special old house to salvage (one with tons of old beadboard, for example), we'd be tempted to take on another project.
But, we're not actively looking at the moment.
I also need quality time to write new blog posts.
Since starting our business, we've been contacted by numerous individuals who are interested in the salvage trade.  I'm delighted to pass on the lessons we have learned, and I'm going to focus on writing some blog posts that specifically address those questions we've received in the past.
Questions range from how we find old houses to salvage, the investment required to start an old home salvage business, how to clean reclaimed wood, and considerations to keep in mind when installing reclaimed wood.
Speaking of which, if you have any questions, you'd like for me to answer, let me know.
Anyway, that's our big news.  If you've been following my blog for the salvage posts, I hope you'll stick around.  🙂