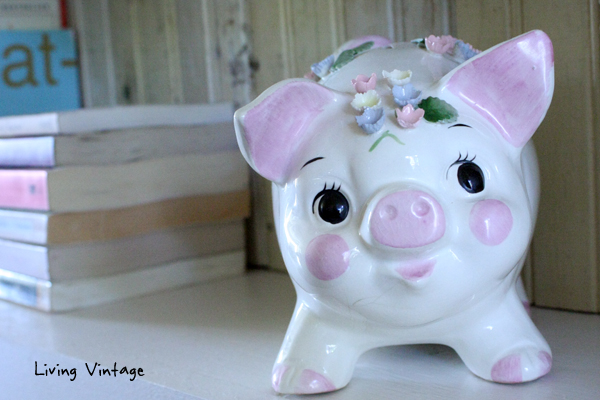 This little cutie is a piggy bank that was given to me when I was a baby.  I cherish it.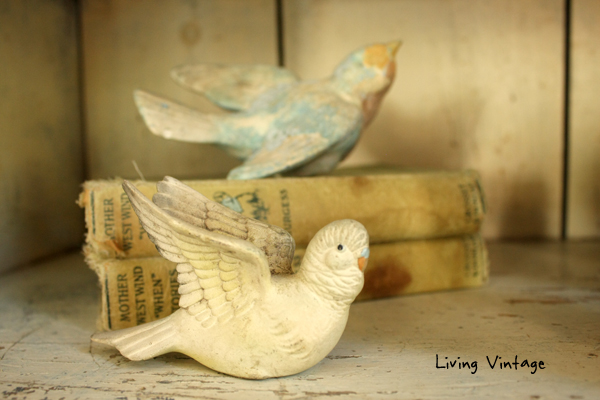 I bought these two beautiful clay birds at an antique mall in San Antonio many years ago.  I'm not even sure if that mall still exists.    They are displayed on the little white stepback cabinet in our master bedroom and I look at them often.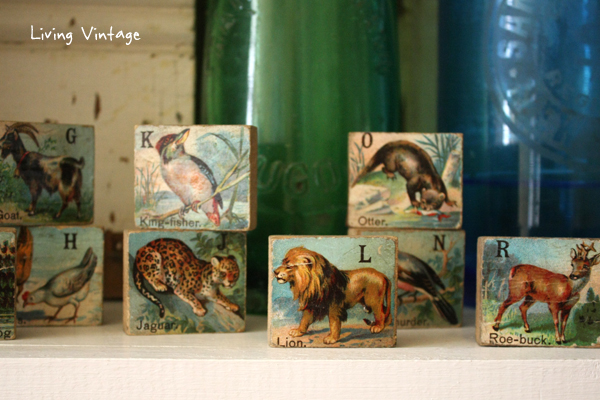 I do love miniatures, animals, and illustrations and a good way to combine the three is with miniature wooden blocks.   This set is incomplete, but I don't care really.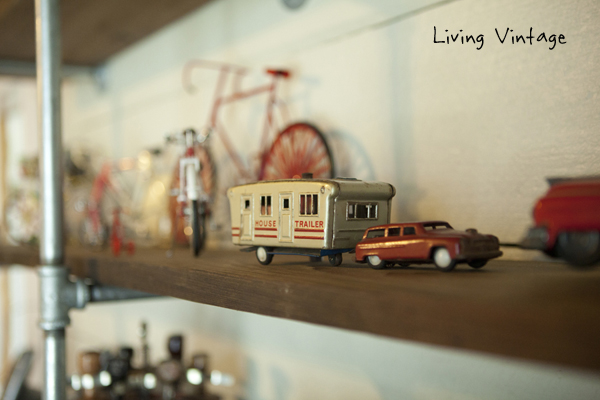 I love my two toy travel trailers.    They're just so cute!  You can even open the doors and windows.   I'd love to own and fix up a vintage travel trailer one day.  Here, one of them is shown on my husband's shelves in our home office.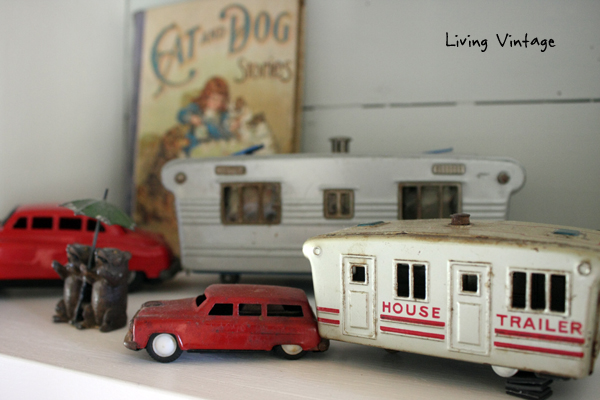 It's now displayed in the entertainment center in our living room with the second, bigger one, along with two little bears, prepared for rain.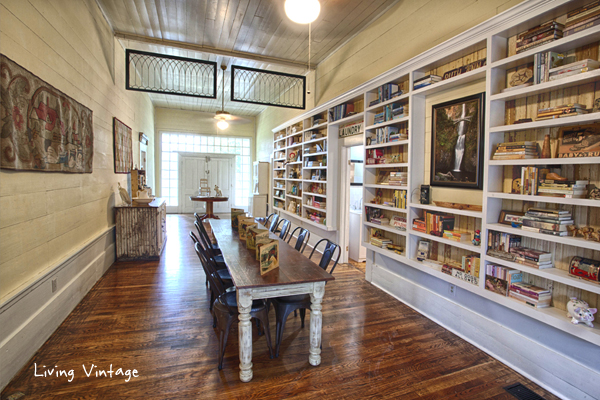 Two of my favorite things are the antique hooked rugs displayed on the wall in our dogtrot breezeway.
There is a unique and interesting story behind each of them.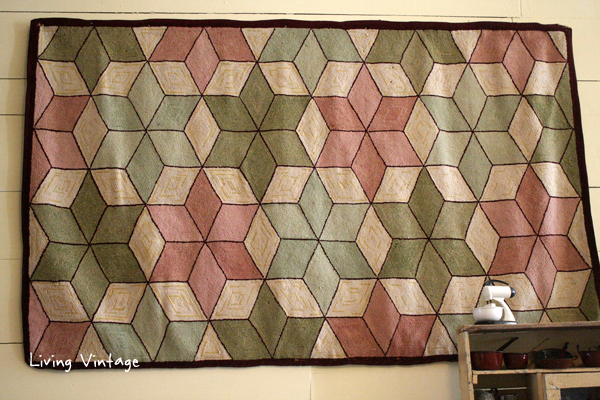 This one I saw for the first time at Warrenton.  I loved it, but I was feeling broke at the time, and I walked away.  Fast forward about 2 months or so, and I was really regretting not buying it.
Then 4 months later, the antique show happened again, and my sister and I went shopping again in Warrenton.  I saw the same dealer and walked quickly to her booth. The hooked rug was nowhere to be seen, and I told her that I wished that I'd bought her green and pink geometric rug when I had the chance.  She said, "Oh, I have it", and she pulled it out of a trunk that was sitting in a corner.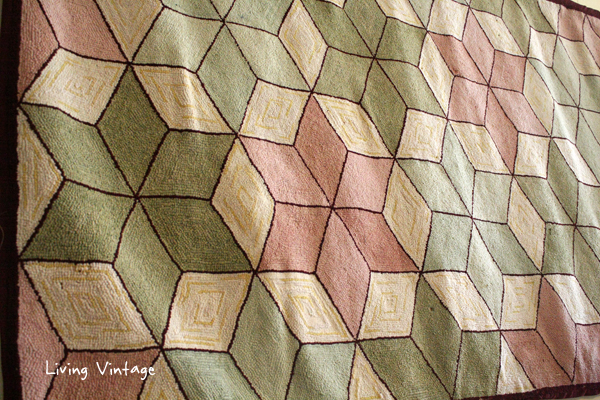 I love the green and pink colors in this rug, and I love that it's in pristine condition — I was told that after rug was made, it was stored in a trunk and never used.  I also like that the design is a visual illusion — sometimes I see stars, other times I see blocks.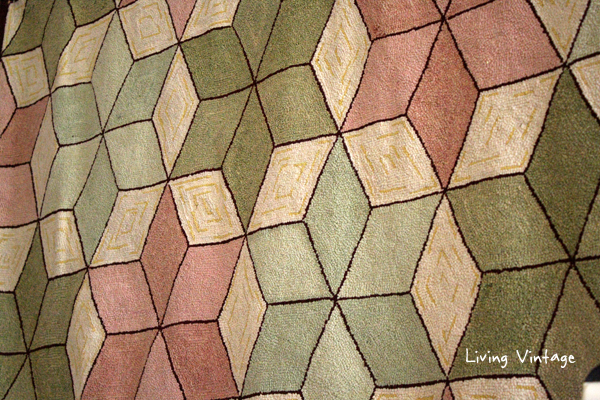 Can you see them?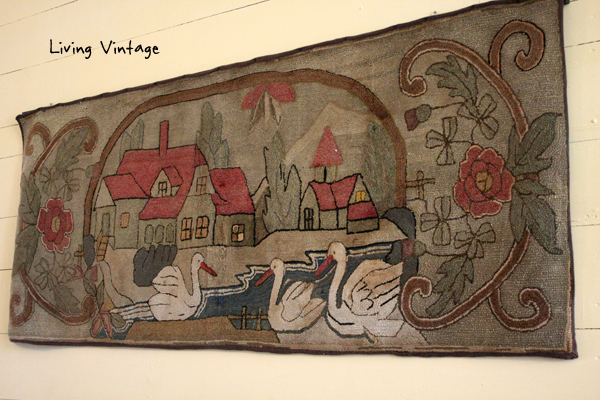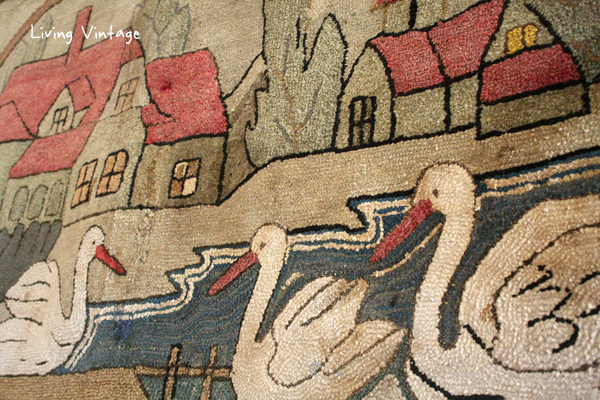 The second hooked rug I discovered at an antique show in Austin.  I loved it immediately:  the green, the ducks, the sweet little houses.
It was priced very high, way too high for my budget.
However, before walking off, I told the dealer that I loved it, then bit my lip and took a risk.  I asked her if she would consider an extended layaway.  She agreed and asked what I had in mind.  I said, "How 'bout $100 a month?"   To my delight and amazement, she didn't hesitate in saying "yes".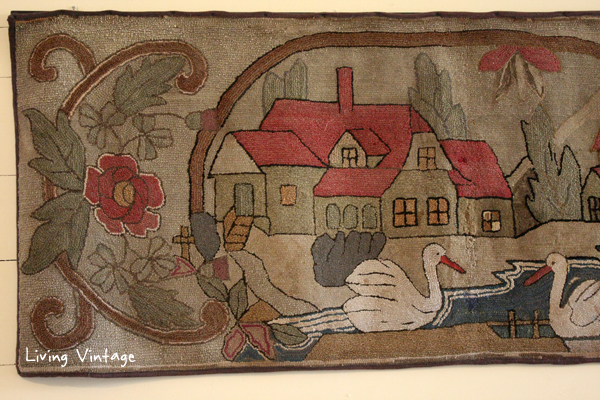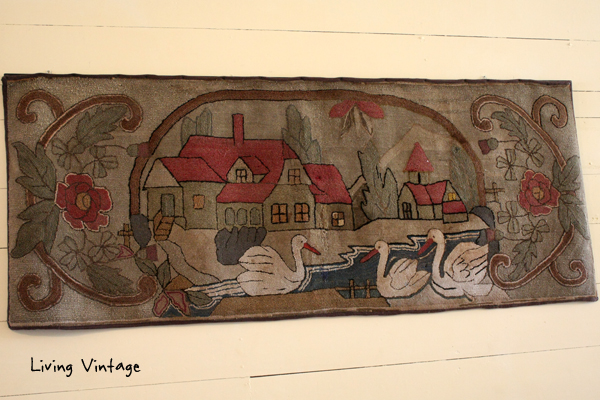 I paid for this rug for a year before I brought it home, so yes, it's definitely one of my favorite things.
Oh, and I realize that the photos of this rug may be a bit too many for your tastes, but one of my blog followers specifically requested that I provide many detailed photos.  I think she's thinking of recreating my antique hooked rug.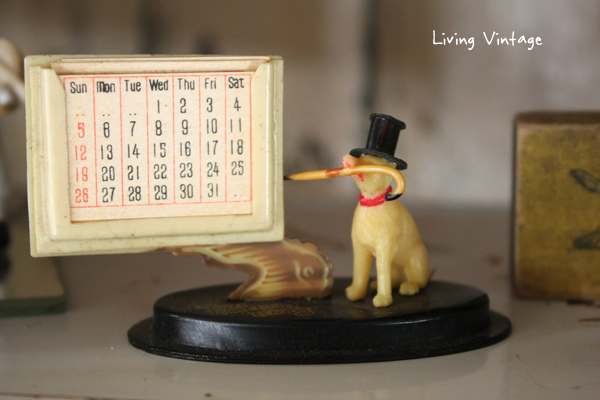 Now you should know me well enough by now that a "favorite things" post would not be complete without you seeing another one of my dogs.  This little celluloid dog, complete with a cane and top hat, guard a tiny perpetual  calendar.  The gold label on it states "Sainte Anne de Beaupré".  I googled it and it's a town in Quebec, Canada . . . so apparently, my little dog was a travel souvenir.

Save