I recently shared with you that we built a dog gate for our naughty dogs, but I've never formally introduced you to one of our dogs, Kacy.
How terrible of me, considering that I love her so.
She is the sweetest, naughtiest, most awesome dog.
Yes, it is possible to have all those adjectives in the same sentence . . . if it's a Jack Russell.
Sure, you've caught glimpses of her here and there, but that will just not suffice!  No, you must suffer through a proud mama showing you her baby's pictures.
This is the very first photo we saw of her.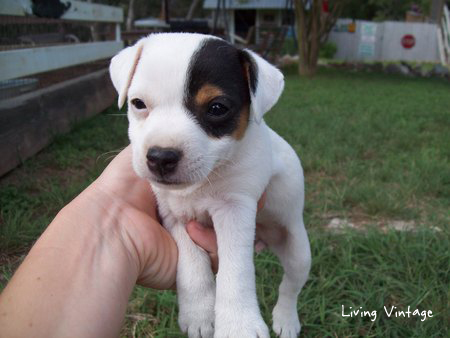 I had been thinking I wanted a Jack Russell puppy not very seriously, and one day for no particular reason, I looked at the ads in the Austin newspaper.
I remember my exact exclamation to Mark:  "Oh my God, Honey, you must come look at this puppy!"
He took one look and replied, "OK, if it's a female, we'll go get her."
She was and is and we did.
She got lots of attention after we brought her home and we took plenty of baby photos of her in our photography studio in Austin.
This was her 2 month photo session.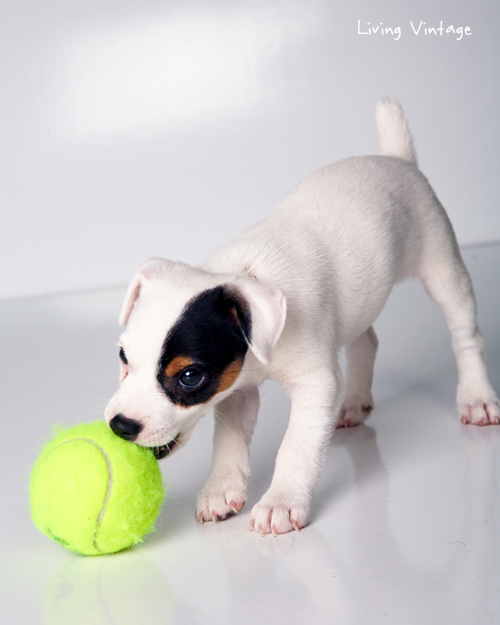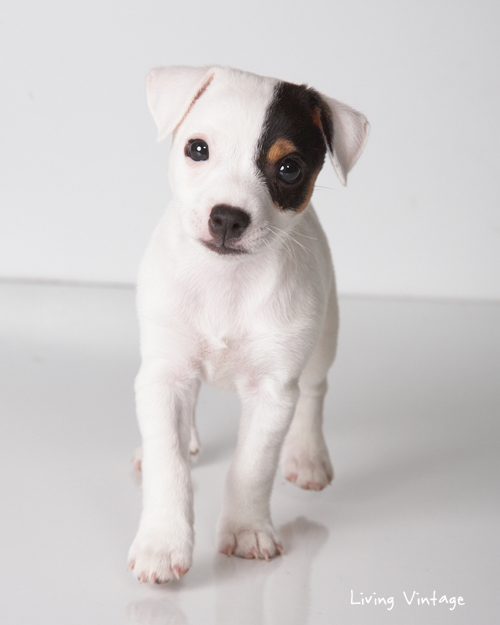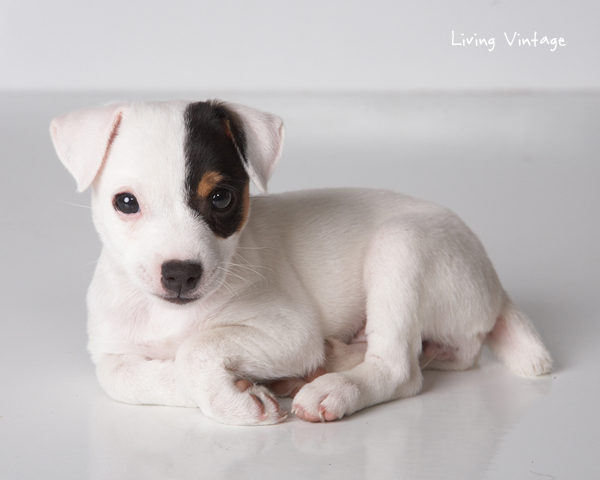 This one shot (and the shot of her with the tennis ball) are my personal favorites.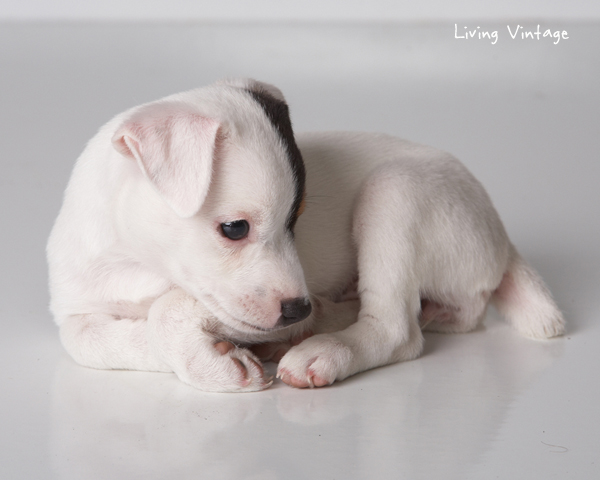 For the first few years of her life, we also had an elderly husky named CJ that my husband brought to our marriage in 2007. CJ lived to be 16 years old, pretty rare for such a large dog.
She was such a good dog.  We miss her still.
Kacy didn't quite know what to think of CJ at first.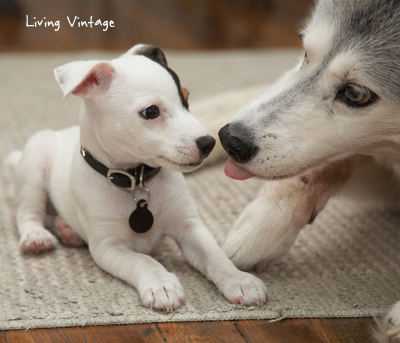 Kacy so badly wanted to play, but poor CJ just wanted to be left alone.
(Honestly, I think there was a little bit of jealously there.  CJ had been the only dog for so long, and she loved our exclusive attention.)
Of course, our rambunctious newcomer irritated her older sister a time or two, and one time, Kacy bugged CJ just a little too much, and the gator like jaws nearly got their prize……..whew that was a close one!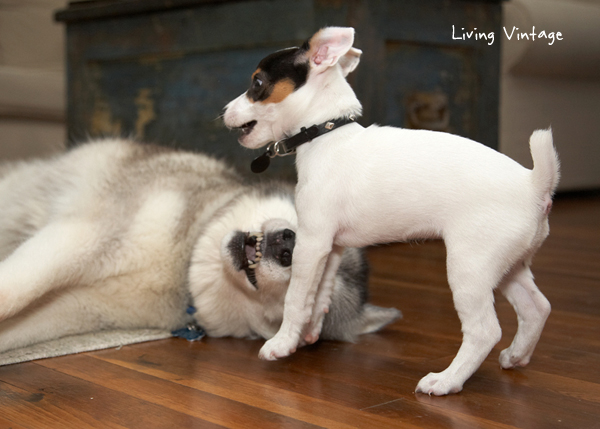 A few days later, she got in this little 'zen' pose one evening next to CJ, which I thought was so cute.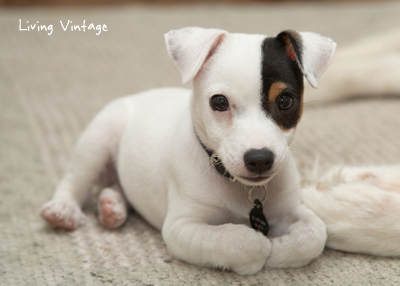 She loved surveying and protecting her kingdom from our front porch in Austin during her first year of life.
Here she is at 3 months.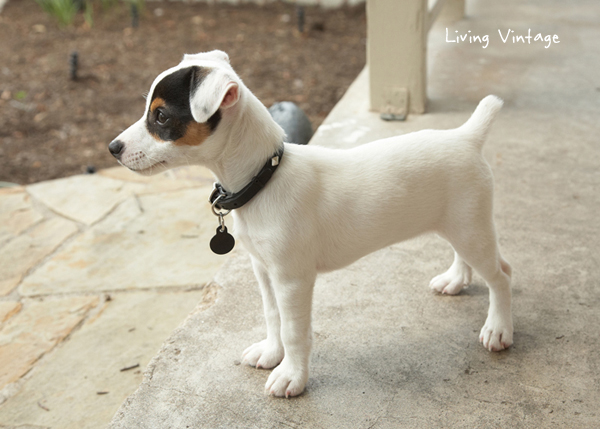 She learned very quickly how to walk on a leash . . .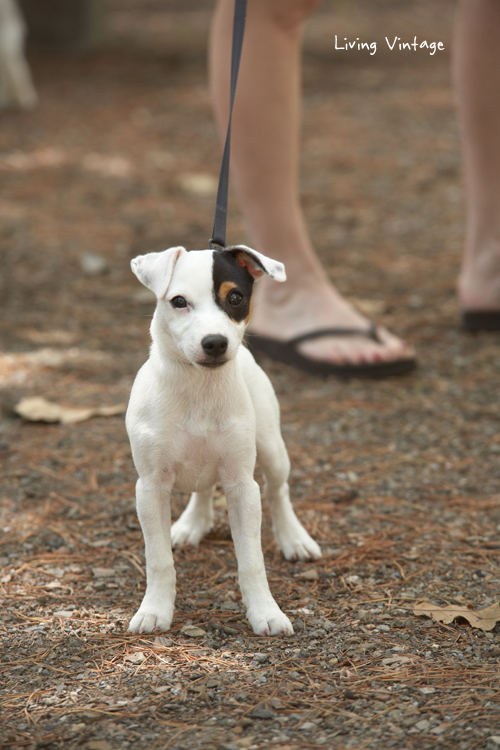 There were lots of great smells and always new humans to meet!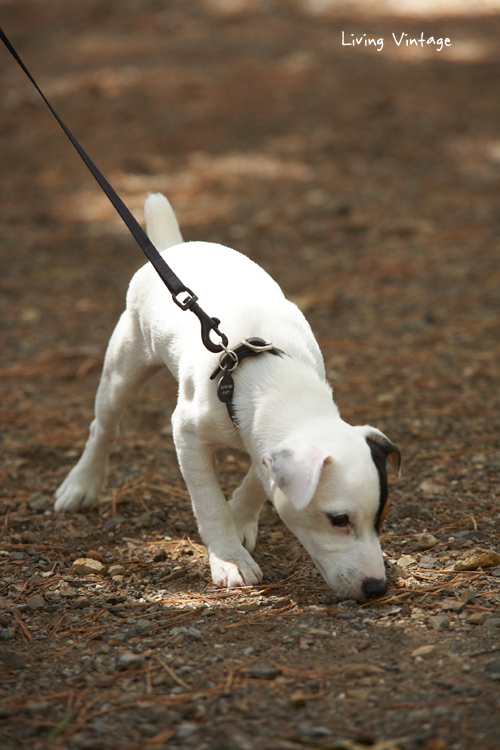 She learned to sit on command very quickly.
Good girl!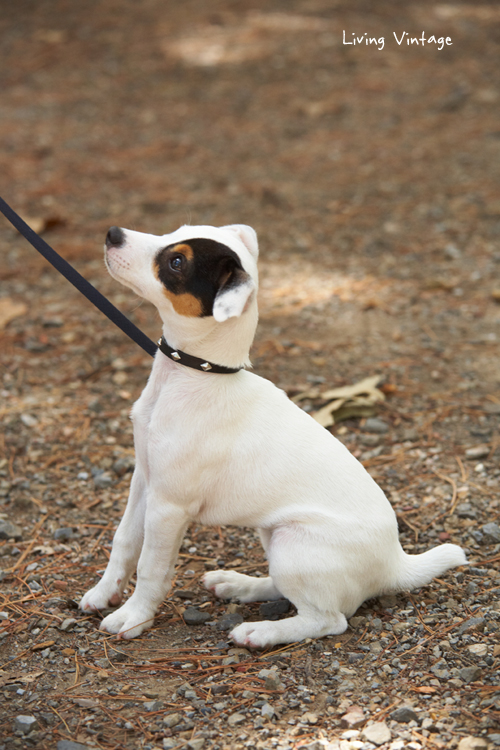 At 4 months, her face started to change.  Her snout started to elongate a bit more.
This is her 'pretty in pink' photo session.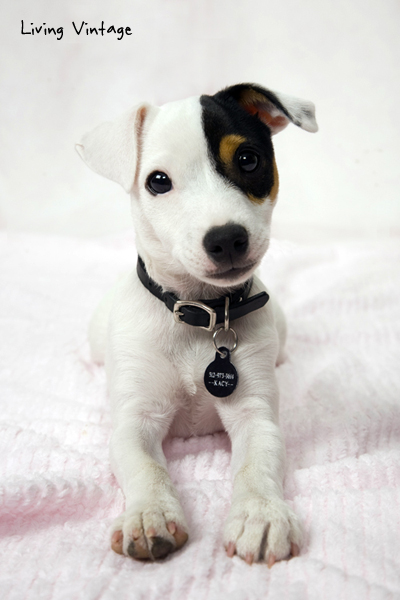 Considering that a Jack Russell can be very aggressive if not socialized, we made an effort to take her to the dog park early in her life, even maybe before we really should have — she was so tiny!
Going to the dog park is still one of her favorite things to do.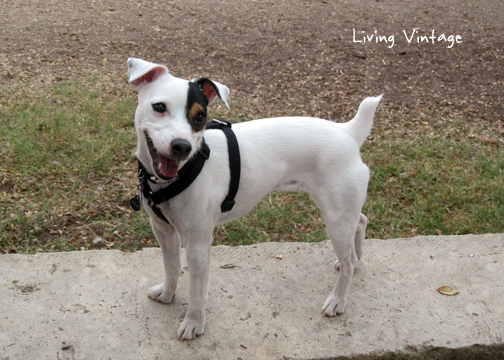 It was always a challenge to catch her when it was time to go home.
Here she is saying:   "What do you mean you want to go home?"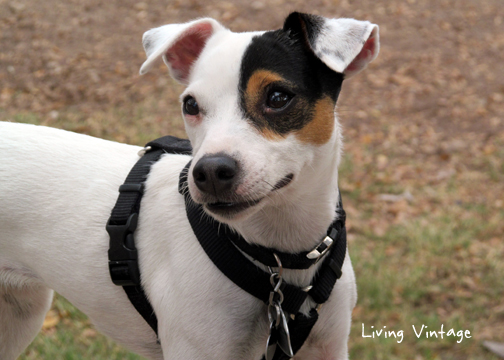 Once we successfully got her in the car, she usually collapsed from exhaustion.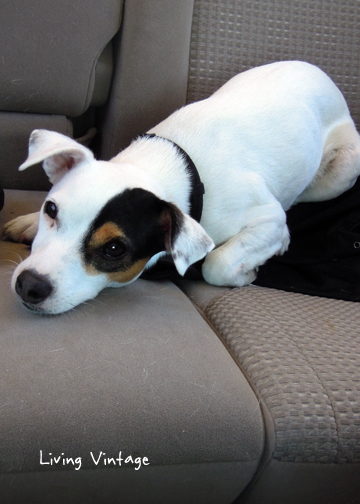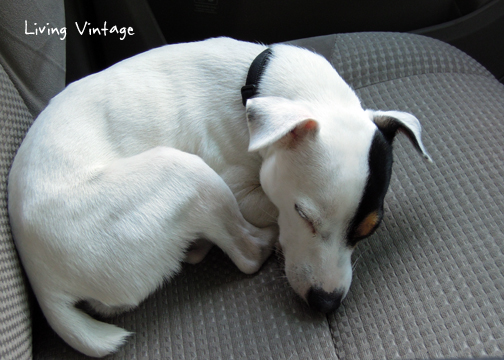 I guess being around CJ taught her that big dogs were not scary just because of their size.
Big dogs also seemed to be equally fascinated with her because she's so small.
(By the way, this is not a photo of Kacy and CJ, but another younger husky at the dog park.)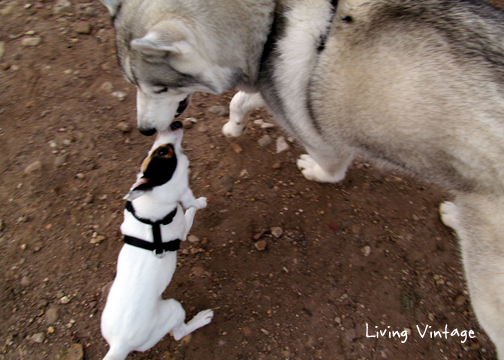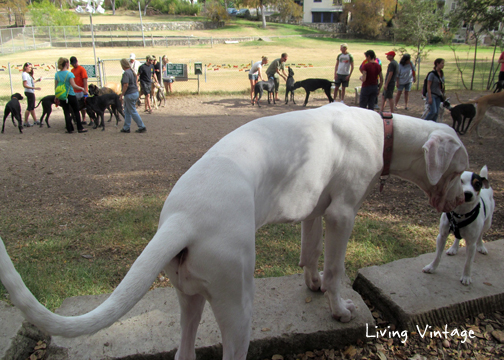 Due to all the playing she got to enjoy as a pup, she was all muscle by the time she was 10 months old.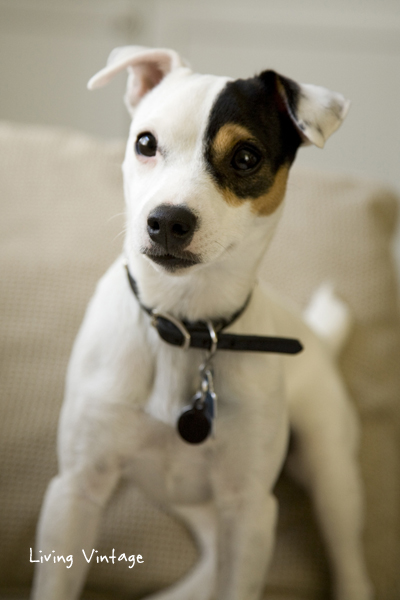 When she was about this age, we began to wonder if she would have a growth spurt and get bigger . . . but she never has.  She's just small for a Jack Russell.  We don't  know why — she didn't appear to be the runt when we got her, and her parents seemed like a normal size.
It doesn't bother us — we like that she's so small.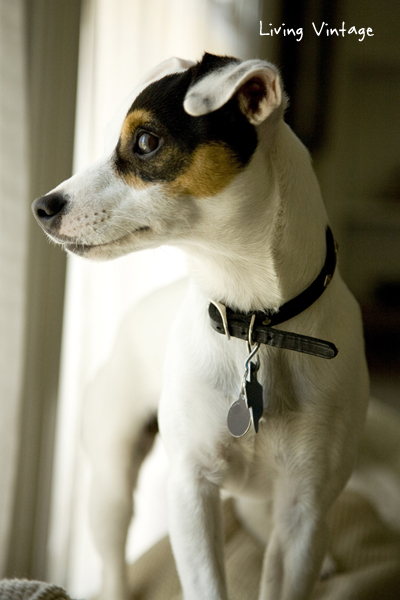 After CJ died, Kacy was our only dog for a few years.  Because we work from home and are self-employed, she went with us everywhere.
Even to antique shows!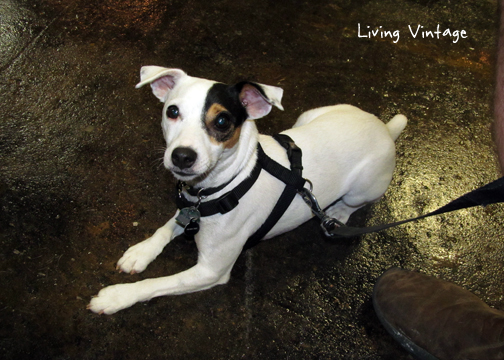 She loves to go anywhere we go — when she sees her harness, she literally starts squealing.
Most of the time when she comes along with us, she rides on my lap in the front.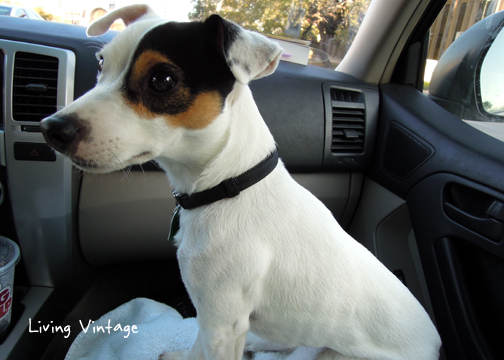 (I know she looks half starved in the above photo, but believe me, we feed her plenty.  She just has more energy than a gerbil, and any fat burns off quickly.)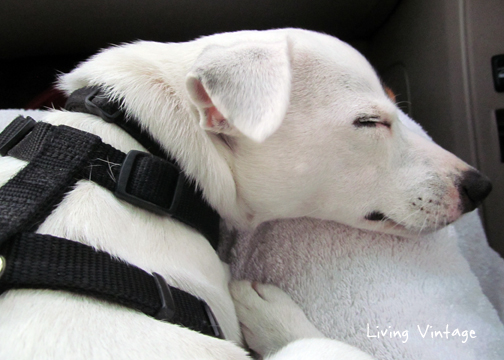 Every time we slow down, I open the window a bit for her to enjoy all the smells.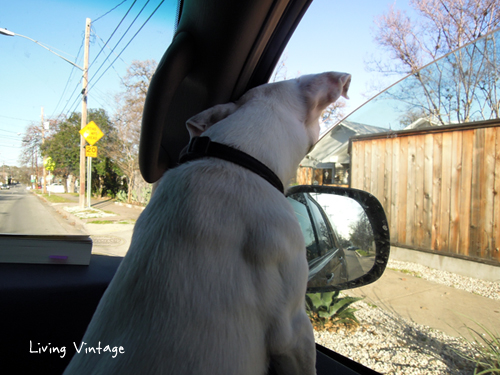 We always make her a bed in the back of our SUV, and she eventually goes back there and gets more comfortable.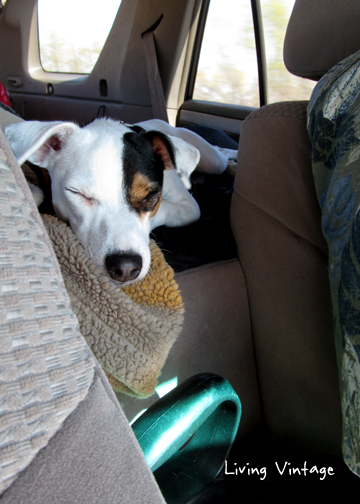 Still, her impulse is to be close to us all the time.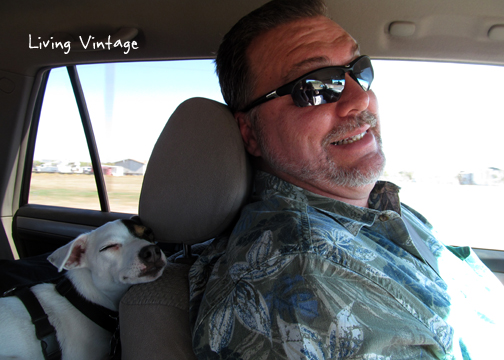 This shot was taken at my mom's house one Christmas.  I think that's the year she ate a glass ornament to the tune of a $1,500 vet bill.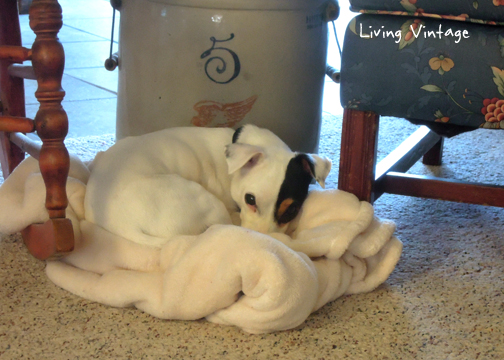 Mark likes to think she's Daddy's Girl.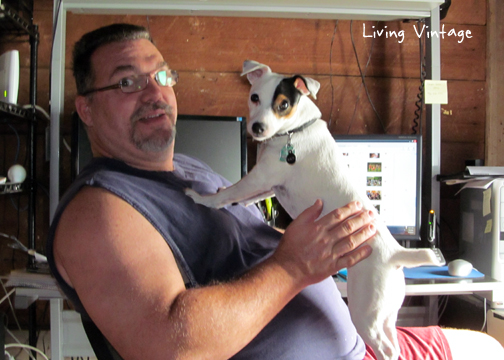 She does love her Daddy . . . and her Mama.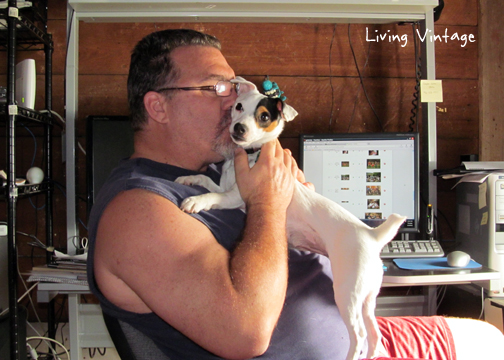 (By the way, this is our current office before we started remodeling it.)
High energy?  Yes.  Bitchy sometimes?  Yes.    Smart?  We're teaching her to drive.  Stubborn?  Absolutely!  She's a Jack Russell!
She's such a sweet dog, especially when she's tired.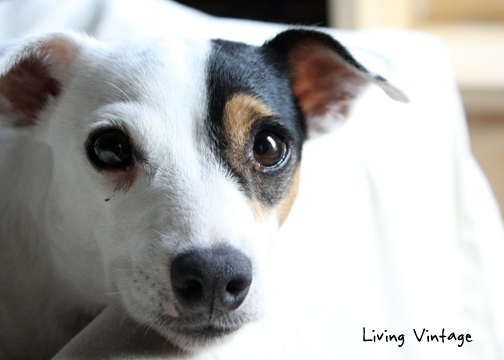 When she does decide to call it a night, she gets pretty clingy and always burrows underneath the covers.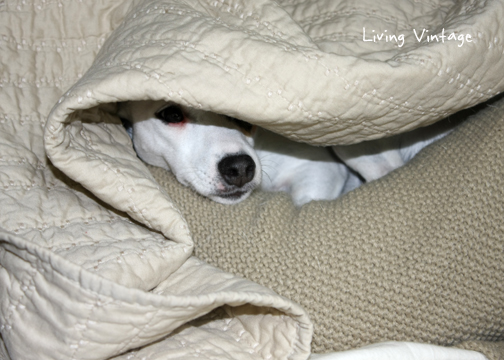 Can you tell how much we love her?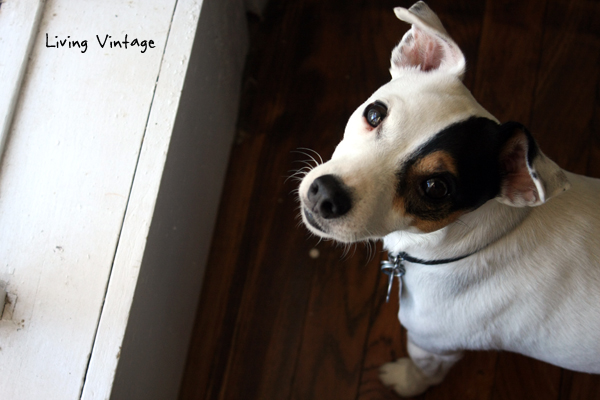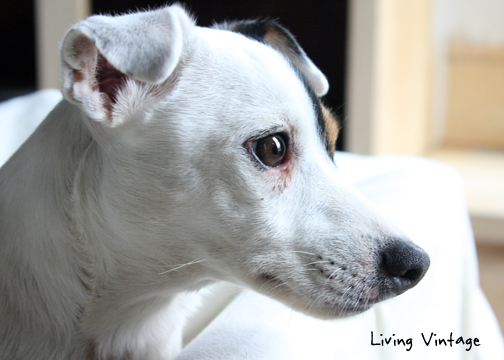 But that doesn't even come close to the love she gives us every day.

P.S.  Next up, you get to meet Molly!