Would you like to see our finished living room?
This is the doorway you enter from the dogtrot.   I bought the salvaged architectural piece from the Texas Sampler antique store in Georgetown that went out of business years ago.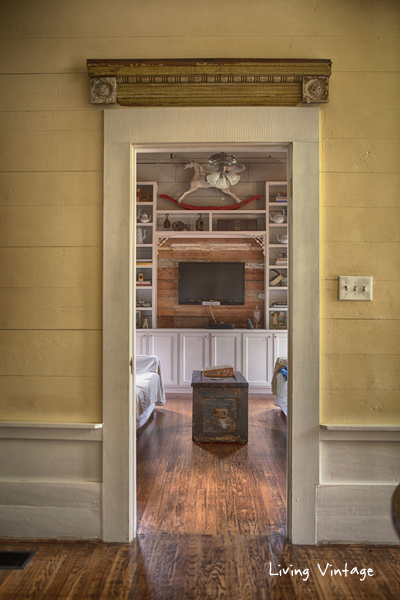 You can see that my antique rocking horse fit perfectly on the top of the entertainment center.
The rocking horse that we used to display in our master bathroom now lives on top of the cabinet I use to display my dog collectibles.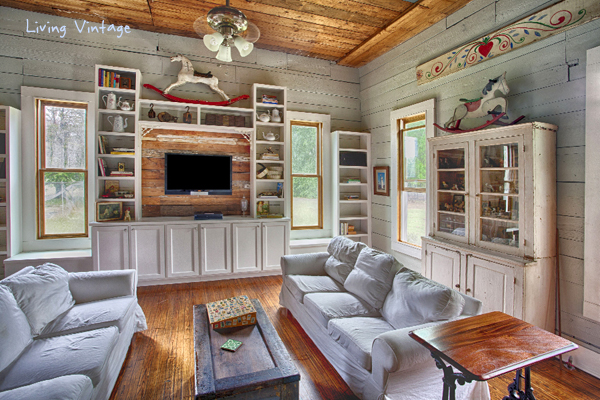 I just love my dogs.    Here are a few photos that I'll share with you now.  More later …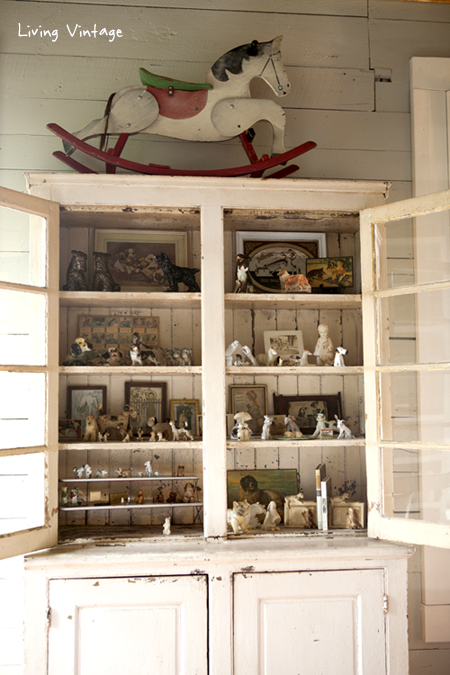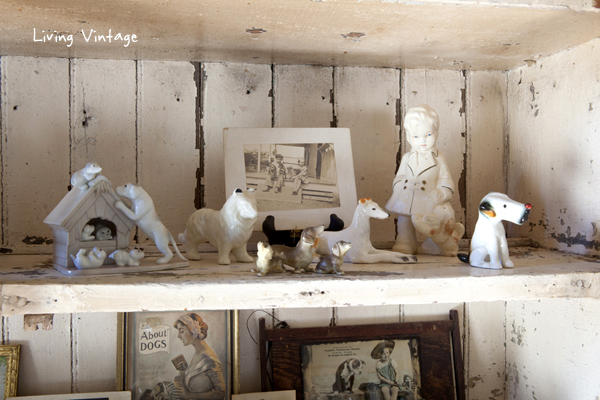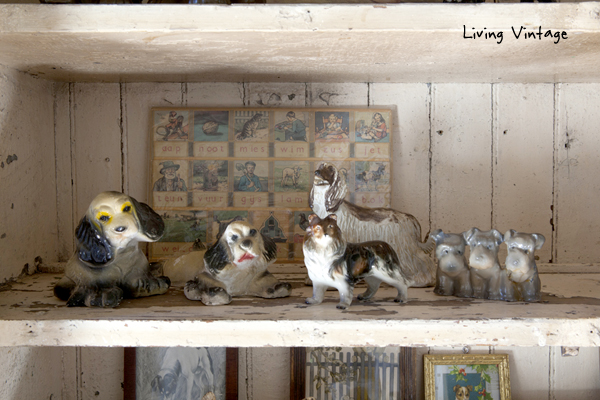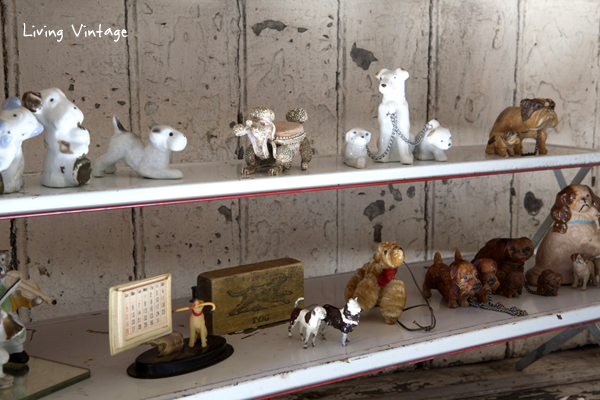 The folk art above the horse was salvaged from the old house in Jacksonville.  I was going to sell it, and I will eventually, but it fit so well on that wall.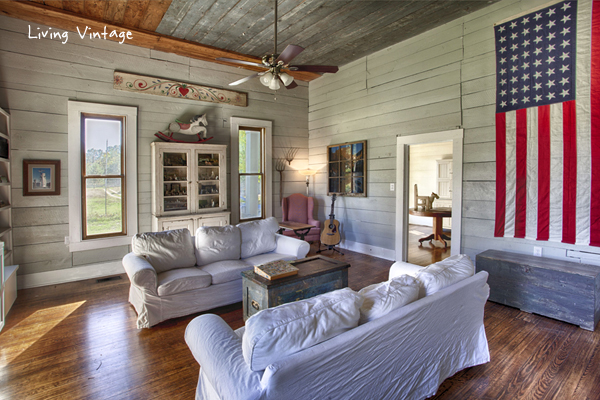 I've owned the blue trunk between the sofas for years.  I don't remember when or where I bought it, but I remember it was an antique show that my sister and I met up there for the day.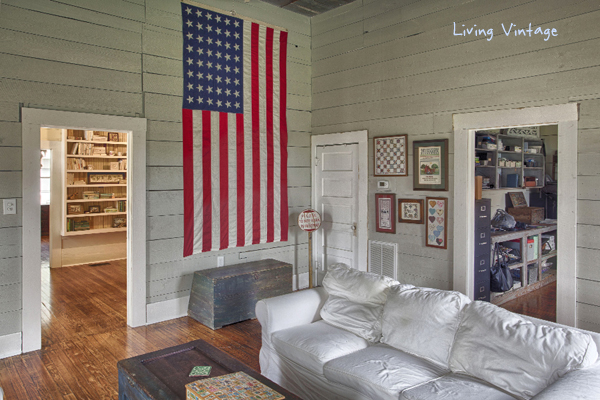 We bought the 48 star flag from an estate auction in Nacogdoches.  The trunk below it we bought at an antique store in Crockett, a favorite stop anytime we're in the area.
After the above photo was shot, we cleaned up and hung two more folk art pieces, again from the old place in Jacksonville.
I've owned the 'apple basket parking' sign for years and was intending to sell it on Etsy, but for now, it looks good on that wall.
I'm happy with the way the entertainment center turned out.  We added a little bit of salvaged goodness to the new cabinetry by hammering up two vintage corbels.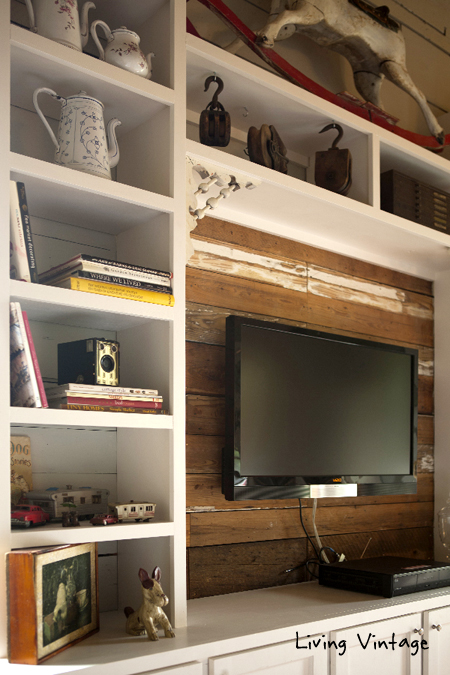 I was afraid that I wouldn't have enough books and antiques to display on all the bookshelves in our dogtrot and living room, but I somehow managed.
For example, my old tin reels from a fortune teller's machine found a home on one of the shelves.    I scooped them up at a Citywide Garage Sale.    It just makes me smile.
I hope you'll take a minute or two to read some of them.   The questions and the answers are really quite hilarious.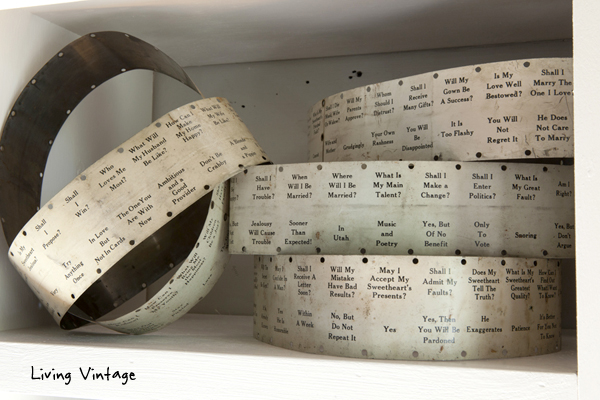 Our living room certainly has an Americana vibe which I do like.  In small doses.