I've shared glimpses of our dogtrot breezeway before.  For example, I showed you what the room looked like right after we bought our place, and I showed you how messy it got when we were renovating other rooms.
However, I've never shown you photos of the finished room.  That's because we just finished decorating it.
It's time to reveal our dogtrot breezeway.
You'll see that we use the space as a home library and a dining room.
The bookshelves we built and finished out with reclaimed beadboard were the biggest project we tackled in this room.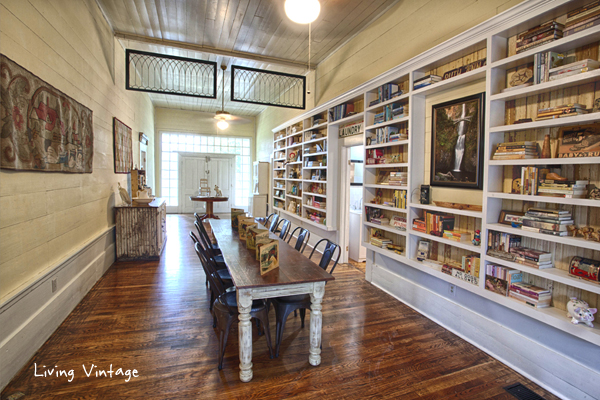 We bought the table and chairs at Warrenton a few months after we bought our place.   The table we already owned was way too small and would have look puny in such a large space.    Our new table now will easily seat 10 people.  Dinner party, anyone?
The table's centerpiece is an old children's book featuring farm animals entitled "In the Fields" by Father Tuck's Panoramic Series.    I love old illustrations, and it's no more apparent than in this particular room.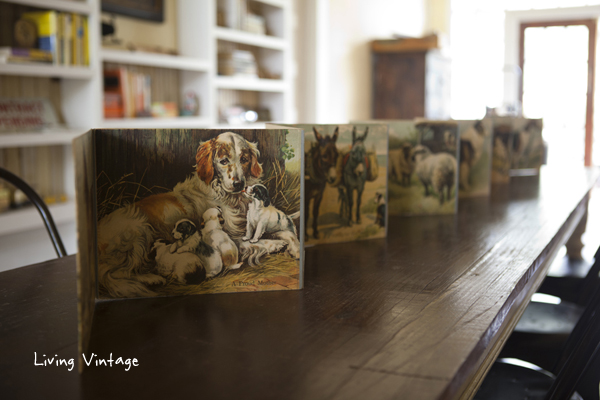 We also hung two large antique leaded glass windows from a beam in the middle of the room.  This was Mark's idea and he was so proud of himself.
I think they're just so lovely.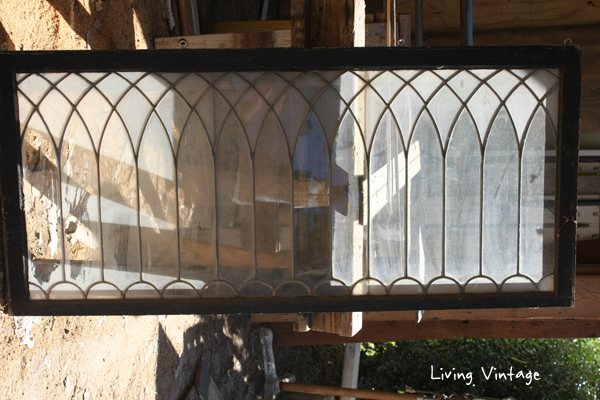 We snatched them up as soon as we saw them at the Nacogdoches Antique Market.  One of the previous owners had spray painted the glass white — I suppose to mimic old frosted glass? — but  it just made the glass look dirty, so we removed the white paint.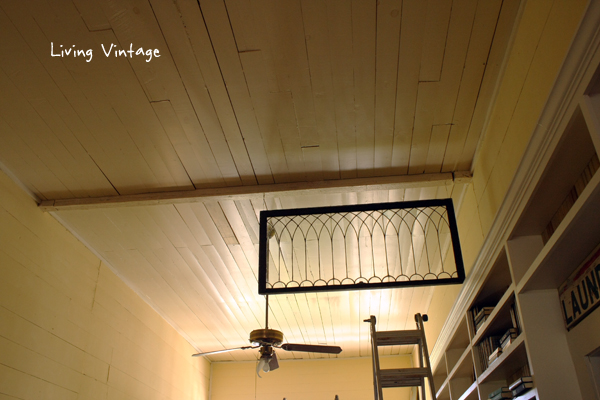 We also decorated the space with the yellow cabinet you see on the right side of the room.  It's actually an old refrigerator and weighs several hundred pounds.     I'll share more detail photos later.
I bought the architectural piece above the doorway to the living room at the antique store in Georgetown I've mentioned a few times already.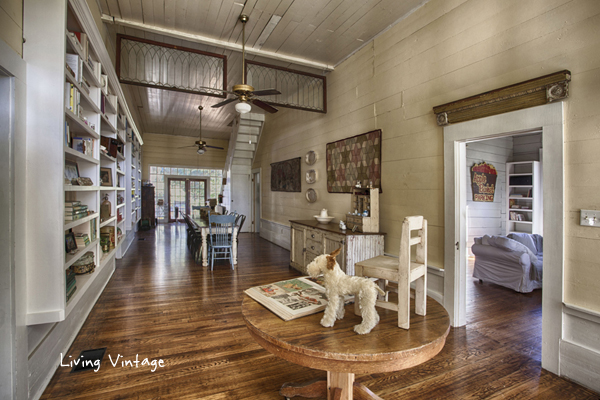 I hung my two antique rugs and three old platters on the wall above the old refrigerator.
On the top of the old refrigerator, I display an old, miniature stepback cabinet and my collection of miniature enamelware.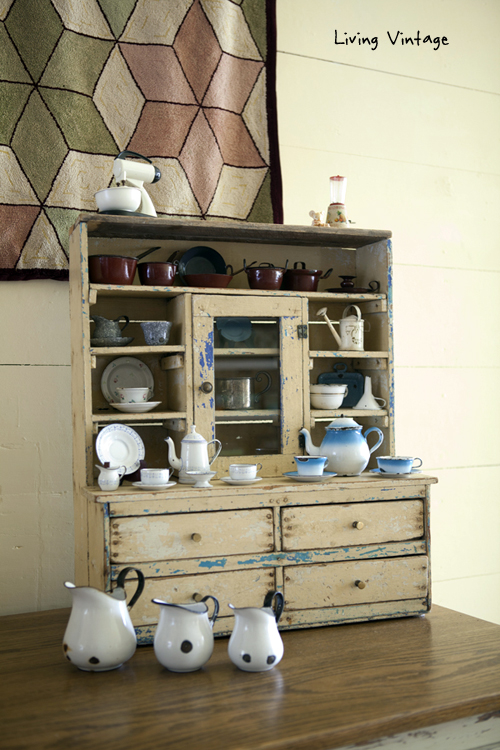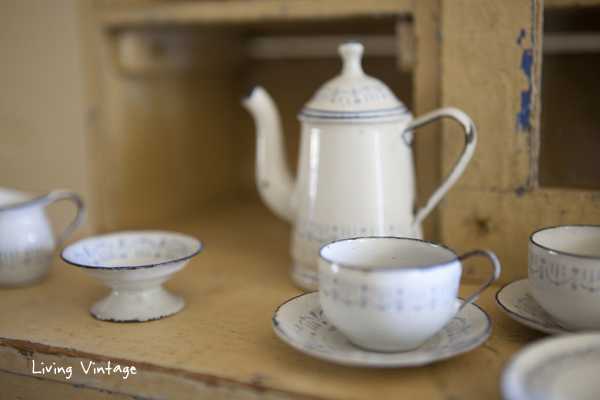 We also placed a round table we bought in Crockett in the entryway and use it to display some of my antiques.    One of them is a book of old illustrations I bought at the City-Wide Garage Sale in Austin.    It's one of my favorite things.
I'll be sharing detail photos of it throughout the coming months as free downloads for those of you that like to do crafting projects using old images.
The cabinet to the left of the entry table will be used to store linens and such.  It was used in our previous master bathroom in Austin, but it was too deep for our current master bathroom.
Of course, I also unboxed all of my books and decorated my bookshelves.  I'll share detail photos later.  I just want to show you the overall room right now.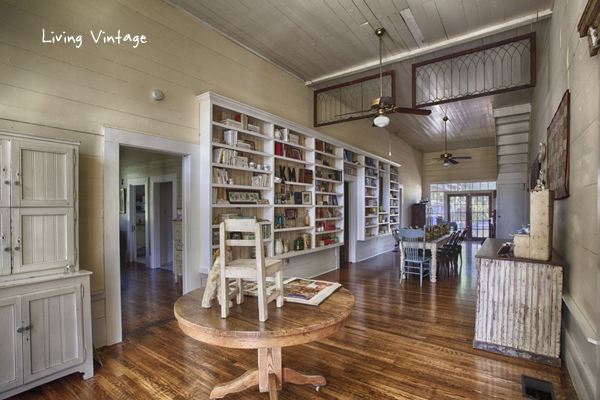 Hope you like it!

******************************
I'm linking to these parties:
Catch as Catch Can @ My Repurposed Life
Creative Things Thursday @ The Vintage Farmhouse
DIY Sunday Showcase @ PinkWhen, Minettes Maze, Fresh Idea Studio, and VMG206
Fabulously Creative Friday @ Jennifer Rizzo
Feathered Nest Friday @ French Country Cottage
Friday's Five Features @ Vintage Chic
Frugal Friday @ The Shabby Nest
Home and Garden Thursday @ A Delightsome Life
Home Sweet Home @ The Charm of Home
Inspire Me Please @ Liz Marie Blog, House of Rose, Love of Family and Home, and Blissfully Ever After
Junkin Joe @ The Cottage Market
Mod Mix Monday @ Mod Vintage Life
Saturday Sparks @ Pieced Pastimes
Shabbilicious Friday @ Shabby Art Boutique
Share your Cup Thursday @ Have a Daily Cup of Mrs. Olson
Simple & Sweet Fridays @ Rooted in Thyme
The Inspiration Gallery @ The Golden Sycamore,  Craftberry Bush, and Design, Dining + Diapers
Treasure Hunt Thursday @ From My Front Porch to Yours
Work It Wednesday @ The Blissful Bee, The Happy Housie, Place of My Taste, and The Turquoise Home