Mark and I took a ton of "after" photos of our bedroom, living room, and dogtrot last weekend, and I'm working on the reveal posts now.  They're taking a bit longer to finish than I expected, but I hope to publish them later this week.
Meanwhile, I thought I'd share 'before' and 'after' photos of a small master bedroom project we completed recently.
We decided an old brown dresser needed a facelift.  The brown finish was in pretty poor shape (although it doesn't look too bad in this photo).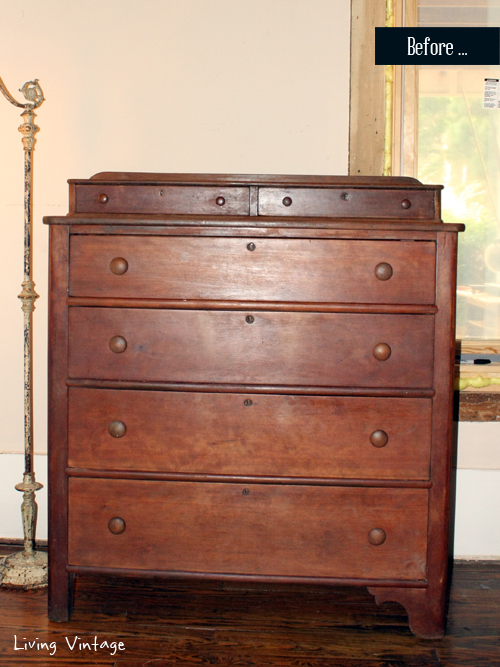 Plus, I've always wanted a bedroom that was predominantly white.
As much as I hate to paint antiques, we took the plunge and bought some Annie Sloan chalk paint, paintbrushes and waxes.
This was our very first experience using her products, and I think the dresser turned out pretty well.   Both Mark and I agreed that it's a little more distressed than what we originally intended, but I like it fine.
We can always repaint it if we decide to do that.
For now, it sure looks nice in our finished bedroom.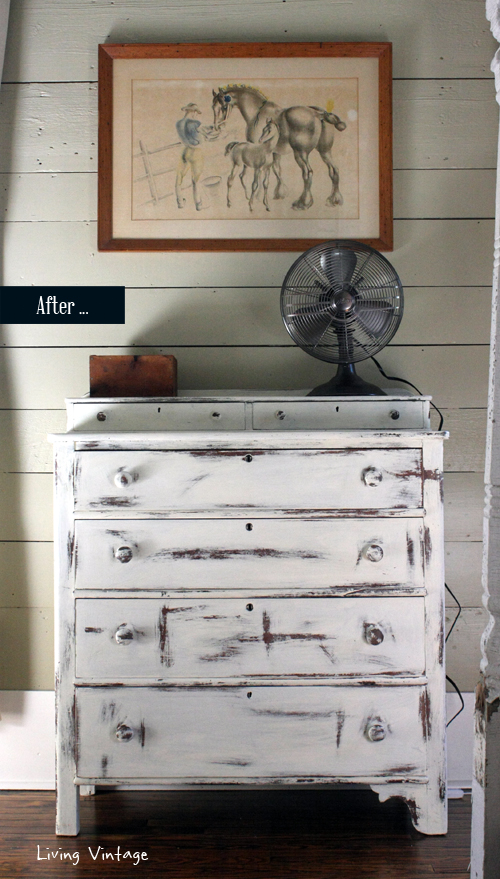 This was once my dresser, but it's Mark's now.  I insisted that Mark start keeping his billfold, pocket change and stuff like that out of sight, and I knew that the two skinny little drawers would be handy for that.  The new paint job helps to make it feel "new" to him, too, I think.
Oh, and if you're wondering, the print above the dresser, which I believe is a lithograph, is signed "John R. Skeaping 1945″.  It was a Christmas present from my mom several years ago.  I have always loved horses, and I hinted, begged and pleaded for it religiously until finally it was mine.
Hey, I'm not proud.   My diabolical plan worked.
Until next time …..