Years ago, I bought a beautiful slipcovered Shabby Chic chaise lounge.
I'm not just talking about "a" shabby chic chaise lounge, but a shabby chic chaise lounge from Rachel Ashwell's company.    I say this only because I splurged in a major way and paid many pretty pennies for it.
Here it is a photo of it I took at my previous home in Austin.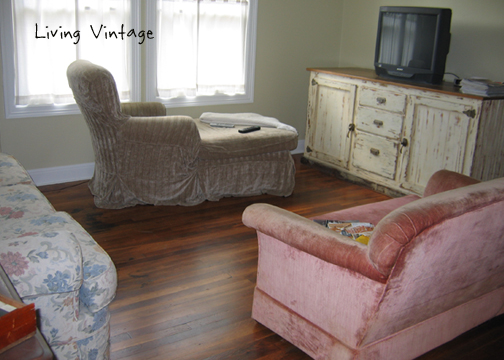 After meeting and marrying my husband, Mark, some of my things moved to storage out in my garage in Austin.
(It happens when you combine two mature households.  He had a house.   I had a house.  And we had two of just about everything.)
When we started packing up to move from Austin to East Texas, I noticed that something, probably rats, had chewed holes in some of the slipcovered fabric.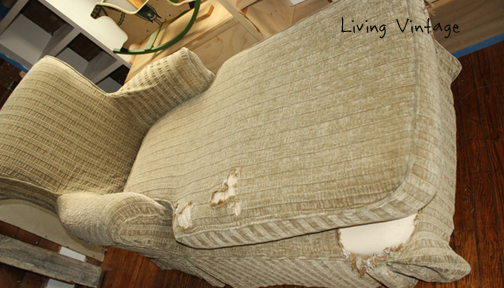 (Yes, rats are really bad in Austin.)
Since then, the rescue dog we adopted contributed a few more holes to my already hole-y slipcover.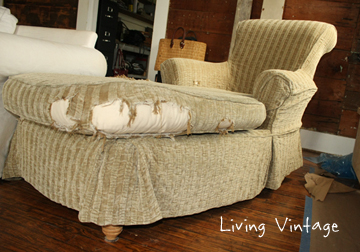 There are 9 holes in various places in the fabric, some little bitty and some quite large.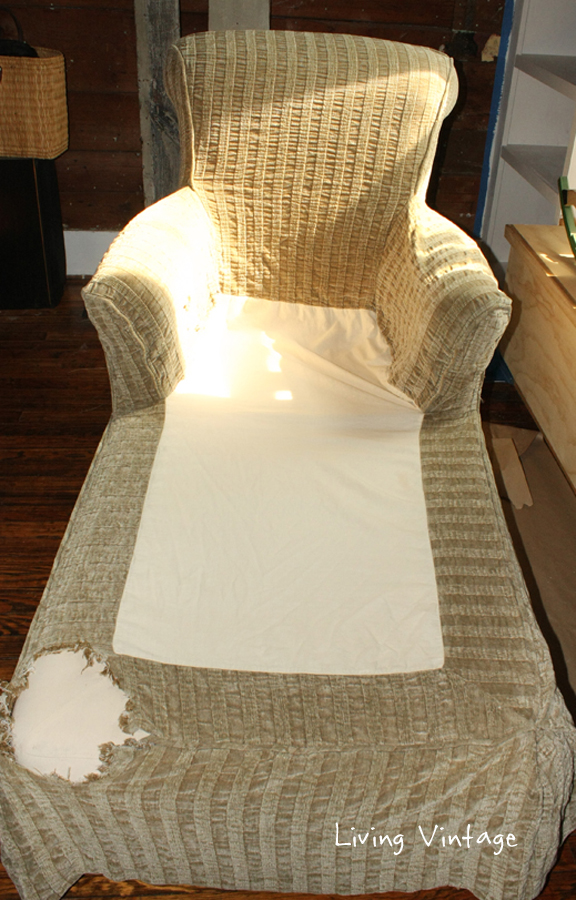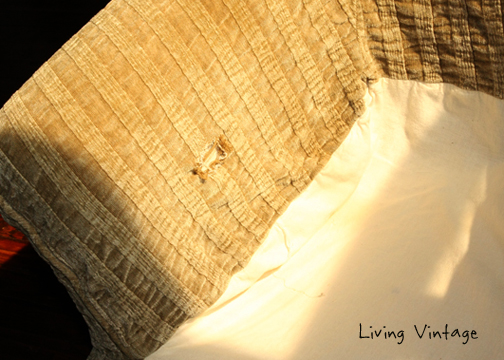 So, here's the deal.  I'm wanting to create a nice little reading nook in our master bedroom, and what's a better way to relax and read than a chaise lounge?
So that got me to thinking:  how can I affordably repair or replace my damaged slipcover?
Lo and behold, a side trip to Fredericksburg last time we were in Austin provided a possible solution.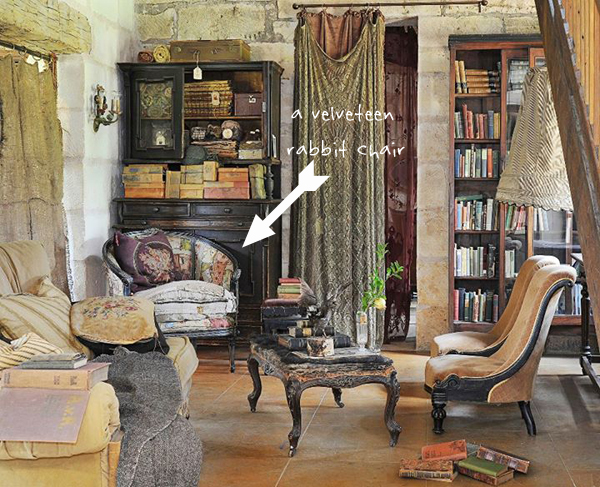 Carol Hicks Bolton creates wonderful upholstered chairs that she calls Velveteen Rabbit chairs. She takes small pieces of upholstery fabric to create a beautiful patchwork, mosaic effect.
I'm probably not explaining it very well, but the photos below should be plenty explanatory enough.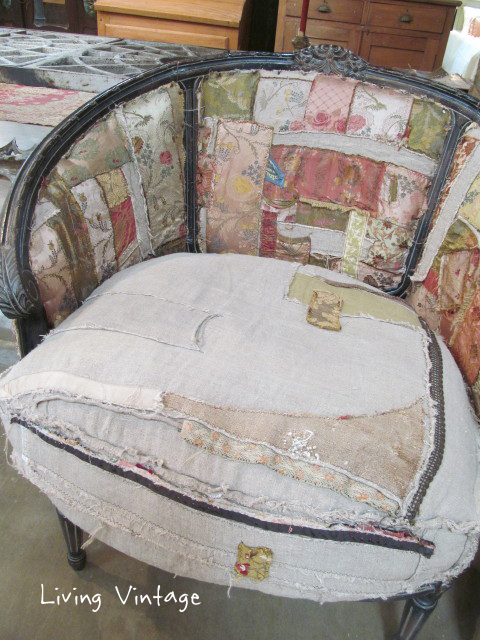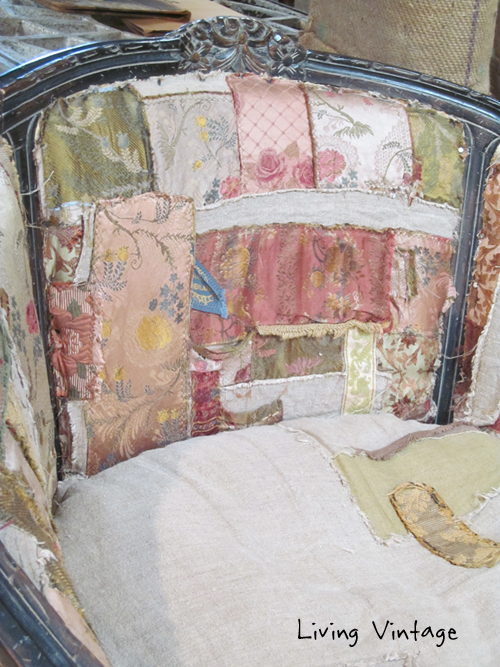 They're amazing.  I absolutely LOVE them. (No great surprise — I love everything Carol does.  She is just so incredibly talented.)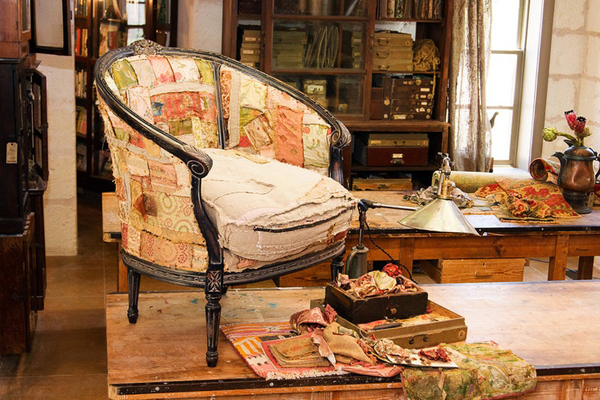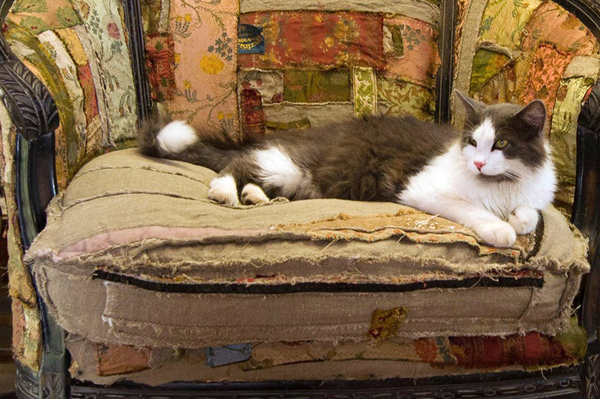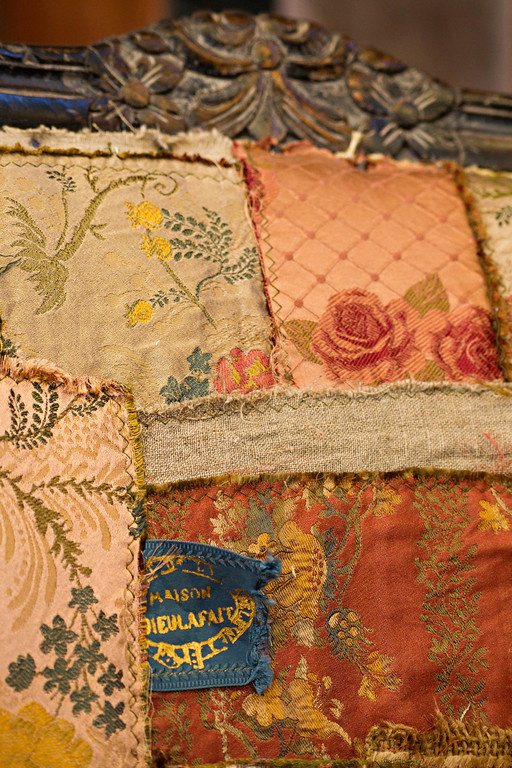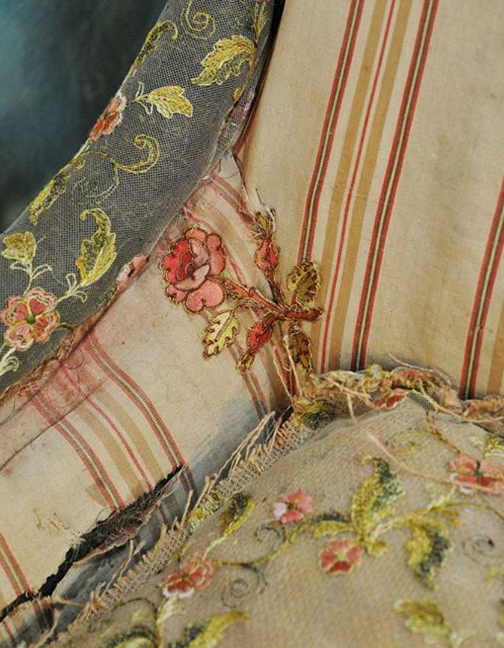 The minute I saw that chair that she so lovingly crafted,, I knew I wanted to try to create a similar look with my chaise lounge.
I reached out to Carol in the hopes that she would sell me some of her wonderful fabric, and she mailed me a small sample.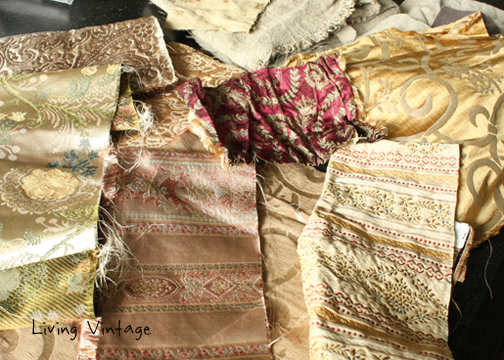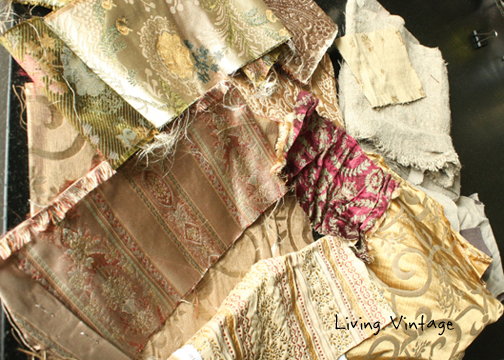 And the wheels were set in motion.
I knew I needed more fabric. Rather than just patch the damaged areas of the chaise, I decided to cover up a lot of the undamaged areas, too.  I want it to look less like a repair job and more like it was deliberately made to look that way.
Last weekend, Mark and I went in search of more upholstery remnants.  We were lucky to find a motherlode of fabric remnants at at Greer Fabrics in Nacogdoches.   I happily scooped up an armload of fabric pieces, plenty enough to get my project done.
I laid them out of the chaise to get a pretty good idea what it's going to look like when it's done.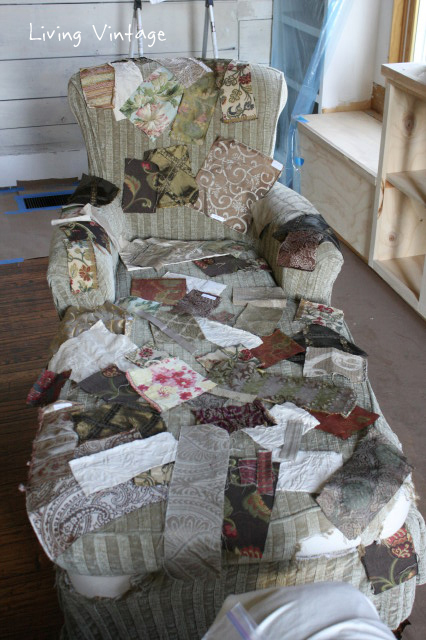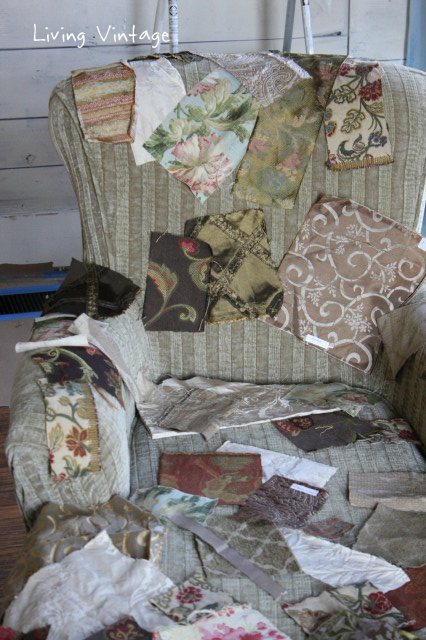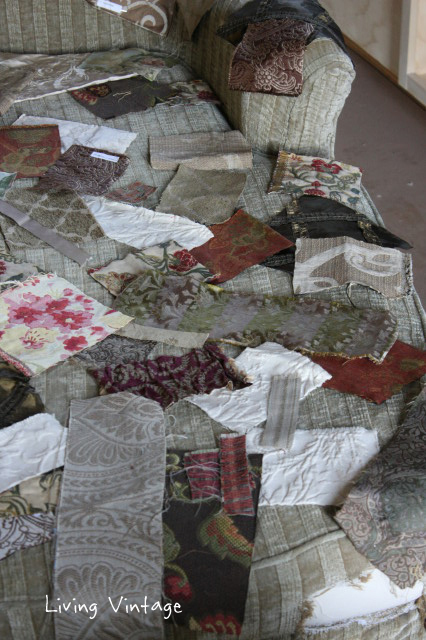 So, I'm all prepared now to ship my slipcover and the fabric remnants to a very talented lady I found while cruising around on the internet.
(Actually, I found several very talented ladies and chose one of them.  I'll have to tell you about all of them some other time.)
I would love to say that I tackled this project on my own — Carol certainly encouraged me to do so — but, honestly …. I just don't know where I'd find the time.  So, in the interest of just getting it done sooner rather than later, I decided to hire the work done.
Wish me luck!