OK, so you saw what we did.    Now it's time to show you the pretty pictures of our home office.
This is my desk.    I bought the old construction sign and cubby cabinet at the last Warrenton antique show.  The old 'cash work' sign makes me smile.  I bought it at the Citywide Garage Sale in Austin several years ago.
We salvaged the decoupaged piece of wood underneath the construction sign at one of the old houses we salvaged.  It shows about three layers of old wallpaper which I think is just so pretty.
I collect little prints that have small poems on them. I'm not even sure what they're called.    (If you know, please do tell.)  You can see them under the cubby cabinet.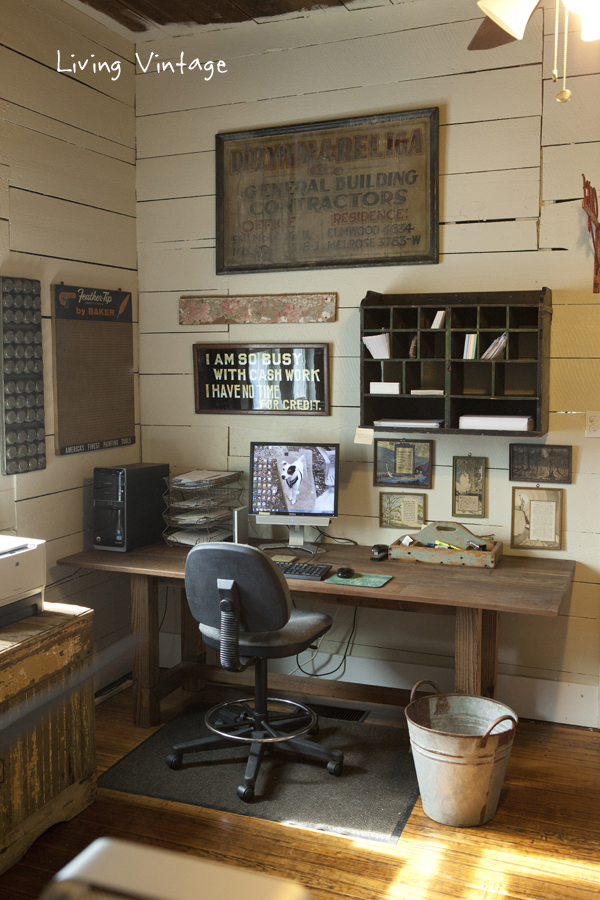 The Feather-Tip by Baker sign is an old pegboard.   The blue thing to the right of my monitor is an old tool tote.  It works great for corralling pens, paper/binder clips, and sticky notes.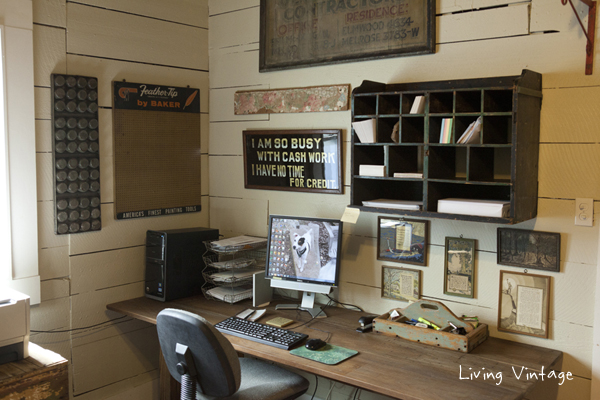 I adore my little green cubby cabinet that came out of an old general store.
I bought the cast iron 'office' sign many years ago.  I'm not sure if it's truly old or just made to look that way.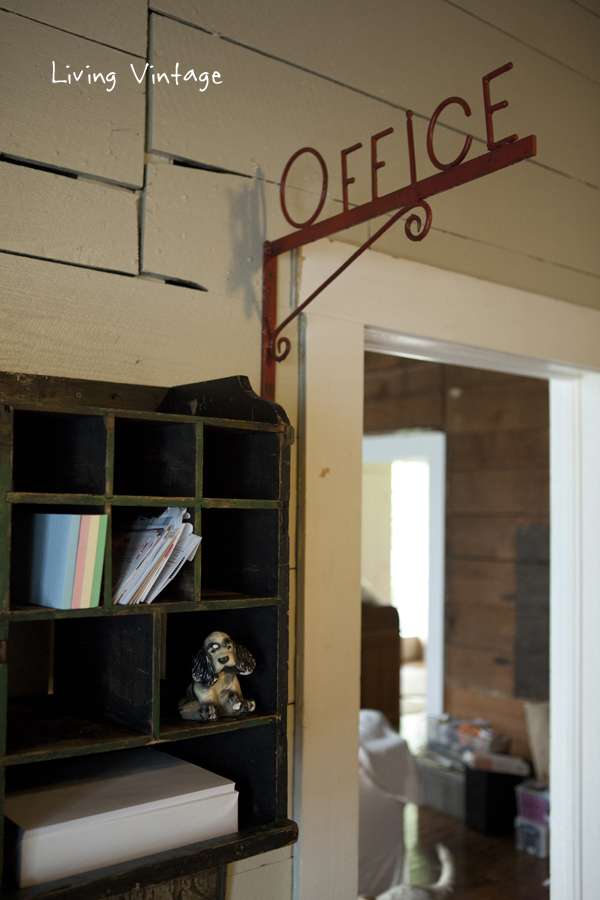 I use the old muffin tin as a magnet board.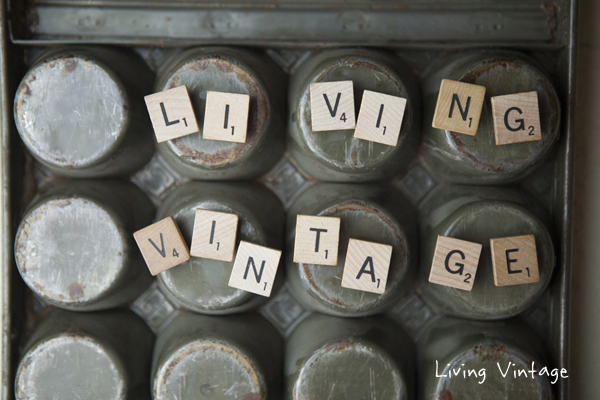 Remember the blue cabinet?  Here she is all decorated and organized with wire bins and vintage accessories.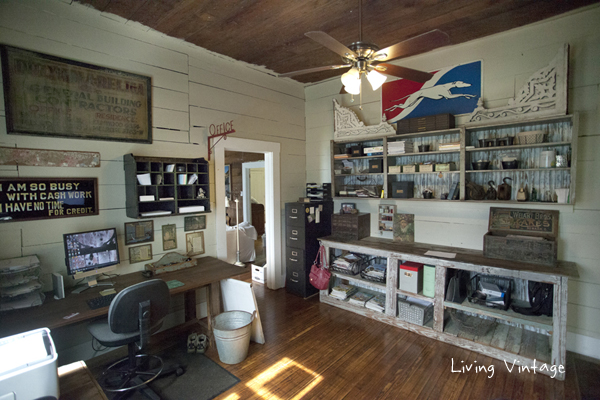 It's a great storage piece for all things office-y and gives me a reason to buy small wire and metal containers.
We use the old Weiant Bros cake box to partially hide our laptop computer, FedEx envelopes, portfolios, and things like that.
Oh, and you probably noticed our ceiling is sloppily painted.  That's because we're planning to clad it with tin — another project that will soon be done.  We would normally just leave the wood ceilings alone — maybe paint them, of course — but there are large gaps in the boards (just like the kitchen ceiling used to be).
UPDATE:    Our ceiling project in our office is done!  Click here to check it out.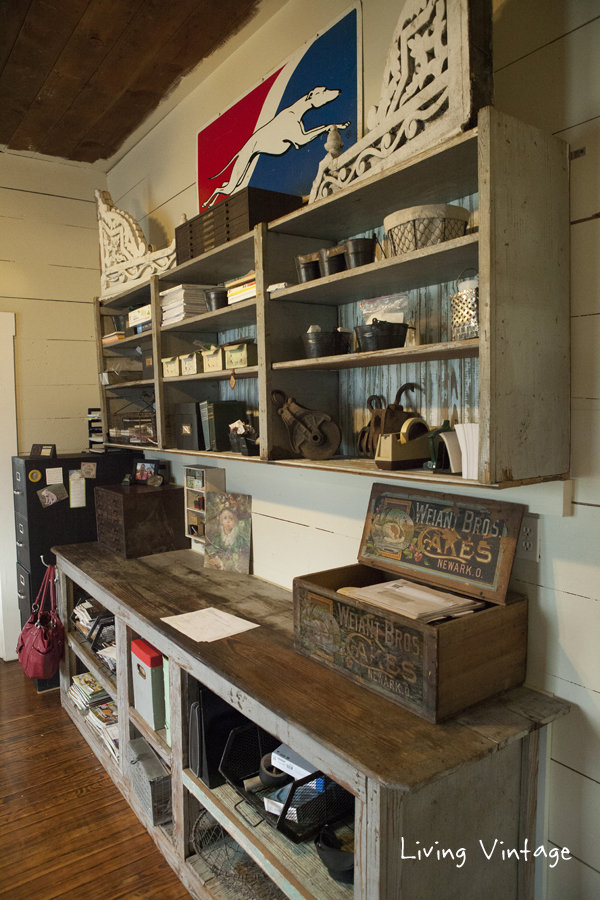 I showed you the corbels a while back.  I bought them at one of my favorite antique stores in East Texas.
I bought the little watchmaker's cabinet at a nearby Nacogdoches auction.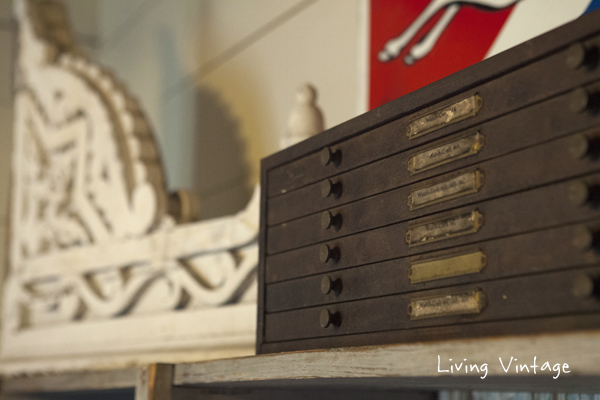 We bought the old pulleys months ago thinking we would turn them into lights like this for our kitchen.  Obviously, we didn't do that, so for now, we are just enjoying them.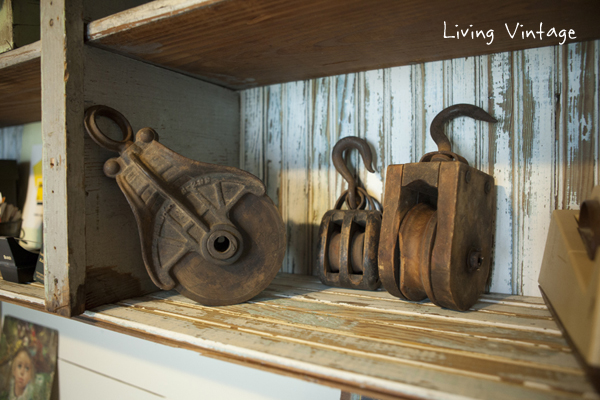 I bought the six-drawer cabinet at Warrenton years and years ago.  It hurt to pay $100 for it at the time, but I'm so glad I did.
I painted my file cabinet with chalkboard paint.  I still need to paint Mark's.
The plastic in-box on top of the file cabinet will get thrown away soon.  It shouldn't even have made it into these pictures!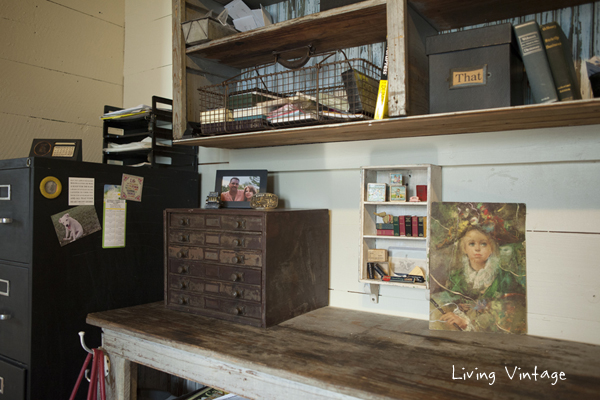 I shared the photo of the little gypsy girl on Facebook last January.  We salvaged her from the old house we were working in at the time.  I named her 'Willow'.  She just looks like a 'Willow' to me.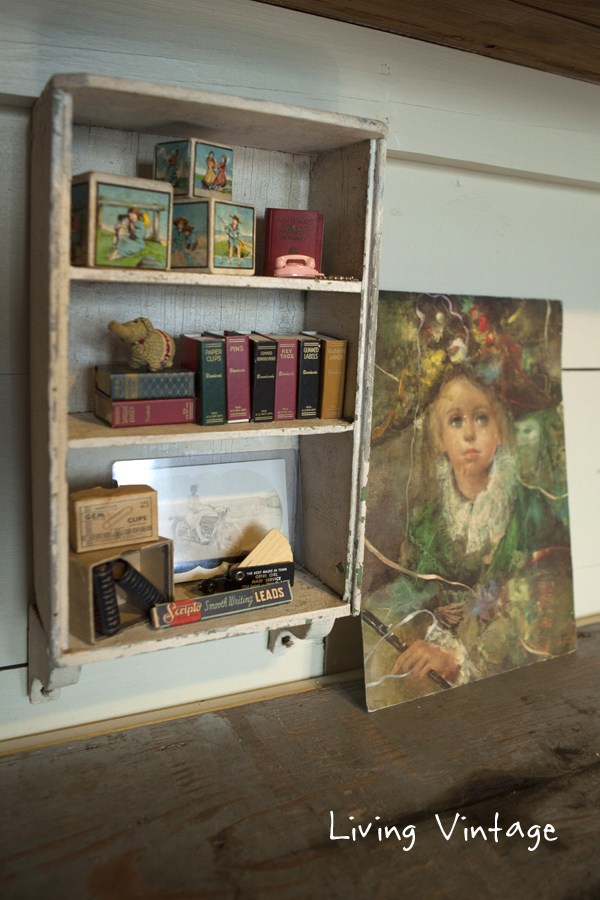 I discovered the little cabinet at the very first old house we salvaged.    I had to gingerly tiptoe across a rotted floor that threatened to collapse on me at any moment … but it was worth it!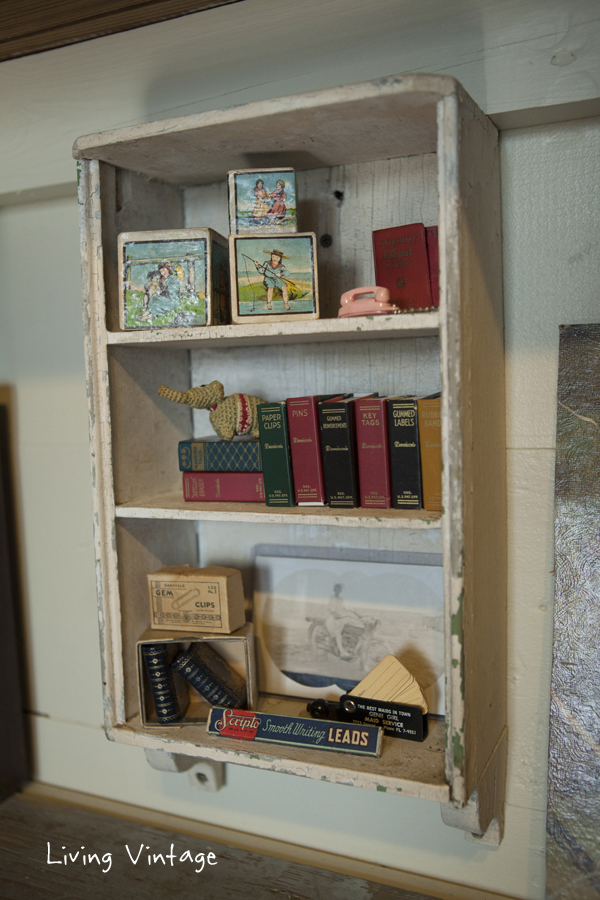 It's perfect for displaying the miniature office things that I collect.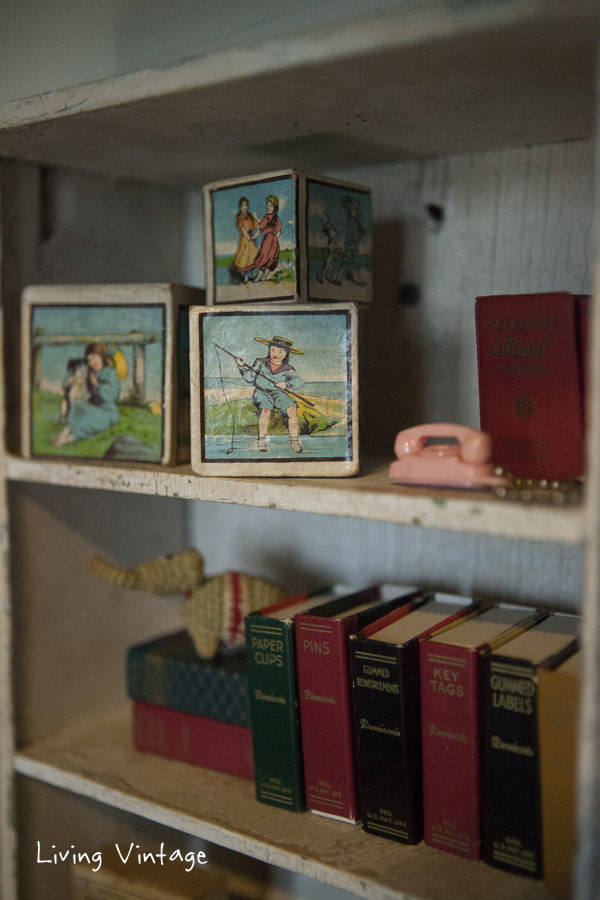 Now, I'm sure you want to see Mark's side of the office.
He has 2 computers — he's a professional photographer and keeps all of his photo files on his Mac.    It's never been connected to the internet to keep it virus-free.  The second computer he uses for email and internet.
I think the industrial shelf we made using reclaimed wood and plumbing pipe is pretty cool, don't you?  We didn't take the pipe all the way to the ceiling as was shown in the Pinterest photo I shared before.    Our ceilings are 12′ tall, I think, and that much pipe all the way up just wouldn't have looked right.
We decorated the shelves with some of our vintage collections.
For example, he is so proud of his vintage Brownie camera that's in pristine condition and still in its original box.  What's even more amazing is that the original batteries and bulbs are still in the box.
He has more cameras which we recently unpacked, and he also collects vintage photos and vintage photographer related items like the small green sign and the "How to Make Good Pictures" book.
The skateboard is also his.  He claims he was never that good at it.
The bears?  Well that's my sometimes nickname for Mark.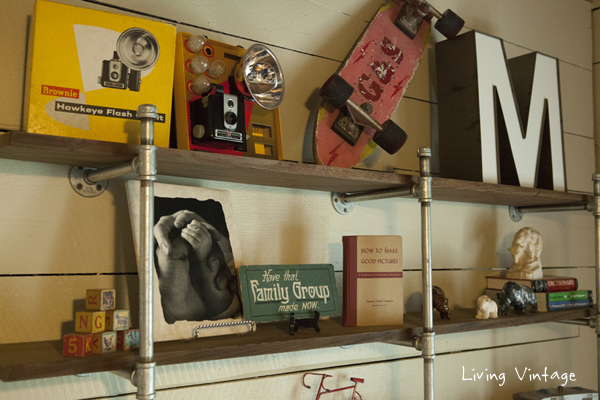 I started my miniature bike collection (some vintage; some not) way back when I used to be a mountain biking fanatic.  Unfortunately, there's nowhere to ride anywhere nearby.  There are way too many log and farm trucks flying down the narrow country roads, and well …. I'm not an idiot.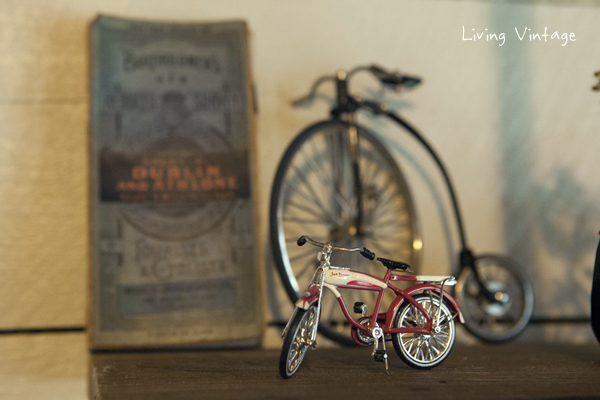 The blue map is an old European bicycling map that my sister gave me for Christmas years ago.
The vintage rubber stamp collection is also something I grabbed and bought immediately when I saw it.    I've never seen a more complete collection.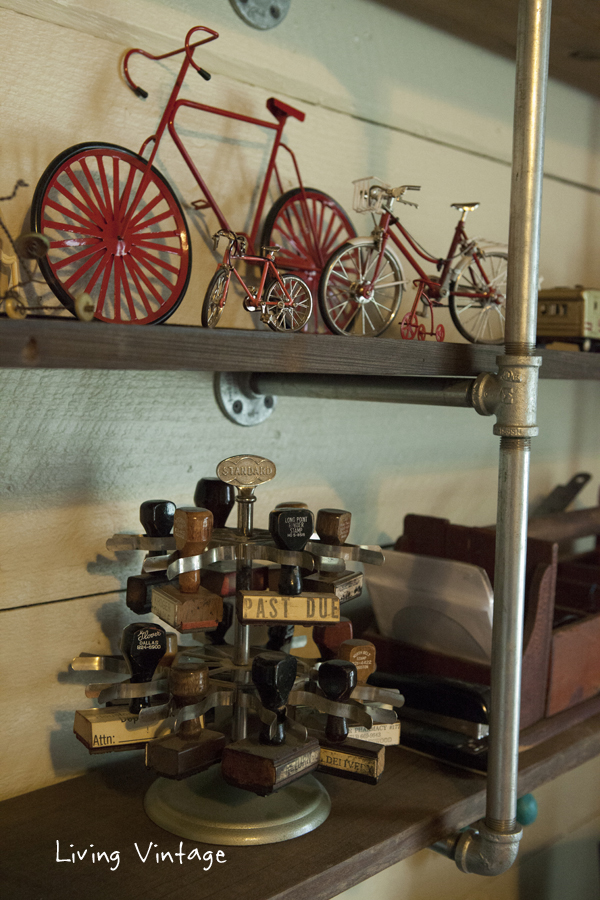 I bought the miniature travel trailer years ago just because I love miniatures and thought it was so cute.    Who would have thought we'd now be in the salvage business and talking about building tiny houses on trailers?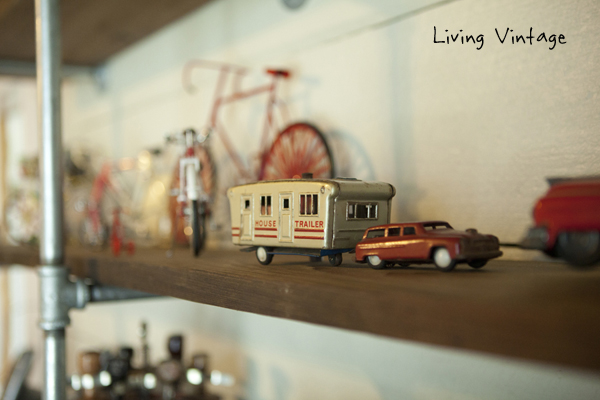 And that, my dears, is our vintage, industrial, reclaimed, and functional office!
Hope you enjoyed seeing it!

******************************
I read and appreciate every comment. Thank you for letting me know what you think!

******************************
I'm linking to these parties:
Make it Pretty Monday @ The Dedicated House