It's time for me to share another remodeling project with you:  the home office that my husband and I share.
This isn't the prettiest post, but I think you'll enjoy seeing what we did.    Next up:  The reveal!!!

I don't have a true "before" photo of the entire room we use as our home office, so I'll just have to tell you that it's a square 13′ x 13′ room.   All of the walls were covered in drywall, and the ceiling was covered with bad acoustical tiles — the same ugly squares that were in the kitchen  … and every room in the house.
It had a little walk-in closet in one corner of the room, and I do mean little.   We assumed it was used as a kitchen pantry and maybe a linen closet, but we'll never be sure.  We bought our home as a foreclosure, and the prior owners were already long gone.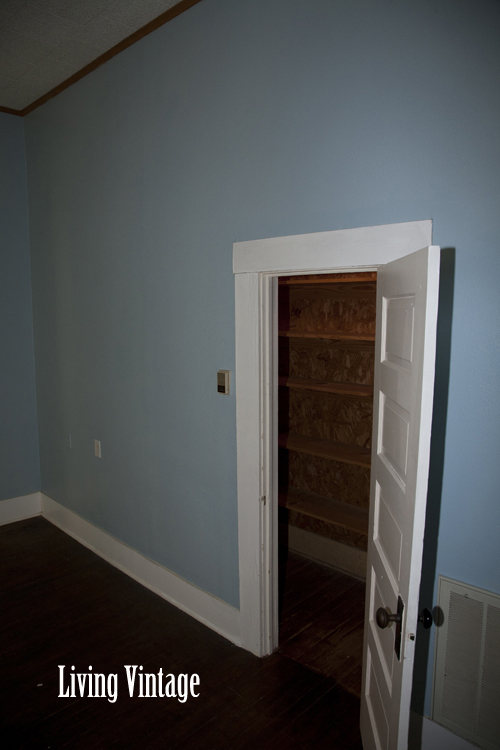 The first thing we did was tear down all of the drywall to reveal the original pine walls.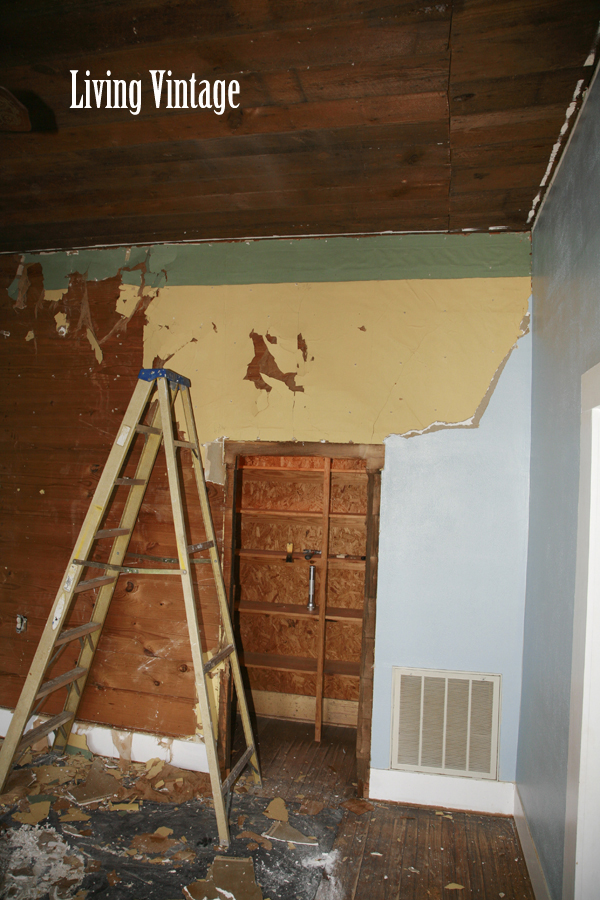 Tearing out the sheetrock revealed pretty wallpaper.  I regret not keeping and framing a small piece of it.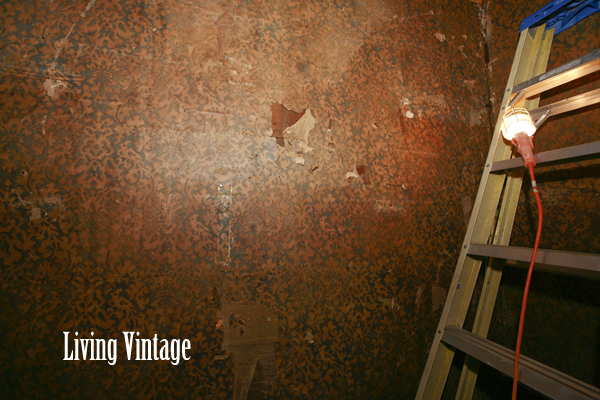 After the drywall was gone and the mess cleaned up, we decided to make some configuration changes to the square footage.
We removed one wall in our office and moved it out about 3 feet.
You see, the room we use as our home office is situated between our living room and kitchen.  We knew the closet could be modified to create a bigger pantry in the kitchen AND a coat/storage closet in the living room.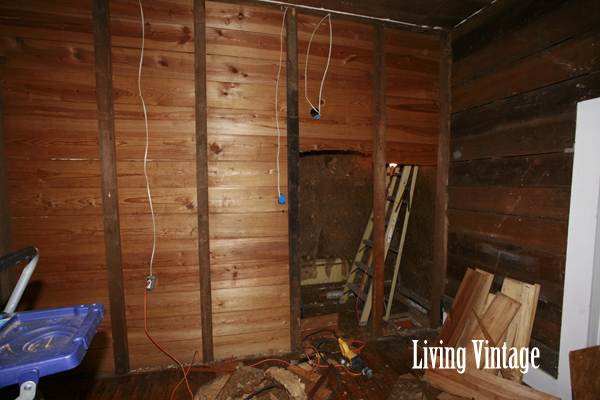 This photo explains it a little better, I think.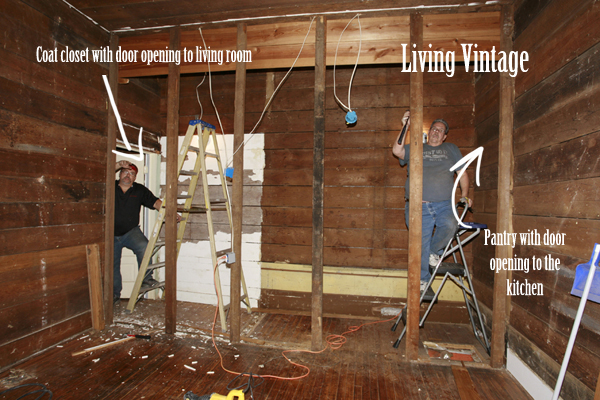 Sure, we lost a few feet in our office, but we don't really need a huge office space.
After moving the wall framing out, we reconstructed the wall and cut a doorway for the pantry into the kitchen.
We also had to move the HVAC air return and some of the electrical outlets.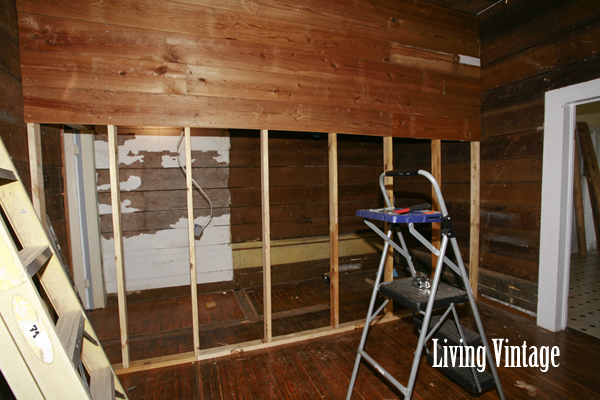 This photo was taken shortly after we got that project done (which was just a few months after buying our place).  Honestly, I'm embarrassed to show it to you, but it's the only photo I have of the finished office wall.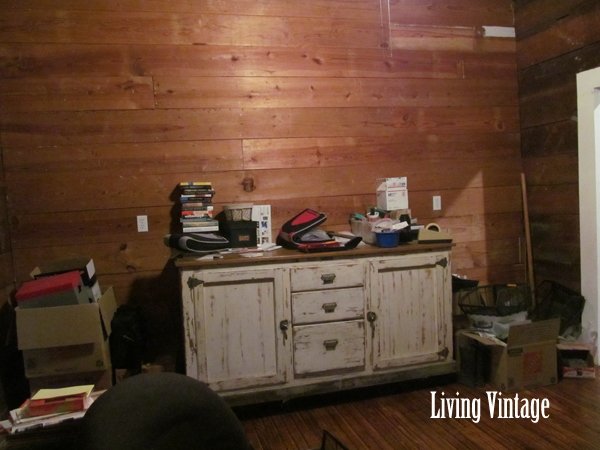 (We were still living out of boxes at the time and making due with cheap plastic office tables.)
After that project was done, we concentrated on remodeling our kitchen and bathrooms.  Those rooms were high priority.
The office could wait.    As long as we had internet connectivity and functioning computers, we were fine for a while.  But eventually, we got our more pressing projects done, and we circled back to remodeling our office.
Our first major purchase for the office was an old general store cabinet that we bought at the Marburger Farm Antique Show.  The base of the cabinet is shown below.
You can also see some of our land. We live on 10 acres.  About 4 acres is cleared.  The rest is wooded.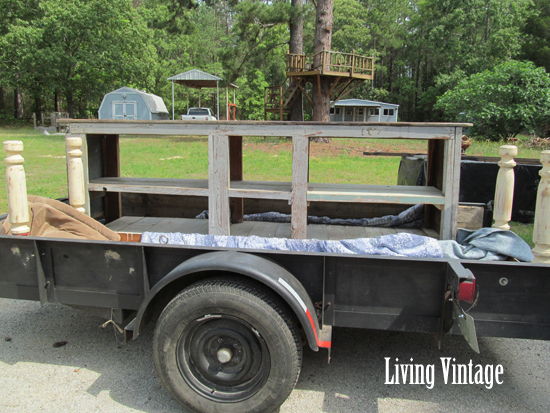 When we first brought it home, we decided we wanted to spruce it up a bit.  We had some leftover old, blue beadboard — the same beadboard that we used in our mudroom — and Mark installed it to the back of the cabinet.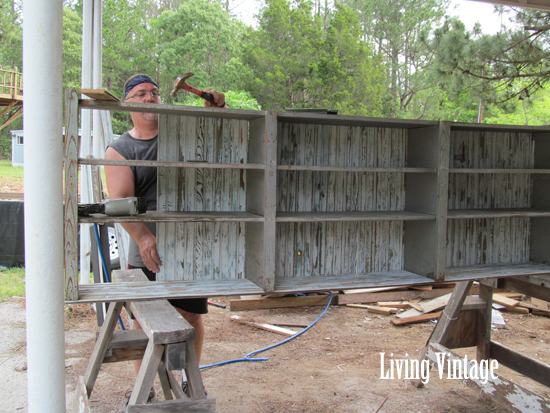 After that, we brought it inside and it sat in our dogtrot for a good while.  Even though we had bought it for our office, I considered using it for our laundry room, but we decided it would be more functional in the office.
Another consideration:  the cabinet is pretty large, and our office is larger than our laundry room.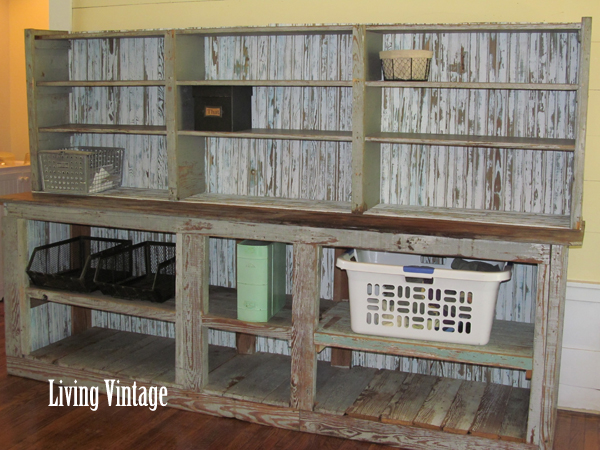 We moved the cabinet into the office as soon as we could.
Both pieces weigh a ton, and Mark and I had to hire help to get it installed.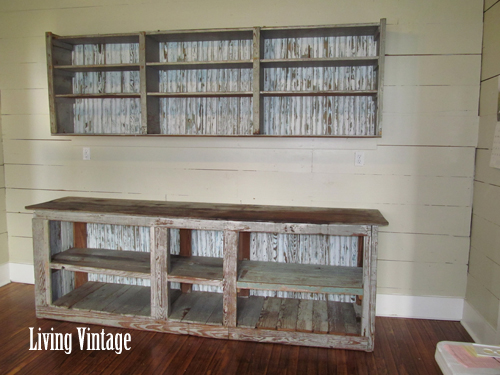 Of course, I had to paint the room before we installed it.  The finish paint is Sherwin-Williams Wool Skein.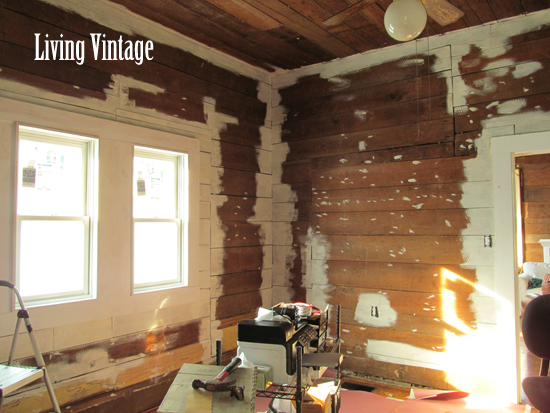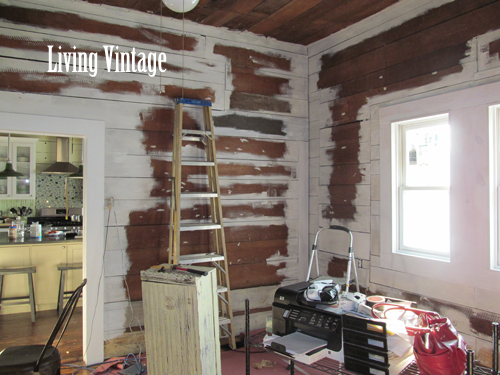 Next, Mark and I built desks out of reclaimed wood.    You can read about that project here and here.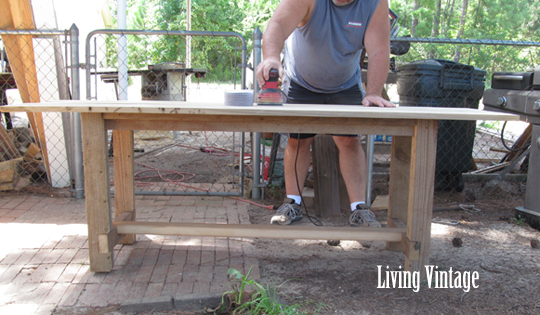 This is my desk.  I use the old bucket as a trash can.  The wire in-box is vintage.
Next, we made office shelves for Mark's desk out of plumbing pipe and reclaimed wood.   Unfortunately, this is "best" photos of that project.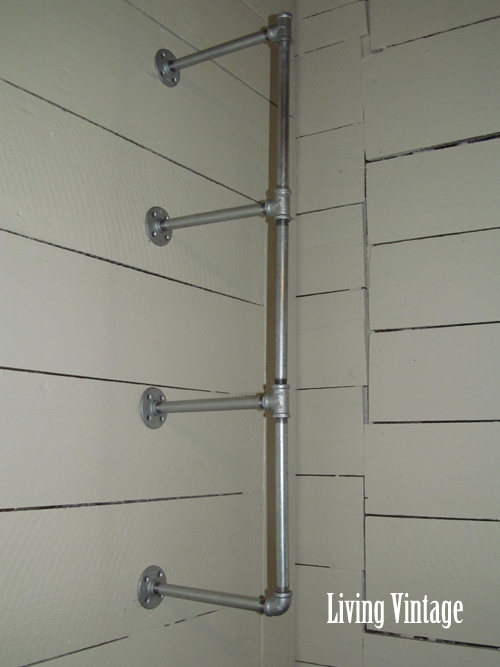 I know.  It's both sad and hilarious that's all I have to show you of that particular project.
I started my blog months later, so taking photos really wasn't something I thought of too much back then.
I can tell you that the photo below (found on Pinterest) is where we got the idea.  You may recognize it?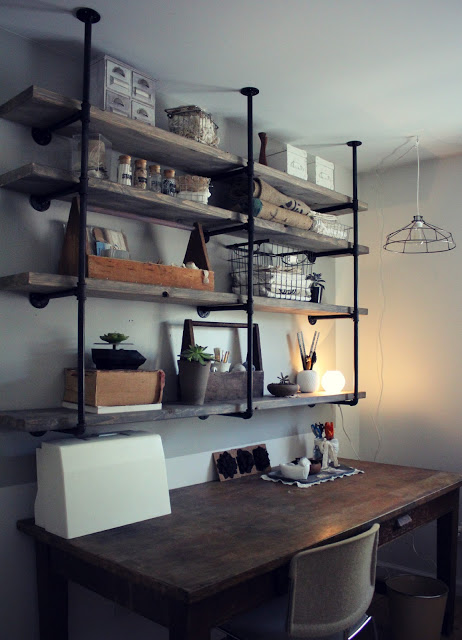 While Mark was happy building a cabinet out of reclaimed wood and plumbing pipe (and I really like the industrial look also!), I wanted to hold out and try to find an antique cubby cabinet.
You have to understand:  I truly have this thing for cabinets with small drawers and cubbies.
I got lucky and found one at Warrenton.  The dealer told me it came out of an old general store.  You'll see it on the reveal.   It's one of my favorite things.
That's about all of the WHAT we did (other than decorating).
Like I said, our home office reveal is coming your way next week!  I can't wait to show it to you!

******************************
I read and appreciate every comment. Thank you for letting me know what you think!