I've mentioned it a time or two in the past.  You've caught glimpses of it when I shared our bookshelf project with you.
However, I've never shared the story of our dogtrot house.
First of all, a little history …
If you're not familiar with dogtrot architecture, it's a style of house with a wide central breezeway that connects two enclosed halves of a house, all under one common roof.
If the house was situated correctly, the breezeway design provided for good airflow through the center of the house, a good thing in the days before electricity and air conditioning were invented.
Source
During hot summer days so well known in the South, it was often the coolest part of the house.
The typical dogtrot floor plan is very basic.
Rooms to the left side and right side of the house open up to the central breezeway.
As was typical way back when, one half of the house was used for bedrooms.  The other side of the house was used for the dining and living areas … and maybe the kitchen.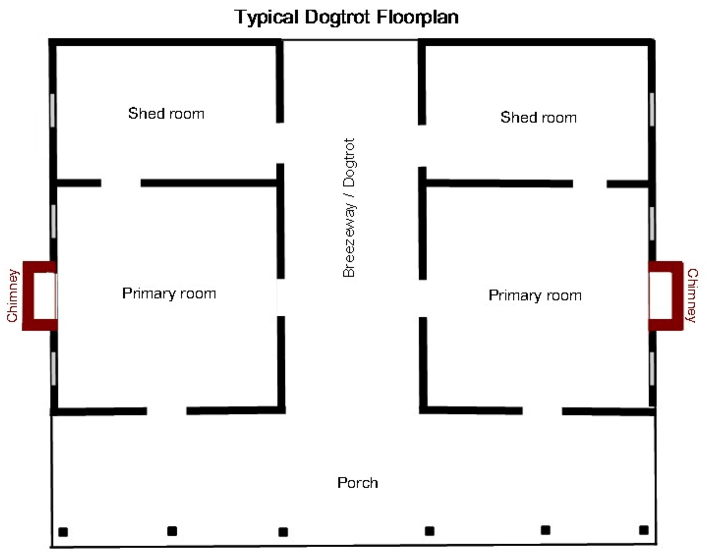 Source
Oftentimes, the kitchen was not in the main house, but located a short distance from the main house.
It achieved two goals.
It kept excess heat from woodburning stoves away from the main house (which remember, you were trying to keep cool!).  Two, if there was an accident and the kitchen caught fire (which was common back then), you reduced the likelihood that the entire house would go up in flames.
Our house is located in a very historical area of East Texas, out in the country just 7 miles from the tiny town of Alto, Texas (population 1,224).
We discovered our place when Kendal, our real estate agent, emailed us a listing of a foreclosure.
An old dogtrot, originally built in 1853, sitting on 10 acres.
This is our house when we first saw it.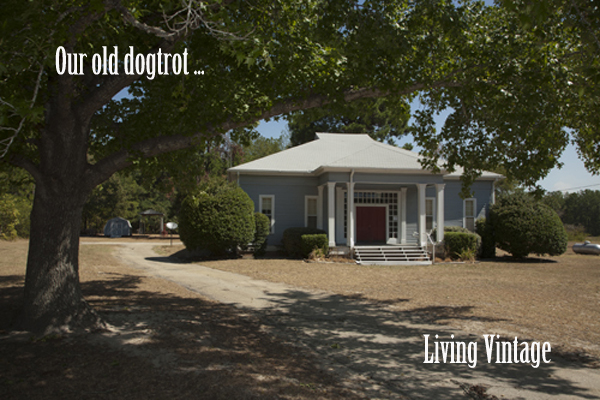 Notice how the ground is so parched and brown?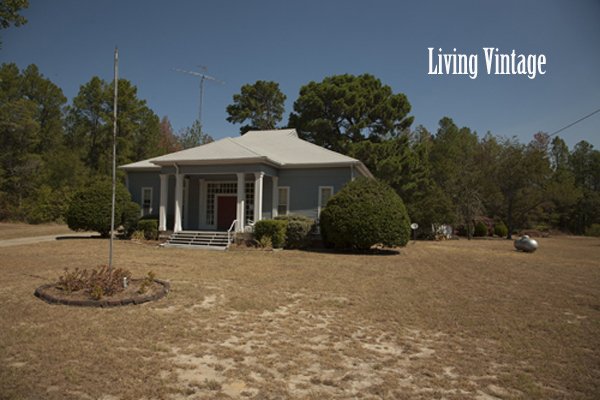 That was back in the drought of 2011.   That's the same year of the huge fire at Bastrop State Park.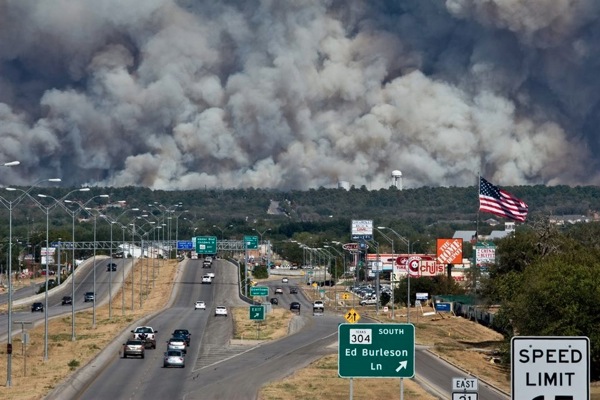 Drought conditions are not normally the case around here.
(In fact, high average rainfall is one of the things that drove us to buying a place in East Texas in the first place.)
We average about 48 inches of rain a year, so the landscape is usually green and lush.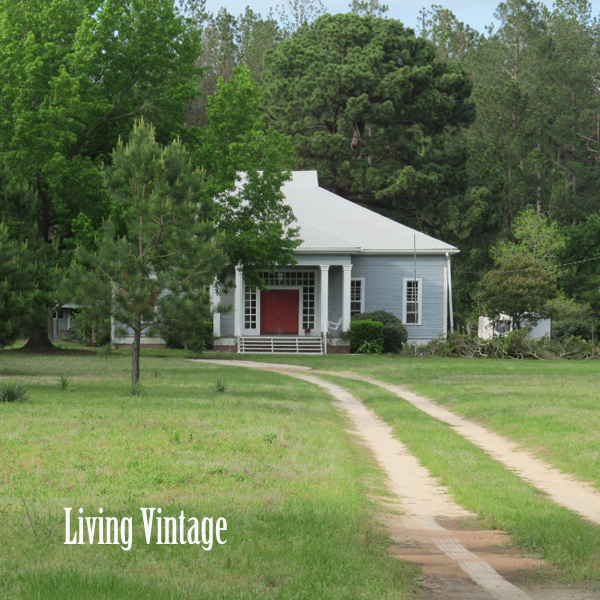 However, the drought scared us as much as anyone, and we installed a rain cistern to capture and use as rainwater.
Our home is located a few hundred yards or so off a farm-to-market road.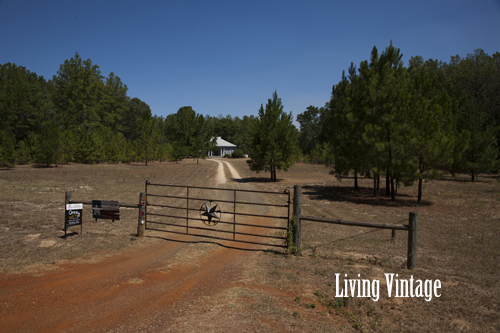 My husband and I loved the overall architecture of our 2,500 square foot house.  It reminded us of an old schoolhouse.
(Ironically, we had grown so frustrated trying to find an old house in the country that we were beginning to look at land also.  We had begun talking about building a new, old 50′ x 50′ house.  Lo and behold, there it was in front of us.)
We didn't know it was a dogtrot until we saw the breezeway: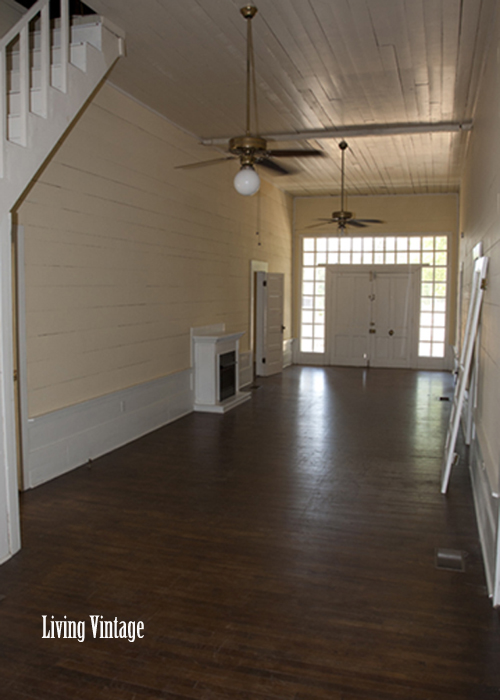 One of the former owners completely enclosed the front and back of the breezeway, but it's a dogtrot all the same.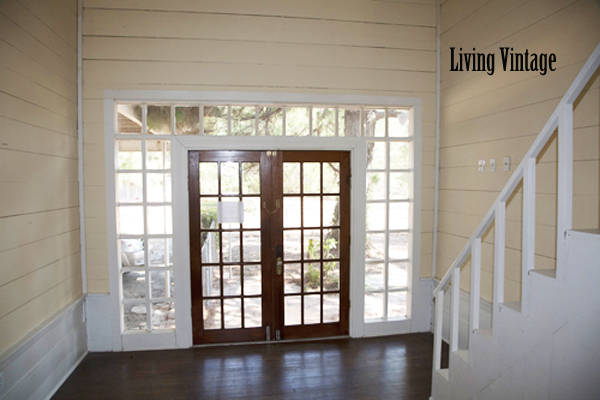 We loved the wood plank walls and ceilings and hardwood floors.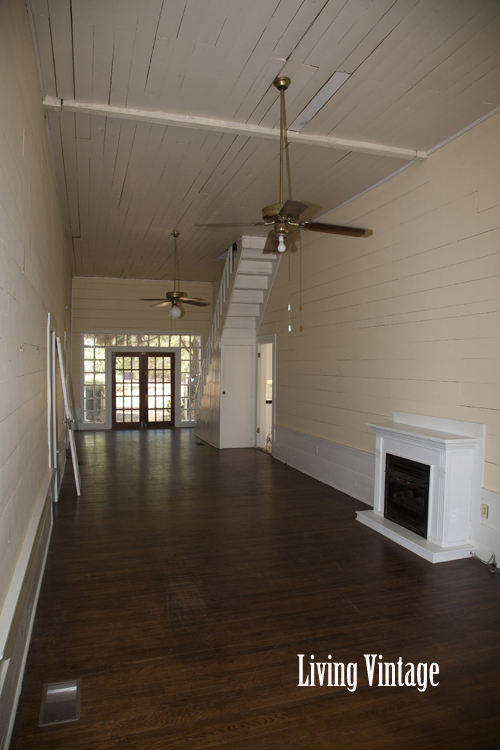 The narrow staircase leads to very large unfinished attic space, plenty large enough for two bedrooms and a bath if we ever decide to do that.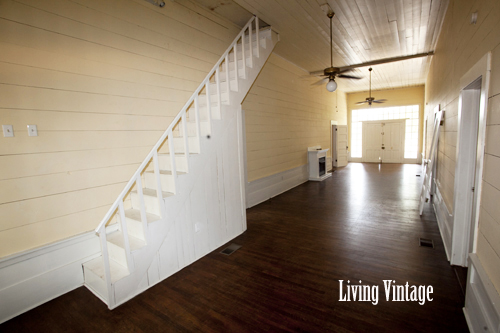 I hope you liked seeing more of my home! 

******************************
I read and appreciate every comment. Thank you for letting me know what you think!

******************************
 I'm linking to these parties:
Be Inspired @ Elizabeth & Co.
Saturday Sparks @ Pieced Pastimes
The Scoop @ Cedar Hill Ranch
Save
Save
Save