I must tell you about the place we stayed when we were working on our beadboard project in Bryan.
Cher follows my blog and saw my post a while back about our upcoming project and exploring Bryan.  She reached out to me and said that she and her husband, Doug, operate a bed & breakfast in Bryan.  Mark and I love to stay in B&B's whenever we can, so I knew I would contact her again when we needed to make hotel reservations.
I'm so glad we did — our trip to Bryan just wouldn't have been the same without staying there.
I truly mean that.
If I have to put my finger on exactly why I feel that way, I have to say that it's just so restful there.  I haven't slept that well at a place other than home in years.   Plus, Cher and Doug are such funny, kind and likeable individuals.  We made new friends for life!
Their place,  called Country Star Bed & Breakfast, is located on 5 pretty acres just a few miles from everything having to do with Texas A & M.  (In fact, Doug works in the IT department there.)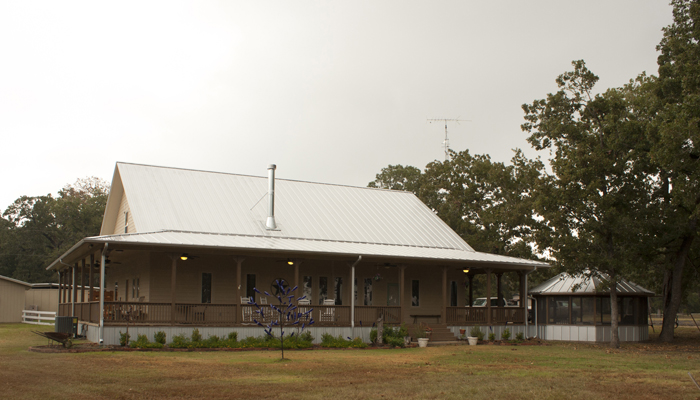 We had two vehicles and a large trailer with us, and I was worried that there wouldn't be enough parking, but no need to worry.  There was plenty of parking available there, and Cher and Doug allowed us to park our trailer behind one of their barns where it would be the safest.
(There's also a full hook-up RV space with a private fenced yard.)
We felt immediately at ease in their home.
In terms of other enjoyable amenities, I'm pretty much a zombie in the mornings, so we enjoyed coffee that Cher and Doug prepared in their pretty kitchen.
Check it out!
It's just so cute and cottage-y.
I love, love, LOVE the cupola above the refrigerator and the light fixture above the sink … among other things!
I believe Cher told me that the little antique stove was Doug's grandmother's.  Last time I spoke with Cher, she was turning Cher turned it into a coffee bar.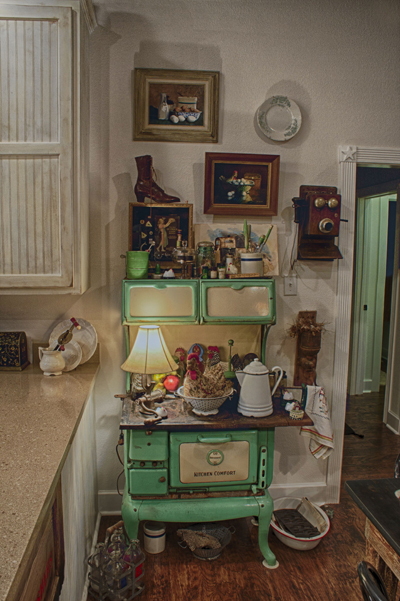 One of the things that we enjoyed while we were sipping on our morning coffee:  watching the dozen or so deer that come by every morning (and evening) for their snack that Cher puts out for them.
We spent a lot of time relaxing on their lovely wraparound porch.    In fact, I had to walk all the way around the porch with Cher just because I LOVE porches like theirs that are ample and deep.
Their main living room is so homey and comfortable.     It's just so ….. welcoming!
Mark and I totally flipped out when we saw the windmill.  It's one of the first things you see when you come out of one of the guest rooms into the main living area.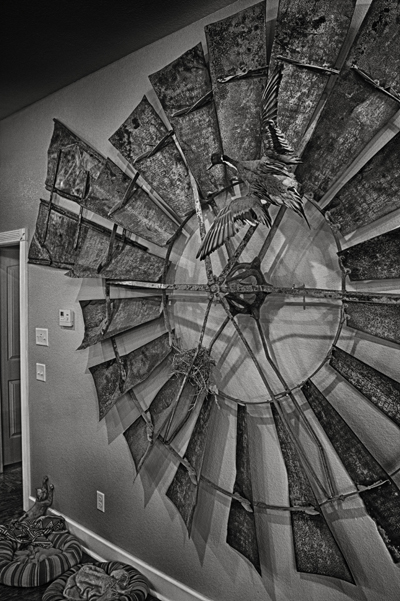 We admired it every single day.    Every hour we were there, in fact.
We want one SO bad.   We tried to talk Cher out of hers, but no dice.  And, their policies do say "No artifacts may be removed from premises without host's permission."
Darn it!!!!!
Anyway, let me show you their two guest rooms.
Their largest room is called The Chippy Rose Suite.  That's the room Mark and I stayed in.
As its name implies, it's decorated in a country, cottage-y theme.  It has an uber comfortable king-size bed, a ceiling fan that runs quietly, a small refrigerator and microwave (in the closet), and a TV with cable.  High-speed wireless internet is also available.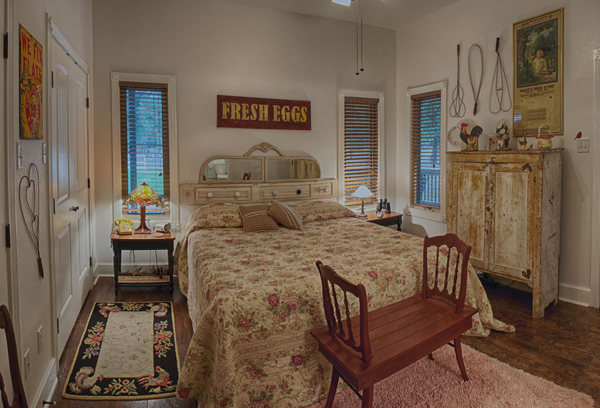 Don't you just love how it's decorated?  Mark and I both admired her chippy yellow cabinet.   (You can see more photos on Cher's blog.)
I also admired her wire rug beater collection, the unique headboard, and the vintage calendar hanging above the cabinet.
This room is so comfortable, but an extra plus is that it was built to be handicap accessible.  That means wide doorways, lever door handles, no carpet (the rugs you see can be removed as necessary), a wheelchair accessible sink, a comfort height commode with pull-down assist bars, and a no-threshold walk-in shower.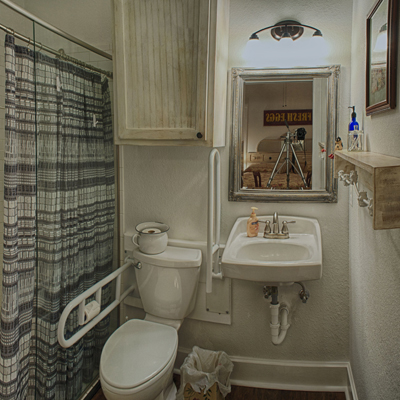 (Also, I need to mention that both guest rooms have private entrances with keyless entry.  And, if you're wanting a totally private experience, both rooms open to the wraparound porch, so guests can come and go as they please.)
Their second room is called The Texan Suite, decorated in a country, western motif.
It also has a comfortable king-size bed and all other amenities listed above.
Again, Cher has a gift for decorating.  I admired the old dresser and the reclaimed wood wall with its original red paint.
You know we're all about reclaimed wood.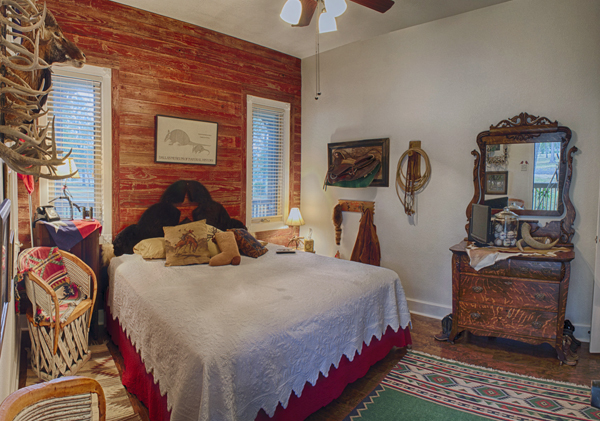 The bathroom is outfitted with a handsome custom-made vanity and a bath/shower combination.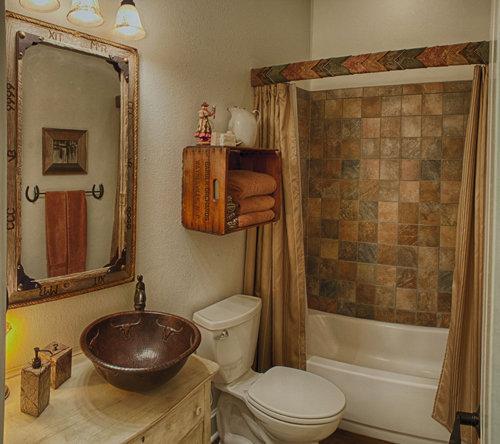 Isn't it clever how the towels are stored and displayed?
I'm stealing that idea, Cher!
If you're a Texas Aggie and ever in town for a game, I highly recommend staying at the Country Star Bed and Breakfast!  If we do future work in Bryan, we'll definitely be staying there again.
Just do me a favor and tell Cher and Doug 'howdy' from me and Mark!

******************************
I read and appreciate every comment. Thank you for letting me know what you think!