It seems we have gotten a lot more efficient at taking down old houses because I can't believe everything we accomplished in just four days last week.
You want to see?
First, the guys pulled down two gable ends using rope, chain, and John's trusty Chevy.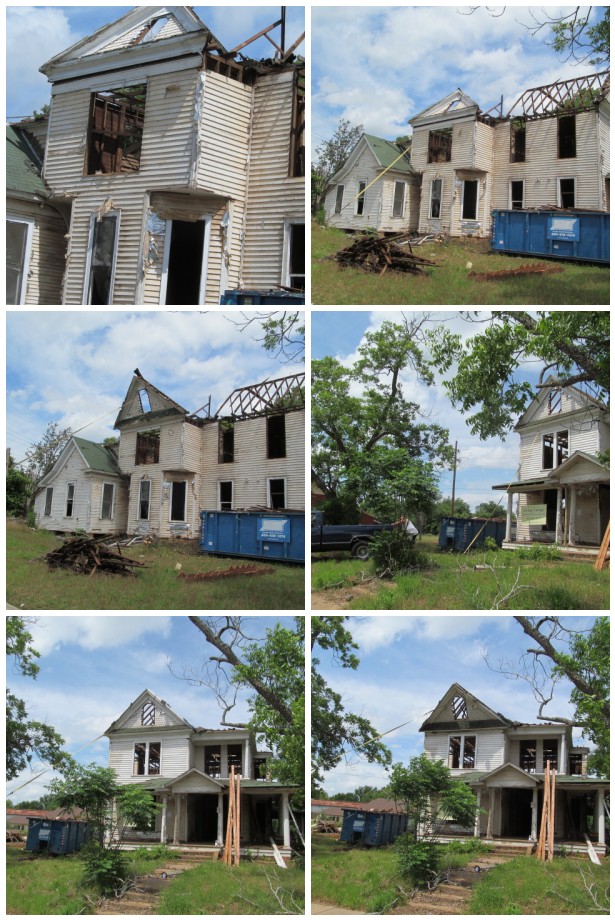 Next, our two-man crew removed ceiling and wall boards and clapboard siding, exposing the skeleton of the house.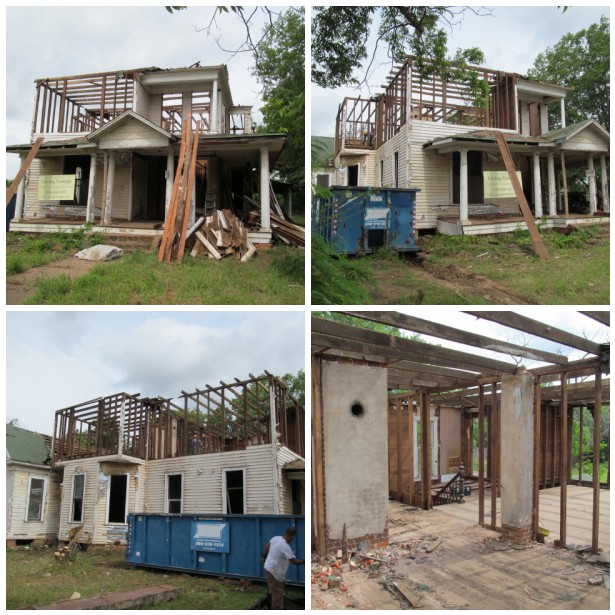 Meanwhile, Mark and I were de-nailing as fast as we could to keep up with the amount of lumber they were removing from the house.  That's my sawhorse on the left.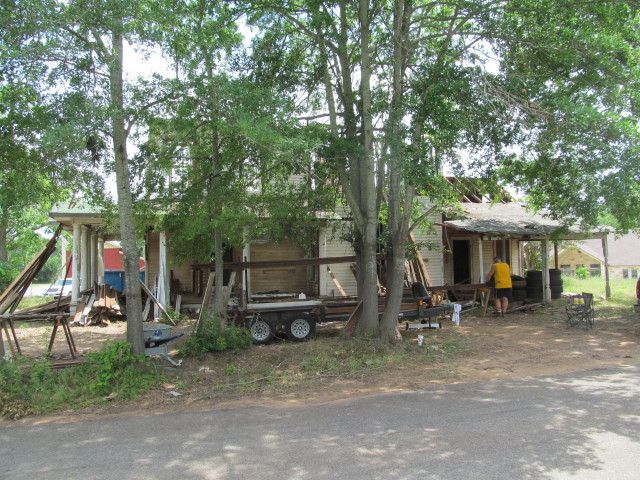 They removed ceiling rafters and wall studs … or at least some of the latter.
They couldn't remove all of them, reason being that most go all the way to the ground!   That's about 24 feet in length if you do the math.
Unbelievable!
The days are gone when you can buy a 2×4 that long … or a dimensional 2×4 at a typical lumberyard.
We were again reminded why we do what we do.

Next, John knocked down the two old chimneys to just below the second floor.  All the old brick went into the dumpster.  It was just too old and crumbly to save.
Unfortunate but true.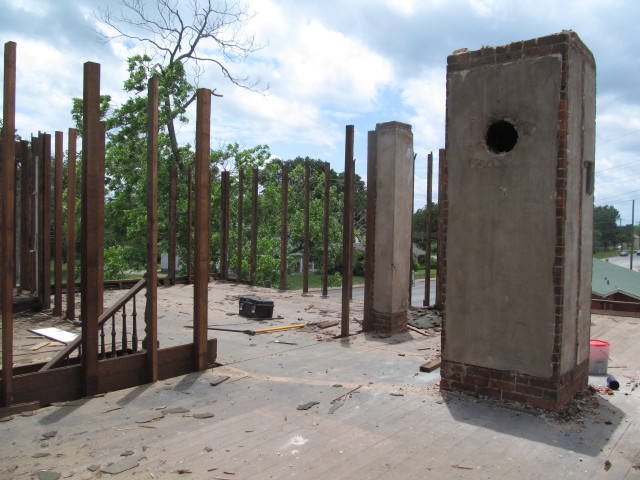 While John did that, Reuben started scrapping roof shingles off the back part of the house.  The old shiplap boards we wanted to save.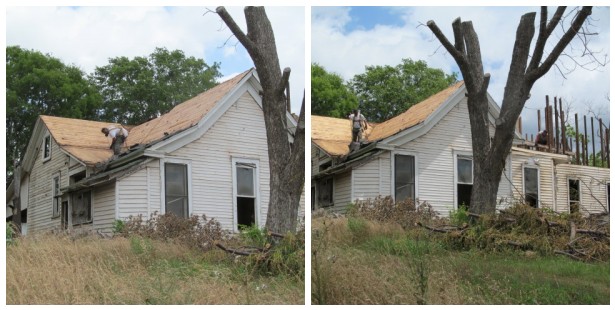 Most of the boards were in excellent condition.  We only needed to saw off maybe 6 inches of rotten ends on each one.
They will one day be gorgeous floors or walls in someone's home.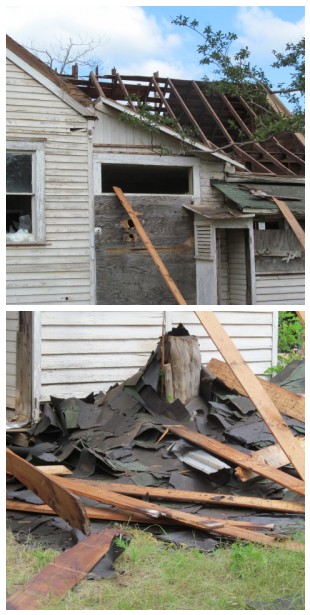 It didn't take long for the guys to completely remove this section of roof.
Here's the "before" shot …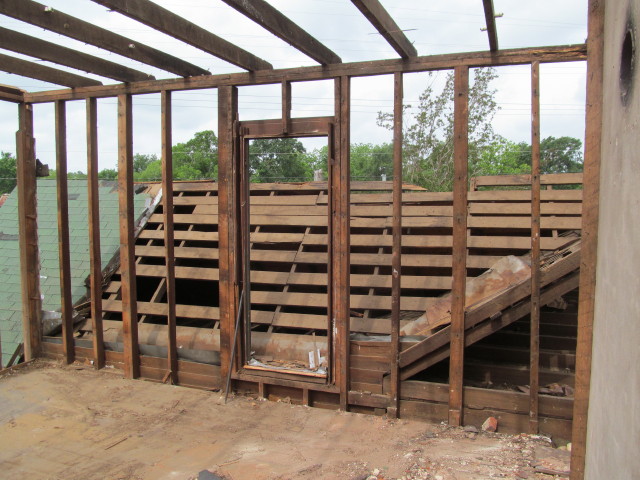 … and the after.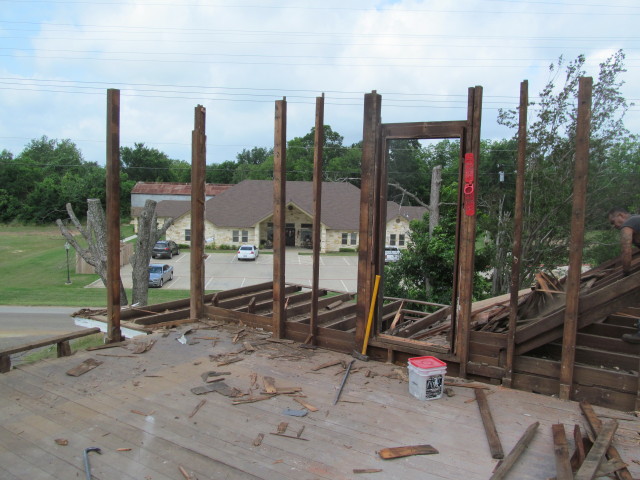 Here's Reuben, removing the old shakes from another section of roof.  That portion of the roof came down last week also.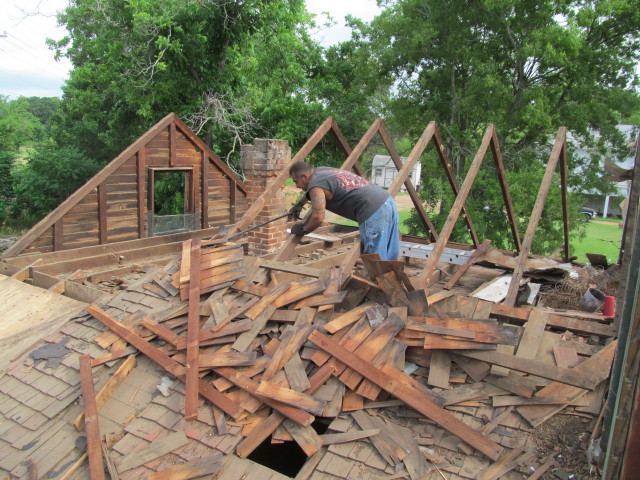 Both John and Reuben are incredibly hard workers and we're delighted to have them work with us.
On Friday, Mark had to catch a plane, but he decided to get incredibly filthy beforehand by removing old beadboard from the porch roof.
You just cannot imagine the decades of grime, rat poop, and who knows what else.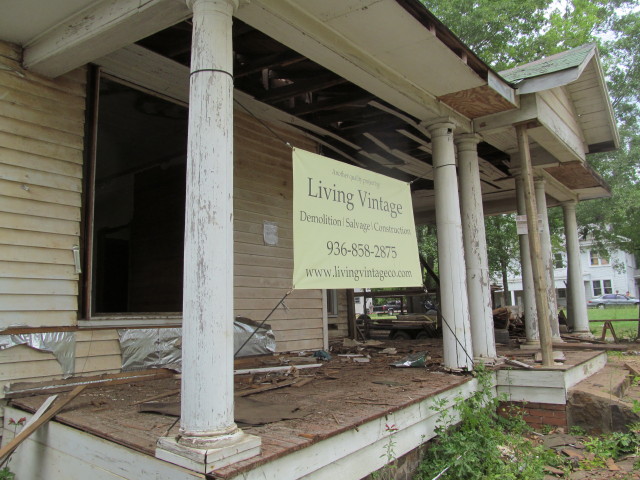 During one of our breaks, I shot this photo of the gable end just because.  Unbeknownst to me, it was to come down later that day.    I liked the shot and thought you might as well.
I'm married to a photographer who has taught me a trick or two.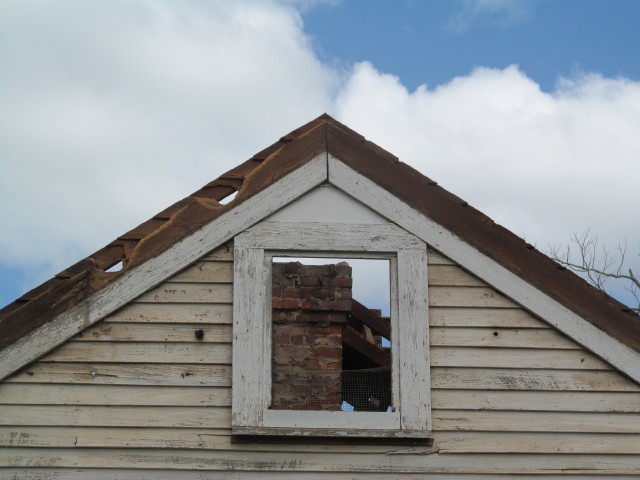 Speaking of wanting to capture memories of this house, check out this old Dr. Suess fireplace.  It looks like it was originally built that way!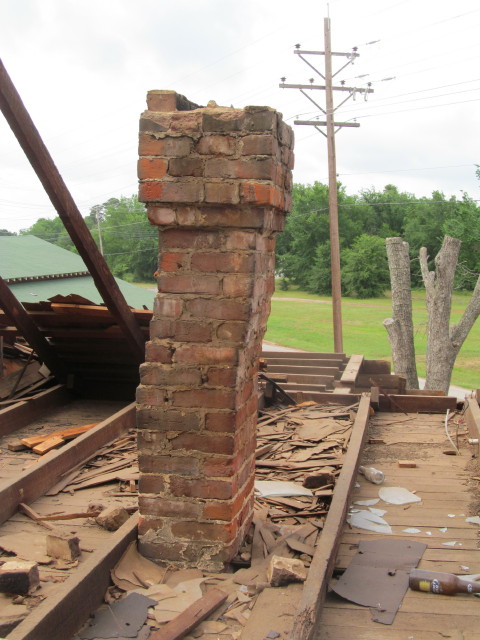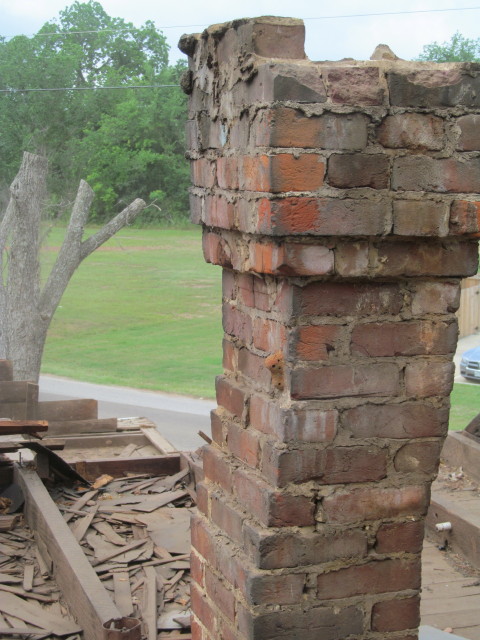 For the grand finale of the week, I got to show the guys that I'm stronger than I look.  I pulled down the gable end I photographed.

I think we got a lot done last week, don't you?