You're not going to believe what we got done in just 3 days.
(Why just 3 days?  Well, Mark was out of town on Monday, and I made an executive decision to take a day of rest.  Then it rained on Thursday.)
Despite working only 3 out of 5 days we made really, really good progress.
Here's what we accomplished:
On Tuesday, we removed the wraparound porch.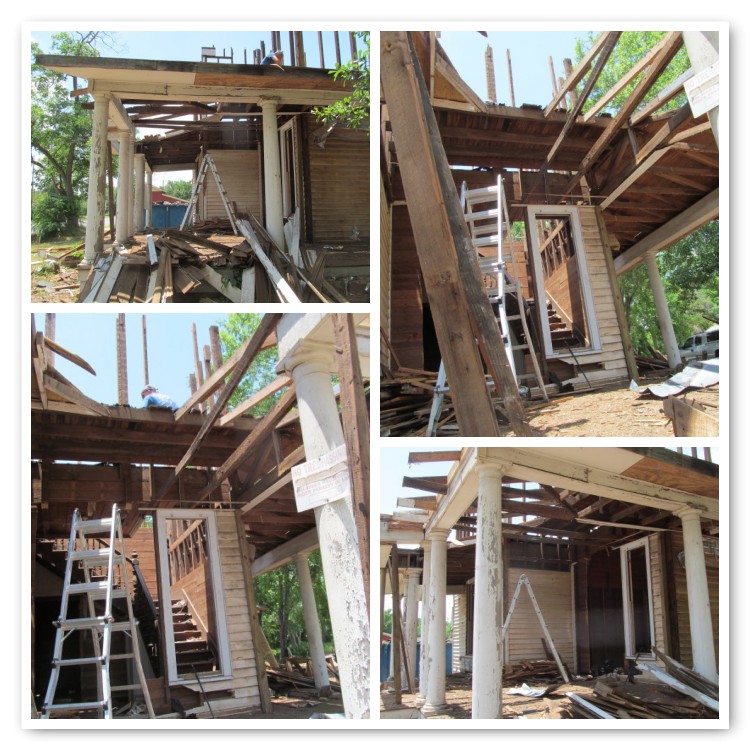 We also salvaged all nine of the porch columns.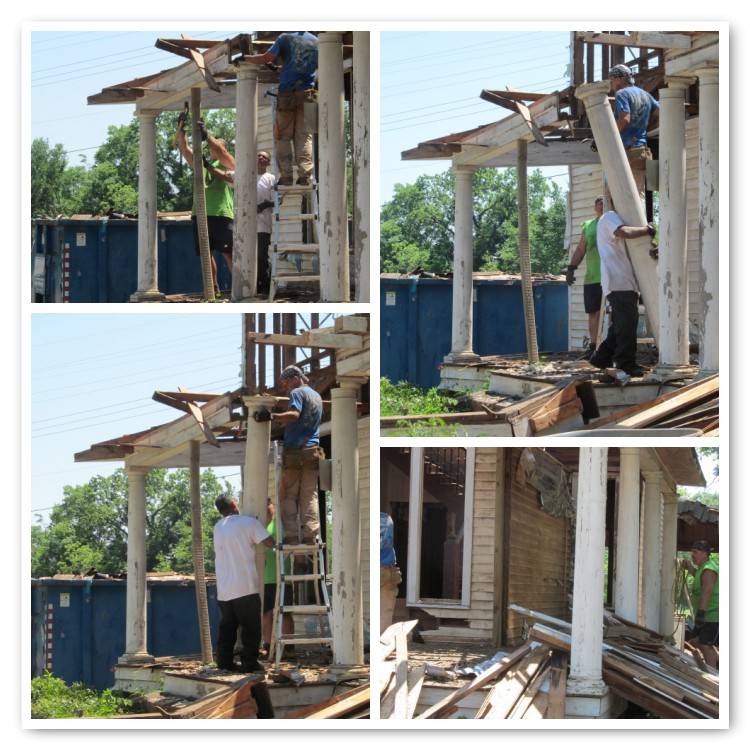 We were able to salvage some of the 1 x 12's, 2 x 4's, and beadboard.  Unfortunately, much of the wood was just too rotten to save.
We felt a great sense of accomplishment when we removed the last two porch columns.
Here's what the house looked like when half of the porch was gone ….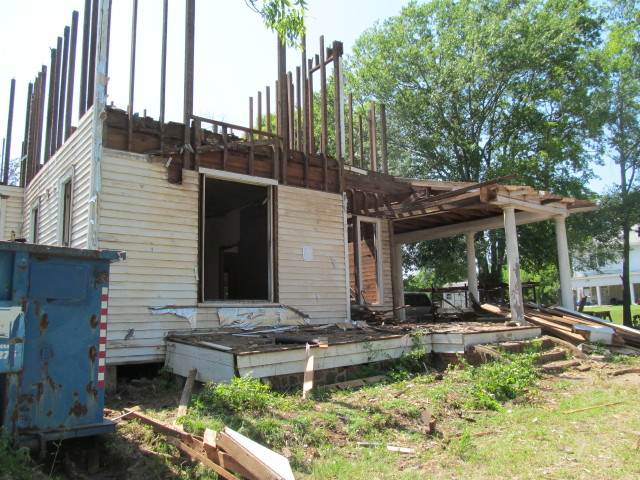 … and after it was all gone.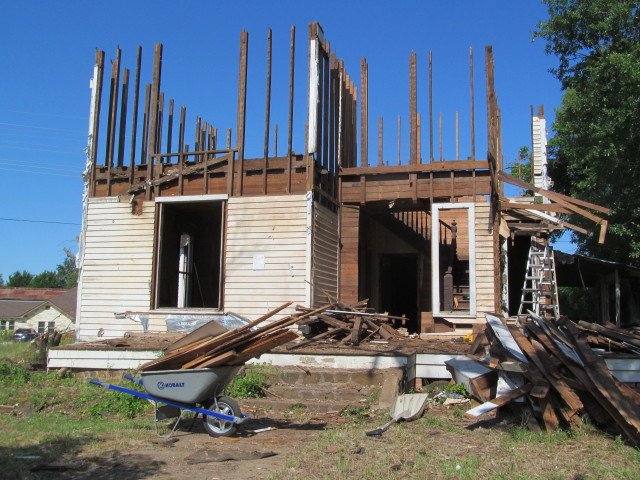 The porch columns?  Given their age, all of them are in very good condition.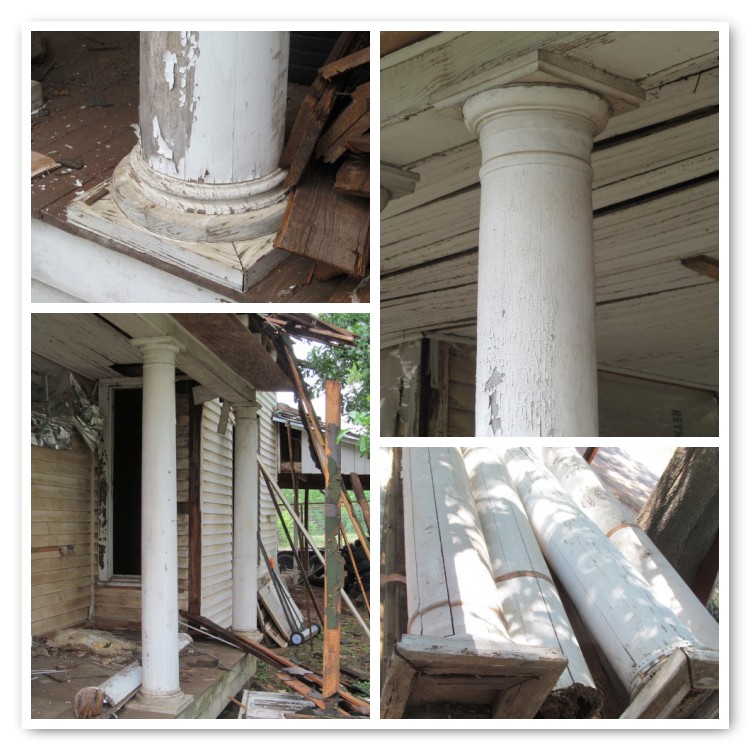 They're for sale now.  (Contact us if you're interested.)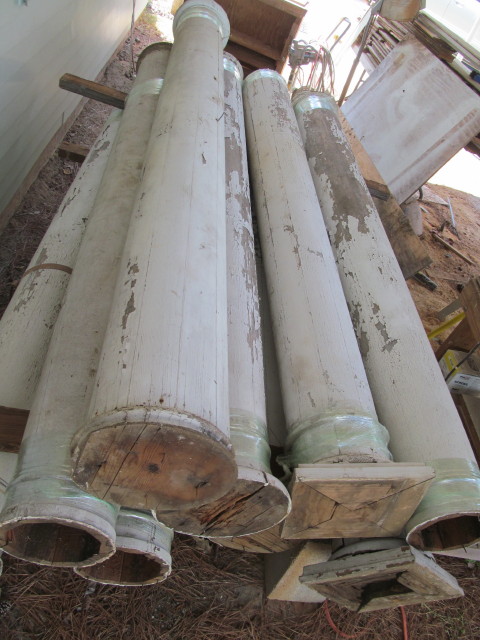 The next morning, dumpster #2 which you see here, loaded to the gills with shingles and wood debris, left …. and empty dumpster #3 arrived.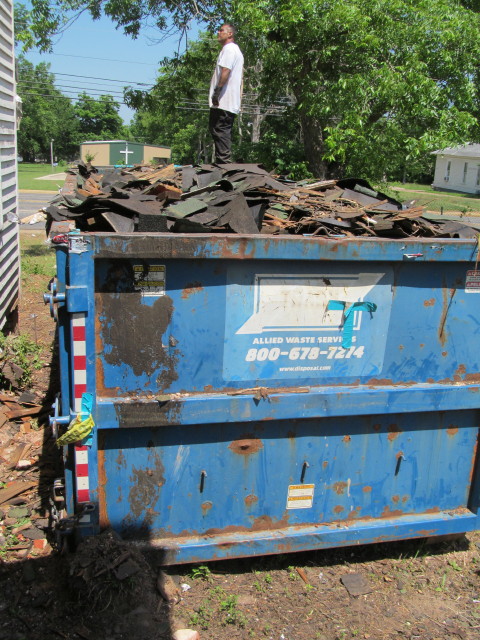 On Wednesday, John removed the floors on the second floor.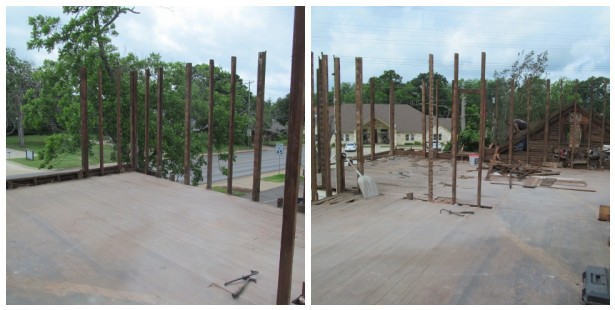 As the planks were removed, beautiful 2 x 8′ floor joists — true dimensional, rough sawn lumber in pristine condition — were revealed.
Oh my!  They are just lovely.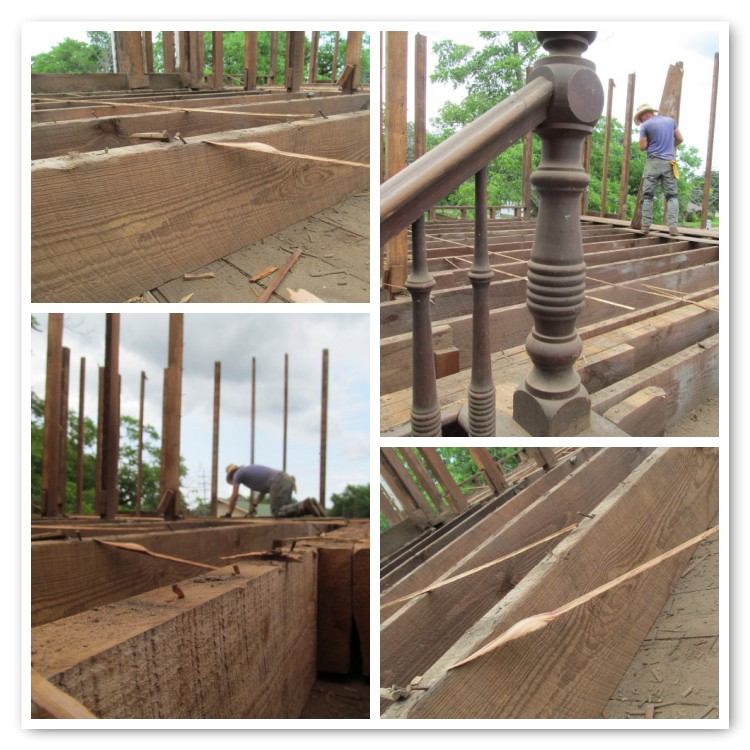 Later that same day, John removed some of the outside clapboard siding and lo and behold, we found a board marked "1908".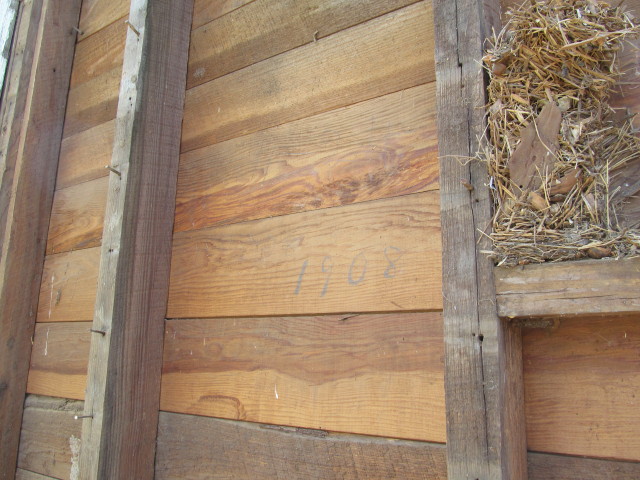 It's not visible in this photo, but right above the "1908" is "11-24-08".
It seems that this was a fairly common practice because we found a similar, dated board at the house we salvaged in Crockett.
During breaks, I shot these photos of the water-stained wallpaper in the front room.    In their own way, they're pretty, and it struck me as being similar to those famous inkblot tests.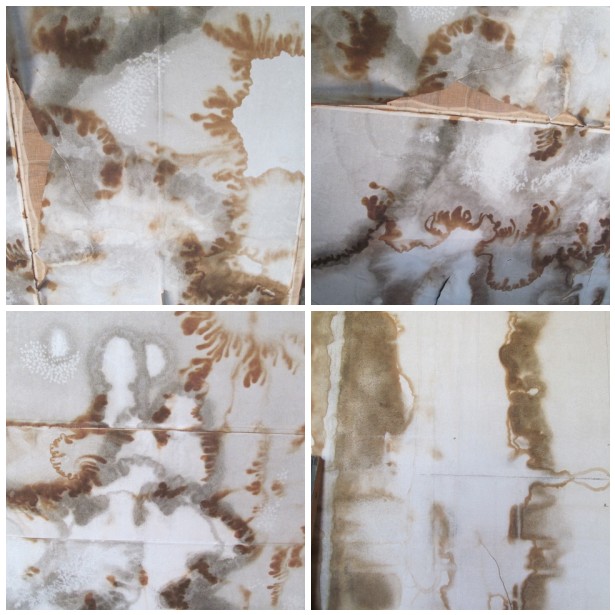 I'm glad I took the time to shoot this photo of the old staircase.  It will be removed very soon.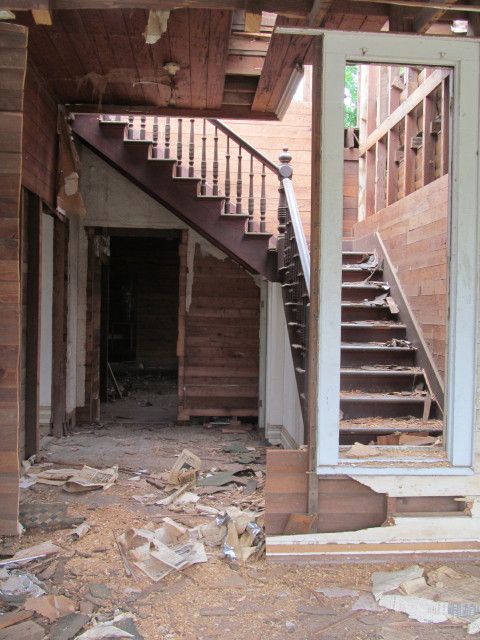 I also loved these detail shots of the staircase …. one with a glimpse of nearby trees through open walls.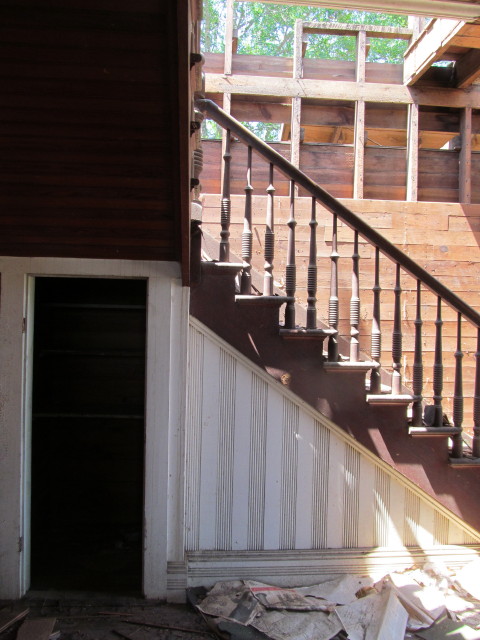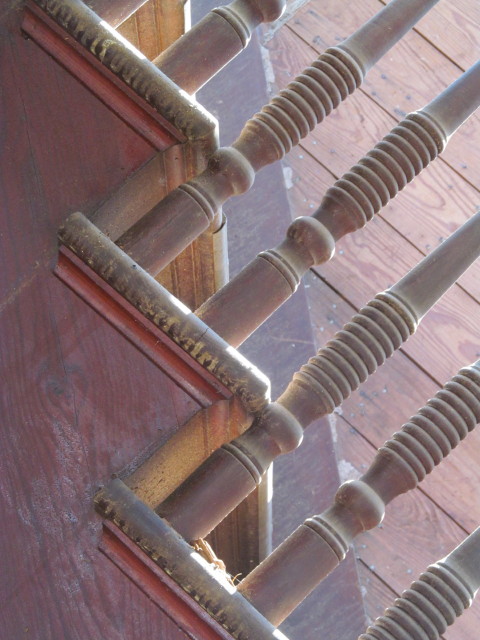 The chippy paint on this old door caught my eye also.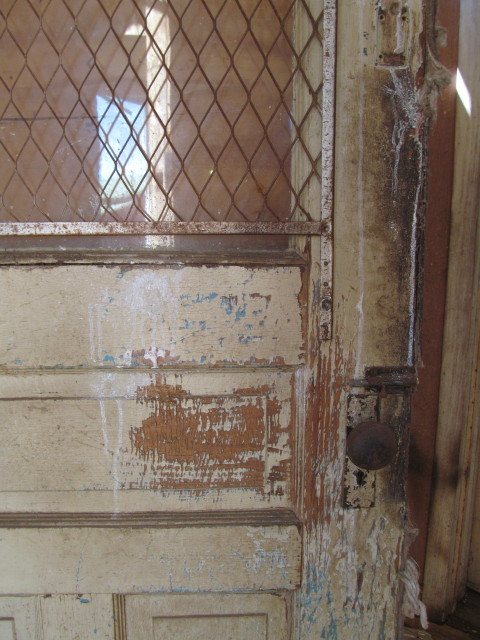 I also shot this photo of my husband, Mark, unbenownst to him.
Despite the hot, sweaty, filthy, repetitious work, we still try to have fun.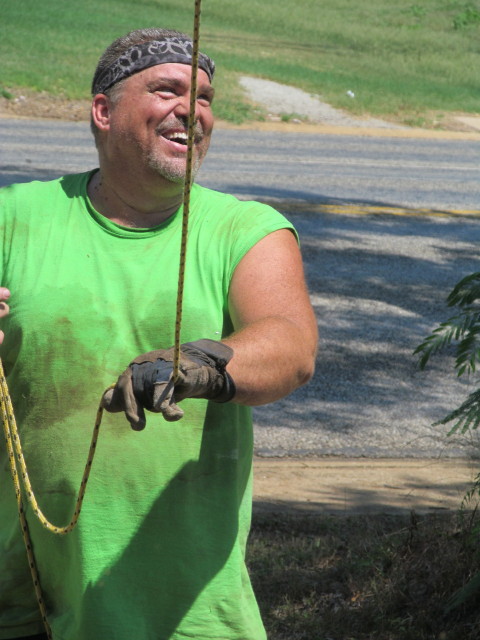 I adore him when he smiles like that.  I'm reminded why I married him.
On Friday, the guys removed every bit of the cedar clapboard siding from the house.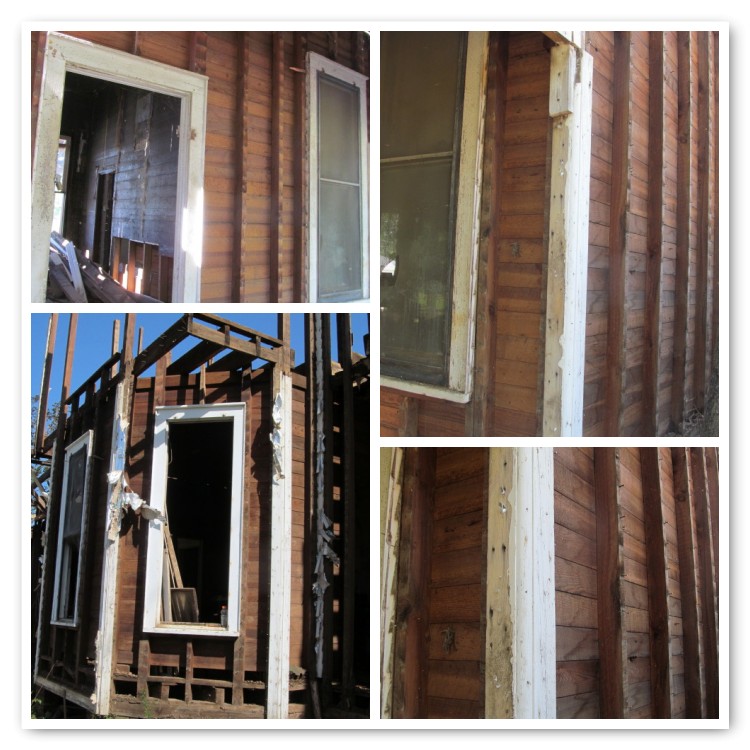 Because we had already removed some of the interior cladding, removing the exterior siding revealed our stairway-to-heaven staircase to the world.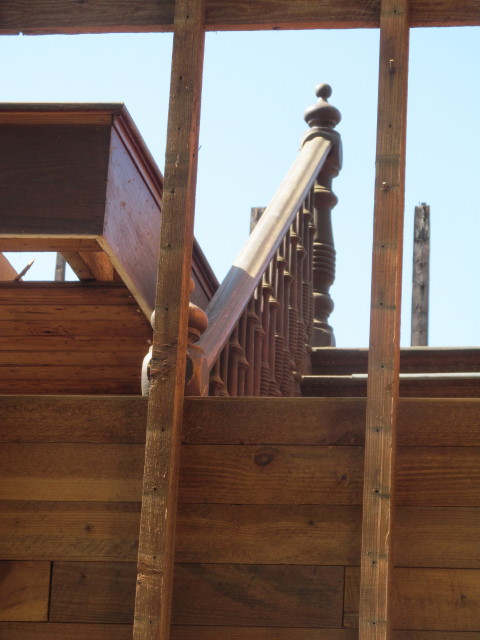 All in all, it was a very productive week.  Every day we came home with literally tons of reclaimed wood.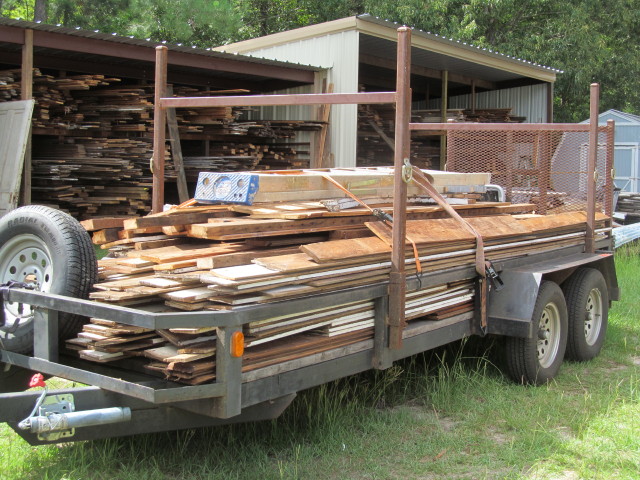 Oh, one last thing.  See the old corbel that was practically buried during one of the additions to the house?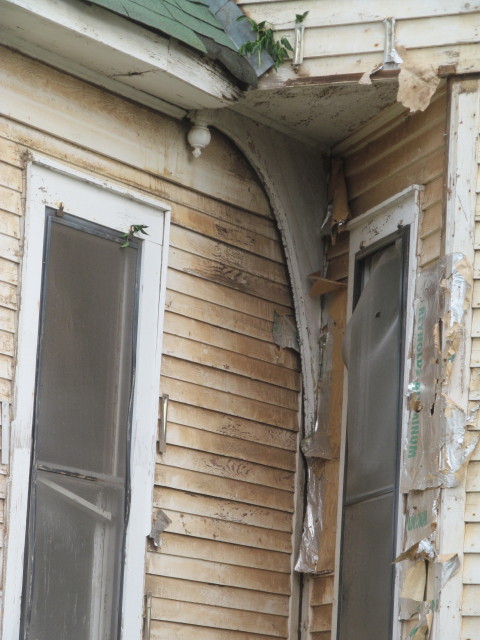 Being the corbel lover that I am, I spotted it right away.  I was so hoping that it was still in good condition and we would be able to salvage it successfully.
Luckily, that wish came true.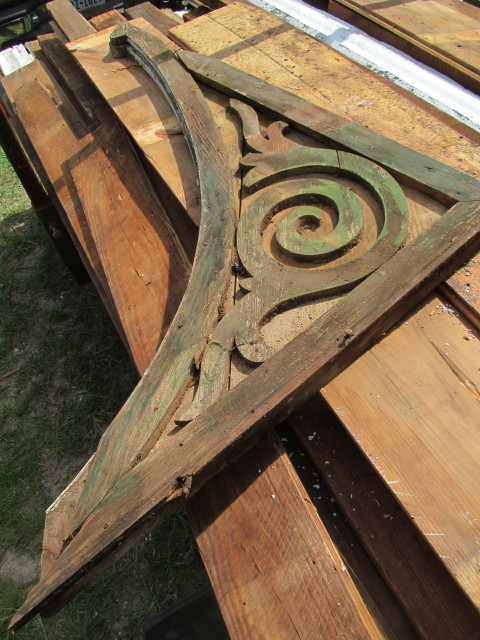 It just needs a few repairs, and it'll be ready for sale … or it may wind up in our own home.
We'll see ….
We expect good weather all next week so we will be working extra hard to get even more salvage done on the Bolton house.
Drop by and see us sometime!