A good friend in Austin recently asked me:
  "Why do you salvage old homes?  I just don't get it."
The answer, in a nutshell is:  we want to save them.
The WHY behind the answer?
Well ….. I'll do my best to answer that question.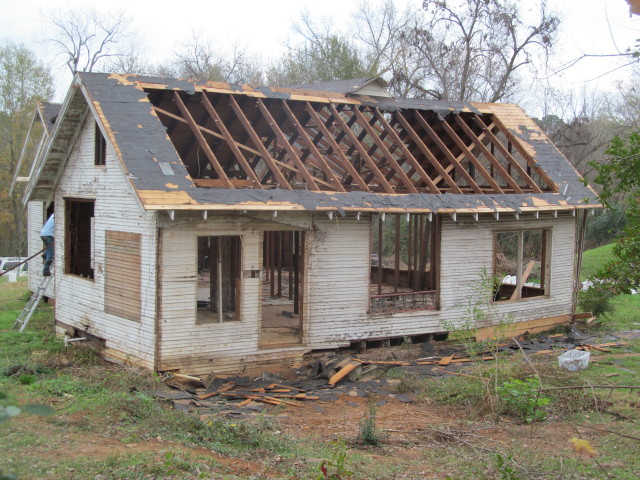 Reason #1: We want to design, build, and sell homes with vintage character.

The old materials we salvage provide vintage character to the houses we build and remodel.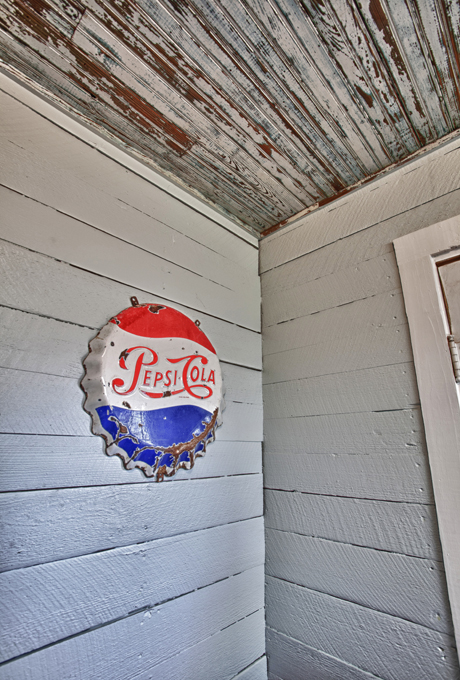 We use old materials because, in my opinion, true vintage character cannot be achieved using new materials.  It's just not possible.  New is new, and old is old.  It's just that simple.
For example, new wood floors can be pretty, sure, but they don't look old.    Also, drywalled walls never achieve a vintage look.  Again, my opinion.
The only exception I can think of is using new lumber like new beadboard (and I'm talking about the beadboard planks, not the beadboard paneling.)   If you leave new beadboard unpainted or unstained, it will look like new wood, but if you paint or stain new beadboard, you can get a vintage look.
(That's what I did in my Austin home, and everyone who saw it thought the beadboard was original to the house.)
However, you will not get the grain and texture of old lumber, as shown by this closeup of some old 1×12's.    (You can also see the old saw marks inherent in the old wood in the photo above.)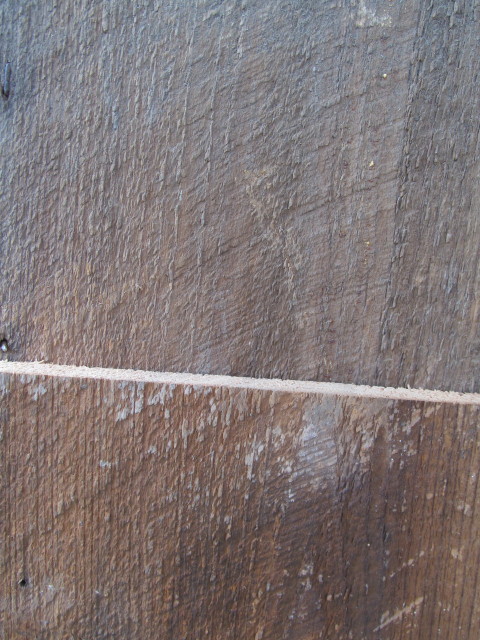 Here's an example.  We salvaged old floors from the very first house we partially dismantled.
The owner told us that his grandmother used to paint the red border you see around the room every year.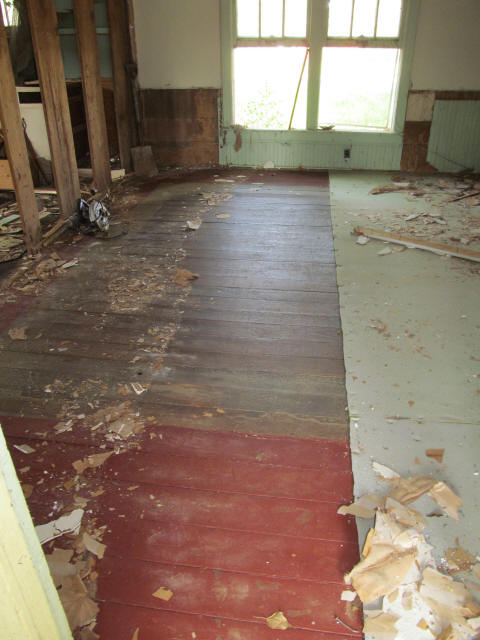 After much sanding and cleaning, we installed the floors in our new mudroom.  After a few coats of polyurethane, they looked like this: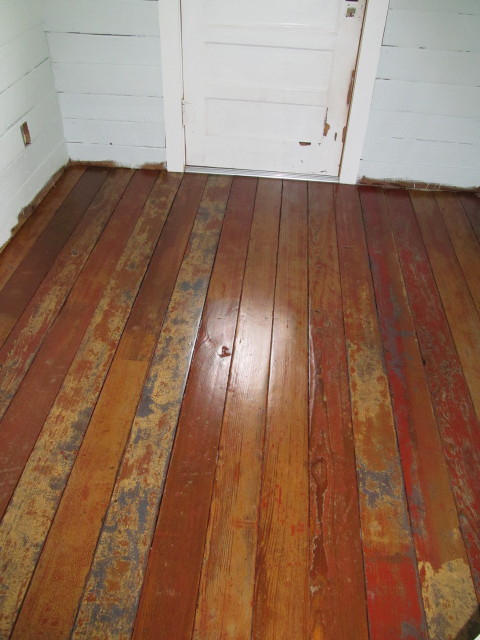 Is that vintage character or what?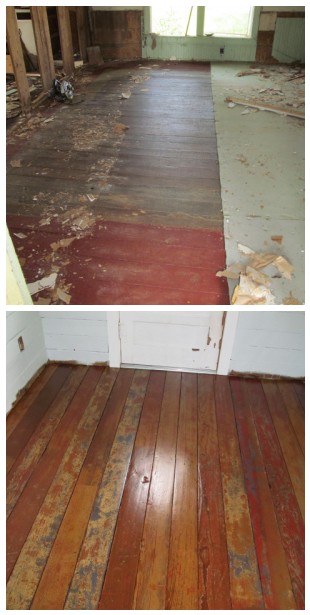 Here's another example.  Check out this room divider made of salvaged wood.
Freakin' incredible.
Reason #2:  We want to sell reclaimed lumber.
Salvaging, reuse, repurposing.  Stroll around Pinterest for a few hours, and you'll quickly realize that others want to achieve a vintage look as much as we do.
Salvaged materials are relatively hard to find.  It's not like you can go to your nearest big box store and find reclaimed lumber.
For that reason, we sell reclaimed building materials to designers, builders, architects, antique dealers, and of course, homeowners.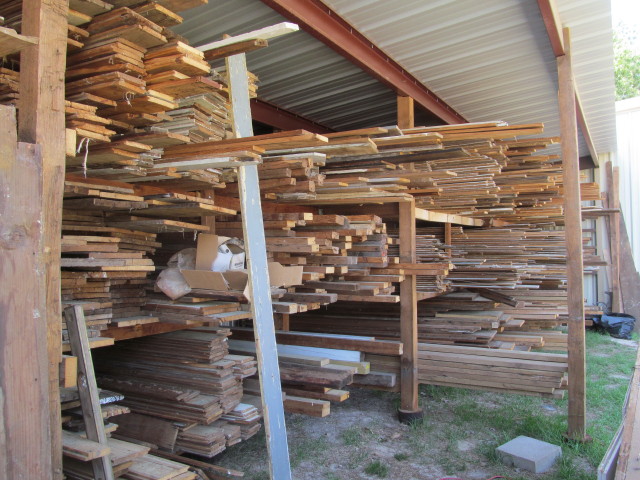 When we have too much stock, we have also been known to sell to reclaimed building material warehouses.
Reason #3:  We want to do our part to conserve natural resources.

When we first moved to East Texas, it broke my heart to see old homes bulldozed and burned.  I know it's been happening for centuries, but I never really saw it until I moved here.
Funny how you can ignore what you don't see.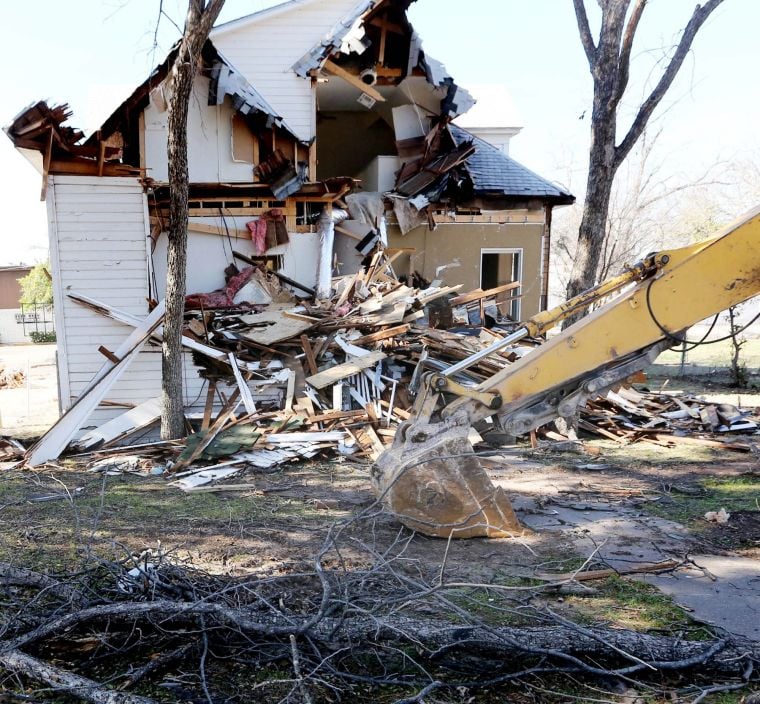 Why did it bother me so much?
Well, first of all, it's just sad and wasteful.    All that history and reusable materials … gone forever.
Today's disposable mindset, this "let's just throw it away, bury it, and forget about it" attitude … it really upsets me.
It's not like our tax dollars can't be used to make a difference.  I mean, geez, if municipalities recycle plastic and newspaper, why do many choose not to recycle old homes in their community?  It is a choice, you know.
Most just bulldoze them (much more often than not), and take them directly to the dump.
Does that make sense to you?  It doesn't to me.
Cities spend millions on waste management, then turn around and spend millions on affordable housing.  Call me naive, but it seems to me that if those departments partnered together, some of their expenses might be reduced.
Also, there's a second reason why bulldozing and burning old homes affected me so much.    I knew that many of these old homes were built using heart of pine lumber from old growth trees.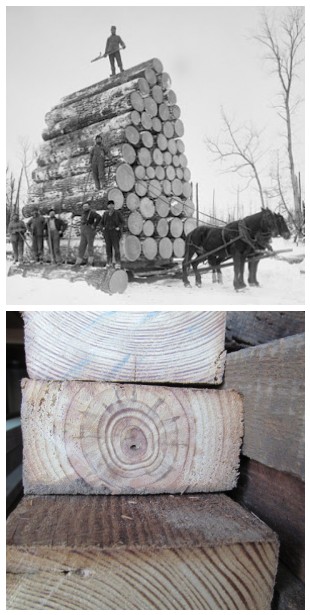 The thought that those old trees died years ago just to be burned or buried decades later, long before their useful life was over . . . . well it just killed me.
Speaking of burying, you don't want me to get on my soapbox about landfills.  All we're accomplishing by filling up landfills as fast as we can:  we're depleting our natural resources at an alarming rate … and waste management companies just keep getting richer and richer.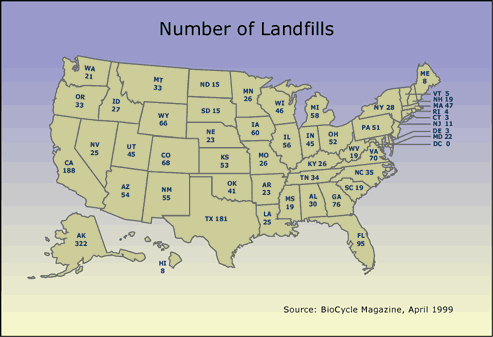 (By the way, if you haven't seen the CNBC's documentary "Trash, Inc", I highly recommend it.)
So a round of applause goes to companies and municipalities like the City of Austin who are aiming to help the environment.
(The latter is committed to achieving "zero waste" by 90 percent by the year 2040.  90 percent!)
But I have to be clear.    We don't actually save old houses in a literal sense.
But we do give the old lumber new life by building new homes (or selling the materials).  The old houses live on, so to speak, just in another form.  In that regard, we believe we honor the past, much more so than the alternative.
We're definitely doing our part to conserve landfill space.
What do you think?

I've given three answers to one question:  "Why do you salvage old houses?".   I hope I've cleared that up.
What do you think?  Did I do a good job?

******************************
I read and appreciate every comment. Thank you for letting me know what you think!

******************************
I'm linking to these parties:
Saturday Sparks @ Pieced Pastimes