I commented on Facebook that I had a pork roast cooking for our Sunday dinner, and the aroma was driving me insane. Well, it turns out that the meal was a success, and I wanted to share it with you.
Here's the deal.
I love trying new recipes.  Unfortunately, I usually have minimal spare time during the week to spend a lot of time in the kitchen.  On the weekends, I have to try at least one or two new recipes.
I have to.  Life is too boring to keep eating the same things over and over.
I also like EASY recipes that are easy to duplicate during the week when we're running ragged.
And nothing is easier than Crockpot cooking.
I saw this photo of the pork roast recipe on Pinterest and followed it to Six Sisters' Stuff.
Looks yummy, doesn't it.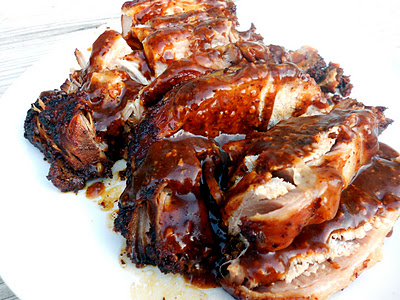 It was a breeze to prepare.   Just mix the seven ingredients, pour it over the roast, and turn the Crockpot on.
About 6 hours later, your meal will be done.
I said it was easy, didn't I?
Here's my photo of our entire meal:  slow-cooked pork roast, mashed potatoes (as recommended by the Six Sisters), and corn on the cob.
I was a little afraid that the 1/2 cup of honey would make the pork too sweet, but I didn't need to worry about that.  Yes, it had a touch of sweet, but it was "just right".
The pork even had a nice bark on it which I wasn't expecting from a slow cooker. That's always my favorite part.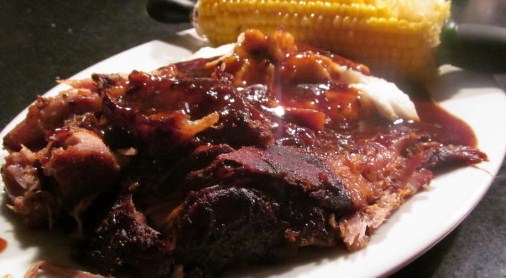 I agree with the Sisters that it's hard to create a pretty photograph of a slow-cooked meal, but trust me on this:
You will not regret making this recipe for your family!
I would suggest serving the sauce on the side.  That's what I'll be doing in the future.  It was just too much sweet of a taste to just pour over the meat and potatoes, but it would be perfect for dipping.  And I may serve the meat with skillet-fried potatoes and onions, rather than mashed potatoes, just to add a different texture.
I'm glad the meal was a success.  Another added bonus:  we had enough left-over to eat pulled pork sandwiches for lunch tomorrow.
That's better than cold lunch meat any day.
Now, regarding dessert, my husband has been lobbying for a fruit pie for a while.  I do love to bake pies, but I have a tendency to make cream pies since they're MY favorite. I finally promised him last Friday that if he would stop and buy vanilla ice cream and keep his paws off of it, I would make him an apple pie.
Although I really wasn't in a baking mood today, I kept my promise.
I handed him four recipes and asked him to pick one.  (This was his treat after all.)
He picked this one, the most basic of the four.  (He's not a hard man to please.)
I'm glad this recipe turned out well, because I would have hated for him to be disappointed.
Just be sure to use a cookie sheet underneath this pie if you decide to bake it.  I didn't think to do that, and I have an oven to clean now!
Anyway, what do you think?  Would you eat this?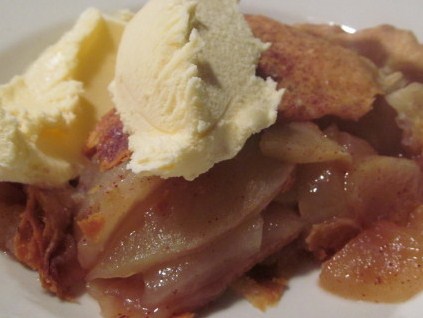 I imagine my husband will eat his next slice of pie after he's melted a handful of cheddar over the top.
Don't get me started.   Why would anyone do that?   I just don't get it!!
But he loves it.