We are making very good progress with our Crockett project that we started in early January.
The first step we take on any old home demo project is to remove all of the interior finishes (such as carpet, trim, drywall, and wallpaper) as well as the windows and interior doors.
Removing drywall and wallpaper is easy and kind of fun.
But, it's an incredibly filthy job.
I've learned to hold my breath and close my eyes to prevent dirt, cobwebs, and who-knows-what-else from landing in my eyes and mouth.  I've worn a mask in the past, but I don't like them.  I get too hot with one on, and I sound like Darth Vadar.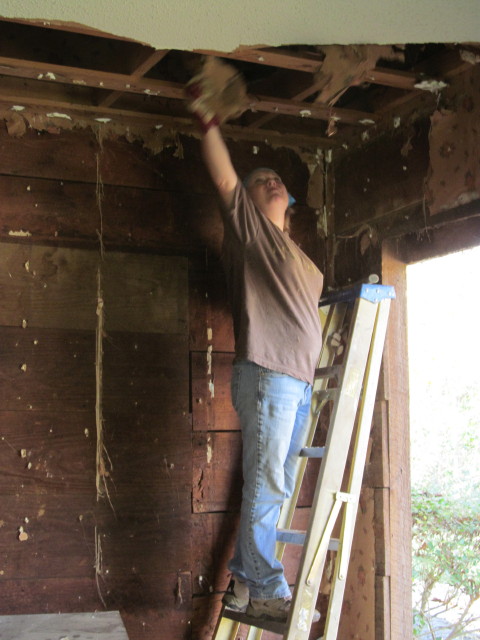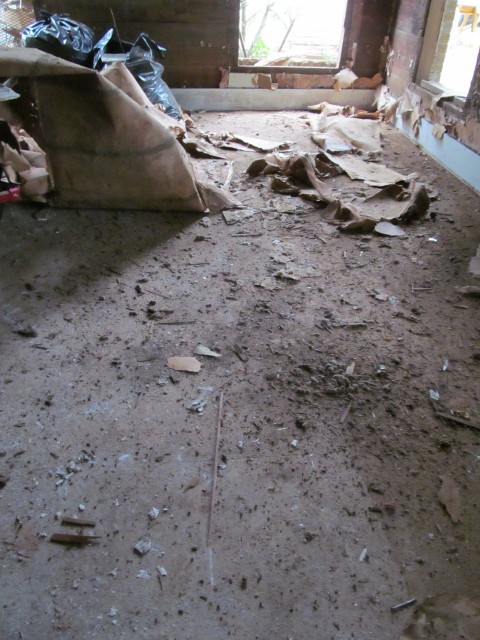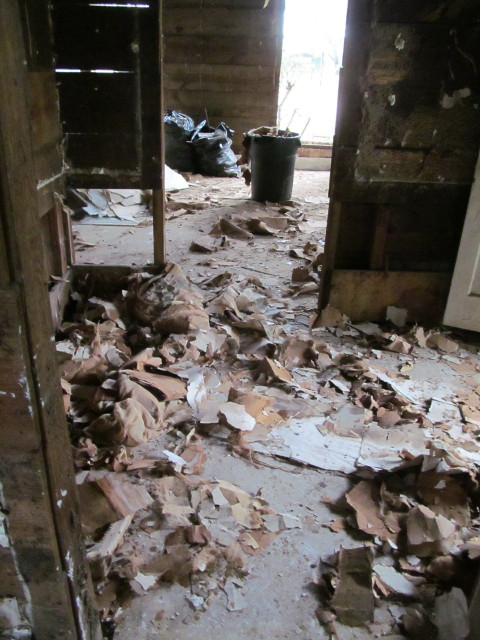 It's also very labor-intensive, taking a few days to a week or two, depending on the size of the house.
I like the interior skin work because this process reveals the lumber we are after.
With this old house, we were absolutely thrilled to discover rough-sawn walls.  We immediately realized that the house was a lot older than we first anticipated, and that was for sure an incredibly nice surprise.
The age of the house was confirmed when the granddaughter of the previous owners dropped by.  She told us that the original house had been built at the turn of the century, and an addition was added in the 40's.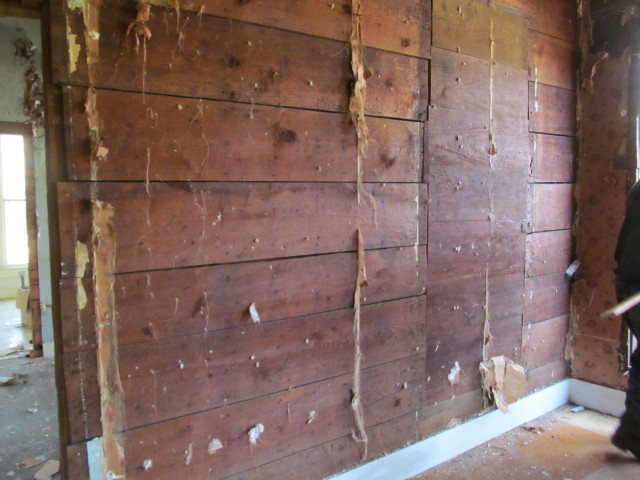 All of the boards we have removed so far have been about 1″ thick,  12 inches wide, and anywhere from 2 feet to 15 feet in length.  The longer boards weigh a ton, and I have to let the guys lift them.  I don't even try.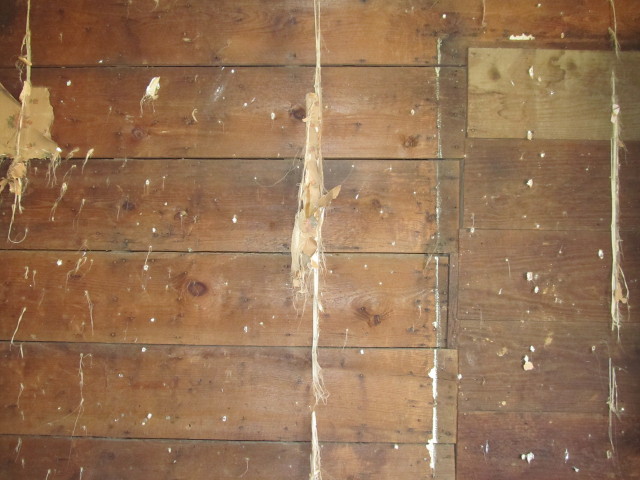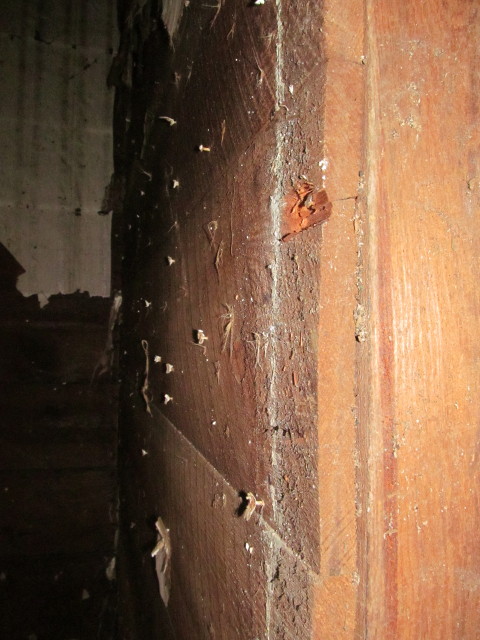 The interior work also revealed shiplap in very good condition …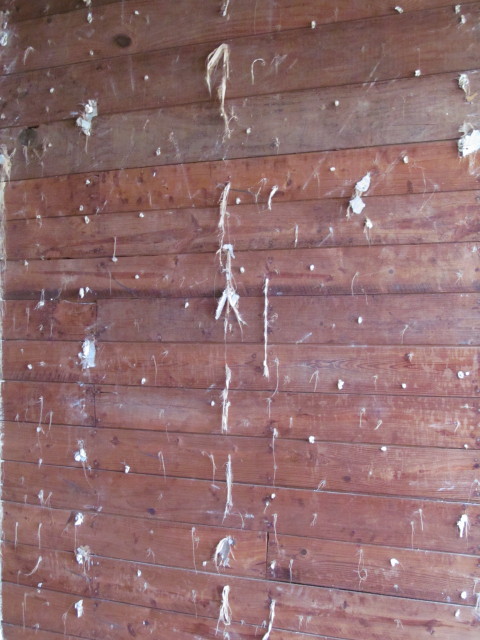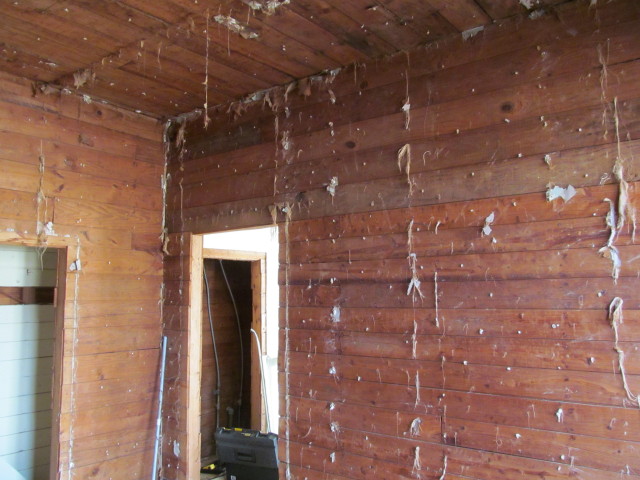 Some of the old boards were painted with old milk paint.  The boards will need to be cleaned and probably sanded, but they have a gorgeous patina.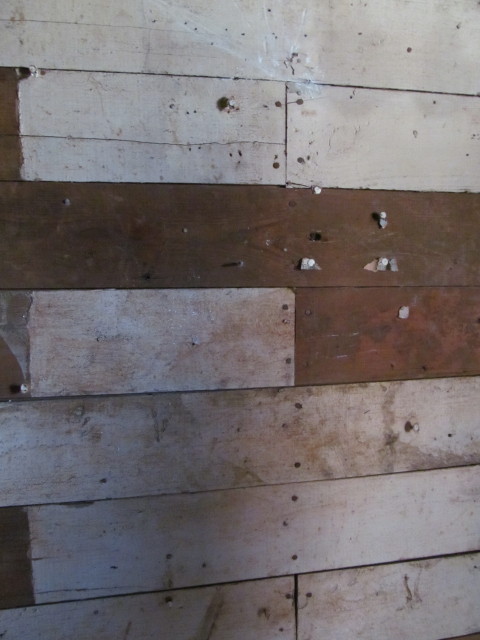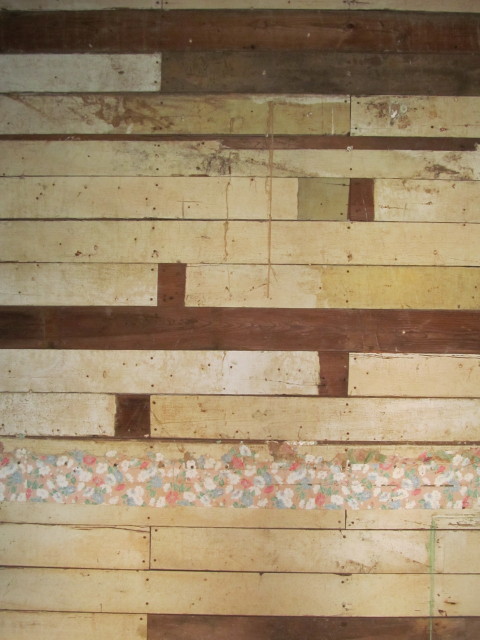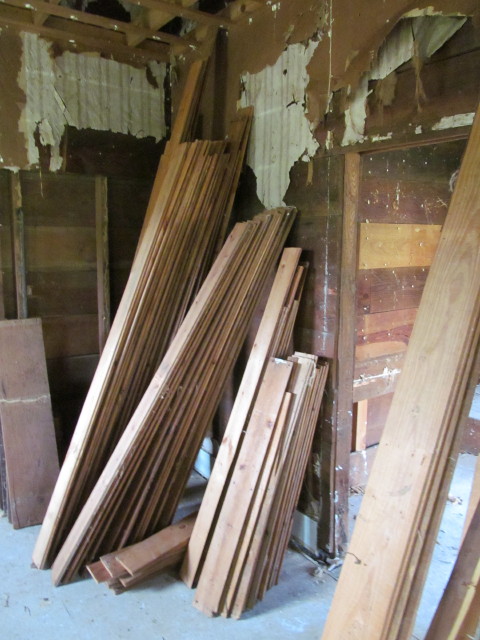 We also found that tongue-in-groove floor boards were used as wall covering throughout the house.  Many boards were still covered in old, beautiful milk paint.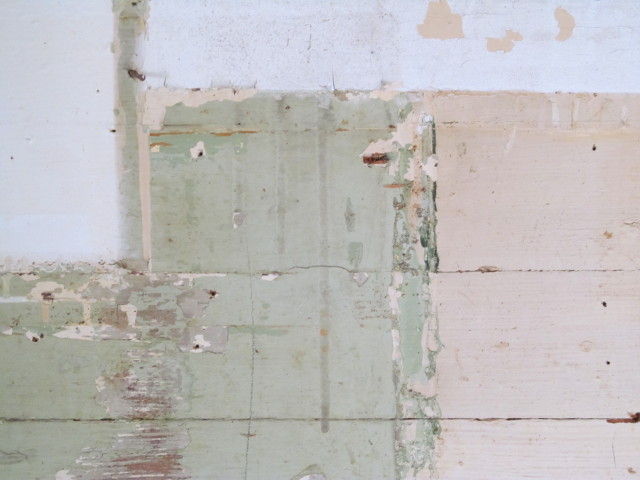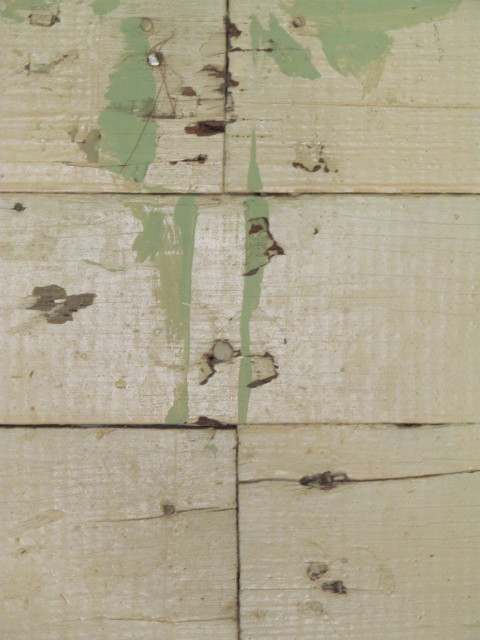 You may think I'm nuts, but I think the old creamy white, khaki, and pea green colors are beautiful.
I think these boards just may be destined for a wall project in our bedroom.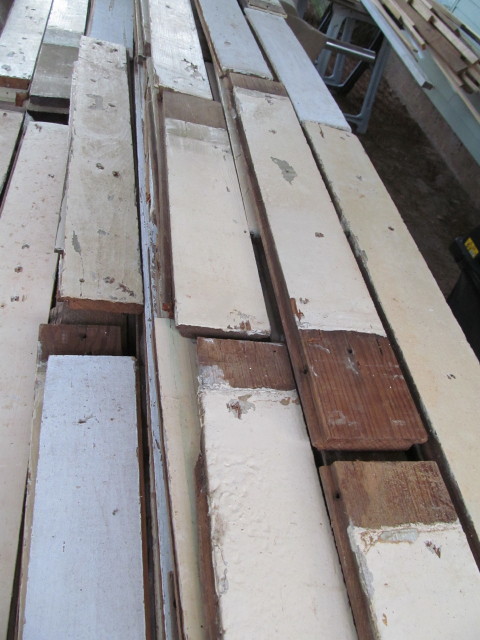 Not surprisingly, we uncovered some termite damage.  It's nothing we ever want to see, but termite-eaten boards have been in all the houses we've salvaged.    Fortunately, the loss is usually negligible.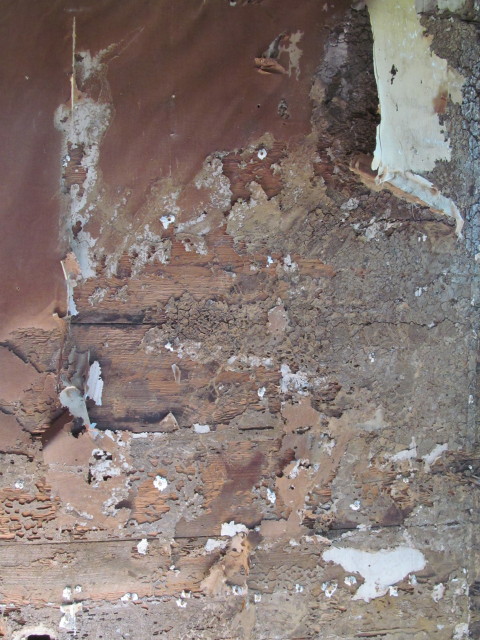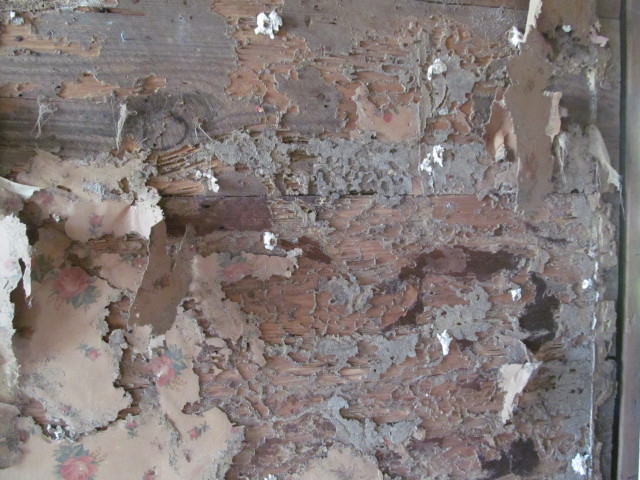 I think one of the most enjoyable parts of the skinning process for me is discovering old wallpaper.    It's almost like fishing — you never know what you're going to pull up … or reveal.
Here are some examples of some of the pretty and fairly ugly wallpapers we found: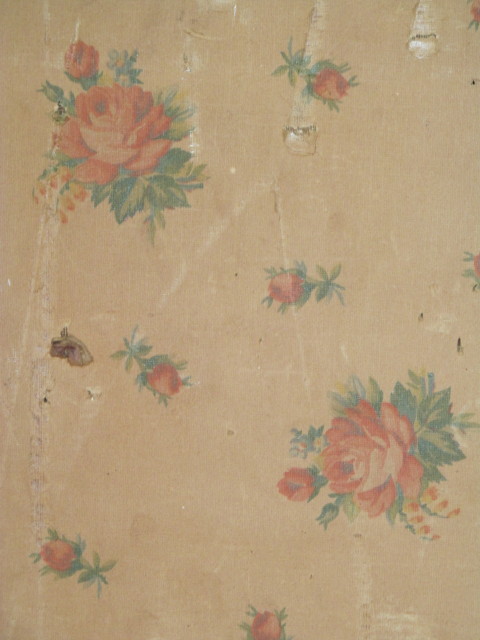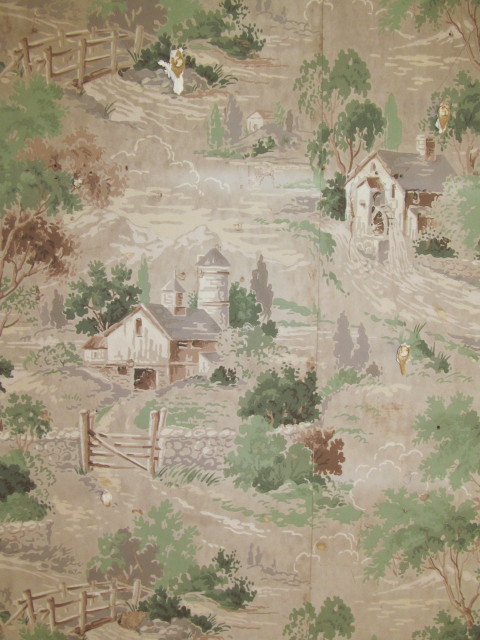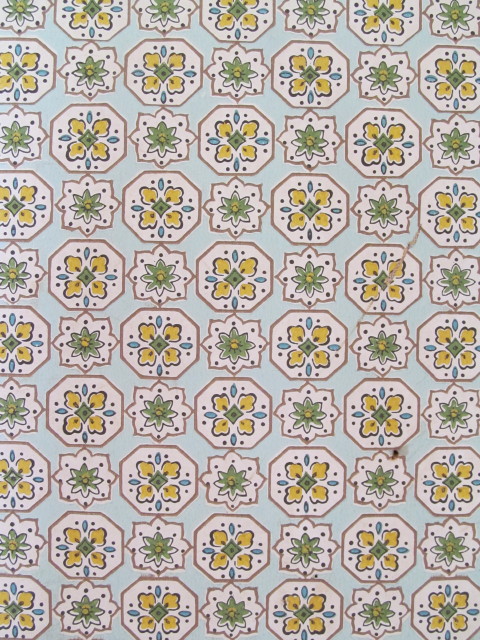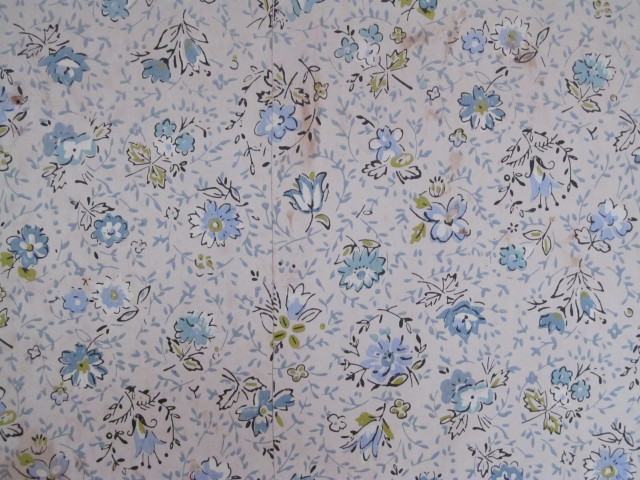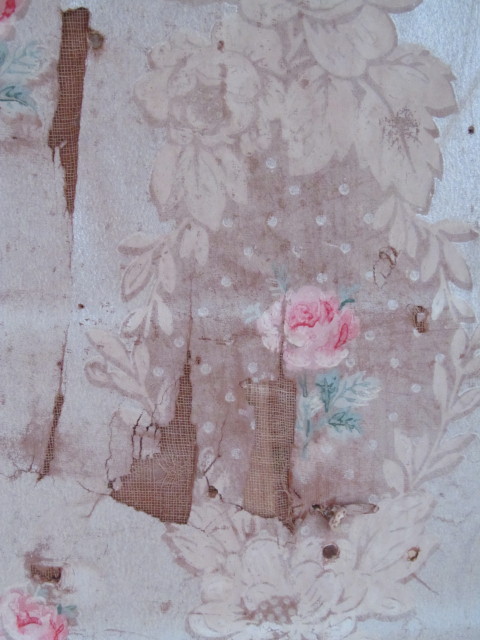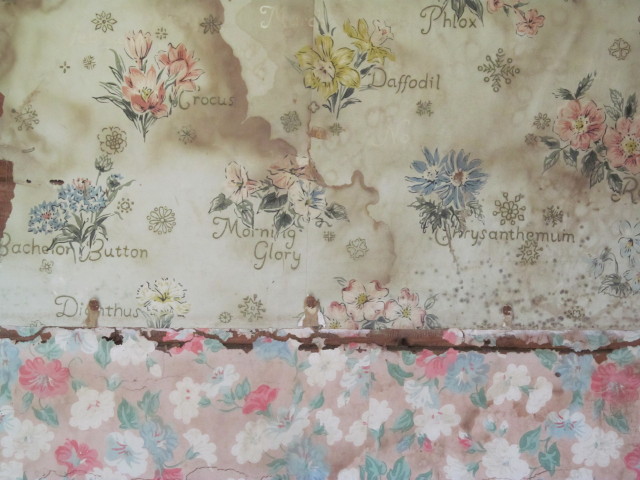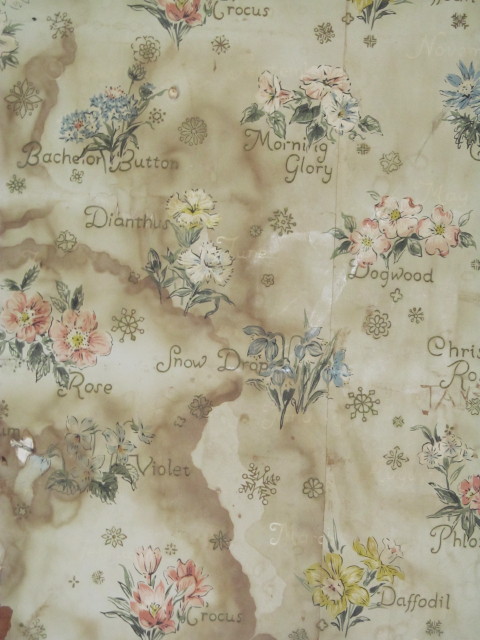 Quite an assortment!
I also enjoy finding old newspaper clippings like this one, but we have yet to find a date on any of them … yet.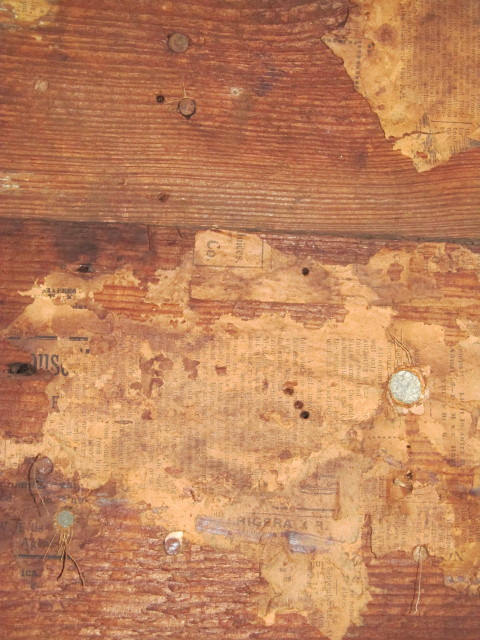 So far, the weather has cooperated and we have had gorgeous work days:  sunny and mild.  A few days were miserably cold and damp, so I just moved my de-nailing station inside.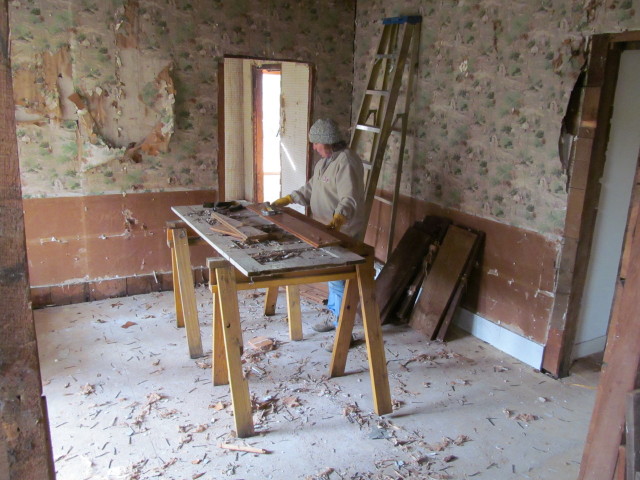 We have found a few goodies along the way, including old light fixtures, old books, an old print, and an old card catalog.  I'll probably repair it, paint it white, replace the knobs, and sell it.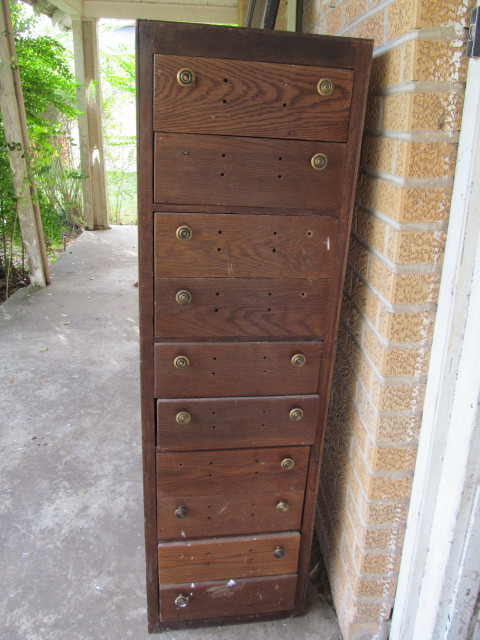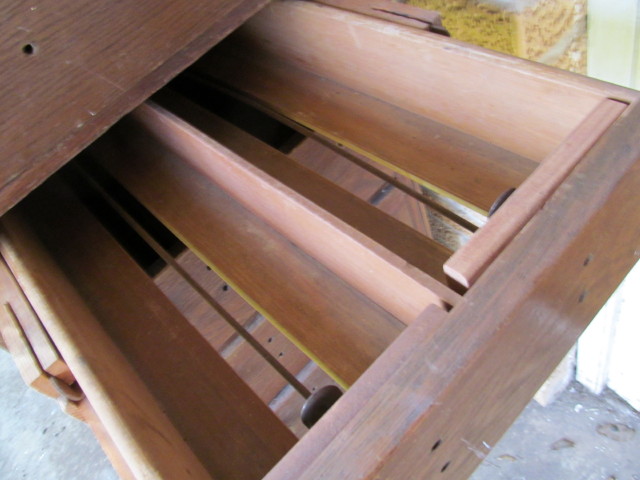 As usual, after all interior finishes are gone, we work on removing all interior wall and ceiling lumber that lies beneath any drywall.
What we're left with are the wall studs.    The "bones" of the house.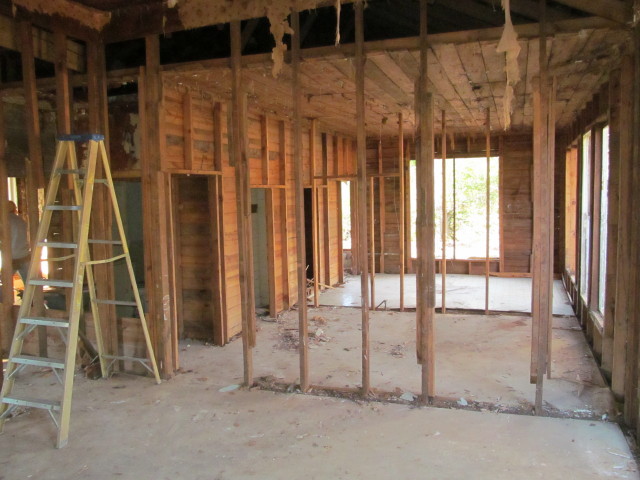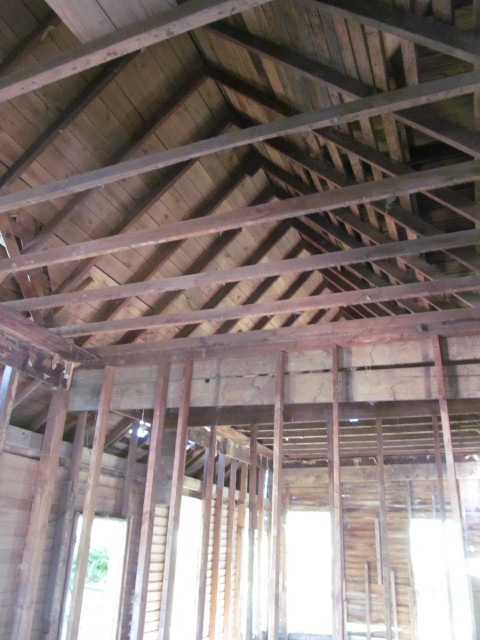 Every day, we came home with beautiful lumber. And, I'm telling you, it's a job unloading these heavy boards after an 8 hour work day.  But it sure is rewarding.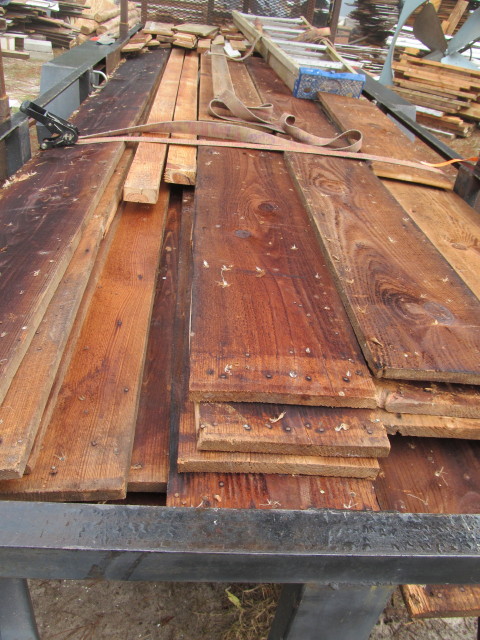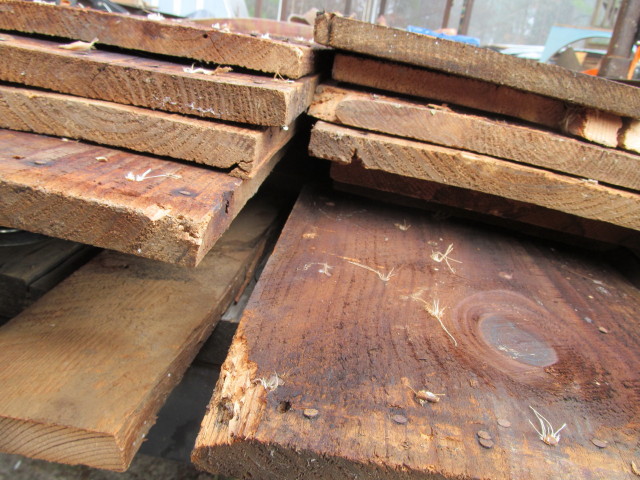 Last week, we started the roof removal process.
We cut down the overgrown trees and bushes in front of the porch to get ready for shingle debris cleanup.   It's not hard to imagine what this house used to look like in the early 1900's.
It's always a tedious process and definitely everyone's least favorite part of the home demo process.   Luckily, this house had only one layer of shingles.  That was a blessing.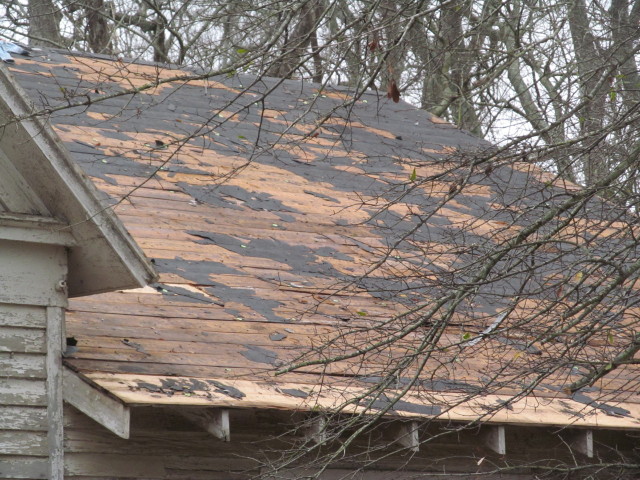 After that, John removed the two dormers …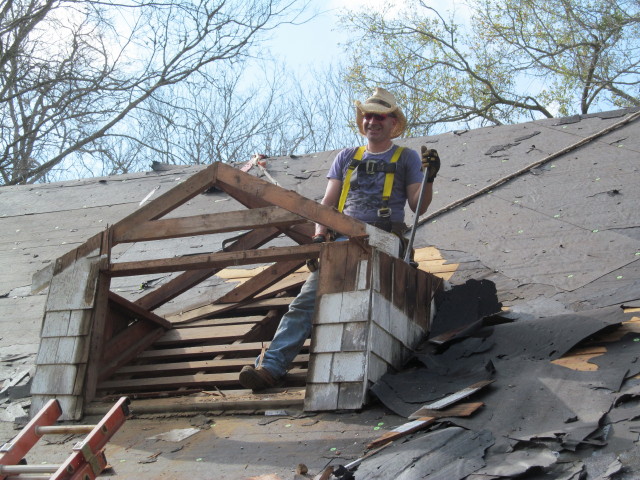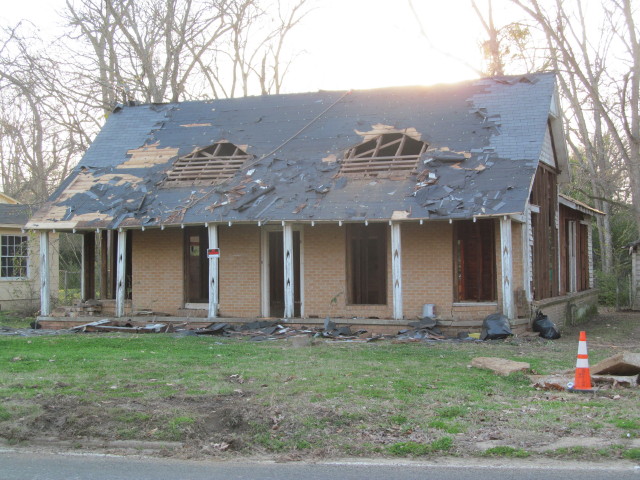 … and Mark and Simon removed exterior siding and trim.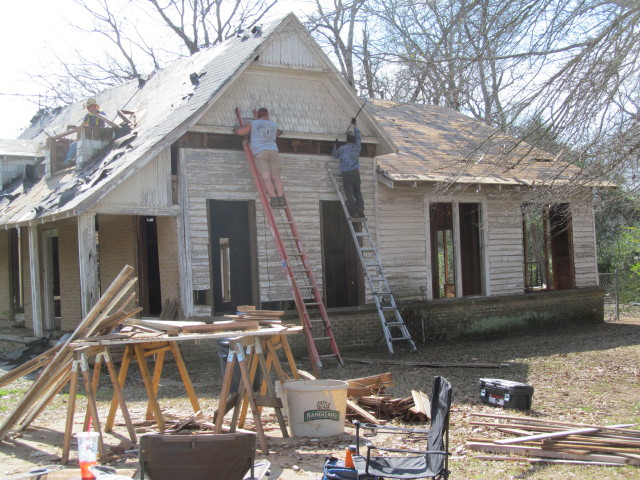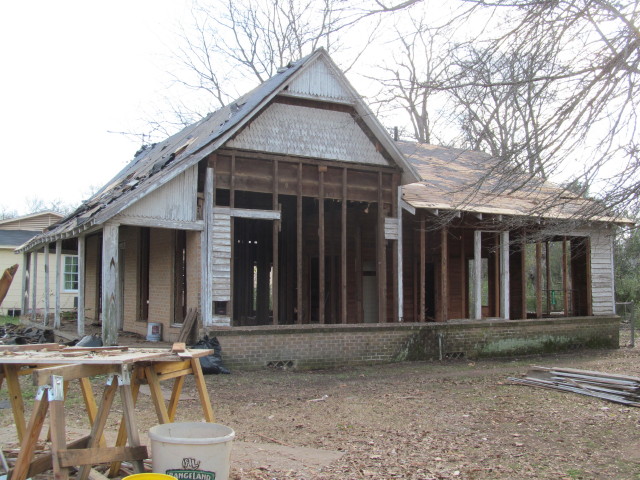 Next week, we continue the siding removal process. I am hoping we could save some of the pretty architectural details.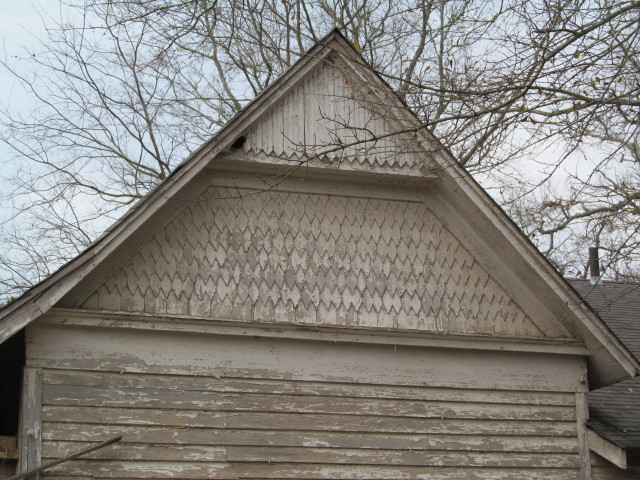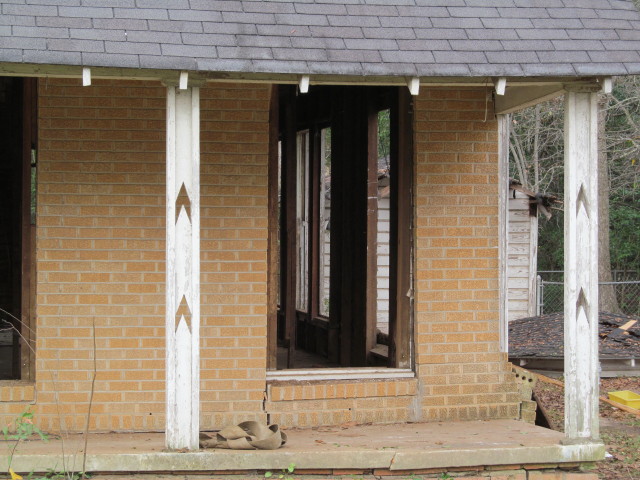 We shall see if my wish comes true.
We found someone who wants the brick, thank God.  The brick is certainly re-usable, but it's not old brick.
Unfortunately, we know that the floors are probably not saveable.  The previous owners installed particle board over the floors — we have no idea why — but the moisture that accumulated in the particle board rotted the underlying floors, and they are sinking on their own.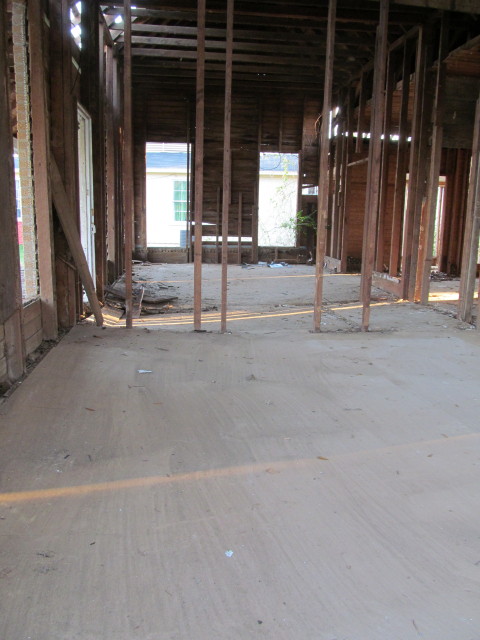 We also have a few remaining walls and ceilings to skin.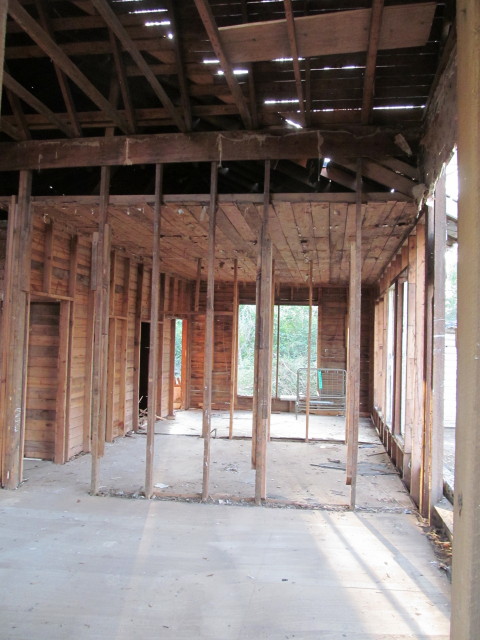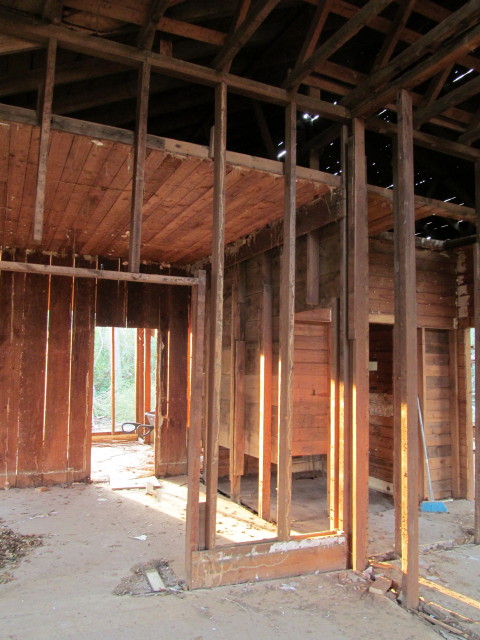 After that the house will start coming down very quickly.  Weather permitting, of course.