I admit it.  I am not a morning person.    Once I get out of bed, I'm fine — I actually enjoy seeing the sun come up.  But rolling out of bed is the hard part.  Especially in the wintertime when the floors feel icy!
Since starting the salvage part of our Living Vintage business, we sometimes leave the house sometimes before the crack of dawn and when we get home, we're often too worn out to cook anything complicated.  For that reason, I've tried to make breakfast items on our days off that we can quickly heat up and eat when we're in a hurry.
(Same goes for easy-to-warm-up dinner items, but that's another post for another day.)
For that reason, I've started trying new muffin recipes.  I personally love muffins for breakfast.  They store easily, they're  portable, you can eat them cold or warm them up quickly, and they're a delicious way to start the day.
I am not a huge fan of pumpkin, but my husband loves pumpkin pie, pumpkin bread, pumpkin cookies … pumpkin anything!   I think if I served pumpkin puree on toast, he'd probably like it.
When I stumbled across this recipe, well, being the good wife that I am, I decided to try them.
Glad I did.  My husband pronounced they were "just as good as any bakery's".  And, surprise, surprise, I loved them, too.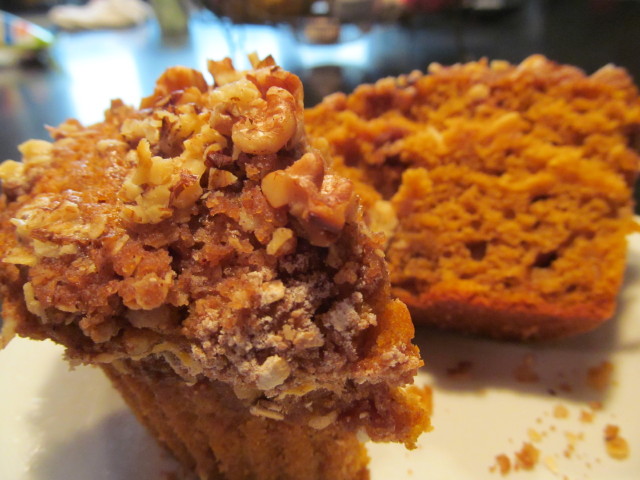 I'll definitely be making these again … and soon.
P.S.  By the way, I loved that the recipe specified using six jumbo muffin cups vs. the standard size cups.      I bought some large silicone muffin cups months ago, and I love using them.  However, if you don't have jumbo muffin cups and want to use regular size muffin cups, just adjust the cooking time, and they should be equally delicious.
Delicious Pumpkin Muffins
For the batter:
1 cup brown sugar  (I used light brown sugar, but dark would probably be fine also.)
1/2 cup canola or vegetable oil
2 large eggs
1 cup buttermilk  (If you don't have buttermilk, you can use a buttermilk substitute.)
1/2 teaspoon ground cinnamon
1/4 teaspoon ginger
1/8 teaspoon nutmeg
1/8 teaspoon allspice
1 teaspoon baking soda
1 teaspoon baking powder
1 teaspoon vanilla extract
1 cup canned pumpkin    (Do not use pumpkin pie filling.)
2 1/2 cups all-purpose flour
Cooking spray, vegetable or canola
For the topping:
1/4 cup brown sugar  (I again used light brown sugar.)
1/4 cup all-purpose flour
1/2 teaspoon cinnamon
1/4 cup quick cooking oats
2 tablespoons butter
1/2 cup of medium nut pieces (I used walnuts, but any kind of nut will do.)
Instructions:
Preheat the oven to 350 degrees.
In a large mixing bowl, whisk together the brown sugar, oil, eggs and buttermilk.  Add all of the spices and continue to whisk together.  Whisk in the baking soda, baking powder, vanilla extract and pumpkin puree.  Next mix in flour a few spoonfuls at a time, using a spoon.
(Throughout the entire mixing process, I tried to not overmix the batter because I didn't want the muffins to turn out tough.)
Spray 6 large muffin tins with cooking spray or cups and fill each until they're almost full with batter.
Next, make the topping.  Mix brown sugar, flour, cinnamon, and oats in a small bowl.  Sprinkle over the muffins using a small spoon.  Cut butter into small pieces and place the butter pieces on top.  Sprinkle with nuts.
Bake in the oven 30-35 minutes until the centers are done.  (Stick a toothpick in the middle of the muffin, and if it comes out clean, they're done.)
Cool them on a wire rack.  They're ready to eat in about an hour.
To store them and keep them fresh, wrap each muffin in Saran Wrap and store in an airtight container.
After they've completely cooled, you can eat them cold or if you'd like a just-out-of-the-oven taste, re-warm them by popping them in the microwave for about 15-20 seconds.