We knew when we started the old home salvage business that we would quickly run out of storage space for all of the materials we would bring home.
We contracted with a local welding company to build us a 20′ deep x 30′ wide lumber barn.    We thought that size would be plenty for our needs right now, but we can always add on to it later if extra space is needed.
We also decided to construct it out of steel for strength and durability.
First, they set the steel posts in concrete.
Next, they welded on steel supports that we will use to structurally support the weight of the lumber racks and the stored lumber.
A few days ago, the crew finished the barn.
(If you're wondering, we chose not to put doors on the barn, but it and the racks we built are designed to keep the lumber out of the weather.)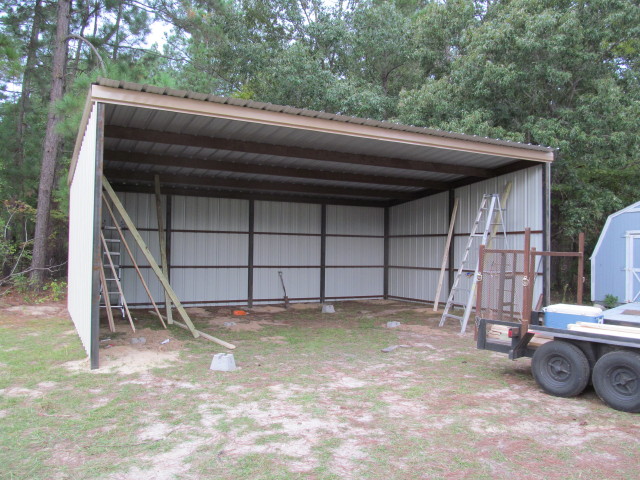 Now it was time to build the racks.  We decided to design the racks to resemble most lumber yards for easy access and plentiful storage. (this photo is not our racks but a local lumber retail store.)
Last weekend, Mark and John concentrated on building the lumber racks.  They got the project done in just one day!
The first rack they built measures 16′ in depth.  It will hold all of the really long lumber we've been salvaging.  Heavier beams will go on the bottom and lighter lumber like beadboard will go on top.
The second rack they built is 12′ in depth.
The last two racks measure 8′ and 3′ in depth, respectively.
I'm looking forward to getting our lumber organized and stored!  Careful planning of the racks and sizing of the barn kept the waste to a minimum. This small pile is all we had for waste….and even some of that will go back into future projects….Yea !!!