On our way to Austin, we stopped at a little antique store in Crockett that is housed in a wonderful old building downtown.
I Want That Door!
In just a few short minutes after entering the store, I saw a GORGEOUS old door. (The old building obviously used to be a department store because the door had an etched glass panel with the words "Dressing Room".)
The lady working there offered to call the owner for us, and she found out that the Dressing Room door wasn't for sale.  (I hope that he changes his mind some day.  That door would be SO perfect for our master bathroom or bedroom!)
She went on to say, "You might want to talk with the (antique store) owner because he's tearing down his grandfather's house and he might have a few doors available that he'd just give you".
Well, my ears perked up at that because we've been remodeling our house top to bottom!
Taking Advantage of a Free Offer
I immediately called him and sure enough, he said we were welcome to take anything we wanted out of the house because the house had been condemned by the City and he planned to bulldoze and burn the house.   He said the house was the oldest in the community – built in 1850!!
Well, I couldn't let that house just burn without investigating and taking what was available!  We made arrangements to meet him the next morning at the house.
Now normally, this wouldn't be a big deal because Crockett is only about 30 miles from our home, but like I said, we were on our way to Austin, which is about a 4 hour drive from home.  My husband is also a professional photographer, and he was booked to shoot a wedding.  So we did what we knew we HAD to do:  he photographed the wedding until 11 pm, then we drove all the way back home, catching just a few hours of sleep before we had to meet the owner the next morning.
Although sleep-deprived, we were excited about meeting the owner and touring the house the next day.
The House Revealed
The house was in sad shape but we could immediately see that there were many reusable materials, including rough-sawn wood walls, tongue-in-groove floors, and beadboard.  The owner told us we had a week to take what we could.  We knew we couldn't completely demolish the house, but we were thankful to salvage what we could.
You can tell it was once so lovely.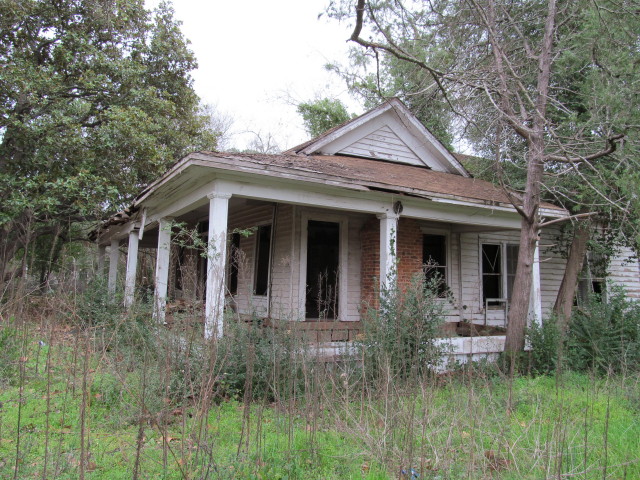 Here's a a view of the side and back.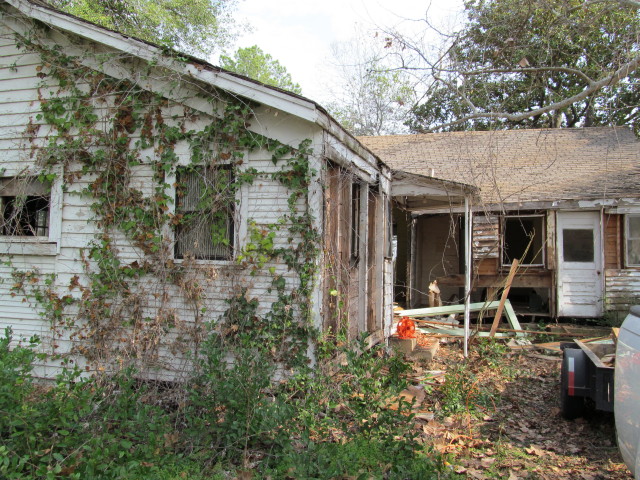 The house was a mess!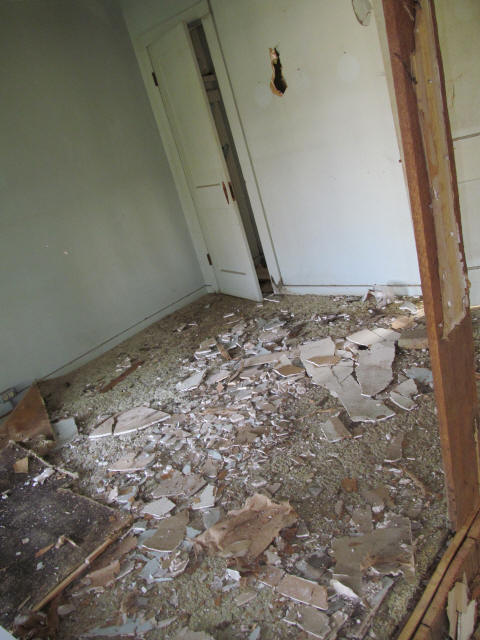 Beneath the carpet we found old tongue-in-groove flooring.  (We eventually used these floors when we built our mudroom.  Oh, and the green wainscoting you see in the background?  We used that beadboard as our kitchen backsplash.)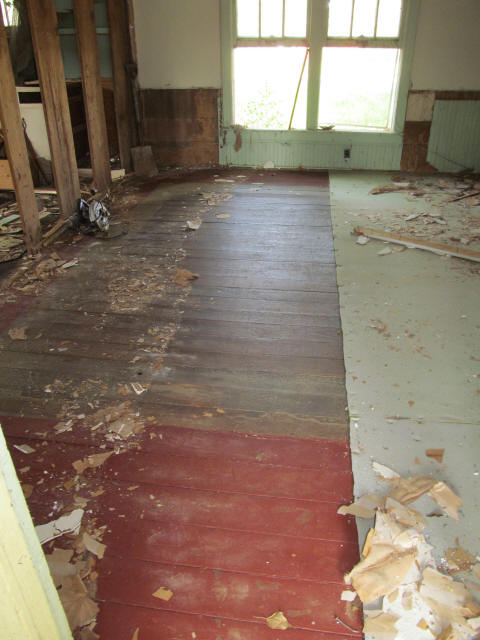 The rough-sawn walls were gorgeous!  Some of the boards were (amazingly) 14″ – 16″ in width.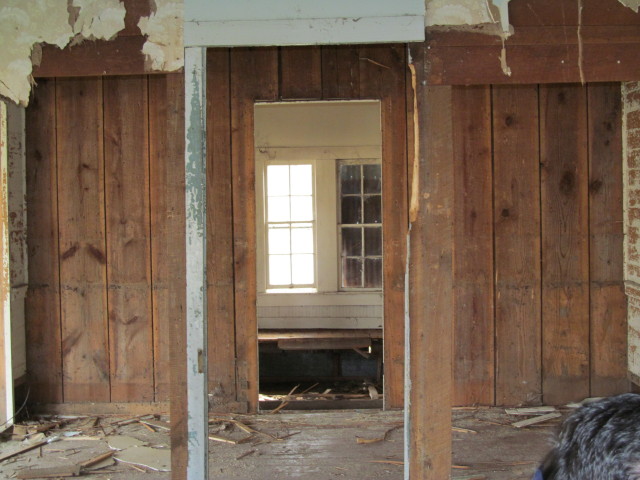 The old fireplace and the rough-sawn walls above.