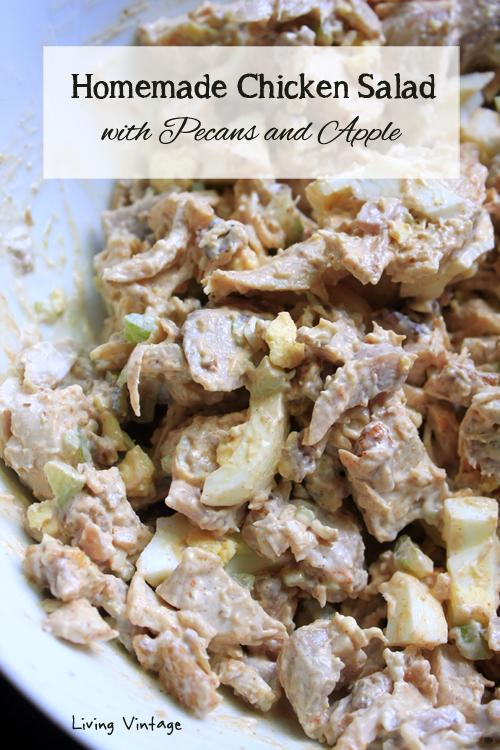 When brutal hot summer days arrive here in Texas, I go in search of cool, lighter fare like this chicken salad recipe.
It's so easy to prepare and the nuts and fruit are absolutely optional.

HOMEMADE CHICKEN SALAD

2 cups chopped cooked chicken (I use rotisserie chicken)
¼ – ½ cup chopped celery
½ – ¾ cup chopped pecans (optional)
green apple, thinly sliced (optional)
2 hardboiled eggs
½ cup mayonnaise (I use low-fat mayo.)
1-2 teaspoons honey Dijon mustard
¼ teaspoon garlic powder
1/8 – ¼ teaspoon paprika
Dash hot sauce
1 tablespoon apple cider vinegar
In a large bowl, combine chicken, celery, pecans, apple, and eggs.
In a small bowl, combine the mayo, mustard, garlic pepper, paprika, hot sauce, and apple cider vinegar.  Pour over chicken mixture, tossing well.
Refrigerate 2-3 hours. Serve chilled on lettuce leaves or use to make a sandwich.